Creamy white chicken lasagna roll ups – an instant family favorite!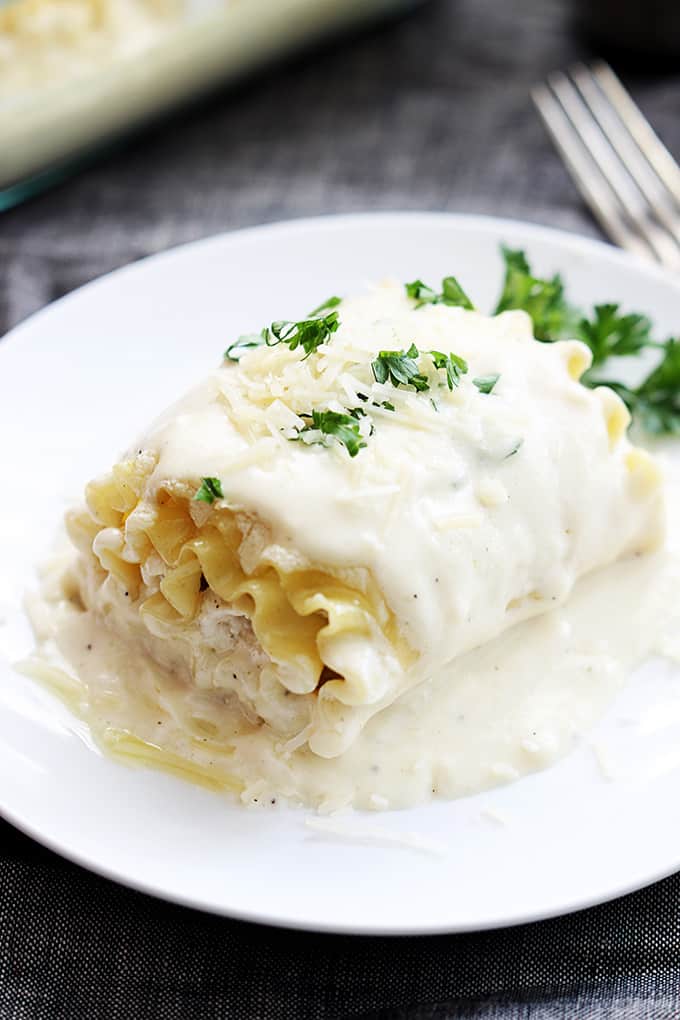 Four days after we got married my husband and I took off for Schaumburg Illinois for a business trip. We were there for two weeks and over the weekend in between, we stayed in a hotel right smack dab in the middle of Chicago. It was February. You know how they call Chicago the windy city? That wind chill factor in the middle of wintertime is brutal. The first night in town we planned on walking 8 or 10 blocks to a pizza place that was supposed to be incredibly yummy. By the time we got there, our faces were frozen, I swear to you I couldn't even move my lips. I've never been so cold in my life. On top of that we were starving and dying for some greasy, ooey gooey cheesy pizza.
So naturally there would be an hour and 15 minute wait with a line out the door.
We debated for a minute but ultimately decided we needed food in our ice-cold bellies pronto and a 75 minute wait in negative 2 degree weather was not going to happen. We ended up ducking into a fancy-pants Italian restaurant called Rosebud on Rush, desperate for some carbs and some separation from the crazy-cold temperatures outside. We ordered two plates of food. I can't remember what my husband ordered but I ordered lasagna and I swear to you it was the size of a football field. Seriously, so. BIG.      You guys. I don't even like lasagna.
Don't ask me why I ordered lasagna, I've never enjoyed it. Or rather I've never enjoyed traditional red-sauce-lasagna. It's not my thing. But my mother in law makes a mean white chicken lasagna I'm crazy about and this recipe is a little bit of a spin-off from that deliciousness.
I love these roll ups because they are like personalized little lasagnas. Actually they aren't that little, one of them fills me up, but they're individual-sized and that's perfect for serving up dinner to kids and adults.  My favorite part is definitely the filling. It's so creamy and saucy and cheesy and wonderful. My husband said this dish is one of his top-5 favorite ever Creme de la Crumb recipes. That is sayin' something since I don't share a single recipe my husband give his official taste-tester stamp of approval. These creamy white chicken lasagna roll ups are a definitely a must-make so put it on your list -they'll be an instant favorite for your family too!
What people are saying about this White Chicken Lasagna Rollups
"Made these tonight and OMG! They were so good. This it the 3rd recipe of yours I have tried and all 3 were HITS with my husband. I halved the recipe and made my own sauce. Will definitely make them again. Thank you for sharing!" – Joni
"This recipe was AMAZING. I served 4 people and they raved over it! Thank you!" – Allison
"Hello I just wanted to stop by and thank you for this fabulous recipe. I made this last night and it was delicious. My boyfriend says it's in his top five things that I make which says a lot because I cook very often. I think next time I'll probably add some spinach to it! My son is begging for the leftovers tonight! Thank you!" – Glenda
"I made this over the weekend. Not only was it easy it tasted wonderful as well. I used gluten free lasagna noodles and it was a hit. I will be making this again." – Kristin
White Chicken Lasagna Rollups
Creamy white chicken lasagna roll ups - an instant family favorite!
Ingredients
8

lasagna noodles

-

cooked according to package instructions

2

cups

alfredo sauce

-

(store-bought or homemade)

2

chicken breasts

-

cooked and shredded, (rotisserie chicken works well)

8

ounces

cream cheese

-

softened

1

cup

shredded mozzarella cheese

1

cup

shredded parmesan cheese

-

+ 1/2 cup, divided

2

teaspoons

garlic powder

2

teaspoons

Italian seasoning

salt and pepper to taste

optional: fresh parsley

-

finely chopped
Instructions
Preheat oven to 375. Lightly grease a casserole dish with cooking spray.

Lay cooked lasagna noodles out in a single layer on a clean work surface ( for easy clean up use a baking sheet).

In a bowl combine chicken, cream cheese, mozzarella cheese, 1 cup parmesan cheese, garlic powder, Italian seasoning, and salt and pepper to taste and mix well.

Spread about 1/4 cup of chicken mixture onto each of the lasagna noodles. Roll noodles up tightly.

Pour 1 cup of alfredo sauce into bottom of baking dish. Place each lasagna roll up side by side in the baking dish. Pour remaining alfredo sauce over roll ups. Sprinkle with remaining parmesan cheese.

Bake for 10-15 minutes until cheese is melty. Sprinkle with fresh parsley if desired and serve warm.
Notes
Alternate protein option: swap out the chicken for browned ground Italian sausage!
Nutrition
Calories:
825
kcal
,
Carbohydrates:
52
g
,
Protein:
31
g
,
Fat:
54
g
,
Saturated Fat:
29
g
,
Cholesterol:
188
mg
,
Sodium:
1578
mg
,
Potassium:
287
mg
,
Fiber:
2
g
,
Sugar:
6
g
,
Vitamin A:
1184
IU
,
Vitamin C:
1
mg
,
Calcium:
503
mg
,
Iron:
2
mg
Recipe adapted from Cooking Classy.