Classic pepperoni pizza and lasagna get smashed together in this tasty Pepperoni Pizza Lasagna Roll Ups hybrid dish!!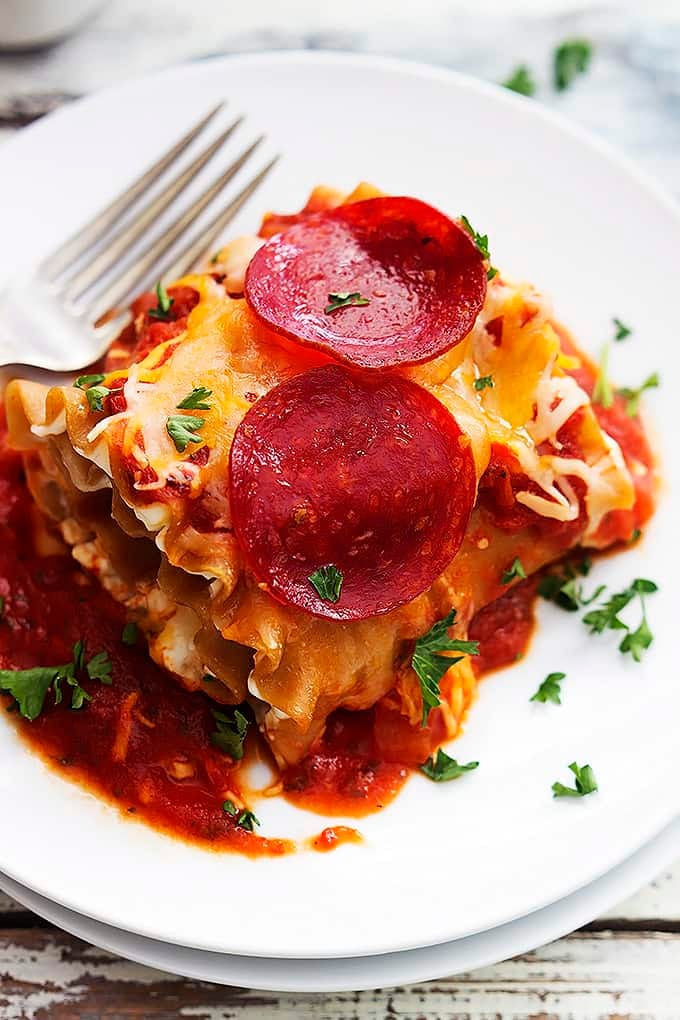 If you're into music or ever did choir in high school (or watched the TV show Glee) then you are familiar with "mashups". If you have no idea what I'm talking about, just know that a music mashup is when you take two really awesome yet totally different songs and smoosh them together into one piece. If you do it well and pick just the right songs to begin with then the end result is pretty much the coolest thing ever.
Well I'm kind of obsessed with food mashups. When you take two totally awesome foods or recipes and smoosh them together into one amazing dish. Today we're having a pizza-lasagna mashup and it is FREAKING DELICIOUS!!!
Pardon my sudden outburst.
The thing is, I'm not really a traditional lasagna person. I just don't care for it. But I love me some pepperoni pizza and I really really like pasta so when you take the two and smash them together into a pepperoni pizza lasagna roll up… I'm an instant fan.
And if you already love lasagna, well then it's no question at all, you will adore this dish. P.S. totally kid/spouse/guest friendly. Woot woot!
Pepperoni Pizza Lasagna Roll Ups
Classic pepperoni pizza and lasagna get smashed together in this tasty hybrid dish!!
Ingredients
8

lasagna noodles

-

cooked til tender (don't cook them too long or they will fall apart)

8

ounces

cream cheese

-

softened

1

cup

plain greek yogurt

-

(may sub sour cream)

1 ½-2

cups

shredded cheese

-

(your favorite for pizza, I used an Italian blend)

1

18-ounce jar

pizza sauce

-

(I used a tomato garlic basil)

1

package

pepperoni slices

optional: fresh parsley
Instructions
Preheat oven to 350 degrees. Lightly grease a casserole dish (about 9×13 inches). Spread an even layer of pizza sauce (about 1 cup) in the bottom of the dish.

Lay your lasagna noodles out on a clean, flat surface (I like to use a large baking/cookie sheet for this part). In a medium bowl cream together cream cheese and greek yogurt until smooth. Use a rubber spatula (or the back of a spoon) to spread mixture evenly onto the top side of each lasagna noodle.

Lay about 6-8 pepperoni slices along the length of the noodle on top of the cream cheese mixture. Gently roll up the noodles (as tightly as possible while being gently) and place in a single layer in your prepared baking dish. Pour remaining pizza sauce over the rolls. Sprinkle shredded cheese on top and top with 1-2 pepperoni slices.

Bake for 15-20 minutes until cheese is completely melted. Sprinkle with fresh parsley if desired and serve.
Notes
Make ahead: these are easy to make ahead, freeze, and bake later. Add 20 minutes onto your bake time if baking from frozen. 
Nutrition
Calories:
731
kcal
,
Carbohydrates:
47
g
,
Protein:
33
g
,
Fat:
45
g
,
Saturated Fat:
22
g
,
Trans Fat:
1
g
,
Cholesterol:
135
mg
,
Sodium:
1089
mg
,
Potassium:
405
mg
,
Fiber:
2
g
,
Sugar:
5
g
,
Vitamin A:
1048
IU
,
Vitamin C:
1
mg
,
Calcium:
342
mg
,
Iron:
2
mg