White, saucy Slow Cooker 3 Cheese Chicken Lasagna made with ricotta, parmesan and cream cheese!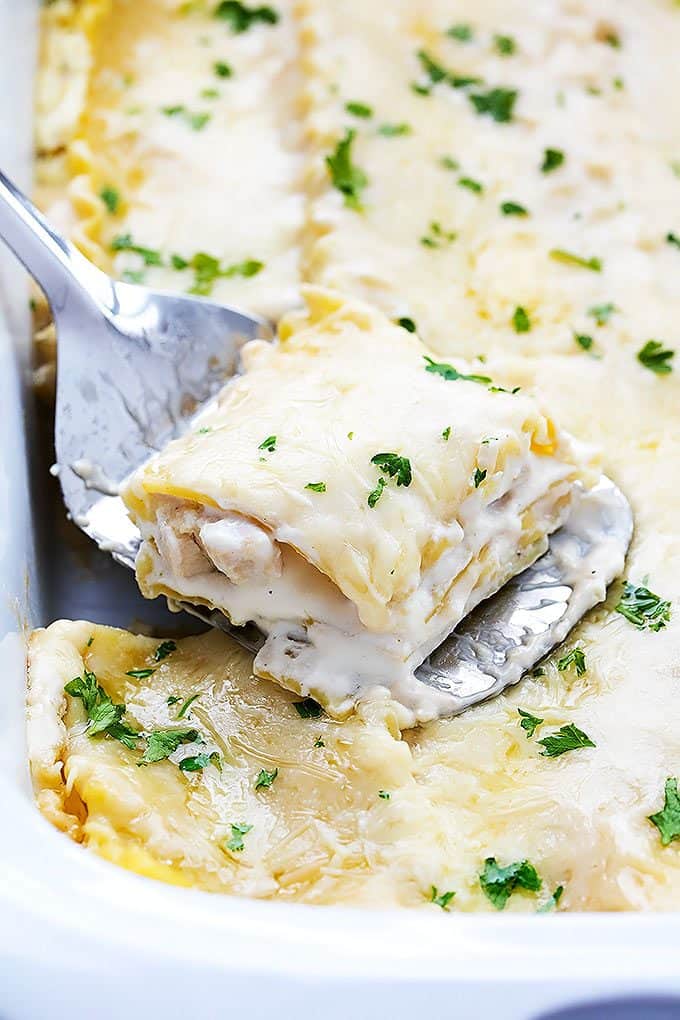 Technology. I lovehate it. So, sooooo much. Currently: hating. I just spent a substantial amount of time putting together this recipe post and then bam. The whole thing disappeared and just like that I had to start over. Reminds me of a few times I lost a couple fistfuls of hair over some lost school papers.
Actually now that I think about it, today's experience wasn't nearly as bad as those times I lost school papers. And suddenly I'm feeling a fresh surge of that I'm so glad I'm done with school emotion that comes on from time to time.
See it's all about perspective. Now I'm in a much better mood.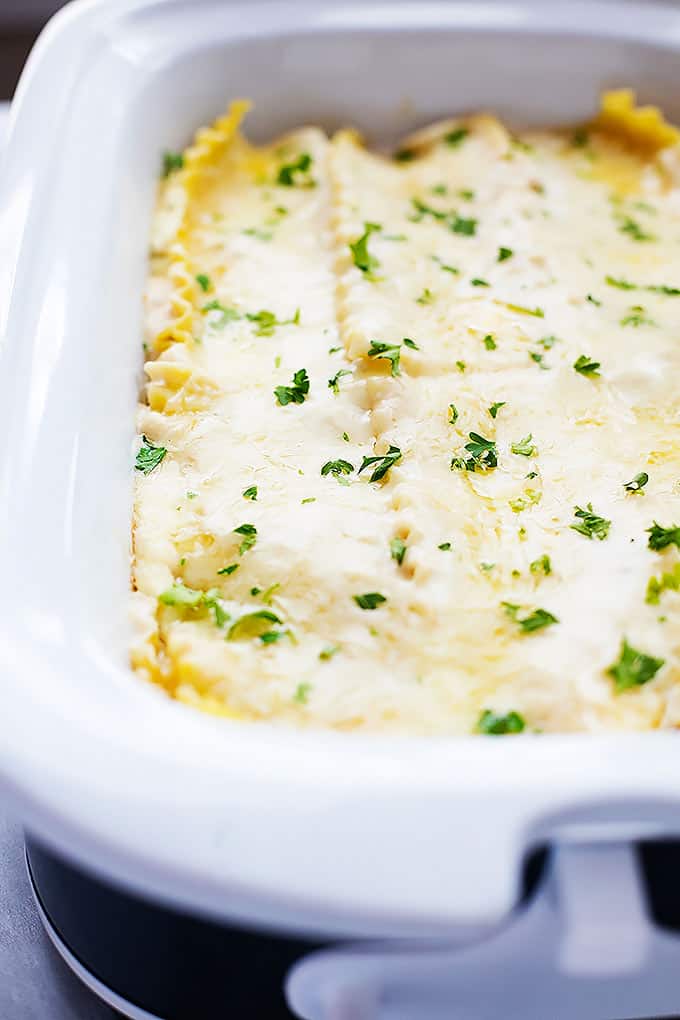 Okay so this slow cooker recipe is one of my absolute favorites. And that's saying something! Because seriously, have you seen my collection of slow cooker recipes?? I may or may not have a love affair with my crockpot. Spoiler alert: I do. I totally love my slow cooker and use it on the weekly. Maybe even bi or tri-weekly. (tri-weekly? is that a thing?)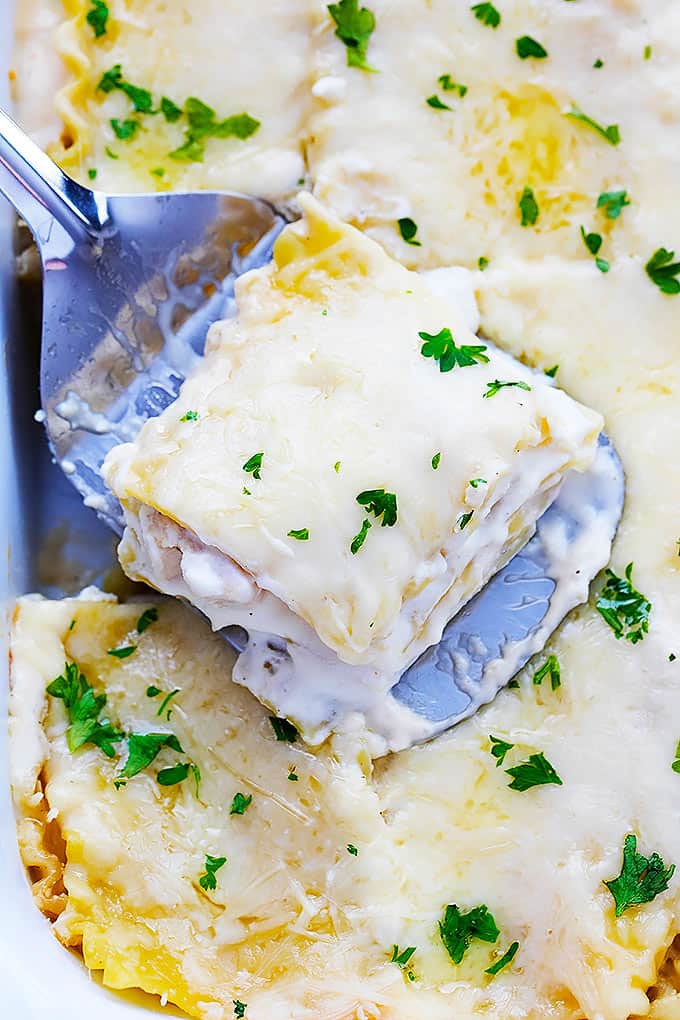 I've mentioned before that I am not a big red sauce person, but I love white sauce pasta and that holds true for lasagna. Not a big fan of the ground beef red sauce version, but I looooooove a good white chicken lasagna. And now my favorite lasagna can happen in my beloved slow cooker!!! <—– three exclamation points. This is a big deal people. A very big deal.
What people are saying about this Slow Cooker Three  Cheese Chicken Lasagna
"I made this for dinner, it was delicious. It got the thumbs up from my teenage daughter which is always a good thing. Next time I think I'll add spinach." – Cheryl
"The fact that you are not really a fan of red sauce made my heart sing and me immediately subscribe to your emails. I add cream to my spaghetti sauce and I get my pizza with light Pesto sauce or even better ranch instead of pizza sauce. I like tomatoes but I'm not a fan of tomato products and I hate ketchup. I'm so happy I was able to find a lasagna crockpot recipe without tomato sauce!!!" – Brittany
"My teenaged daughter & preteen son loved it! Wonderful flavor! We added extra sauce & baked our own chicken with the seasonings we liked." – Renee
Slow Cooker Three Cheese Chicken Lasagna
Saucy, cheesy white chicken lasagna made in your slow cooker!
Ingredients
2

cups

diced or shredded cooked chicken

2 ½

cups

alfredo sauce

-

([url:1]homemade[/url] or storebought)

12

lasagna noodles

1

15-ounce container

ricotta cheese

-

(whole or part skim)

8

ounces

cream cheese

1

teaspoon

Italian seasoning

1

cup

shredded parmesan cheese

-

divided
Instructions
Stir together chicken, ricotta cheese, cream cheese, 1/2 cup parmesan cheese, and Italian seasoning.

Lightly grease your slow cooker. Spread 1/2 cup alfredo sauce in the bottom. Top with three lasagna noodles (break as needed to fit into the slow cooker). Spread half of chicken mixture over the noodles, then layer with three more lasagna noodles.

Pour half of the remaining sauce over the chicken mixture. Top with three more noodles (breaking as needed), then remaining chicken mixture, and remaining noodles.


Spread remaining sauce over the noodles and sprinkle with the last of the parmesan cheese.

Cover and cook on low 4 hours. Sprinkle with chopped parsley if desired just before serving.
Notes
Serve with a tossed salad and garlic bread for a complete meal.
Nutrition
Calories:
505
kcal
,
Carbohydrates:
36
g
,
Protein:
23
g
,
Fat:
29
g
,
Saturated Fat:
15
g
,
Cholesterol:
119
mg
,
Sodium:
832
mg
,
Potassium:
232
mg
,
Fiber:
1
g
,
Sugar:
3
g
,
Vitamin A:
508
IU
,
Vitamin C:
1
mg
,
Calcium:
184
mg
,
Iron:
1
mg