A tasty Philly Cheesesteak Pizza recipe inspired by the classic Philly cheesesteak sandwich –  topped with the BEST easy homemade alfredo sauce, melty mozzarella cheese, seasoned steak, and bell peppers! 
I am loving all things Philly cheesesteak lately. And I'm also craving pizza like a crazy lady. Sooooo….. yeah, this Philly chested thing – it happened.
My absolute favorite part of this pizza is hands down, the sauce. That alfredo sauce is so crazy-delicious and so crazy-easy to make, it's nuts. Just nuts. I'm completely head over heels for it. I loved it before this recipe came to be because it's actually a go-to of mine and I use it in a lot of recipes. But this is the first time I have put it on pizza and I am dying over it.
Then you add the juicy steak, peppers, onions, and all of that melty gooey mozzarella cheeeeeese.
I cannot resist…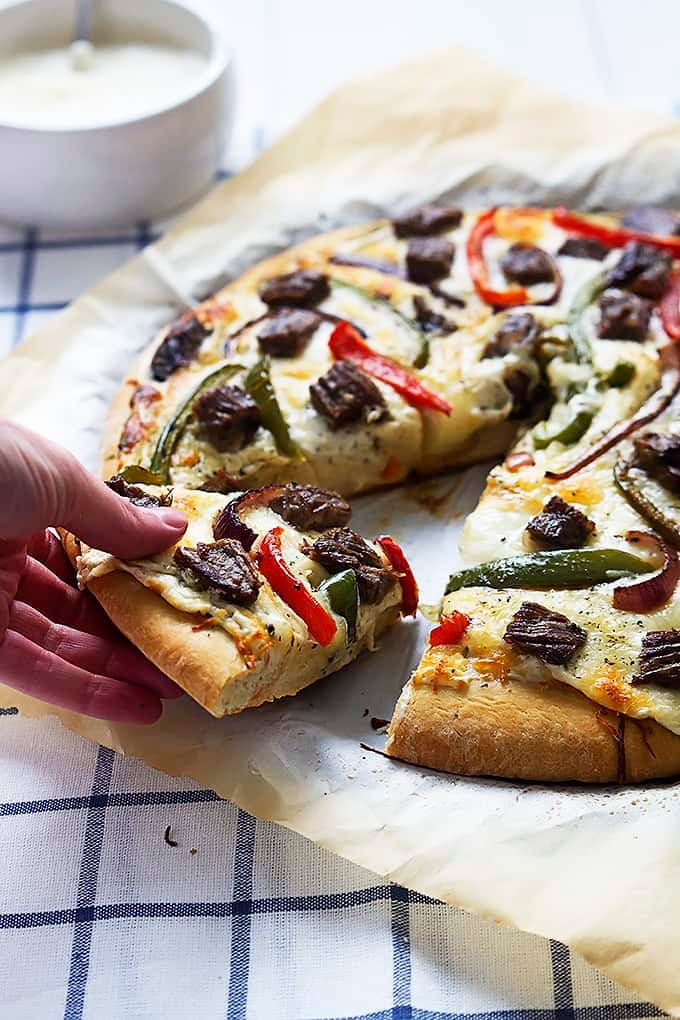 Philly Cheesesteak Pizza
Author:
Prep time:
Cook time:
Total time:
A tasty pizza recipe inspired by the Philly cheesesteak sandwich – topped with the BEST easy homemade alfredo sauce, melty mozzarella cheese, seasoned steak, and bell peppers!
Ingredients
1 homemade or store-bought pizza crust (I used[url href="https://www.lecremedelacrumb.com/cookbook"] Miracle Dough[/url])
1 cup homemade or store-bought alfredo sauce (see recipe below)
1-2 cups mozzarella cheese
1 cup cooked chopped or diced steak (see note)
1/2 bell pepper, sliced into thin strips (I used 1/4 red pepper, and 1/4 green pepper)
1/8 onion, thinly sliced
alfredo sauce
3 tablespoons butter
4 tablespoons flour
2 cups milk or half & half (I use fat free half & half – works great!)
1/4 cup shredded parmesan cheese (not the canned stuff)
2 teaspoons garlic powder
1 teaspoon salt
1/4 teaspoon pepper
Instructions
Preheat oven to 420. (Or, if using packaged pizza crust, heat to the temperature listed on package). Grease a baking sheet or round pizza pan and roll out crust on the pan. Bake for 10 minutes.
While crust is baking, prepare the alfredo sauce (if using recipe listed). Melt the butter in a medium sauce pan over medium heat. Stir in the flour until mixture clumps up. Gradually whisk in the milk, increase heat to medium-high and continue to whisk until mixture becomes smooth. Add cheese, garlic powder, salt, and pepper and stir until cheese is completely melted. Remove from heat.
Spread 1 cup of sauce (or more to taste) over the half-baked pizza crust. Sprinkle evenly with mozzarella cheese. Top with steak pieces, onions, and bell pepper strips. Bake for 10-15 minutes until crust is golden and cheese is completely melted. Slice and serve warm.
Notes
*You can buy pre-cooked steak in the cold food section of most grocery stores (Tyson brand is personal favorite but use whatever works for you). If you plan to cook your own steak, get 1 pound or less of skirt steak or flank steak. Season with steak seasoning, cook in a pan over medium heat for 6-8 minutes until browned, then remove from heat and chop or dice.