Chewy pretzel-crust pizza is all the rage! This recipe is very easy to make and makes better-than-delivery pizza you'll make again and again. Warning: you may never go back to traditional pizza crust after trying this!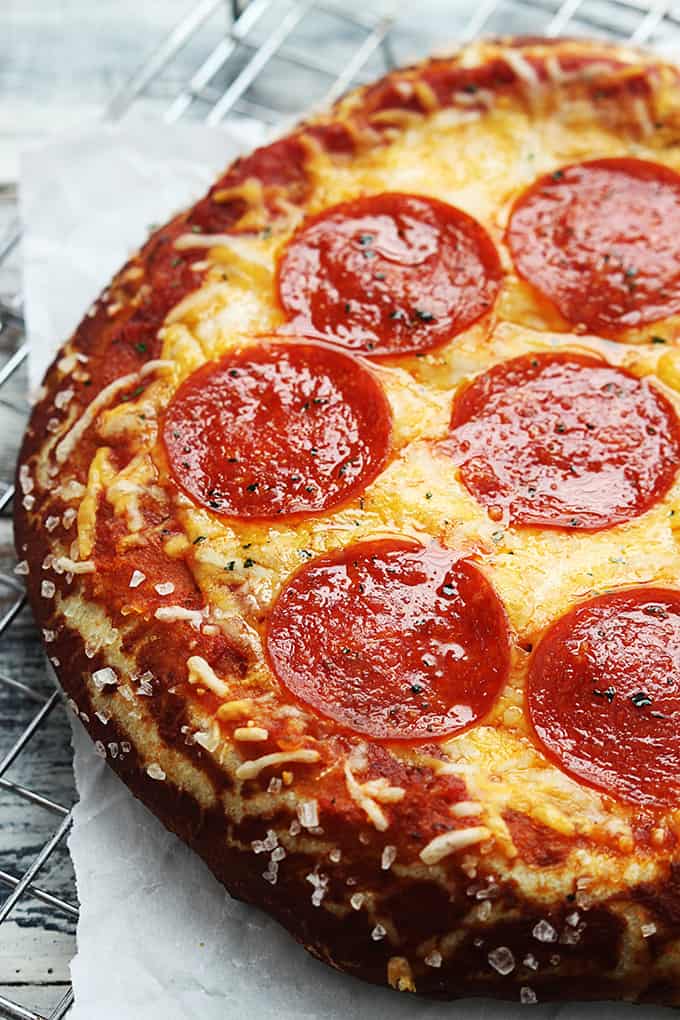 I'd go on record as saying that there are three best-ever pizzas I've ever tried in my lifetime. And I've eaten a lot of pizza so that's really saying something. When I was going to school at BYU I ate just a few too many donuts, pizookies, and wood-fired pizzas. My roomie Kelsi and I used to eat at The Brick Oven right off of campus all. the. time. Seriously though, all the time. They had a truck load of amazing pizzas on the menu but my favorite was the specialty pizza I special-ordered almost every single time we ate there: deep dish artichoke and Italian sausage. That's the first pizza on my list of Top 3.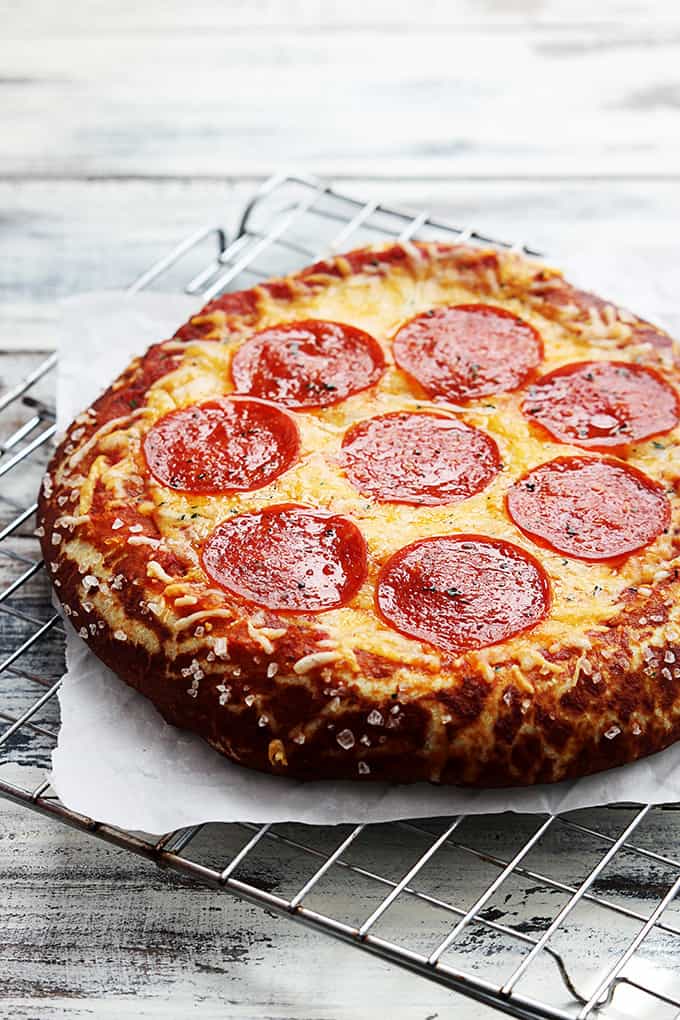 The second contender is the the thin-crust spinach bacon alfredo I ordered when I was visiting my brother in Hollywood a few years ago. He was working for a big-shot animation studio in Culver City and I met up with him for lunch at a place called…. Hugo's? H…. something. Dang it I can't remember the name. But this place had terrific pizza and after shedding a few tears of joy and sharing one little bite (it's all I could bear to part with), my brother said it was the closest thing he'd ever tasted to the pizza he'd tried in Italy the year before. Ahhhhh. That pizza was heaven.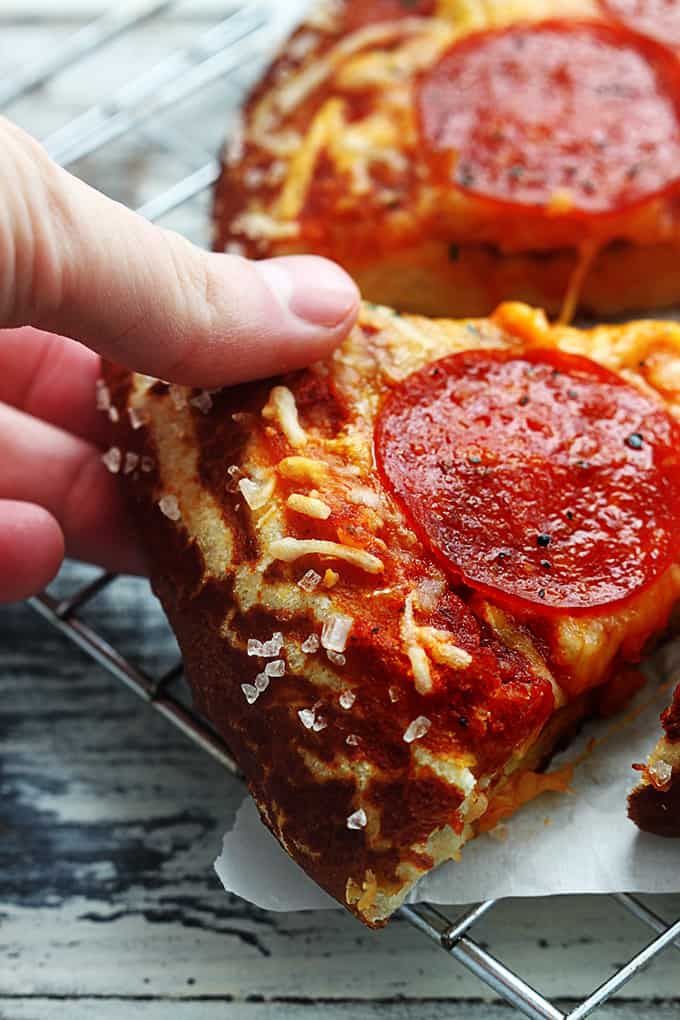 I'm sure you guessed it by now but the third member of my BEST-ever pizza clan is the one you're drooling over right this second. Pretzel crust pizza. PRETZEL CRUST PIZZA. Sorry, had to say it twice because I'm 100% obsessed. A week or two ago I was taking the pictures at my niece's 1-year birthday smash party and my in-laws picked up a couple of pizzas from Little Caesars. One was traditional pepperoni, the other was pizza crust. I'd never heard of pretzel crust pizza, much less tried it, but once I did there was no going back. It was love at first bite.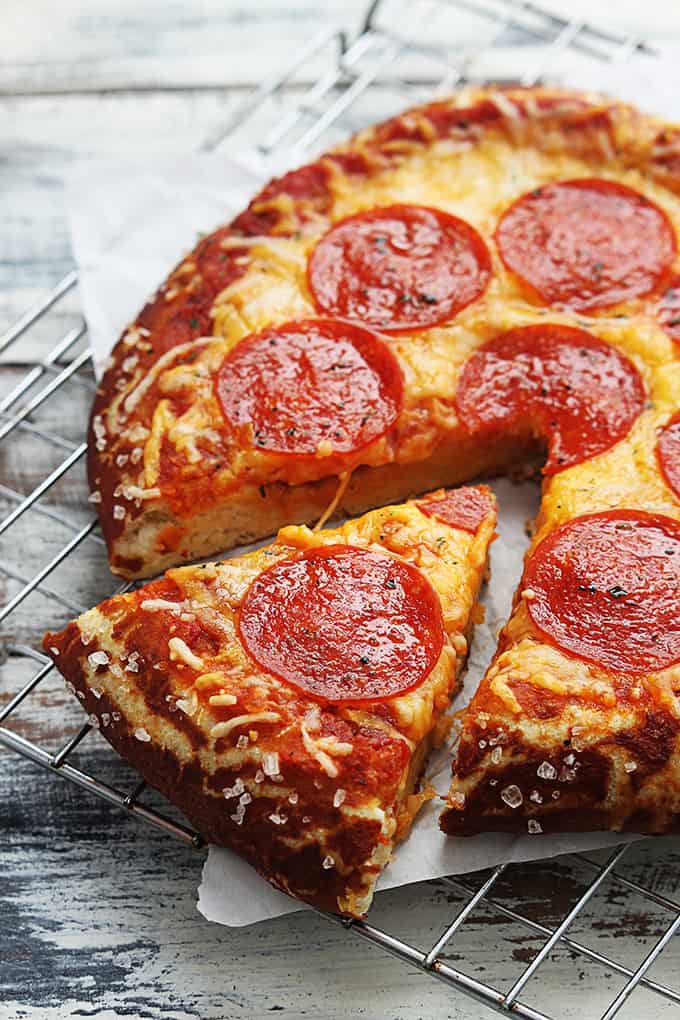 The chewiness of the soft pretzel crust speckled with coarse sea salt takes a regular cheesy pizza to a whole new level of AMAZING. I've made this pizza twice in the past week and I can't get enough of it. If you've never tried pretzel crust pizza you simply must. And do NOT be scared of this recipe, I promise you it is so simple and easy to follow. The dough is a quick-rising, no-fuss dough I use all the time and swear by it's perfection. Just a heads up though, the likelihood of you falling madly in love and never going back to traditional pizza crust is extremely high. Don't say I didn't warn you!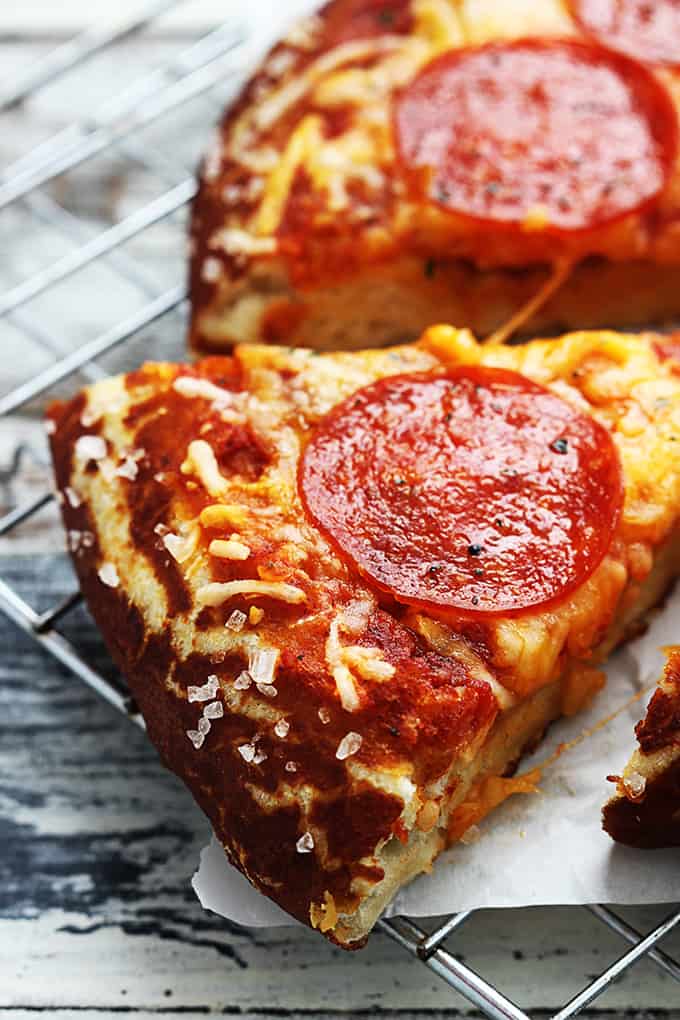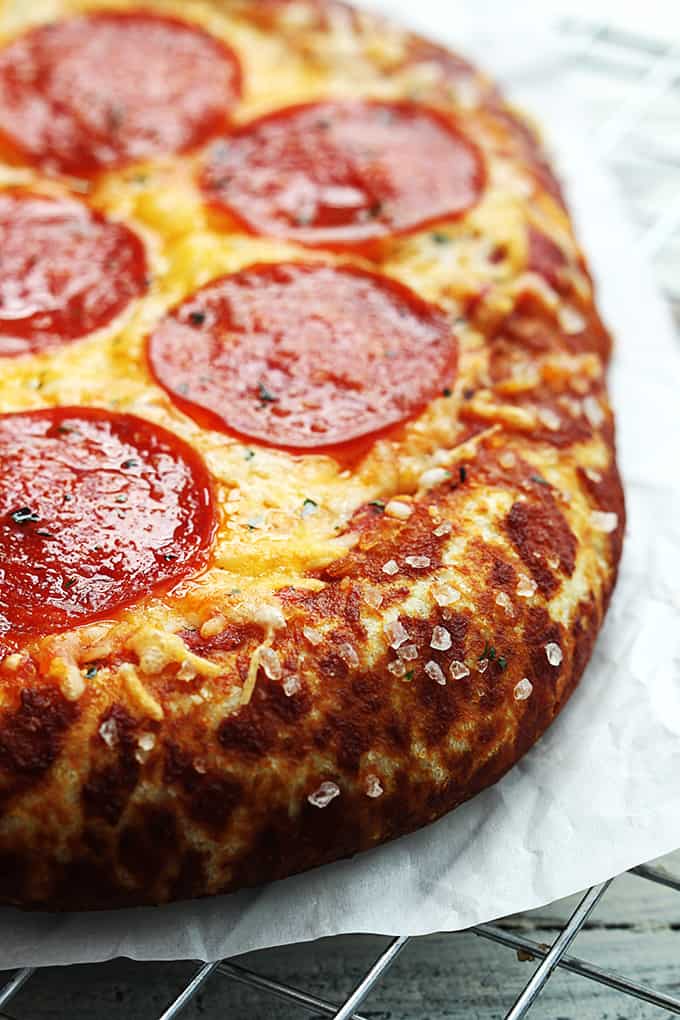 What people are saying about this Pretzel Crust Pizza
"I just made this and it was delicious. The crust had much more flavor than a typical pizza crust. I was concerned about the comment of the dough not being cooked all the way through. After I boiled the crusts, I put the paper towels and pizza shells on a cooling rack to make sure all the excess moisture was out. When the ten minutes was up for cooking the crusts, before adding the toppings, one slightly thicker crust was not looking cooked as well as the others so I left that in the oven for a couple of extra minutes. I will definitely make this again! Thank you!" – Sue
"I've made this recipe twice now for my husband and 4 kiddos and we're borderline addicted! Thank you so much for sharing it with us. We may never go back to traditional crust at this point…which is a big deal coming from New Yorkers. Last night I made it with white garlic sauce instead of tomato pizza sauce, and shredded cheddar instead of mozz….so, so, so yummy!" – Ashley
"I tried this tonight and it tasted great! Mine weren't the dark brown color that yours were in the pics though, how should the crust look coming out of the oven before adding toppings? Mine was a golden brown then got darker after toppings, but not the pretzel brown. Still tasted awesome though!" – Carrie
"Tried this recipe today and it turned out delicious! I loved the flavor and having 2 of my favorite baked goods rolled into one? Yes, please! I doubled the recipe (family of 5 here) and I ate way too much of it
" – Carrie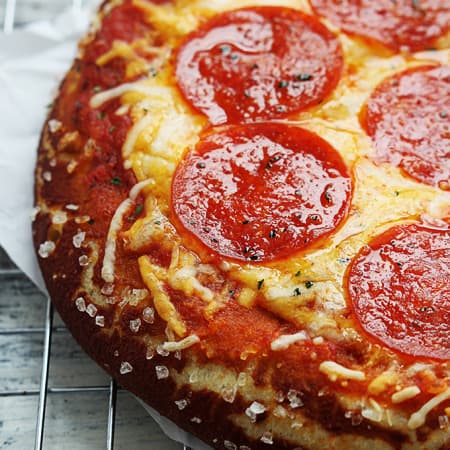 Pretzel Crust Pizza
Chewy pretzel-crust pizza is all the rage! This recipe is very easy to make and makes better-than-delivery pizza you'll make again and again. Warning: you may never go back to traditional pizza crust after trying this!
Ingredients
1 ⅓

cups

warm water

1

tablespoon

active dry yeast

2

tablespoons

honey

3 ½

cups

all purpose flour

1

teaspoon

salt

-

(regular fine table salt)

⅓

cup

baking soda

1

tablespoon

melted butter

coarse sea salt

1

cup

pizza sauce

1

cup

shredded cheese

pepperoni slices or other desired toppings
Instructions
Combine warm water, yeast, and honey and stir to mix. Allow to rest for 5 minutes. (If possible, prepare this recipe using a stand mixer)

Add flour and 1 teaspoon salt to yeast mixture. Mix until a dough forms. Knead for 5 minutes until dough is smooth and tacky but not too sticky. (If using a stand mixer, use the dough hook to mix and knead dough). Remove dough from bowl and allow to rest on a well-floured surface for 10 minutes.

Fill a stock pot (the largest pot you have, at least 10 inches wide) with about 2-3 inches of water. Bring to a boil. Add baking soda – careful, it will bubble and rise. Reduce water to a simmer.

Divide dough into three equal portions and roll them out into three 8-inch discs.

Gently drop one dough disc into the simmering water. Allow to boil for 30-40 seconds. Use slotted spoons or slotted spatulas to carefully lift dough from the pot and transfer to a paper-towel lined cooling rack (a plate will also work). Repeat with remaining two dough discs.

Transfer dough discs to a greased baking sheet (you may need to use more than one baking sheet to fit them all). Brush with melted butter. Sprinkle with coarse sea salt.

Bake for 10 minutes at 420. After 10 minutes, top crusts with pizza sauce, cheese, and pepperoni or any other toppings you want. Bake for 10-15 minutes more until cheese is melty and crust is lightly browned. Serve immediately.
Notes
Sea salt flakes are really the key to this amazing pretzel crust pizza! 
Nutrition
Calories:
557
kcal
,
Carbohydrates:
96
g
,
Protein:
19
g
,
Fat:
10
g
,
Saturated Fat:
4
g
,
Cholesterol:
22
mg
,
Sodium:
3850
mg
,
Potassium:
358
mg
,
Fiber:
4
g
,
Sugar:
12
g
,
Vitamin A:
580
IU
,
Vitamin C:
4
mg
,
Calcium:
168
mg
,
Iron:
6
mg