Meat Lovers Pizza is packed full of sausage, pepperoni, and bacon and satisfies every meat lover on your list. Perfect for family movie nights, gatherings with neighbors or any time the need for pizza arises!
Give me all the pizza! You with me? Add these pizzas to your arsenal: Mediterranean Veggie Pizza, Grilled BBQ Chicken Pizza, and Philly Cheesesteak Pizza.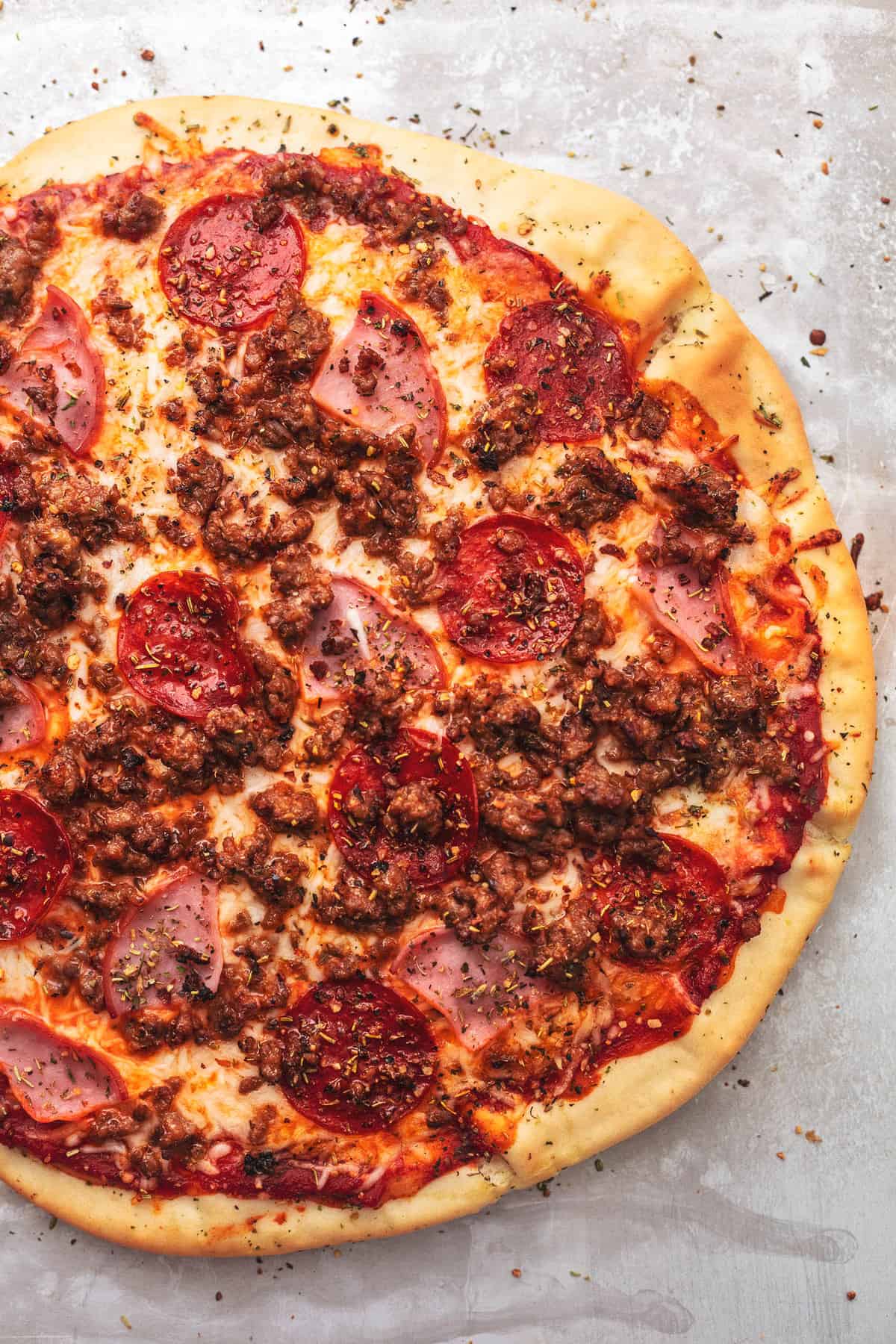 This post is sponsored by Fleischmann's® Yeast. All opinions are my own.
Nothing beats homemade pizza night at my house! Whether it's just the five of us or my siblings are over or friends or neighbors, or anyone that's just stopped by and you ask them to stay for dinner because you want to extend the conversation as long as possible.
Making your own pizza is not hard to do, and you will not be spending idle time waiting for your crust to rise especially if you use a rapidly rising yeast like Fleischmann's Pizza Crust Yeast.
Anyone who knows me knows I cannot sit still for long. If you're at my house I'm probably multitasking. And by multitasking, I mean doing something for one of my kids or cooking. I'm good at it, and long ago I gave up any notion of sitting quietly on a couch and entertaining. To me, the best times had at home involve people pulling up a stool at the counter and joining in on the meal (and merry) making. There are so many things your guests, kids, spouse, whoever can do so long as you can give up a little bit of control.
Small hands can knead dough.
Big hands can cut ingredients.
Every hand can make sure the pepperoni tastes just right.
Can you picture it?
The great news is that if you want to get in on this scene, you don't have to do much. With some simple ingredients found at your local grocery store and an envelope of Fleischmann's Pizza Crust Yeast, mi casa can be su casa wherever you are and whenever pizza nights are held.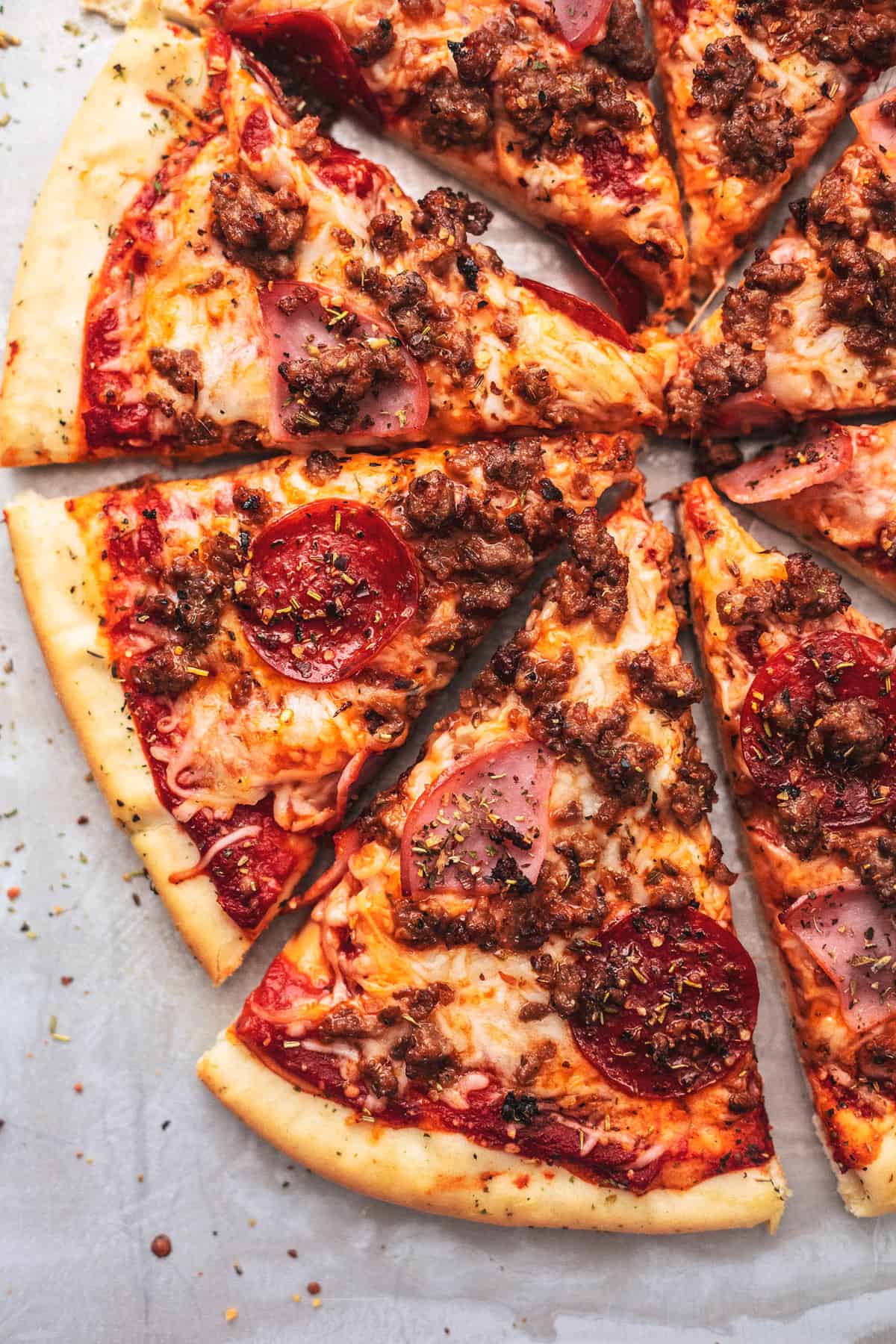 HOW DO YOU MAKE MEAT LOVERS PIZZA?
Making this Meat Lovers Pizza is fun and easy. After you've collected all your ingredients, the first thing you're going to want to do is to cook up your sausage. That way it has time to sit a few minutes and cool before you put it back on the pizza. From there, preheat your oven to 425°F.
Next, you can get started on the crust. In a mixing bowl I combine some of the flour, undissolved yeast, sugar, and salt in a large bowl. To get the Fleischmann's PIzza Crust Yeast to do its thing, you add very warm water and oil. Mix again until this is all combined, about a minute.
To the beginnings of the crust mixture, I add more flour until the dough becomes soft. You'll be able to form it into a ball and it will be just a little bit sticky at this point. Take it out and knead it on a floured surface and add a dusting of flour here and there as needed, until the dough is smooth and stretchy. This should only take about 4 minutes. (Be sure to offer the kneading part to your guest — this is everyone's favorite part.)
If you've used RapidRise Yeast, let the dough sit a quick 10 minutes while you grab yourself a soda or whatever is your drink of choice.
And now for the magical part: pressing the dough into a crust on the bottom of a greased pizza pan or baking sheet. Be sure to grease the pan so your dough doesn't stick. Or, if you want to roll it into a circle, you can do that too, just be sure to use that greased pizza pan or baking sheet to hold your round pie. And, speaking of pies, give the edges a little pinch around to form the edge of your dough so you have something to hold on to while you devour your Meat Lovers Pizza.
Last but not least, it's time to spread your sauce over the crust, leaving about ½ an inch around the edge without sauce. Sprinkle the cheese evenly over the top and then add your three meats, and top with the Italian seasoning. Pop it in the oven on the lowest rack for 12-15 minutes or until the cheese starts to brown the crust bakes through.
Slice and serve!
HOW CAN I CUSTOMIZE A MEAT LOVERS PIZZA?
Making this pizza your own could not be any easier. Pizzas are like salads, you can toss in *almost* any ingredient to suit your tastes or that of your guests. Although there is a time and place certainly for vegetable pizzas and other non-meat varieties, for this recipe I'm going to stick to how to customize it with the meat.
Add or subtract any meat you like. Double pepperoni, pepperoni and ham, bacon and pepperoni, chicken…anything goes! Just be sure to follow the measurements below to make sure it still cooks.

Are you one of those people who likes a Hawaiin-style pizza? You know, ham and pineapple? If so (gross) but also yay go for it!

Put sliced green or black olives or banana peppers with the meat.

Mix up your cheeses: Use a combination of mozzarella with provolone, a bag of pre-shredded pizza cheese, or even fresh Buffalo mozzarella if you prefer.

Mix a little spice into your sauce by way of hot sauce or red pepper flakes. Or take the spice to the top with some fresh or pickled jalapeno slices.

Add some sauteed onions or green peppers (or both) into the mix.
I think no matter which way you slice it, you're going to discover a newfound love for pizza night at your house, made even easier with Fleischmann's Pizza Crust Yeast.
Meat Lovers Pizza
Meat Lovers Pizza is packed full of sausage, pepperoni, and bacon and satisfies every meat lover on your list. Perfect for family movie nights, gatherings with neighbors or any time the need for pizza arises! 
Ingredients
For the Crust
1 ¾-2 ¼

cups

all purpose flour

1

envelope

Fleischmann's® Pizza Crust Yeast

-

OR Fleischmann's® RapidRise Yeast

1 ½

teaspoons

sugar

⅔

cup

very warm water

-

(120° to 130°F)

3

tablespoons

oil
Topping
1

cup

pizza sauce

2

cups

shredded mozzarella cheese

½

pound

ground Italian sausage

3

strips bacon

-

cooked and crumbled

¼

cup

pepperoni slices

-

or Canadian ham

1

teaspoon

Italian seasoning
Instructions
Brown Italian sausage in a skillet for 6-8 minutes over medium-high heat, sauteeing until sausage is browned and broken up into small chunks. Use a slotted spoon to transfer to a bowl and set aside.
Prepare the crust
Preheat oven to 425°F.

Combine 1 cup flour, undissolved yeast, sugar and salt in a large bowl.  Add very warm water and oil; mix until well blended, about 1 minute. 

Gradually add enough remaining flour to make a soft dough.  Dough should form a ball and will be slightly sticky. Knead on a floured surface, adding additional flour if necessary, until smooth and elastic, about 4 minutes.  (If using RapidRise Yeast, let dough rest at this point for 10 minutes.)

Pat dough with floured hands to fill greased pizza pan or baking sheet.  OR roll dough on a floured counter to 12-inch circle; place in greased pizza pan or baking sheet.  Form a rim by pinching the edge of the dough.
Assemble the pizza
Spread pizza sauce over the crust leaving 1/2 inch around the edge. Sprinkle cheese over sauce. Add sausage, bacon, and pepperoni. Sprinkle Italian seasoning over the top.

Bake in preheated oven on the lowest oven rack for 12-15 minutes until cheese is melted and crust is golden brown. Slice into pieces and serve.
Notes
Feel free to add any favorite vegetables – like bell peppers and onions. 
Flavor tip:  use hot ground Italian sausage!
Nutrition
Calories:
718
kcal
,
Carbohydrates:
54
g
,
Protein:
30
g
,
Fat:
42
g
,
Saturated Fat:
14
g
,
Trans Fat:
1
g
,
Cholesterol:
92
mg
,
Sodium:
1173
mg
,
Potassium:
479
mg
,
Fiber:
3
g
,
Sugar:
5
g
,
Vitamin A:
695
IU
,
Vitamin C:
5
mg
,
Calcium:
315
mg
,
Iron:
5
mg