Super easy buttery soft pretzel-wrapped hot dogs! SO much more fun and better tasting than traditional buns!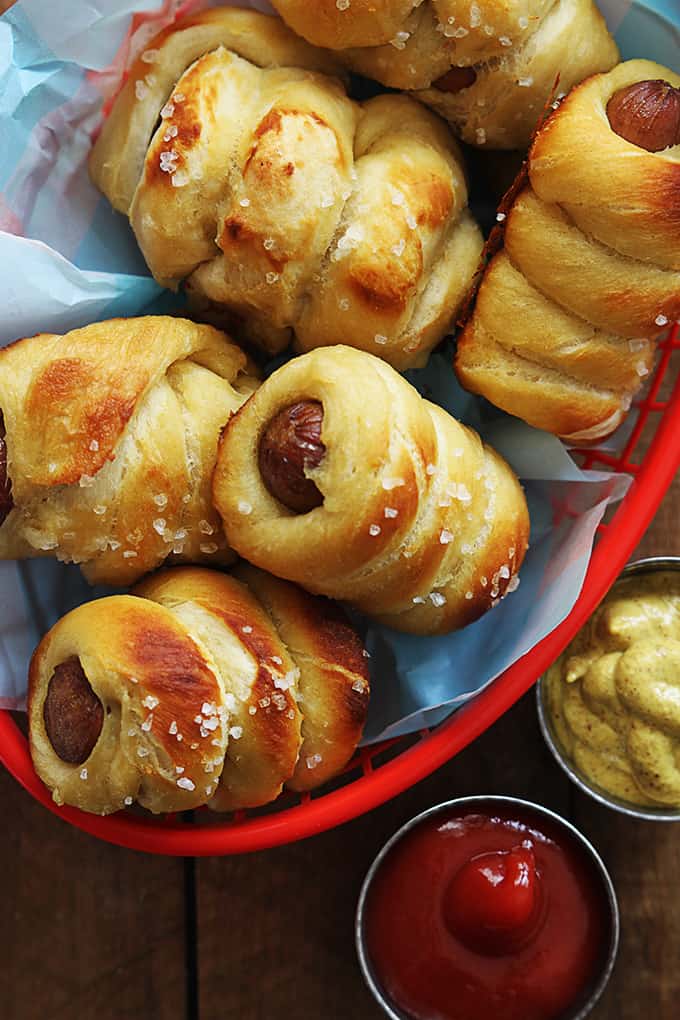 I've told you I'm pretty indecisive right? Okay, I'm really indecisive. Not because I'm difficult to please, but because I like so many things. Especially when it comes to food. And I get these intense cravings that simply must be quenched. In those cases, when I can't decide between one food or another, I sometimes get both and eat them side by side. Other times, I do a mashup.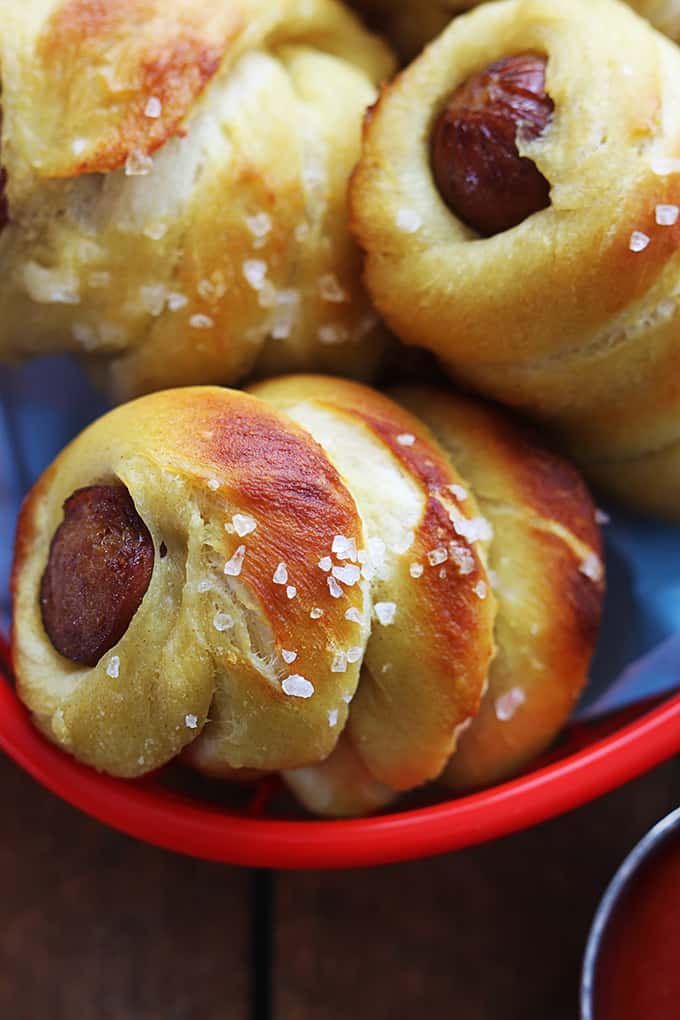 Today we're mashing two of my favorite mall-foods. Soft pretzels + hot dogs. I really like the hot dogs from Hot Dog on a Stick. And their lemonade, oh my gosh to die for. My mother turned me on to that addictive stuff. Fresh squeezed lemonade is a summertime staple. It goes so well with things like Hebrew National hot dogs and soft pretzels. Mmmm.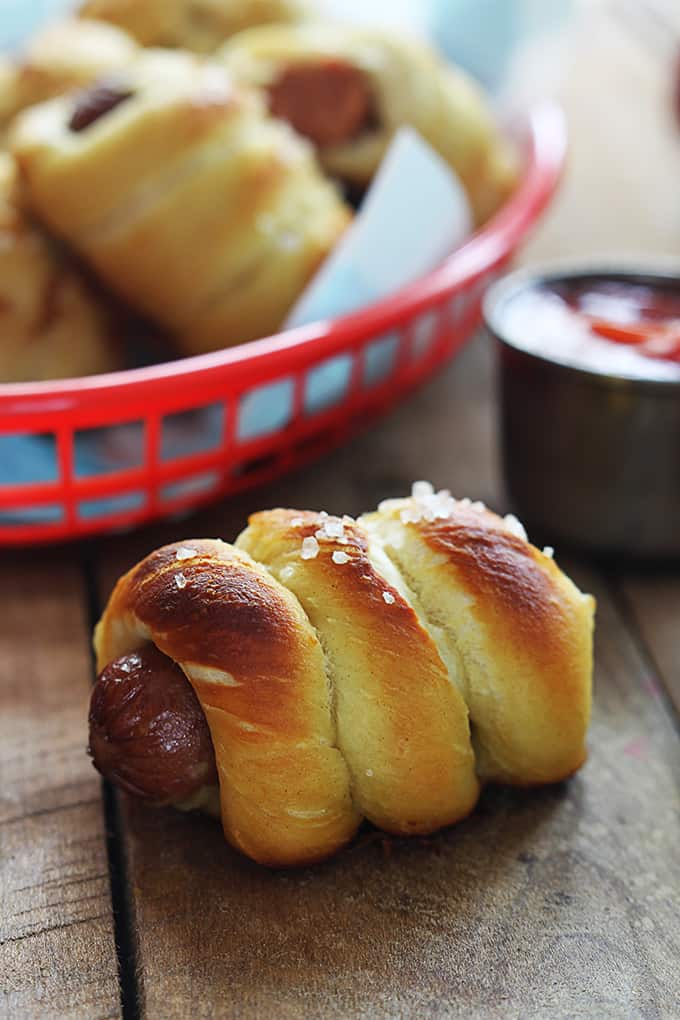 And if I'm having a fluffy soft pretzel I want to dip in one of two things. Ooey gooey totally fake cheese sauce (more more more!) or… mustard. I used to be a plain-mustard gal, that is until I discovered the beauty of dijon mustard about a year ago. More recently I was introduced to Gulden's spicy brown mustard, have you tried it?? LOVE IT! Then again, it had me at "spicy".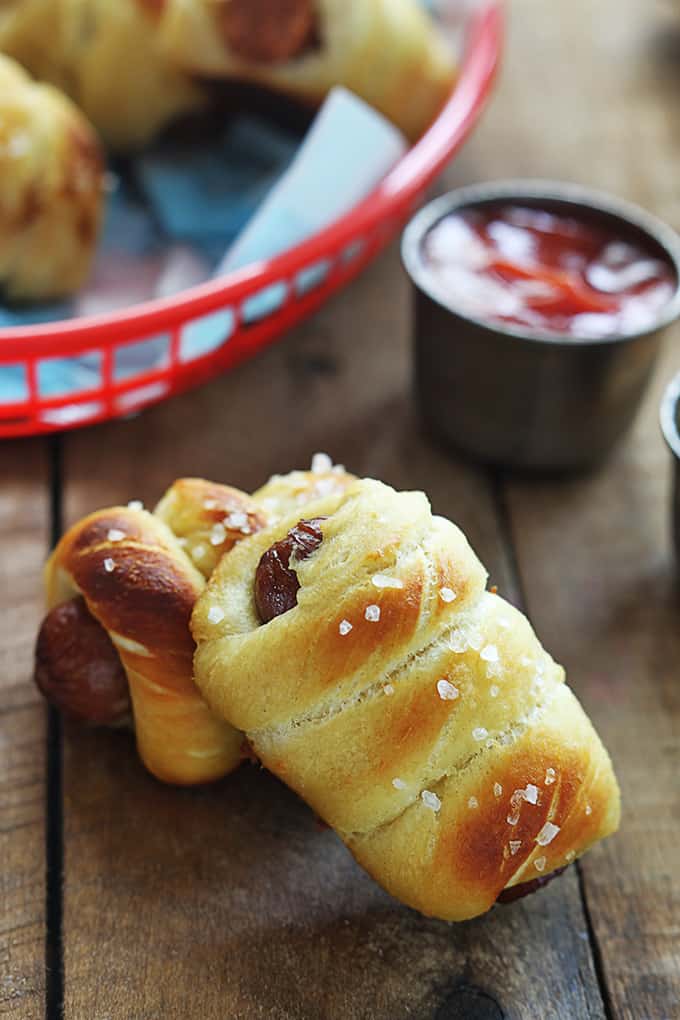 Okay now let's get to the nitty gritty of these pretzel dogs. Two favorites wrapped into one adorable little bundle. Ah! I just can't contain my joy. And they are way too easy. This dough takes only 30 minutes and then about 5 minutes for boiling and 15 minutes to bake. So don't fear the dough – it's a cake walk, promise.
And I think it's only fair that I issue a warning here: you will never want to go back to regular hot dog buns. Seriously. I'm addicted to the pretzel bun thing. And they're totally dipable!! Cheese sauce, mustard, ketchup, you can dunk these cuties in anything and everything. And I do mean everything.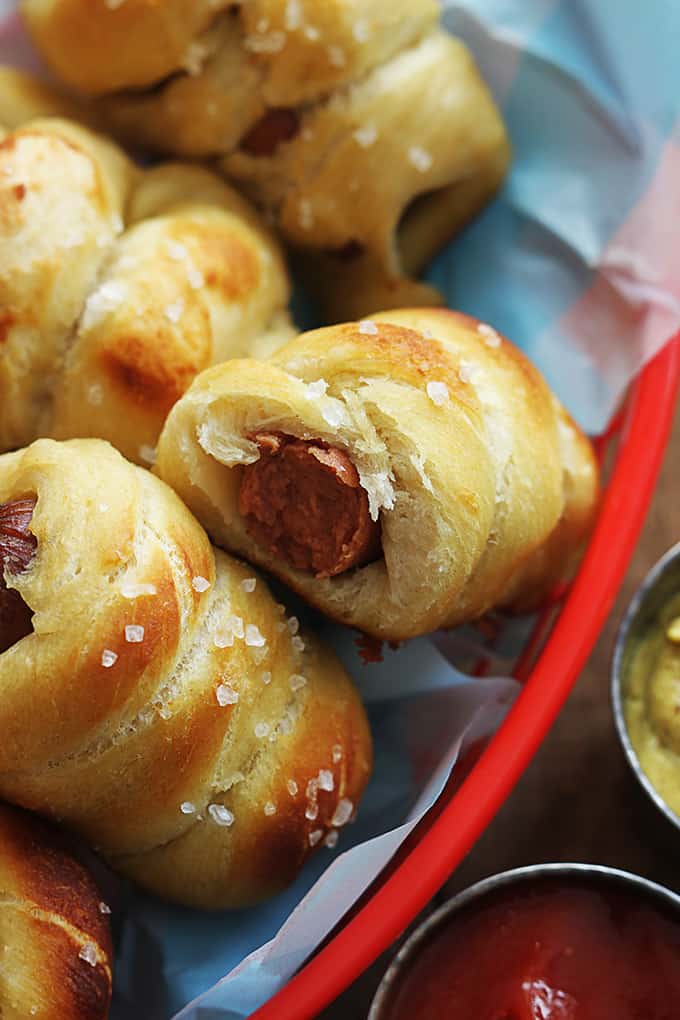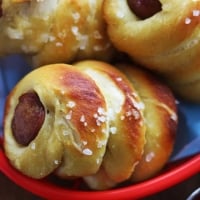 Pretzel Dogs
Super easy soft pretzel-wrapped hot dogs! SO much more tasty and fun than traditional buns!

Ingredients
1 ½

cups

warm water

2

tablespoons

sugar

1

tablespoon

yeast

3 ½

cups

flour

1

teaspoon

salt

½

cup

baking soda

4

tablespoons

butter

-

melted

8

hot dogs

-

cut in half

salt

-

(coarse sea salt if possible)
Instructions
In the bowl of a stand mixer, whisk together warm water, sugar, and yeast.

Fit your mixer with a dough hook attachment. Add flour and salt to the bowl. Mix on medium-low speed until smooth. Allow to rest for 10 minutes.

Divide the dough into 16 equal sized pieces. Roll each piece into a long log (about 8 inches long). Wrap a rolled piece of dough around one hot dog half and pinch the ends together to keep it from unraveling. Repeat with remaining dough and hot dogs. Allow to rest while you prepare the next steps.

Preheat oven to 400. Grease a large baking sheet with cooking spray. Bring a large pot of water to boil. (about 6-8 cups) Add baking soda to water (careful it will bubble up!)

Use a slotted spoon to place dough-wrapped hot dogs in the boiling water (do 4 at a time). Allow to boil for 30 seconds. Remove with slotted spoon and place on a paper towel.

Once all hot dogs have boiled, place them all on the prepared baking sheet. Brush melted butter over the hot dogs. Sprinkle with sea salt to taste. Bake about 15 minutes or until dough is golden brown. Serve warm with your favorite sauces (I used ketchup and spicy brown mustard!)
Notes
Serve with your favorite dipping sauce – mustard, ketchup, or cheese sauce. 
Nutrition
Calories:
656
kcal
,
Carbohydrates:
107
g
,
Protein:
22
g
,
Fat:
15
g
,
Saturated Fat:
5
g
,
Cholesterol:
42
mg
,
Sodium:
5319
mg
,
Potassium:
278
mg
,
Fiber:
3
g
,
Sugar:
7
g
,
Vitamin A:
25
IU
,
Vitamin C:
1
mg
,
Calcium:
56
mg
,
Iron:
7
mg
Recipe adapted from lemon sugar.
With grilling season upon us, everyone is craving an all-American hot dog. What makes a kosher hot dog different? It's all about what makes the cut (and what doesn't). Hebrew National is choosy about what goes into their franks – only 100% pure kosher beef so you know what you're getting and they taste great. No artificial flavors, colors, fillers or byproducts.
Oh p.s. compensation was provided by Hebrew National via Mode Media. The opinions expressed herein are my own and are not indicative of the opinions or positions of Hebrew National.