Soft pumpkin pretzels coated in cinnamon sugar and drizzled or dipped in vanilla icing! Just 30 minute prep and they're made from scratch! Pumpkin season isn't complete without these!  
The second or third best thing ever happened yesterday. Remember that trip we took to the Outer Banks back in March? If you do then you probably remember those donuts I rambled on and on and onnnn about for days. In fact if you're following my Instagram feed then you probably drooled over the pictures too. These are no ordinary donuts people. They are made-to-order. Let me repeat that… they are made. to. order. As in, freshly fried in front of your very eyes and then dipped in the frosting(s) of your choice and topped with sprinkles, coconut flakes, or anything else your little heart desires.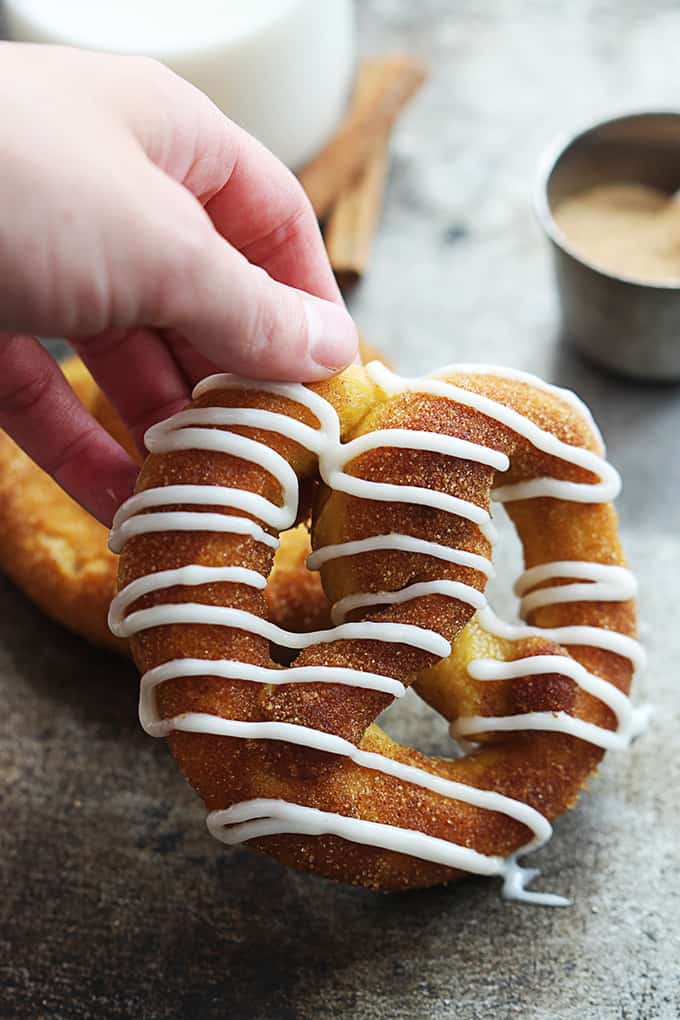 So back in March I was introduced to Duck Donuts, the makers of these dreamy donuts and until yesterday I thought the only way I would ever get to experience the greatness of Duck Donuts ever again would be to make a trip back to North Carolina. But yesterday all of my dreams came true. Turns out there is a Duck Donuts in Virginia, and it is in Williamsburg. Do you know where I am spending this, (my birthday) weekend?? Williamsburg Virginia. It is fate. Absolutely positively fate. Yesterday was one maple-chocolate and one strawberry-orange with sprinkles. Both=heaven on earth. Today's made-to-order donuts are yet to be decided. But these pumpkin pretzels are on my mind so I'm thinking vanilla-frosted dipped in cinnamon sugar. Yes? Yes. Done.
 These pumpkin pretzels are made from scratch but DO NOT let that scare you away. They honestly take 30 minutes of prep, that's it. They are incredibly easy and so unbelievably yummy. They are pumpkin, so naturally they are already a winner. But then you dip them in cinnamon and sugar. What?? Yes. And then! Some frosting. Of course. 🙂
Cinnamon Sugar Pumpkin Soft Pretzels
Soft pumpkin pretzels coated in cinnamon sugar and drizzled or dipped in vanilla icing! Just 30 minute prep and they're made from scratch! Pumpkin season isn't complete without these!
Ingredients
1 ⅓

cups

very warm water

1

tablespoon

active dry yeast

2

tablespoons

honey

4

cups

flour

½

cup

canned pumpkin puree

-

(not pumpkin pie filling)

1

teaspoon

salt

1

teaspoon

pumpkin pie spice
Coating
¼

cup

butter

-

melted

¼

cup

sugar

1

tablespoon

cinnamon
Frosting
3

cups

powdered sugar

¼

teaspoon

vanilla

2

tablespoons

cream cheese

-

softened

2-3

tablespoons

milk
Instructions
Preheat oven to 400 degrees. Grease a baking sheet with cooking spray. Whisk together warm water, yeast and honey. Allow to rest for 5 minutes.

Add flour, salt, pumpkin pie spice, and pumpkin puree to water-yeast mixture and mix until dough comes together.

Transfer dough to a very well floured surface and knead a few times. Allow to rest for 10 minutes.

Roll dough into a long log and divide into 12 equal pieces. Roll each piece into a long log (about 16-18 inches) twist dough into a pretzel shape (click [url:1]HERE[/url] for some picture on how to do this).

Fill a pot with about 2-3 inches of water. Bring to a boil. Slowly sprinkle baking soda into water (careful, it will bubble and foam).

Carefully drop a pretzel into the water. Allow to boil for 30 seconds. Use a slotted spoon to transfer to a paper towel. Repeat with remaining pretzels. Place pretzels on greased baking sheet. (You may need to bake them in two batches). Bake for 10-15 minutes until pretzels are lightly browned. Allow to cool for a few minutes.

Whisk together cinnamon and sugar, then spread it out in a layer on a plate. Brush melted butter onto baked pretzels, then dip the buttered side into the cinnamon sugar, move it around to coat the front of the pretzel well with cinnamon and sugar. Repeat with remaining donuts.

For the frosting, mix together powdered sugar, vanilla, and cream cheese until smooth. Add milk one tablespoon at a time until desired consistency is reached. (I like it a little bit thinner for drizzling, thicker for dipping). Serve with pretzels.
Notes
Store wrapped individually in airtight container at room temperature up to three days.  
Nutrition
Calories:
315
kcal
,
Carbohydrates:
71
g
,
Protein:
5
g
,
Fat:
2
g
,
Saturated Fat:
1
g
,
Cholesterol:
3
mg
,
Sodium:
1124
mg
,
Potassium:
89
mg
,
Fiber:
2
g
,
Sugar:
37
g
,
Vitamin A:
1636
IU
,
Vitamin C:
1
mg
,
Calcium:
29
mg
,
Iron:
2
mg