Juicy seasoned Baked Pretzel Crusted Chicken Tenders – perfect for serving with your favorite dipping sauces for dinner or a tasty appetizer. 
Welcome to this week's episode of Confessions of a Chicken Tender-aholic! For real though. I have an addiction to chicken tenders. And it goes way, way back.
When I was younger I ordered chicken tenders probably 90 percent of the times I ever ate out with my family. We didn't go out very often, because hello – nine children, scary. But when we did, I wanted chicken tenders with allllllll the dipping sauces. Ketchup, BBQ, honey mustard, ranch, sweet and sour….
YES PLEASE.
I even ordered chicken tenders when we went to iHop. People…. the house of pancakes. I ordered chicken tenders. Numerous times. I told you, chicken tender-aholic. These days I usually don't order chicken tenders when I go out to eat, but not because I love them any less than I did as an eleven year old. I order something else because chances are I've recently had my chicken tender cravings quenched when I made a batch at home.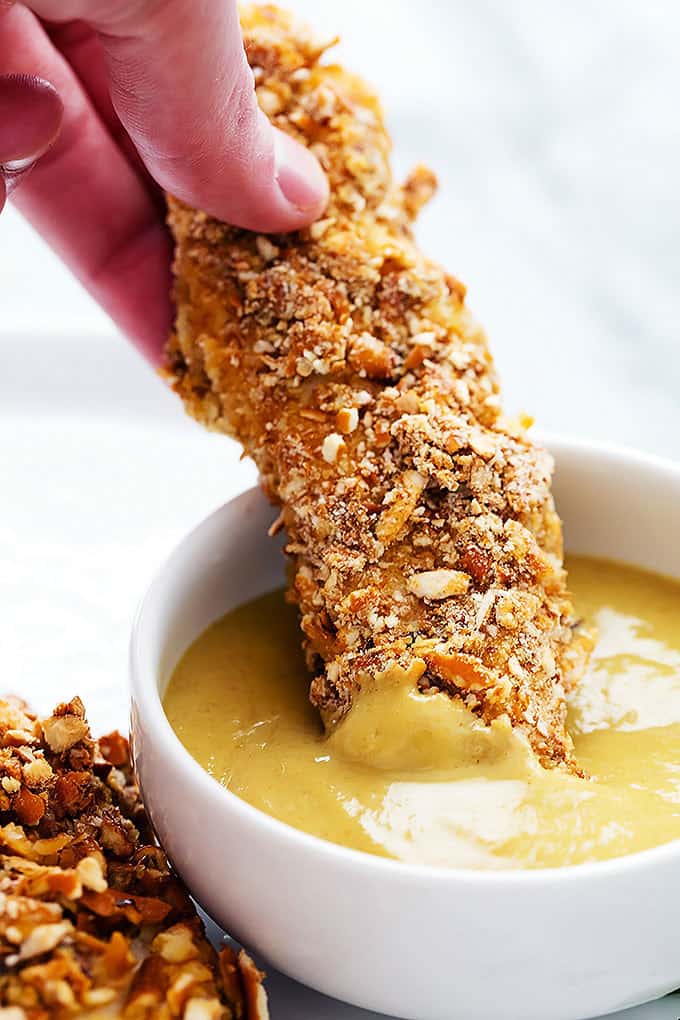 Personally, I really hate frying food. Health reasons are closely followed by the fact that it makes me, my house, and my mile-long hour-to-blow-dry-hair smell to high heaven and too many of my favorite t shirts have been ruined by a rogue splatter of grease.
So for those reasons I bake my chicken tenders and here's the thing…. I don't miss the fried version. (gasp!) Seriously though, I can't remember the last time I had fried chicken tenders and my craving are 100 percent in check you guys. Plus with a healthier baked version I feel less guilty about dunking them in a gallon of honey mustard sauce.
This is my latest and greatest chicken tender love affair: pretzel crusted chicken tenders. SO good. Even my husband, who doesn't even like pretzels (I know. weird.) asked for seconds! So easy to make, and super yummy.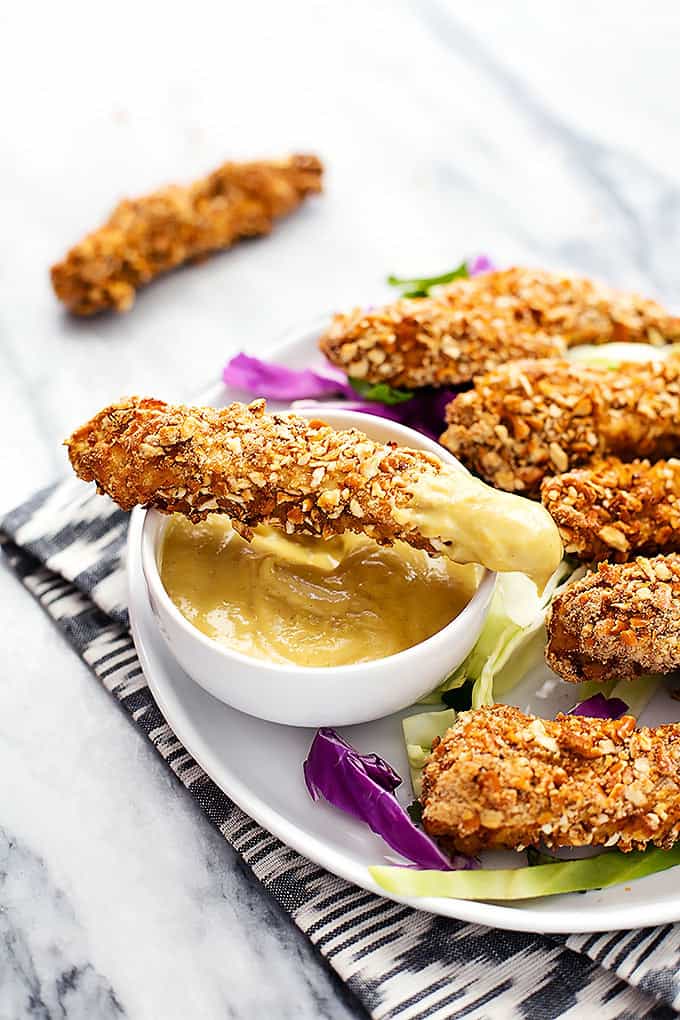 Plus I made another video for you guys! Side note: I realized about three seconds ago that it has a little hiccup with the titles – they kind of appear and disappear a little quicker than intended but, you get the gist and I'm still figuring out this whole video thang. Thanks for understanding!
What people are saying about these Baked Pretzel Crusted Chicken Tenders
"Loved these! Tried them a couple weeks ago and totally fell for that pretzel flavor. I'm a complete pretzel addict lately so these suited my cravings perfectly!" – Rachel
"Made these for my husband and I – they were really easy to make and turned out great! I added some Parmesan to the pretzels just to experiment and it was heavenly!" – Katie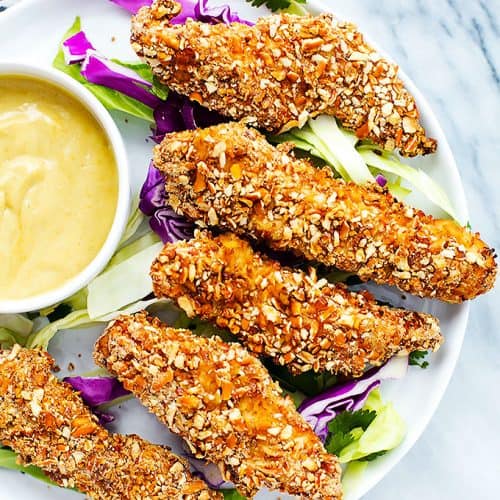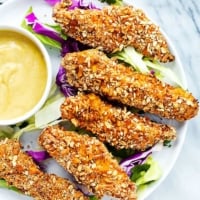 Baked Pretzel Crusted Chicken Tenders
Juicy seasoned chicken strips with a pretzel crust - perfect for serving with your favorite dipping sauces for dinner or a tasty appetizer.
Ingredients
4

large boneless skinless chicken breasts

-

pounded to ½ inch thickness

½

cup

flour

½

teaspoon

chili powder

½

teaspoon

garlic powder

½

teaspoon

salt

¼

teaspoon

black pepper

2

cups

pretzels

-

(sticks or twists), crushed

2

eggs

1

tablespoon

water

sauce for dipping

-

(see note)
Instructions
Preheat oven to 400 degrees and grease a baking sheet.

Slice chicken into 1 1/2 inch strips. Place pretzels in a medium bowl. Whisk together eggs and water in a second bowl. In a third bowl stir together flour, chili powder, garlic powder, salt, and pepper.

Toss chicken strips in the flour mixture to coat, then dredge in the egg mixture being sure to coat all sides. Lastly, roll chicken pieces in the crushed pretzels and place in a single layer on the greased baking sheet.

Bake chicken for 15-20 minutes until cooked through and browned. Serve with your favorite dipping sauce.
Notes
Some of my favorite dipping sauces are blue cheese dressing, ranch dressing, barbecue sauce, and honey mustard sauce (my personal favorite!). 
Nutrition
Calories:
500
kcal
,
Carbohydrates:
44
g
,
Protein:
57
g
,
Fat:
9
g
,
Saturated Fat:
2
g
,
Trans Fat:
1
g
,
Cholesterol:
226
mg
,
Sodium:
1095
mg
,
Potassium:
949
mg
,
Fiber:
2
g
,
Sugar:
1
g
,
Vitamin A:
261
IU
,
Vitamin C:
3
mg
,
Calcium:
35
mg
,
Iron:
4
mg