Buttery Grilled Garlic Bread you can make in less than 30 minutes – the perfect summertime appetizer or side dish!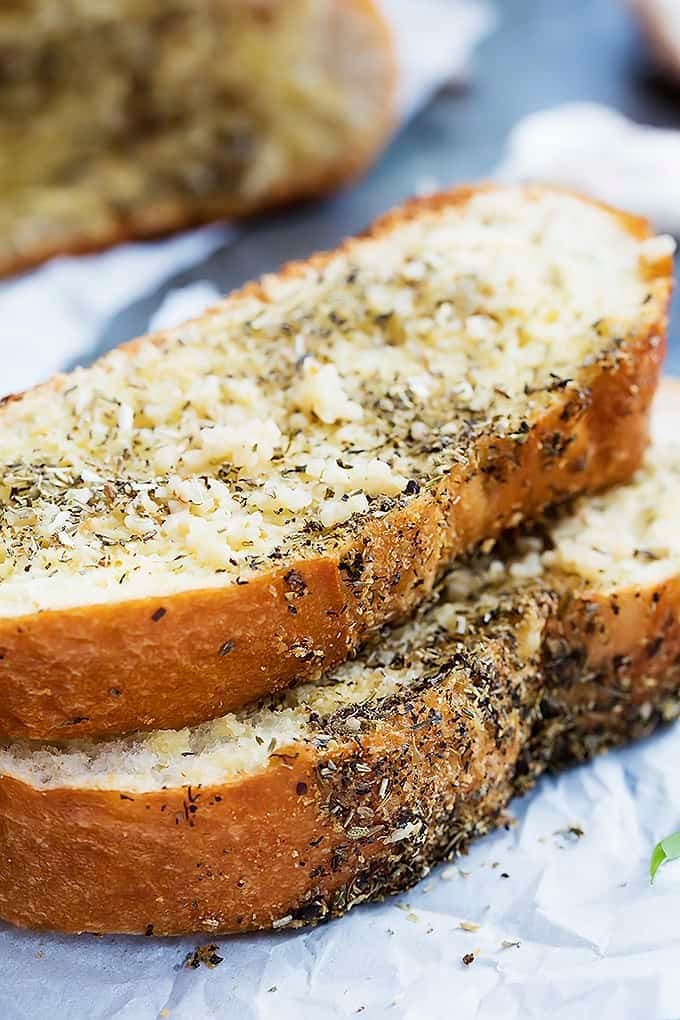 Good heaven this week has been long. Like really really long. But now we have garlic bread and it's Friday so life is good.
Except that I'm stressing a bit. Or more than a bit. Because we are tearing out our kitchen cabinets TONIGHT you guys. My husband will be home from his business trip to Idaho at 2:00 this afternoon and the rest of my morning til then will consist of emptying all of the cupboards which I have have been avoiding all week because I know it's going to give me a gigantic headache. The kind caused by two or more weeks of not knowing where the forks are, eating off of paper plates or getting takeout, coughing up a lungful of insulation and dust, and altogether home makeover chaos.
But garlic bread. Grilled garlic bread. It's my sanctuary for the next 10 minutes til I tackle those cabinets.
This fact that this garlic bread is grilled makes me insanely happy. I'm more than a little bit proud of the idea itself – smothering a big loaf of soft French bread with butter, garlic, and yummy seasonings, wrapping it in foil, and cooking it right on the grill outside. I love the whole concept. But mostly I love eating it. Stuffing big buttery garlic slices of carby tastiness into my mouth right next to a plate of pasta or some grilled chicken and veggies.
And entire meal of grilled things! That is my heaven.
The best part is that it feels like of gourmet and rustic at the same time. Grilled garlic bread. Sounds fancy. Tastes heavenly. But entirely simple enough for late summer nights, backyard BBQs and camping trips. Camping trips!!! I plan to do this on our next camping outing, which sadly might not happen til next Summer what with the size of this preggo belly and all that comes with it. But next summer,  you bettah believe grilled garlic bread is happening at the lake. It must.
Grilled Garlic Bread
Buttery grilled garlic bread you can make in less than 30 minutes - the perfect summertime appetizer or side dish!
Ingredients
1

loaf

French or Italian white bread

½

cup

butter

-

very soft

2

tablespoons

garlic powder

1

tablespoon

minced garlic

1

tablespoon

Italian seasoning
Instructions
Preheat grill to low heat. Place bread loaf in the center of a large sheet of foil (big enough to wrap entirely around the bread later). Slice bread into 1 1/2 inch thick slices but do not cut through the very bottom of the loaf, leave about 1/4 inch at the bottom intact so that all of the slices still stay connected.

Spread butter between each slice and use your fingers to rub some over the top of the loaf. Sprinkle garlic powder between each slice trying to cover as much surface area as possible. Sprinkle minced garlic on top of the loaf and finish off with the Italian seasoning.

Wrap the bread loosely in the foil (make sure it's sealed shut but has some room for the heat to circulate). Place foil-wrapped-bread on the grill and cook for 15-20 minutes turning over half way through.

Carefully unwrap the foil, pull bread slices apart and serve warm.
Notes
Servings will vary depending on how many slices you get out of the bread. A long slender loaf will yield more slices than a short wide loaf.
Nutrition
Calories:
218
kcal
,
Carbohydrates:
42
g
,
Protein:
9
g
,
Fat:
2
g
,
Saturated Fat:
1
g
,
Cholesterol:
2
mg
,
Sodium:
365
mg
,
Potassium:
160
mg
,
Fiber:
2
g
,
Sugar:
3
g
,
Vitamin A:
47
IU
,
Vitamin C:
1
mg
,
Calcium:
70
mg
,
Iron:
3
mg