Make Easy Tamales this week right in your own kitchen – they're so much simpler than you'd think! Fill them with pork, veggies, chicken, or cheese and top with your favorite toppings! 
This post is in partnership with Kroger – all opinions are my own.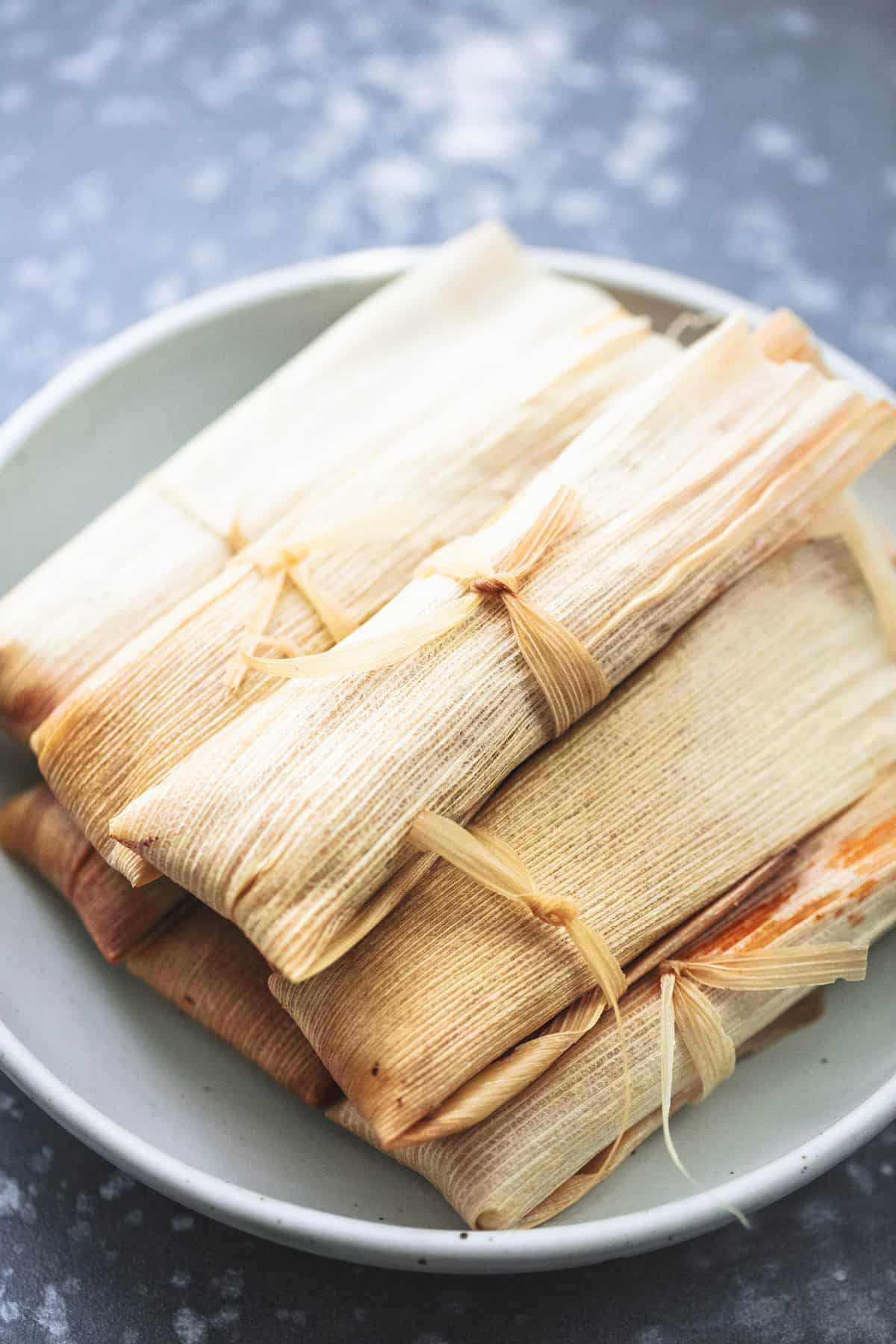 My dad and I have so much in common. Apart from the fact that our minds function on entirely different operating systems – him: Early50s and me: Presentday 2.1.0 , we really are a lot alike. We love to spend our leisure time outdoors, get incredibly annoyed about the unreliability of the weather forecast, and both order tamales any and every opportunity we can.
I'm not sure when my dad was very first introduced to the magic of a tamale, but I still remember my earliest experience and 20 years later I can honestly say that my love for tamales definitely began when our unofficially adopted Itsines family took us in. Wendy and her husband lived just around the corner from my childhood home and once or twice a year she would make a huge (read: HUGE) batch of tamales, stuff a few gallon ziploc bags full of them, and bring them over to our house.
It didn't matter what had been on the docket for dinner that night, when Wendy dropped by with tamales, we put it on the shelf and had a tamale feast. Whatever we couldn't manage to fit in our bellies that night we'd freeze and savor for the coming months until Wendy came by yet again with a delivery of our beloved tamales. Even after we moved away years later, she'd call up my dad to let him know it was Tamale Time and he'd make a special trip back to our old neighborhood to get them fresh from her house. The Itsines's treated us like family, and shared their heart-warming recipes with us countless times over the years.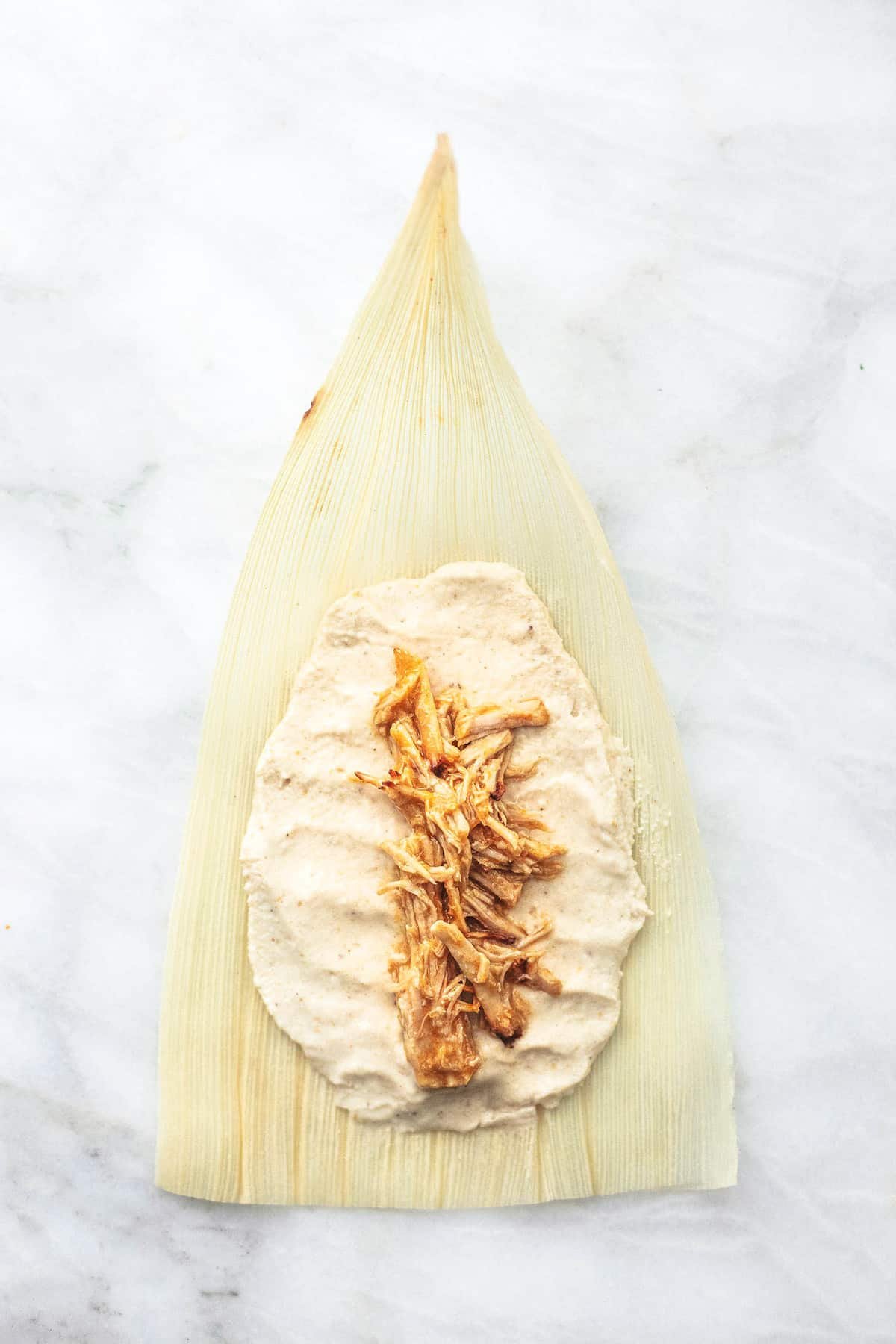 I'm so thrilled to be partnering up with Kroger to celebrate the rich beauty of Hispanic heritage for Hispanic Heritage Month! Kroger carries all of the fresh traditional Hispanic staples you need to celebrate right at home in your own kitchen. I'm fortunate to live just three minutes from my local Kroger grocery store and love that I can pop in for a few minutes and, even with all three of my kids in tow, know that I'll be in and out within a few minutes with all of the fresh, quality ingredients I need for a delicious family meal.
To celebrate Hispanic Heritage Month, Kroger and I made tamales for you!  I wish we could all sit down in my kitchen together and dig in, but due to logistics (ugh) a virtual tamale feast will have to do. The most ideal situation would be that you take a super-quick jaunt over to your local Kroger store, snag some masa, corn husks, fresh salsa, and guacamole (always guacamole) and whip up a batch of tamales so that we can all enjoy them tonight for dinner. Do it! Let's feast.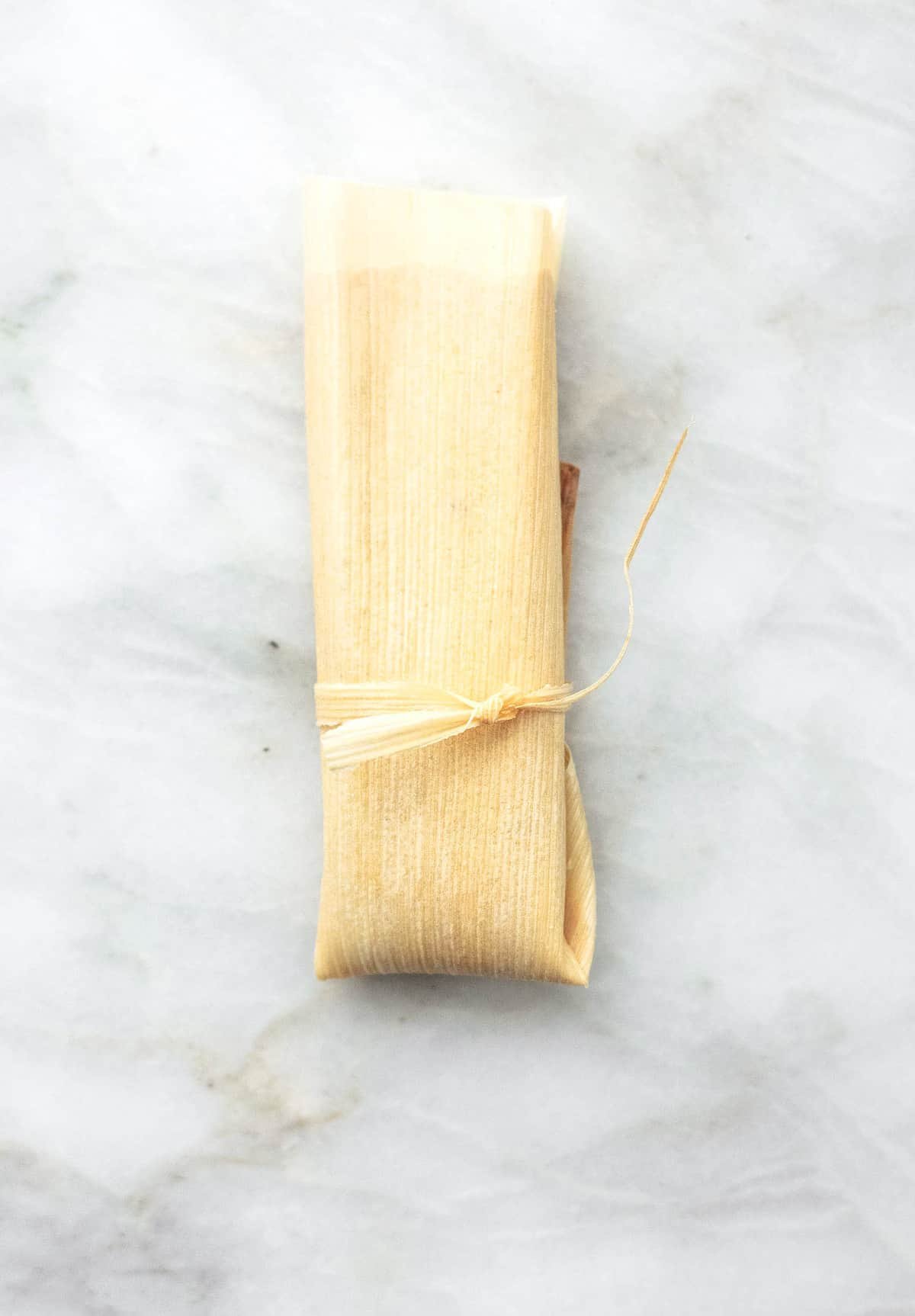 How do you make tamales?
Tamales are much simpler to make than you might think! The first step is to make the masa dough and soak corn husks in water for about 30 minutes. Grab a corn husk, add your masa, and stuff it with any filling you like (pork, chicken, beans, cheese) then roll, fold, and tie. All that is left is to steam them on the stovetop OR in your pressure cooker!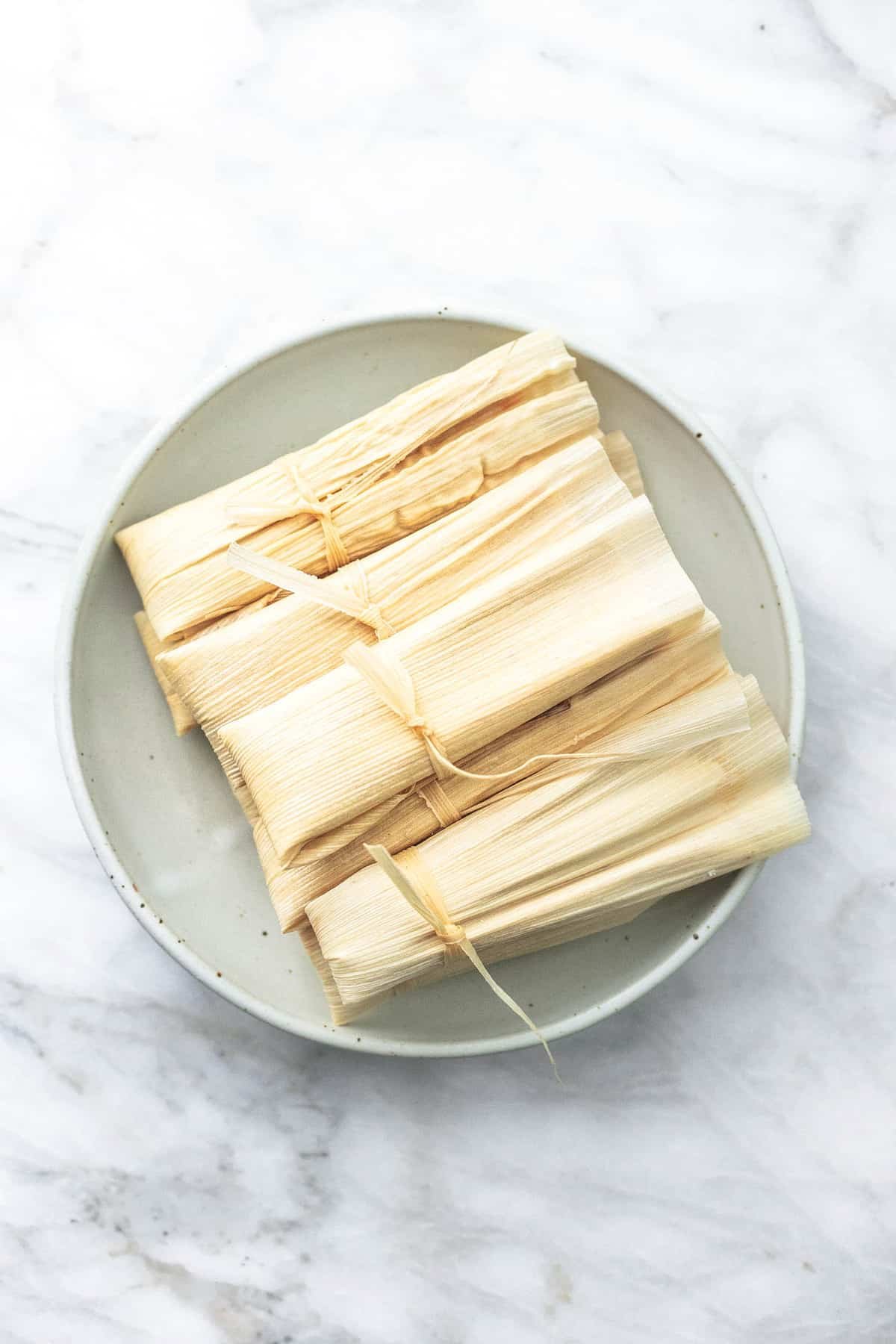 What are the best fillings for tamales?
Anything and everything! No really, tamales are so versatile. Here are a few of my favorite tamale fillings:
shredded pork
whole green chiles
shredded chicken
beans
mozzarella or Mexican blend shredded cheese
chiles
What are the best toppings for tamales?
Again, everything! I absolutely love guacamole, hot sauce or enchilada sauce, salsa or pico de gallo, fresh cilantro, or hot queso.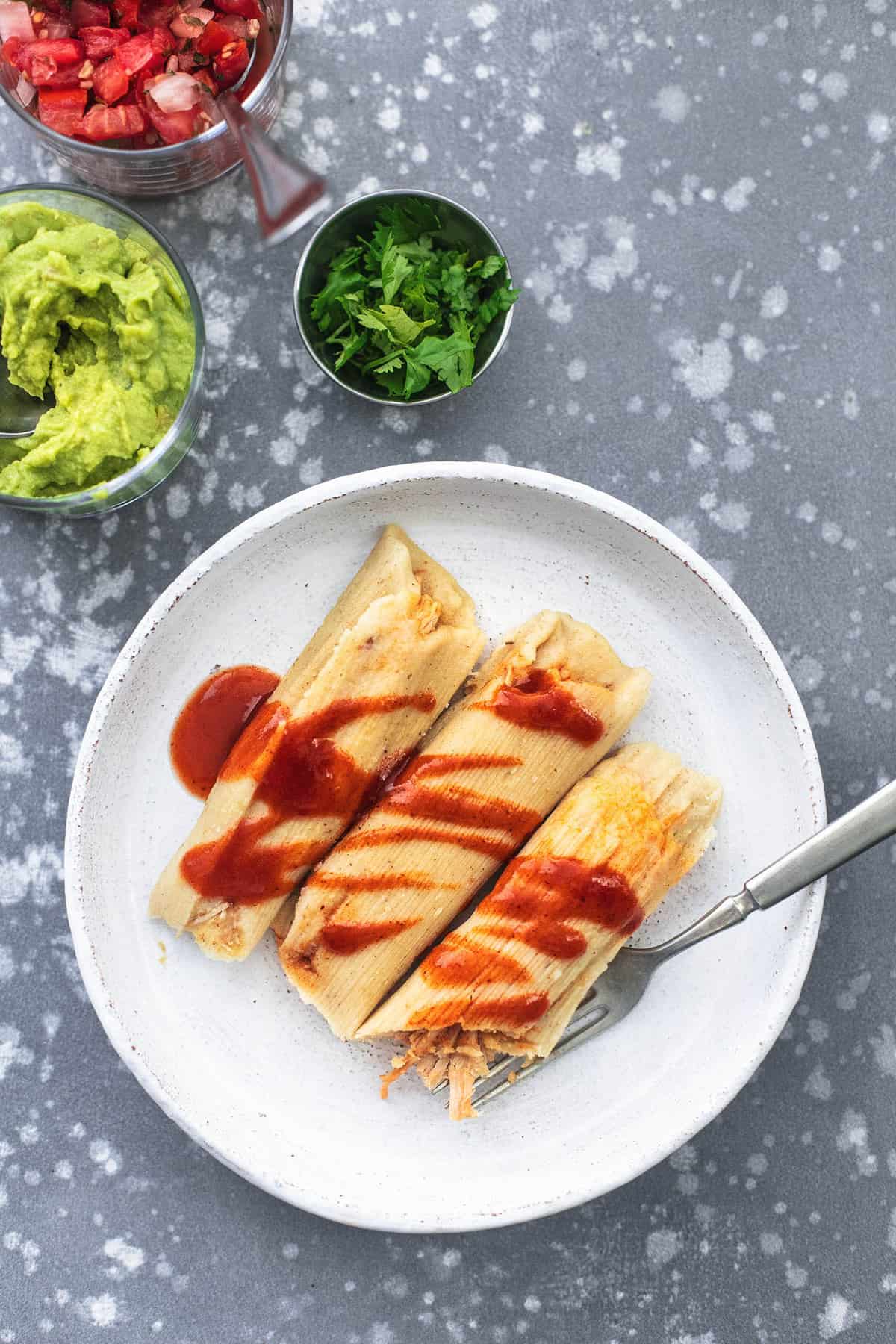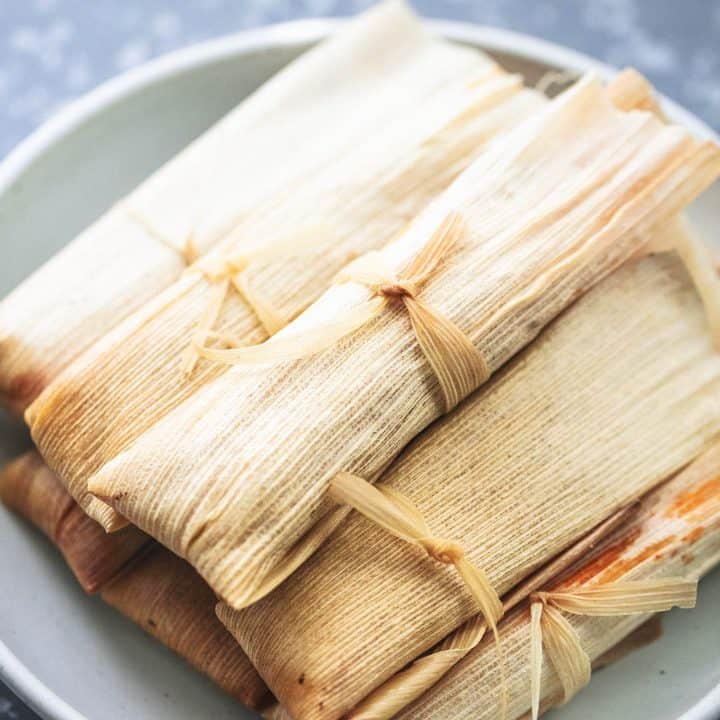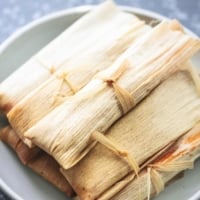 Easy Tamales
Make Easy Tamales this week right in your own kitchen – they're so much simpler than you'd think! Fill them with pork, veggies, chicken, or cheese and top with your favorite toppings! 
Ingredients
1

package

dried corn husks

6

cups

masa harina

2 ½

teaspoons

salt

2

teaspoons

ground cumin

1

teaspoon

chili powder

1

teaspoon

baking powder

6

cups

chicken or vegetable stock

¾

cup

vegetable oil

3

cups

filling

-

(shredded pork or chicken, cheese, beans)

1

cup

red or green enchilada sauce

-

mild or medium, your preference

toppings of choice

-

(guacamole, enchilada sauce, hot sauce, salsa, cilantro)
Instructions
Place the corn husks in a large bowl, fill with warm water and place a second bowl on top to weight the corn husks down so they are submerged in the water. Soak for 30 minutes.
Make the masa
While the corn husks are soaking, in the bowl of a large stand mixer whisk together masa harina, salt, cumin, chili powder, and baking powder. Add the oil, beat on low until combined, then gradually incorporate the chicken/vegetable stock. Once incorporated, switch to medium-high speed and mix for 6-8 minutes until light and fluffy.
Assemble the tamales
Combine your filling and enchilada sauce in a medium bowl and toss to combine.

Use a 1/4 cup measuring cup or a large cookie scoop to place one scoop of masa in the middle of a corn husk. Use wet fingers to pat masa into a large rectangle long enough to hold your filling. Scoop 1-2 tablespoons of filling into the center of the masa and spread with your fingertips to spread the filling into a line going down the center of the dough. Pull the two long sides of the corn husk up above the filling and pinch together to seal the dough over the filling. Fold the touching sides around the tamale, then fold up the narrow/pointed end of the corn husk and wrap with a long thin strip of a corn husk. Set aside and repeat.
Cook the tamales
Fit your stockpot or pressure cooker with a steamer basket. Add 2 cups water to the bottom of the pot. Fill the steamer basket with tamales standing up on one end. Steam for 30 minutes on the stovetop or 20 minutes in your pressure cooker (high pressure) with natural release. Husks should easily peel away from the tamales when they're done. Serve immediately, or refrigerate or freeze for later use.
Notes
A serving is considered about 3 tamales. 
Nutrition
Calories:
480
kcal
,
Carbohydrates:
75
g
,
Protein:
7
g
,
Fat:
19
g
,
Saturated Fat:
14
g
,
Sodium:
1437
mg
,
Potassium:
223
mg
,
Fiber:
6
g
,
Sugar:
13
g
,
Vitamin A:
688
IU
,
Vitamin C:
2
mg
,
Calcium:
124
mg
,
Iron:
6
mg