Crispy, Baked Chicken Chimichangas! These burritos are so yummy and healthy because they're baked instead of fried!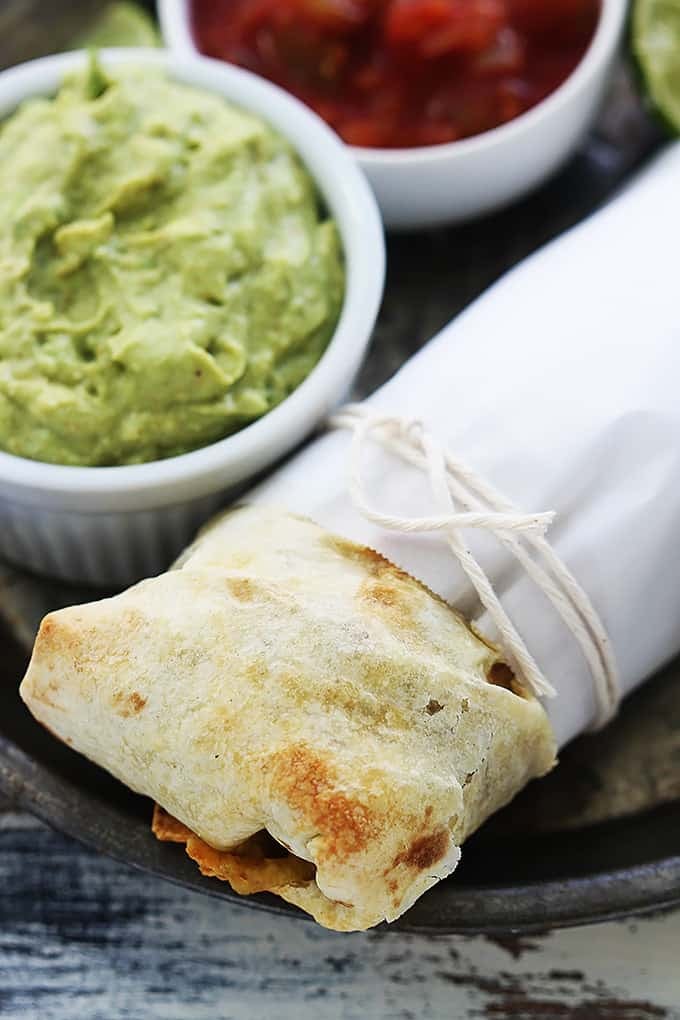 Did you have a fantastic Christmas?? And if you don't celebrate Christmas, did you have a fantastic Thursday?? Either way, I hope it was wonderful and filled with lots of cookies.
My mantra this week: Cookies are always a good idea.
At our house, the holidays are always jam-packed with heavy, "flat" foods. I call them flat because they really aren't bland, they always have lots of flavor, but the flavors all kind of blend into one another if you know what I mean – no climax. So after a triple-helping of ham and mashed potatoes, I always crave something with a lot of kick and for me, that always means Mexican food.
Then again, I quite literally crave Mexican food every. day. of. my. life. So…. I guess I use the holidays as an excuse to eat tacos and guacamole for 17 days in a row and not feel weird about it.
This week I made chicken chimichangas – ohhhh yeahhhhhh – and since it's almost January (how. how is it almost January already.) are over and everyone (um, mostly meaning ME.) is thinking about how they should probably make some healthier eating decisions to get "back on track" after the holiday deviation, I made baked chicken chimichangas. So much easier and healthier than fried ones and you will not miss the oil, I promise you. These still get plenty crispy in the oven and they are full of yummy things – hello cheese, Mexi-chicken, guac, and re-fried bean goodness.
If this is what getting back on track looks like, count me IN.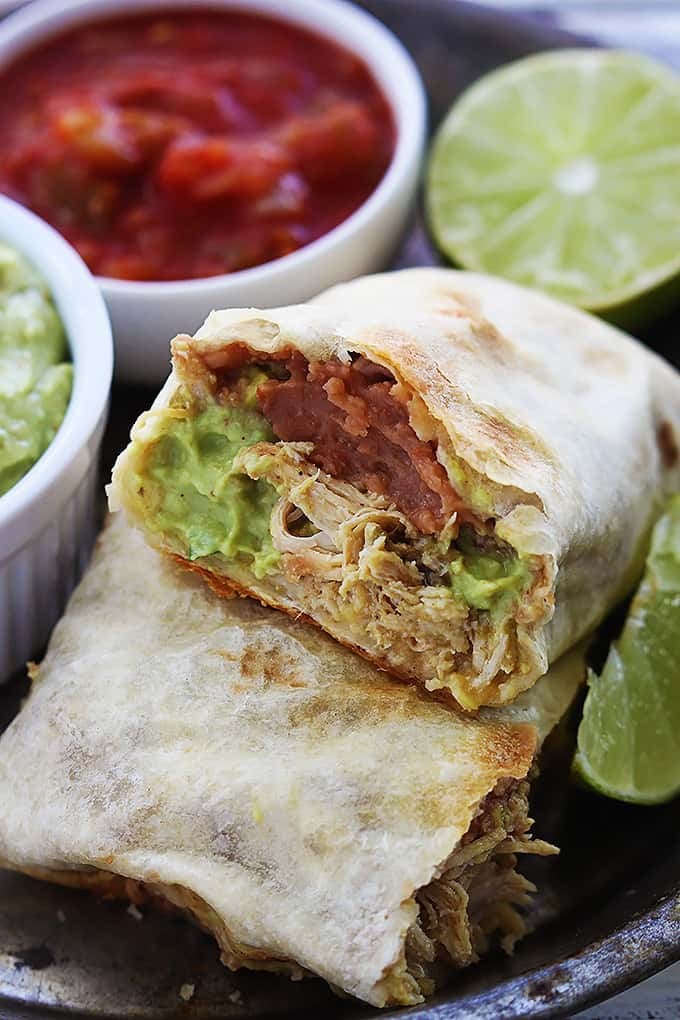 What people are saying about these Baked Chicken Chimichangas
"This is the best Mexican chicken ever! Even though it says slow cooker it is relatively quick, and slow cooking it makes the chicken so flavorful. We have had it three nights in a row. We put it over cilantro lime brown rice with black beans in a bowl with cheese and sour cream as a great alternative to going to Chipotles. It also makes great church chicken tacos. Just so everyone knows it doubles and triples beautifully." – Donna 
"I made these for my family tonight and everybody loved them! That is not an easy feat with my picky kids. This will be a new favorite in our house!" – Michelle 
Baked Chicken Chimichangas
Crispy chicken chimichanga burritos! These are so yummy and healthy because they're baked instead of fried!
Ingredients
4

large

burrito-size flour tortillas

½

cup

refried beans

1

cup

guacamole

-

(optional, but highly recommended!)

2

cups

shredded chicken

-

(see recipe below for the easy slow cooker chicken I used!)

1

cup

shredded Mexican style cheese

-

(cheddar, monterey, jack cheese, use your favorite!)

oil or cooking spray

optional: additional guacamole, salsa
Instructions
Preheat oven to 425 and grease a baking sheet.

Lay your tortillas out on a flat surface. Spread refried beans in the middle of each tortilla. Spread guacamole on top of the beans. Add shredded chicken, then shredded cheese. Roll into a burrito.

Place burritos on prepared baking sheet. Spray generously with cooking spray, OR brush with oil. Bake for 15-20 minutes until the tortillas are browned and crispy. Serve warm with additional guacamole and salsa if desired.
Notes
Beans: feel free to swap out refried for black or pinto beans!
Nutrition
Calories:
428
kcal
,
Carbohydrates:
24
g
,
Protein:
29
g
,
Fat:
24
g
,
Saturated Fat:
8
g
,
Cholesterol:
79
mg
,
Sodium:
630
mg
,
Potassium:
533
mg
,
Fiber:
6
g
,
Sugar:
3
g
,
Vitamin A:
329
IU
,
Vitamin C:
6
mg
,
Calcium:
242
mg
,
Iron:
3
mg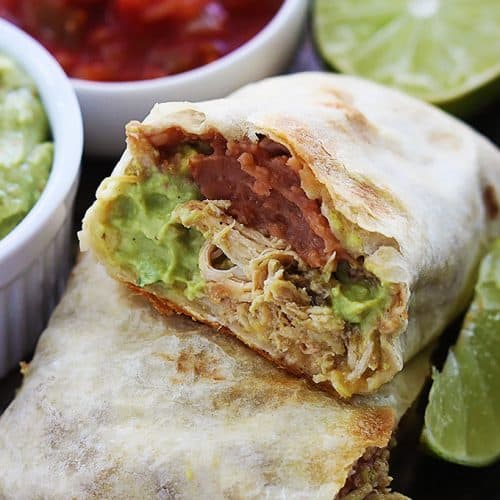 Slow Cooker Shredded Mexican Chicken
Easy slow cooker shredded Mexican chicken is perfect for tacos, burritos, salads and more!
Ingredients
2

large

boneless skinless chicken breasts

¼

cup

water

1

teaspoon

cumin

1

teaspoon

garlic salt

1

teaspoon

onion powder

½

teaspoon

chili powder
Instructions
Add all ingredients to slow cooker. Cover and cook on high for 2-3 hours or on low 3-4 hours.

Take the lid off the slow cooker, shred the chicken with two forks. Give it a stir and let it sit in the juices for about 10-15 minutes before serving or using for other purpose.
Notes
Use for tacos, burritos, salads, and more! 
Nutrition
Calories:
69
kcal
,
Carbohydrates:
1
g
,
Protein:
12
g
,
Fat:
2
g
,
Saturated Fat:
1
g
,
Trans Fat:
1
g
,
Cholesterol:
36
mg
,
Sodium:
653
mg
,
Potassium:
228
mg
,
Fiber:
1
g
,
Sugar:
1
g
,
Vitamin A:
97
IU
,
Vitamin C:
1
mg
,
Calcium:
11
mg
,
Iron:
1
mg