Light and fluffy Fried Scones – Utah style – served with honey and powdered sugar. So easy to make and dangerously tasty!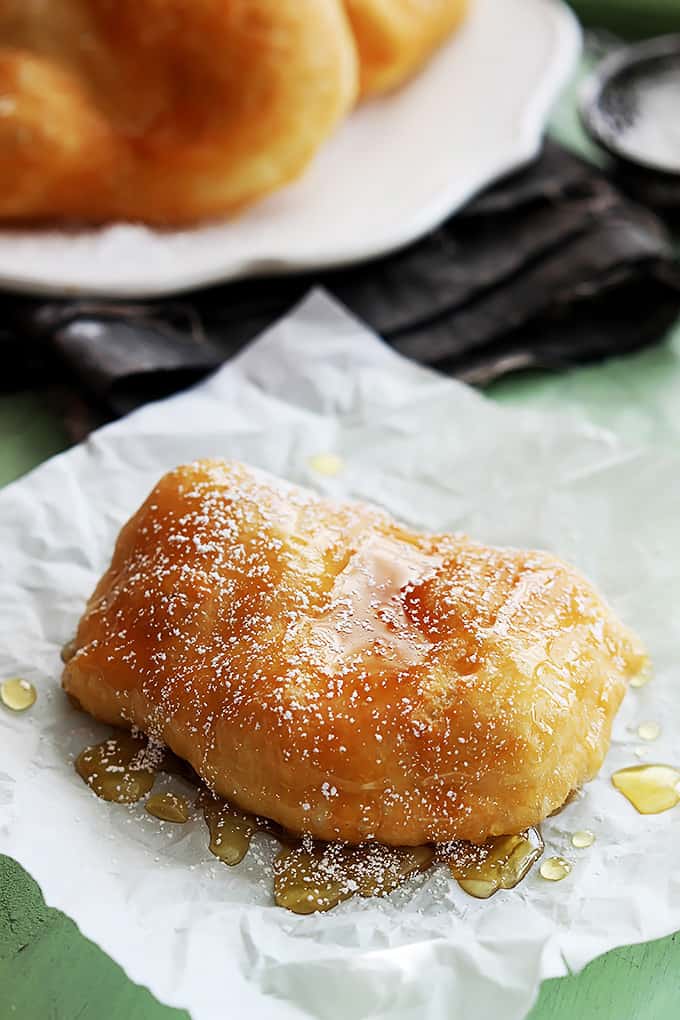 This recipe comes with a bit of an ironic story. When I was younger my family moved to Utah from California. Every year after that I would fly out to visit my cousin Jeanette and stay with her family for a few weeks during the summer. Sometimes my brothers would come too. My Aunt Paula made scones every time we came to visit and I tell ya, my brothers and I could put. them. away.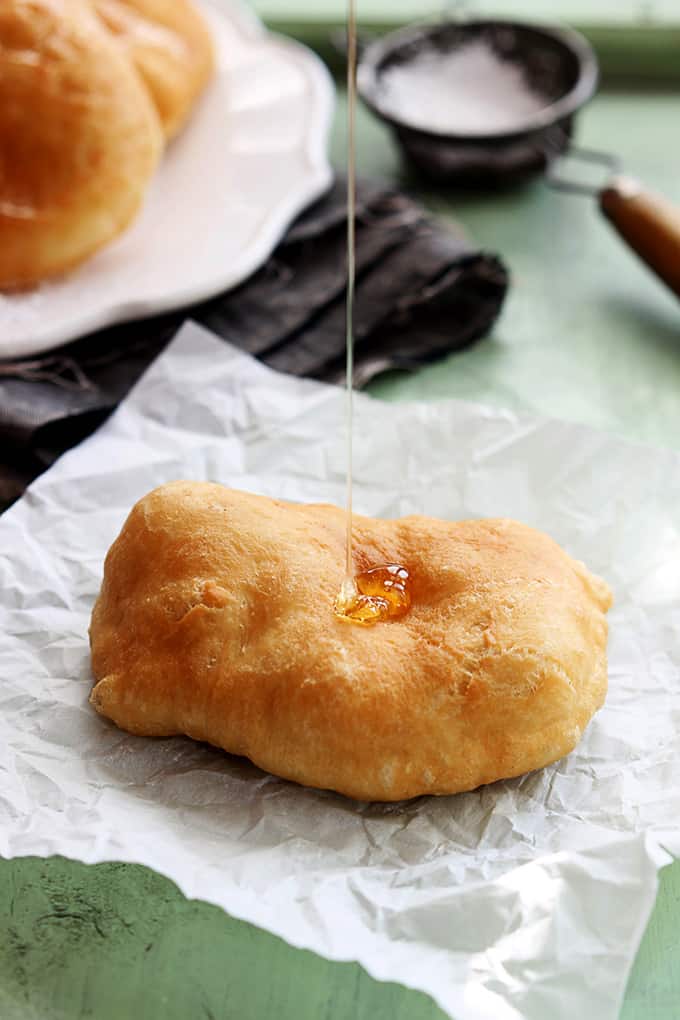 The ironic part of this story is that because my mother never made them, and the only place I ever ate them was during the summer on our trips to the coast, in my mind these were "California scones". In my college years I realized that a lot of people around here were familiar with these fried scones. I thought that was strange that so many people here in Utah had tried my Aunt Paula's California scones. Only a couple of years ago did I put the rest of the puzzle together. My Aunt Paula is actually from Utah originally so she took the recipe with her to California – not the other way around! Honestly, I have no idea who the first person was to ever make a fried scone, and there's no telling where they lived so really these could be Indiana scones, they could be Paris scones, who knows.
That being said – around here, they are known as "Utah Scones". So for the sake of this post, we're gonna stick with that. If you're from Indiana and your great great great grandpappy invented the fried scone – you lucky duck you must be so proud! Let me know so that I can properly call these Grandpappy's Indiana Scones.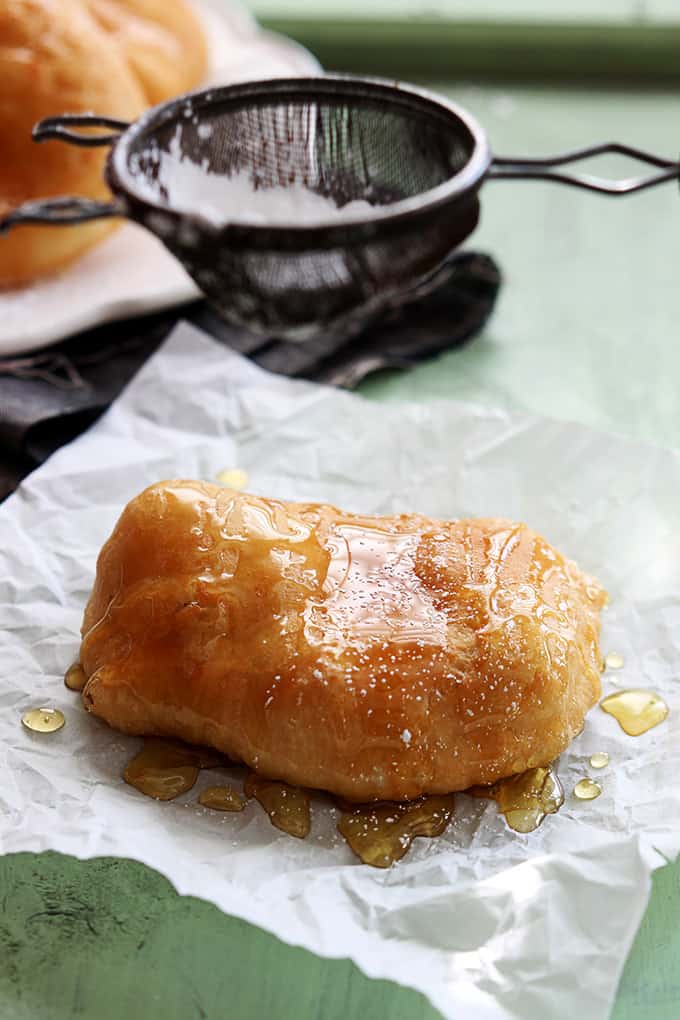 Regardless of their origin, the bottom line here is that these are insanely good in that way that indulgent fried foods always are. No, I don't suggest you make fried scones your daily breakfast routine, but every once in a while you've gotta live a little and fried scones for breakfast is living. These are golden, soft and puffy-fluffy pillows of joy that will make you cry they're so wonderful. You can top them with butter, honey-butter, syrup, chocolate sauce, or just about anything else your little heart desires – our favorite is honey and powdered sugar! Yumm-o.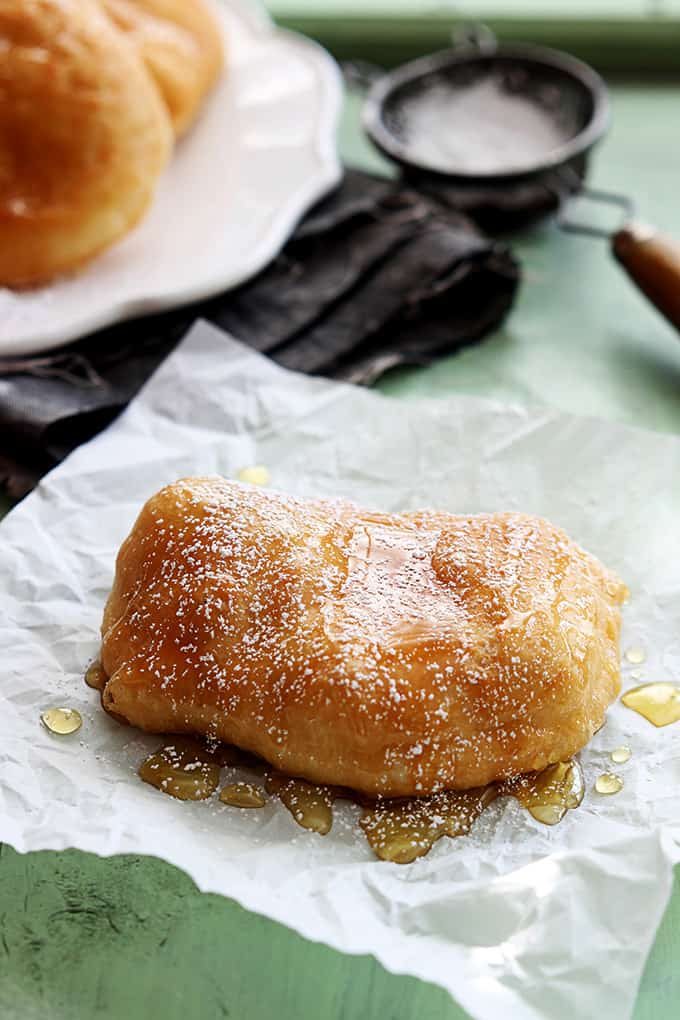 What people are saying about these Fried Scones
"I've made these several times now and my family loves them! This recipe is right on!! I'm from Idaho and grew up eating these as a special treat at a few "mom and pop/back road" restaurants across the state. Finally found an accurate recipe! Make them all kinds of ways…honey & butter, cinnamon & sugar, filled with a raspberry cream cheese filling and topped with raspberry syrup & powdered sugar, fill with a peanut butter mousse and dip one end in chocolate ganache….tonight, pumpkin spice mousse filled and rolled in cinnamon/sugar! Yummy! Make sure to eat while they're hot!" – Princess
"I grew up in Utah and am also familiar with this style of scone- and as an adult I have been making them out of frozen roll dough. This recipe is not only WAY less expensive, it truly was fluffy perfection! Thank you so much! And thought I'd share- I also make a dinner version. We call them Navajo Tacos and top them with warm chili, grated cheese, olives, tomatoes, lettuce, etc. After we have a dinner scone, we get a dessert scone! They are heavenly with butter and homemade jam!" – April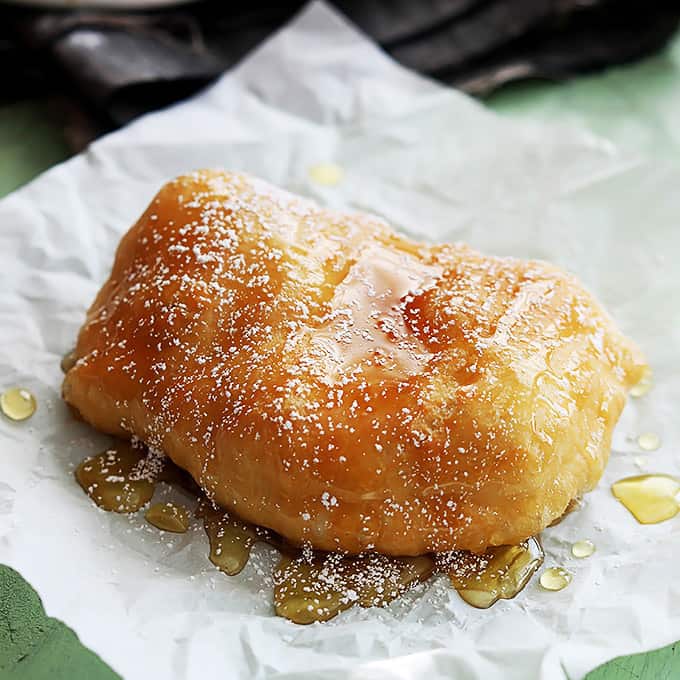 Fried Scones (aka: Utah Scones)
Giant golden puffy fried scones - Utah style - served with honey and powdered sugar. So easy to make and dangerously tasty!
Ingredients
1

cup

hot water

1

tablespoon

active dry yeast

⅓

cup

oil

1

teaspoon

salt

¼

cup

sugar

3 ½

cups

flour

1

egg

-

beaten

2

quarts

oil

-

for frying

toppings

-

see notes
Instructions
Mix 3 tablespoons of warm water with yeast adding a pinch of sugar. Set aside for 10 minutes (mixture will rise and foam).

While yeast is rising, combine hot water, oil, salt, and sugar in a large bowl.

Add egg to the yeast mixture and mix well. Add the egg/yeast mixture to the oil/sugar mixture. Stir well.

Gradually add flour stirring well after each addition. Knead the dough as it stiffens until you get a doughy, elastic consistency ( about 5 minutes)

Place dough in a well-greased bowl, turning once to grease the top. Let dough rise for about 30 minutes or until double in size.
Frying Directions
Line cooling racks or plates with paper towels. Fill a large sauce pan with 2 inches of oil and heat to 350-375 degrees Fahrenheit over medium-high heat.

Meanwhile, punch down dough and divide into 12 balls. Roll out a piece of dough on a lightly floured surface into 1/4-inch thick circles or squares. Use your fingers to stretch out the balls of dough.

Carefully place two or three balls of dough in the oil and fry until golden brown on each side (about 1-2 mins). Transfer to paper towels to drain. Repeat until the dough is all fried.

Serve hot with honey butter, butter, syrup, or powdered sugar. Our favorite is honey and powdered sugar!
Notes
Suggested toppings for serving: honey butter, syrup, honey, powdered sugar.
Nutrition
Calories:
802
kcal
,
Carbohydrates:
16
g
,
Protein:
2
g
,
Fat:
82
g
,
Saturated Fat:
6
g
,
Trans Fat:
1
g
,
Cholesterol:
7
mg
,
Sodium:
100
mg
,
Potassium:
24
mg
,
Fiber:
1
g
,
Sugar:
2
g
,
Vitamin A:
10
IU
,
Vitamin C:
1
mg
,
Calcium:
4
mg
,
Iron:
1
mg
*Original recipe source: Bakerette <— Visit this site for great instructions on how to prepare these scones ahead of time.