This sensational summer salad has baked coconut chicken tenders, fresh pineapple, macadamia nuts, and a creamy pina colada vinaigrette dressing!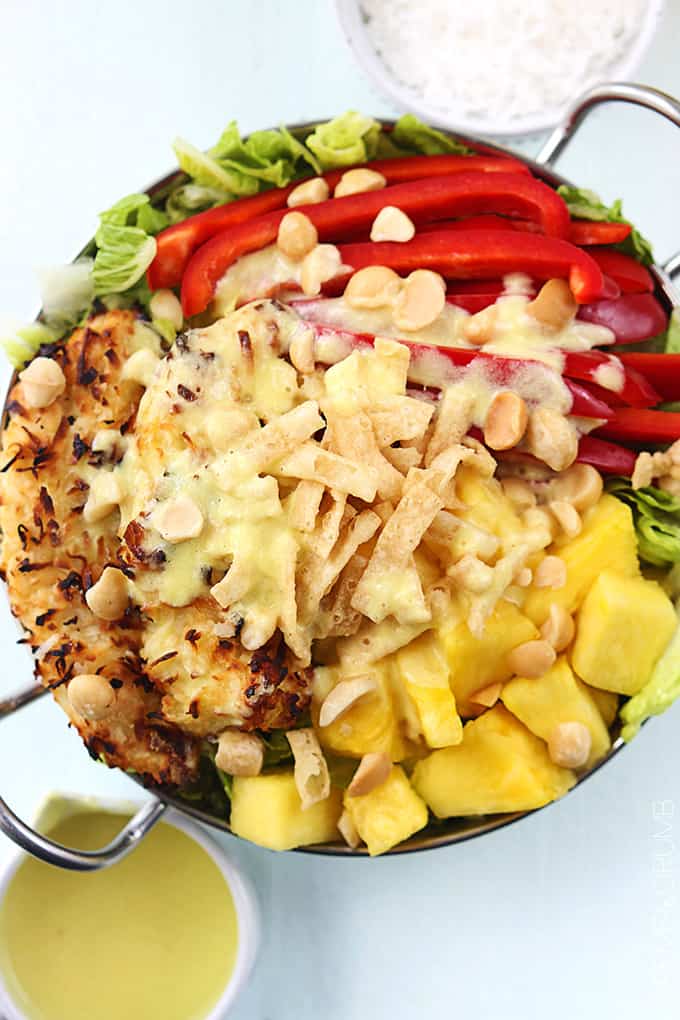 Anyone planning a trip to Hawaii in the immediate or very near future? Because I'm small and quite flexible, I'm positive I could fit in your suitcase. If that won't work for you (can't imagine why it wouldn't….) a gift of fresh pineapple from the islands will suffice. My parents went to Maui a couple of times when I was younger and brought back the most incredible pineapple. You don't know a good pineapple til you've had one from Hawaii. They grow em better there. Meaning: they grow them there, period.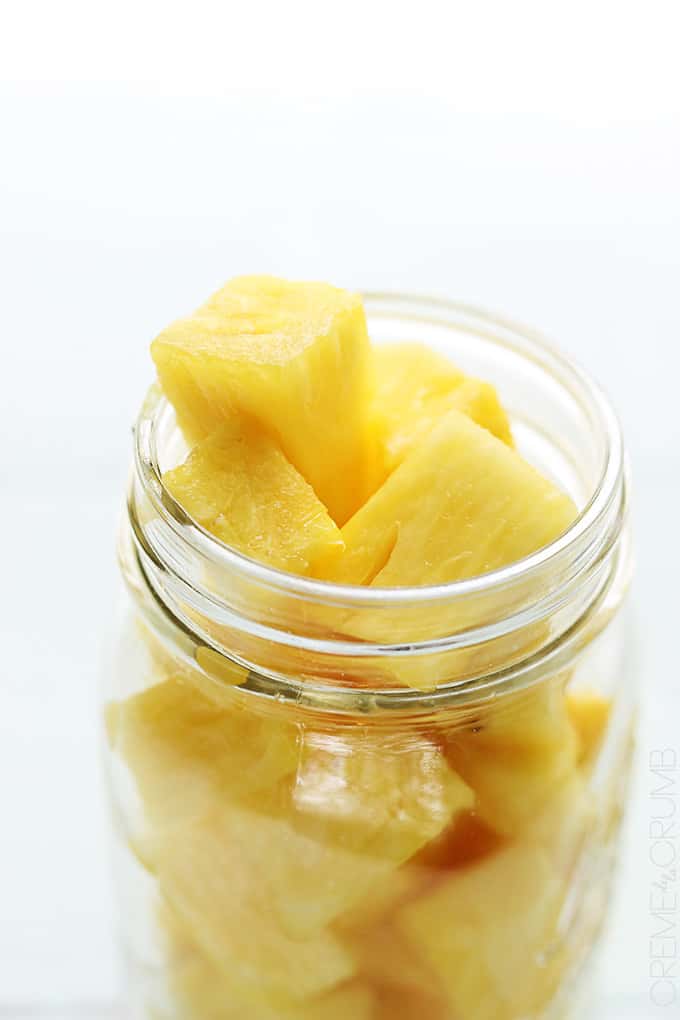 My husband, like me, loves pineapple. However, he is actually allergic to pineapple and even the smallest bite causes a reaction. It's kind of a bittersweet thing because on the one hand, I can only include pineapple in our weekly menus when he is out of town. On the other hand, allllllllll the pineapple is mine. I'd share if I had to but, I'd really rather not have to if you know what I mean.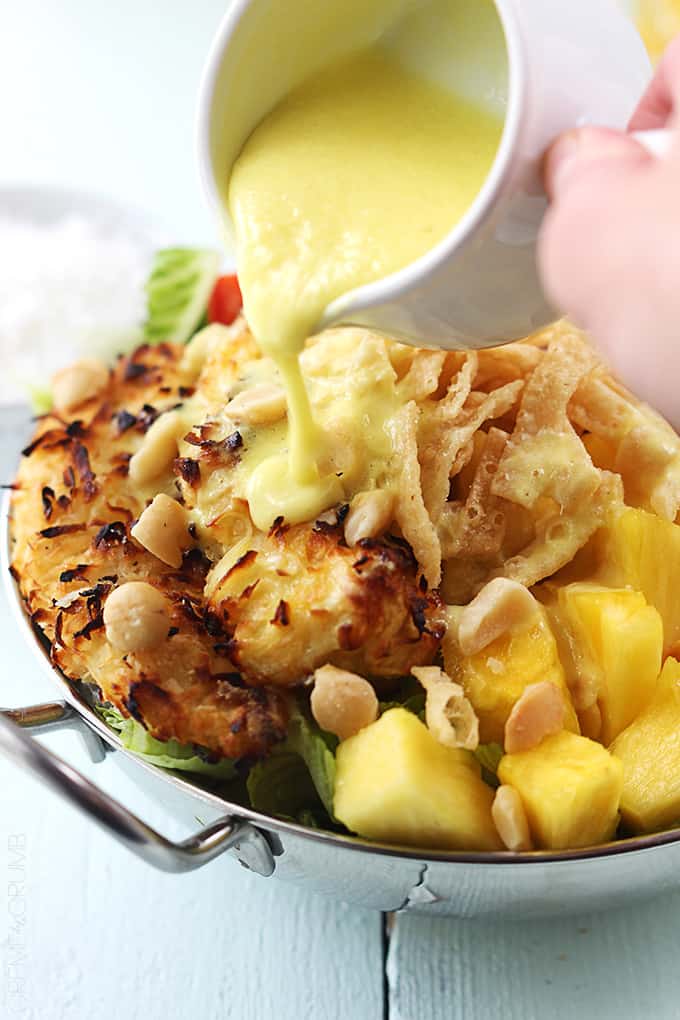 I made this salad a couple of weeks ago while my husband was on a business trip up in Idaho. I've been seeing some gorgeous pineapple lately and craving it constantly, so when he hit the road, I went pineapple-crazy for a whole week. It. was. heaven.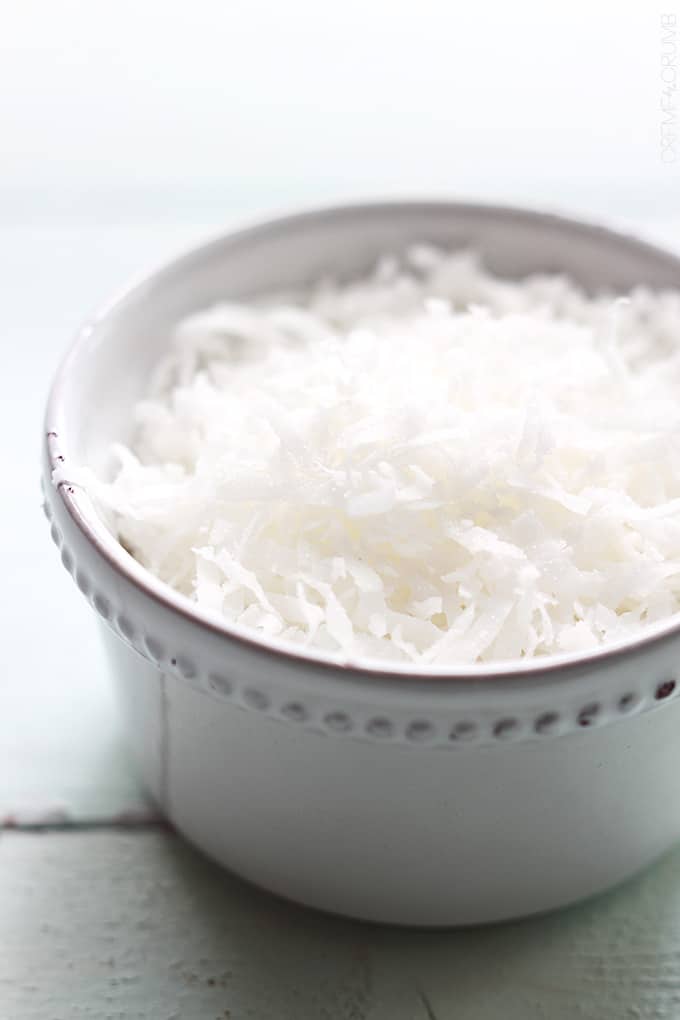 But let's break down this beauty shall we? First, lay out a bed of chopped romaine hearts which gives the salad a whole lotta crunch, the way I like it. Then we've got sweet red bell peppers, fresh pineapple pieces, crispy wonton strips, and the bell of the ball: oven baked coconut chicken tenders. I adore chicken tenders, as well as coconut, so these make my day.
The dressing is a creamy pina colada vinaigrette featuring coconut milk and pineapple juice. Wholly moley delicioso. Oh and let's not forget the macadamia nuts, I mean its a tropical salad, the macadamias just had to happen. This is a filling and dare I say man-pleasing sweet and crunchy tropical salad, perfect for summer.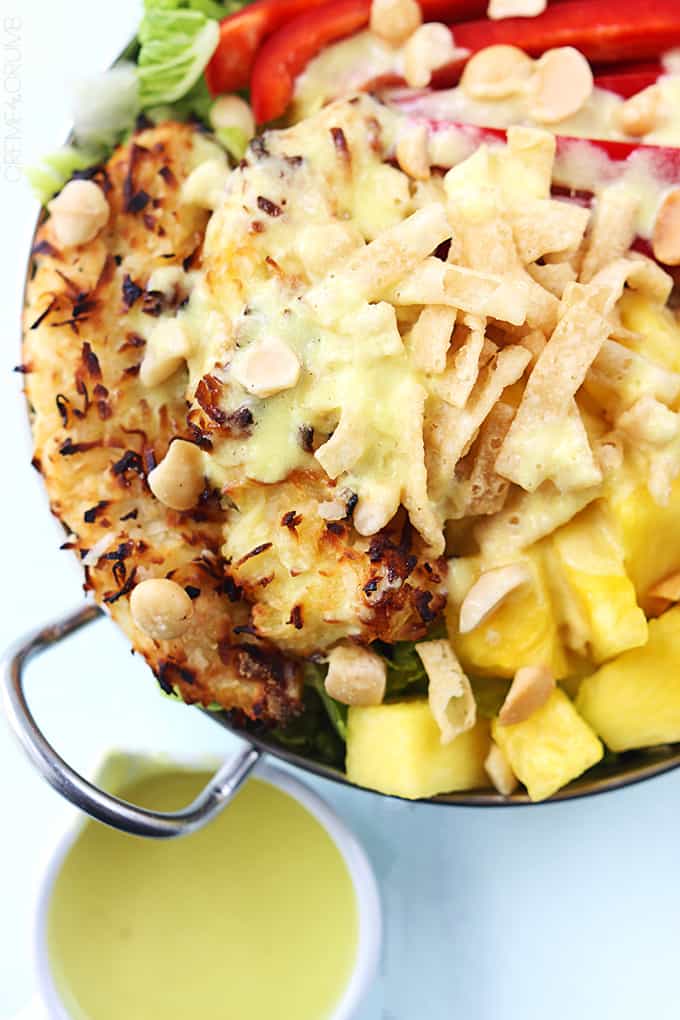 What people are saying about this Pina Colada Chicken Salad
"I made this tonight and it was AMAZING. Super fun and delicious to boot. I didn't have honey (whaaaa?), so I used only 1 tbsp of Agave Nectar – which is slightly sweeter. I also had to substitute the sour cream for the greek yogurt, but otherwise, followed the recipe to a "T". My husband loved it also and he is a meat and potatoes kinda guy, so that was huge. We will definitely make this again, and I look forward to leftovers for lunch tomorrow!" – Karen
"I made this salad and the chicken was delicious!!! I had to cook it longer and I added some Panko bread crumbs to my coconut to dilute it a little bit. My issue however was with the dressing- it was pure liquid. I followed the directions exactly and with so much juice and milk I don't j ow how it could have had any body- it was tasty Though. I made a little mayo/ yogurt combo and added some of the this dressing to it – and used both on the salad. Flavor was good!" – C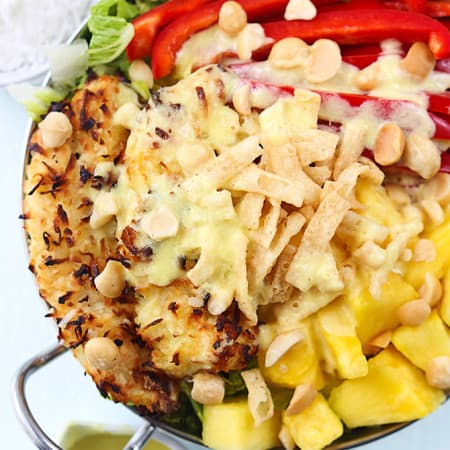 Pina Colada Chicken Salad
This sensational summer salad has baked coconut chicken tenders, fresh pineapple, macadamia nuts, and a creamy pina colada vinaigrette dressing!
Ingredients
2-3

boneless skinless chicken breasts

-

pounded to ¾ inch thickness

1

cup

sweetened coconut flakes

½

cup

flour

½

teaspoon

salt

½

teaspoon

pepper

1

teaspoon

garlic powder

2

eggs

1

tablespoon

water

1

red bell pepper

-

thinly sliced

2

cups

chopped pineapple chunks

½

cup

macadamia nuts

-

roughly chopped

1

cup

crispy wonton strips

8

cups

chopped romaine lettuce
Dressing
1 ½

cups

coconut milk

1

cup

pineapple juice

1

tablespoon

vinegar

2

tablespoons

olive oil

2

tablespoons

greek yogurt

-

(may sub sour cream)

¼

teaspoon

salt

2

tablespoons

honey

-

(or more to taste)
Instructions
Whisk together all dressing ingredients. Cover and chill until ready to use.

Preheat oven to 400 and heavily grease a baking sheet with cooking spray. Season the chicken with the salt, pepper, and garlic powder, then slice the chicken into 1-2 inch wide strips. Toss chicken pieces in flour, then egg mixture, then toss in the coconut to coat well. Place coated chicken strips on prepared baking sheet 2 inches apart.

Spray chicken strips with cooking spray and bake 6-8 minutes, then flip them all over and cook on the other side another 6-8 minutes until cooked through and lightly browned. (The coconut flakes should begin to char slightly)

Top romaine with chicken tenders, red peppers, pineapple chunks, macadamia nuts, and top with wonton strips. Serve with pina colada dressing.
Notes
Store extra salad dressing in airtight container in the fridge. 
Nutrition
Calories:
750
kcal
,
Carbohydrates:
65
g
,
Protein:
22
g
,
Fat:
48
g
,
Saturated Fat:
26
g
,
Trans Fat:
1
g
,
Cholesterol:
118
mg
,
Sodium:
613
mg
,
Potassium:
896
mg
,
Fiber:
6
g
,
Sugar:
42
g
,
Vitamin A:
1131
IU
,
Vitamin C:
57
mg
,
Calcium:
89
mg
,
Iron:
6
mg