Strawberries, avocados, red onions, walnuts, and feta cheese all tossed with fresh baby spinach and creamy poppyseed dressing for this amazing Strawberry Avocado Spinach Salad!
Here it is! As promised: Salad Monday.
I'm over the moon excited about writing up this post today because 1)these photos turned out pretty darn yum-tastic and 2) this salad is da-BOMB.
Fresh strawberries + avocado + red onions + crunchy walnuts + feta cheese + baby spinach and homemade creamy poppyseed dressing = heavenonearth.
p.s. balsamic dressing is also crazy delicious on this salad.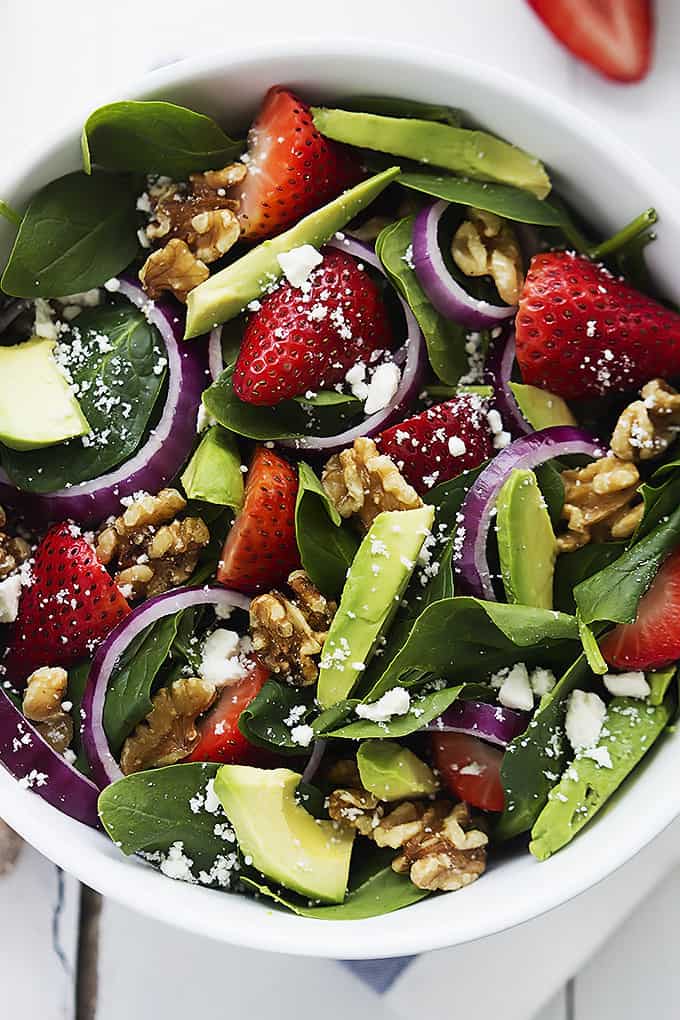 There are several really awesome flavor combinations happening in this salad. The first, strawberry + avocado. If you haven't tried these two together, you are seriously missing out. The sweet tang from the strawberry and the creamy earthy avocado flavor just sing to me, I love em.
The second flavor marriage I'm a big fan of here is the red onion + poppyseed dressing. I wish I was better at describing flavors because I really don't know what to say about that except YUMMMM.
And the third flavor duo I can't get enough of here is the walnut + feta thing that happening. To explain how I feel about walnuts, I have to tell a really fast 8-second watered down story from my childhood. Every single morning on the way to my elementary school I walked past a big walnut tree. I'd pick up a dozen or so, stuff them in my pockets, and eat them on the way to school. On the way home I'd repeat. Pick up, stuff, crack, devour. I loved them and I loved the magic of eating them straight from the shell – right off the tree.
Buuuuut after a few weeks of this, the acid from the fresh walnuts caused an allergic reaction and I got sores all. over. the inside of my mouth. It was so painful I couldn't hardly eat or drink for a couple of weeks until they healed. This whole experience scared me away from walnuts for about 10 years, but eventually I tried them again and I've never had an issue since – especially because I learned to toast them first and that prevents the whole sores-in-the-mouth situation.
After years of keeping the walnuts at bay, one taste of a walnut sent me into a frenzy. A wild walnut eating on everything frenzy. And I can't stop. I love walnuts. And that's why I was so totally STOKED out of my mind when Diamond of California invited me to visit their walnut orchards back in October.
That trip to Sacramento was so incredible – and not just for the food, which, let's be honest, was AMAZE. But the Diamond orchards were stunning. I took so many pictures I had to clear a bunch of old images from my camera's memory just to make more room. And I have to tell you a secret. Sometimes I am a crazy nerdy sappy  person and I really love old family stories. Diamond is family-owned so they had all of these amazing stories about how they started the orchards and about the original owner and his family and how much they really love what they do.
I told you. Sappy. I'm so darn sappy. But I love cute family-owned brands and shops. I think they're nothing short of adorable.
But anyway. This salad! You should really have some… I made plenty to share.
Strawberry Avocado Spinach Salad
Strawberries, avocados, red onions, walnuts, and feta cheese all tossed with fresh baby spinach and creamy poppyseed dressing!
Ingredients
6-8

cups

baby spinach leaves

1-2

cups

strawberries

-

hulled and sliced

1

whole

avocado

-

pitted and sliced

¼

red onion

-

thinly sliced

½

cup

walnuts

-

whole or halved

⅓

cup

crumbled feta cheese

1

cup

balsamic dressing

-

or poppyseed dressing, (store-bought or homemade - see recipe below)
Dressing
⅔

cup

mayo

½

cup

half & half

-

or other milk, (I used fat free half and half but any percentage of milk will work- the higher the percentage, the creamier your dressing will be)

6

tablespoons

sugar

8

teaspoons

apple cider vinegar

1

tablespoon

oil

4

teaspoons

poppyseeds
Instructions
Prepare the dressing by whisking all ingredients together. Cover and chill until ready to use.

In a large bowl, toss together all salad ingredients. Serve with dressing.
Notes
Store extra dressing in fridge up to three days. 
Nutrition
Calories:
426
kcal
,
Carbohydrates:
17
g
,
Protein:
5
g
,
Fat:
38
g
,
Saturated Fat:
5
g
,
Trans Fat:
1
g
,
Cholesterol:
13
mg
,
Sodium:
466
mg
,
Potassium:
262
mg
,
Fiber:
2
g
,
Sugar:
13
g
,
Vitamin A:
2152
IU
,
Vitamin C:
17
mg
,
Calcium:
84
mg
,
Iron:
1
mg
 I'm working with Diamond of California to bring you this post because I personally love and use their products!