Strawberry Poppyseed and Bacon Chopped Salad – A quick and tasty chopped salad topped with a creamy strawberry poppyseed dressing and crumbled feta!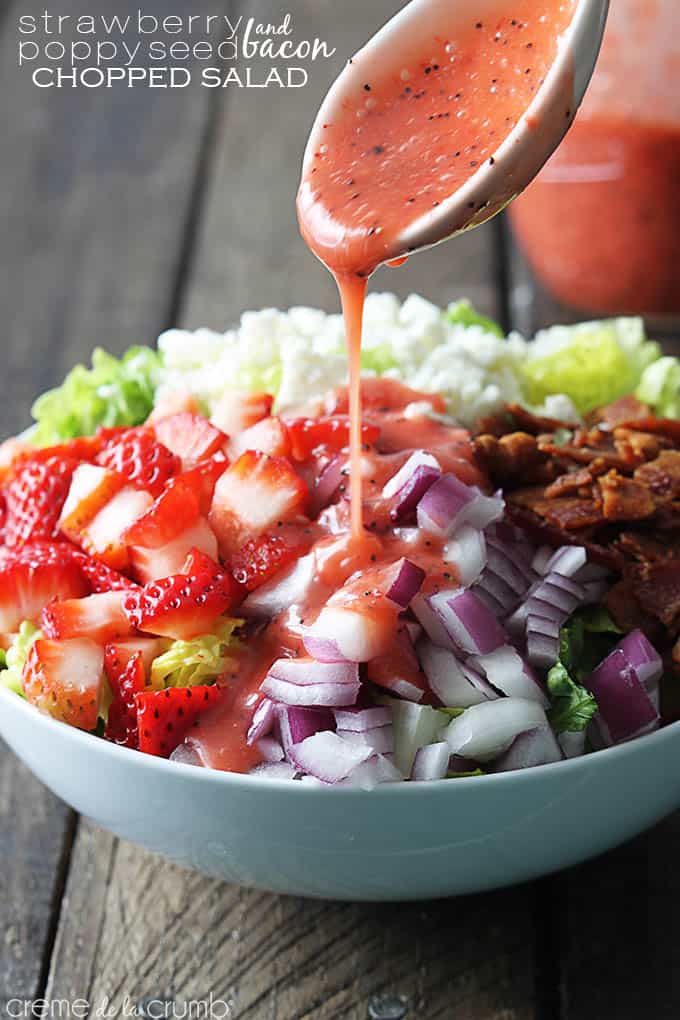 What on earth is a poppyseed? After I'd thrown all of the ingredients for this dressing into my food processor and was giving it a few good pulses, it hit me. What is a poppyseed? Does it come from a Poppy? Is that a flower or something else? And have you tasted a poppyseed plain? It tastes like…. I don't even know, I really have no words to even describe it. But I swear, recipes that call for poppyseeds must have them or they won't taste like they should. While I've got the use of a trove of innovation at my fingertips, I'm gonna look up poppyseeds and be right back. Have a cookie or something, this will only take me a moment.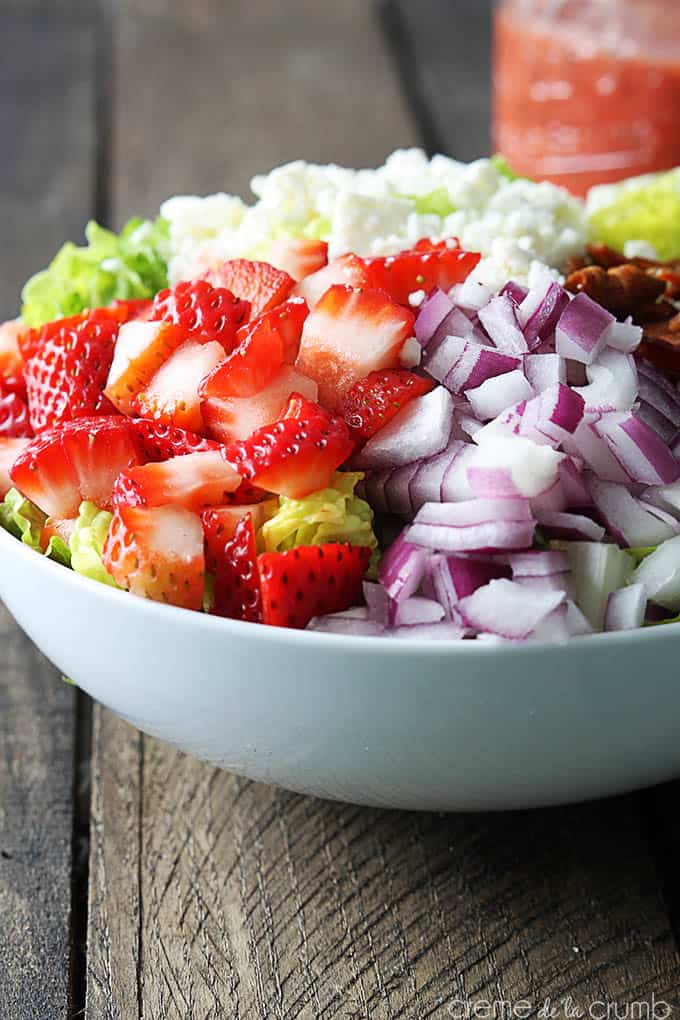 Okay I'm back. Woah talk about fact-shock. Poppyseeds do come from a flower. But that's not the shocking part. Guess what else comes from that same flower? Opium. Whaaaaa??? Serious. No wonder I get a little sleepy after I eat lemon poppyseed muffins. I'm pulling your leg I don't think I've ever felt sleepy after eating anything with poppyseeds unless I ate it at four in the morning.
Oh and one more useful fact about poppyseeds. Apparently in traditional Indian medicine, poppyseeds can be ground, combined with milk, and made into a paste to be used as a skin moisturizer. Huh. Who knew. All these years I've been using lotion.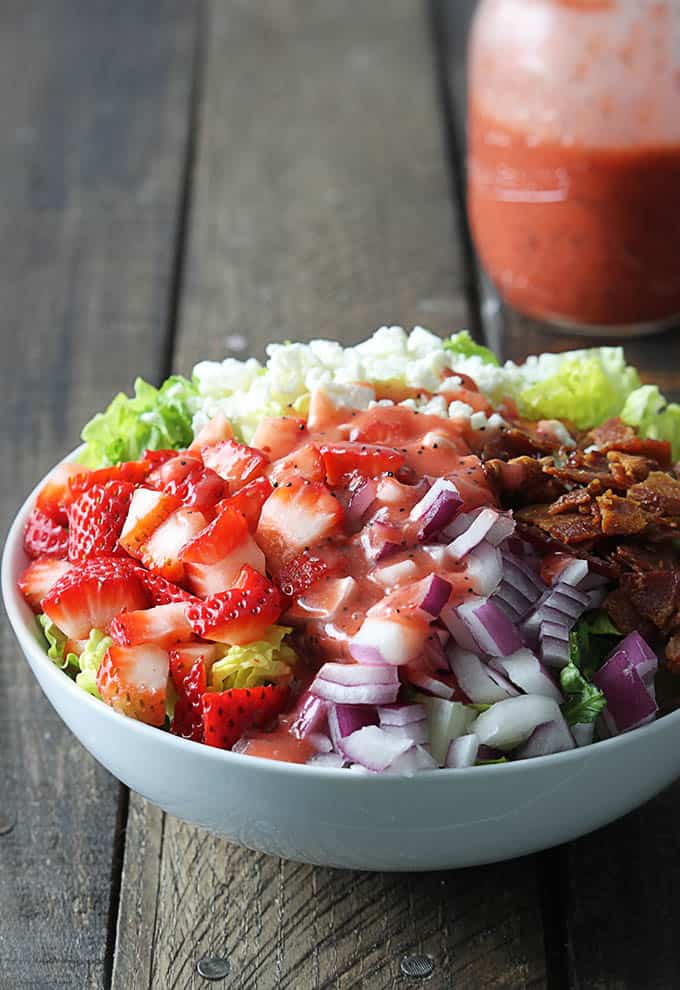 But off-topic from the history of poppyseeds, let's talk about how awesome they are in this poppyseed. The dressing people, the dressing. Creamy, tangy, sweet, and whatever fantastic adjective you get when you add poppyseeds to the mix. Annnnnd, can I just get a hoo-ray for quick and healthy dinners? After a long day of work, stress, mis-haps, and ruined plans, an easy and delicious dinner is what I need. Something I know is gonna turn out fantastic with minimal effort. This is it folks. The dinner you want to make at the end of a long hard day. So tasty, healthy, and ready to eat in fifteen minutes, you can't beat that!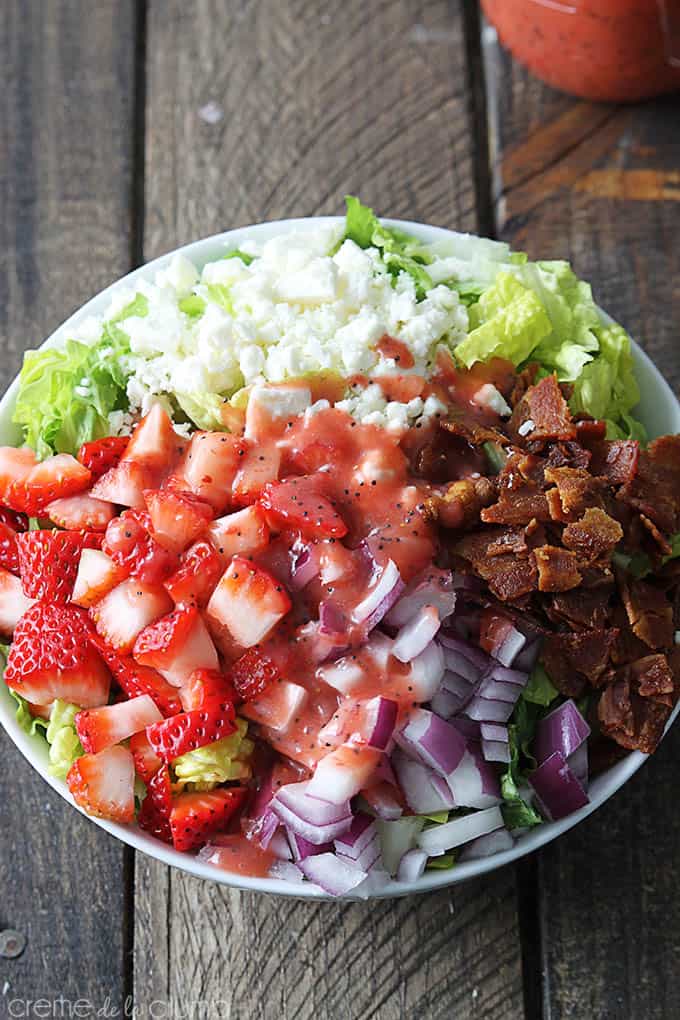 What people are saying about this Strawberry Poppyseed and Bacon Chopped Salad
"This salad is SO good! I chopped everything and made the dressing on Friday for dinner at the lake on Saturday. We served it with grilled ribeye steak and baked potatoes. I saved half of the salad and dressing and we ate the rest tonight. Thanks for sharing!" – Ashley
"Thank you for the delicious recipe Tiffany! I added avocado to the mix and it was so great. I will be adding this recipe to my rotation. I can't wait to eat it tomorrow for lunch – onion breath and all
It's so worth it." – Jayme
"This salad is amazing!! I made it several times when strawberries were in peak season. SO, so good! A new favorite, for sure! Thanks for sharing!" – Brenda
"The salad was amazing, and dressing was the best part! Paired it with my homemade lasagna and it was a perfect combination. Thanks for sharing." – Myra
Strawberry Poppyseed and Bacon Chopped Salad
A quick and tasty chopped salad with strawberries and bacon, topped with a creamy strawberry poppyseed dressing and crumbled feta!
Ingredients
6

cups

romaine lettuce,

chopped

2

cup

strawberries,

chopped

8

strips

bacon,

cooked and crumbled

1/2

red onion,

diced

1

cup

crumbled feta cheese
Dressing
1

teaspoon

minced garlic

1

teaspoon

diced red onion

1/3

cup

sugar

1/3

cup

white vinegar

1/4

cup

strawberries,

chopped

1/2

cup

olive oil

1/4

teaspoon

salt

1

tablespoon

poppyseeds
Instructions
In a large bowl toss together chopped lettuce, strawberries, bacon, and red onion. In a food processor or blender, add all dressing ingredients and pulse 1-2 minutes until smooth. Pour dressing over salad and top with crumbled feta cheese. Enjoy!
Notes
Add cooked chicken to turn this into a hearty main dish salad!
Nutrition
Calories:
451
kcal
|
Carbohydrates:
30
g
|
Protein:
11
g
|
Fat:
34
g
|
Saturated Fat:
7
g
|
Cholesterol:
23
mg
|
Sodium:
549
mg
|
Potassium:
339
mg
|
Fiber:
4
g
|
Sugar:
23
g
|
Vitamin A:
6151
IU
|
Vitamin C:
52
mg
|
Calcium:
75
mg
|
Iron:
1
mg