Crisp spinach tossed with red onions, fresh berries, crunchy pistachios, and blue cheese crumbles come together to in this Berry Pistachio Spinach Salad with Berry Vinaigrette!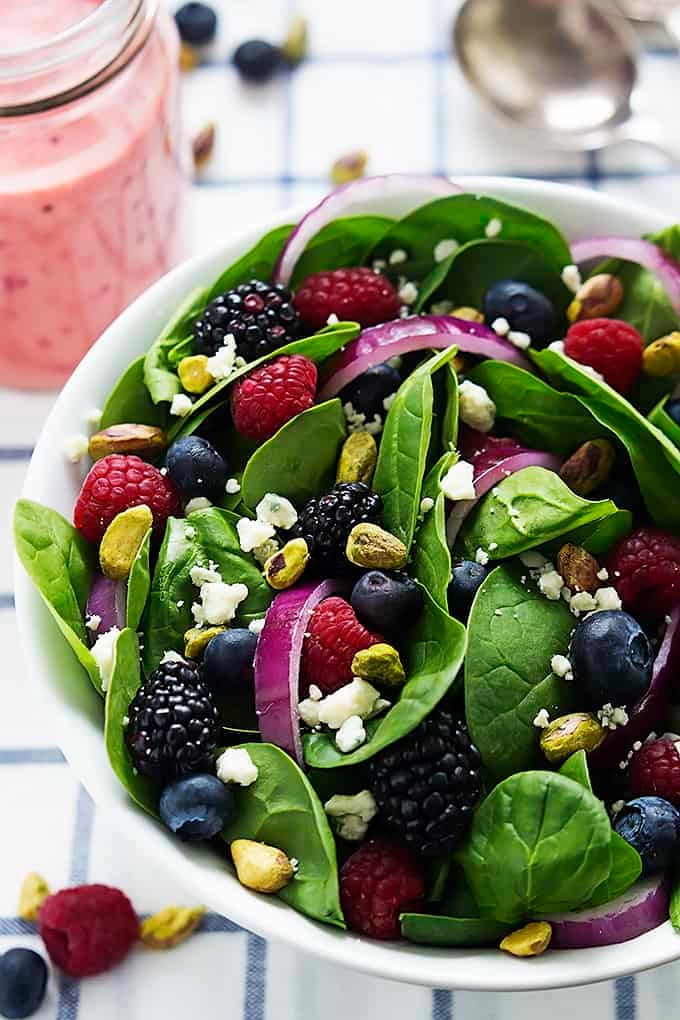 It's a day late but here is your Salad Monday salad! Sorry for the delay – super bowl threw me off a bit.
Speaking of which… did you enjoy super bowl sunday?? I did – because a whole lot of cheese fondue, chips and guac, cajun pretzel dip, homemade boneless chicken wings, and all manner of other finger-foods were to be had.
And the football, that was a nice bonus.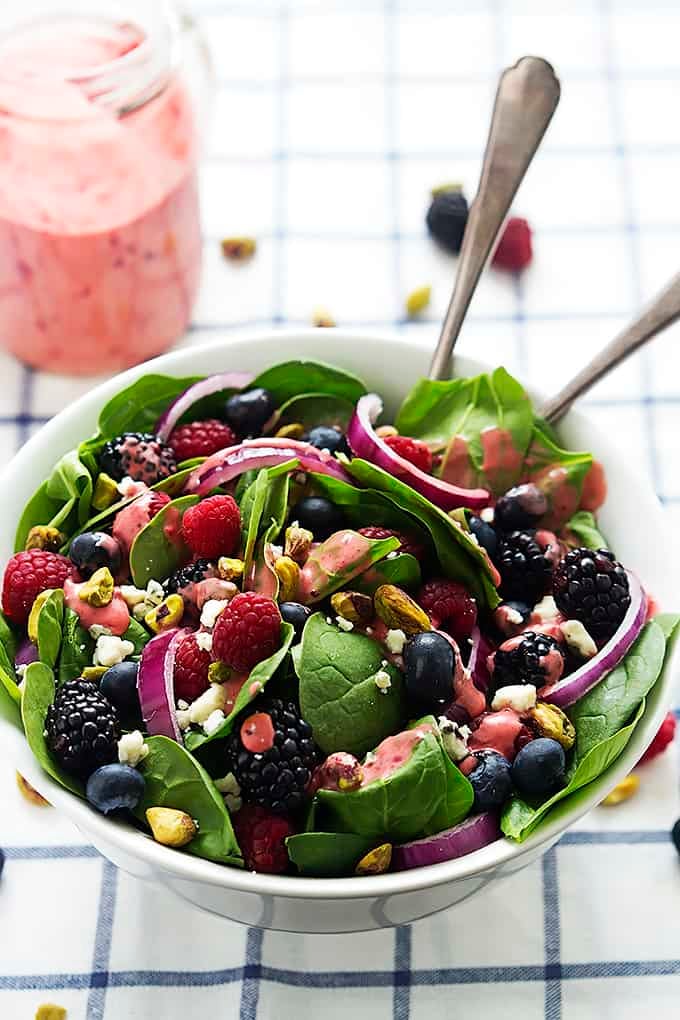 In all honesty, I didn't grow up watching the super bowl. (*gasp*) My family just wan't into it. Now college bowl games – we're into those. We love a good NCAA football game but for some reason just never got on board with the pros.
Miiiight have something to do with the fact that we don't have a state team.
Or maybe we just aren't pro-football people.
Yeah probably the latter.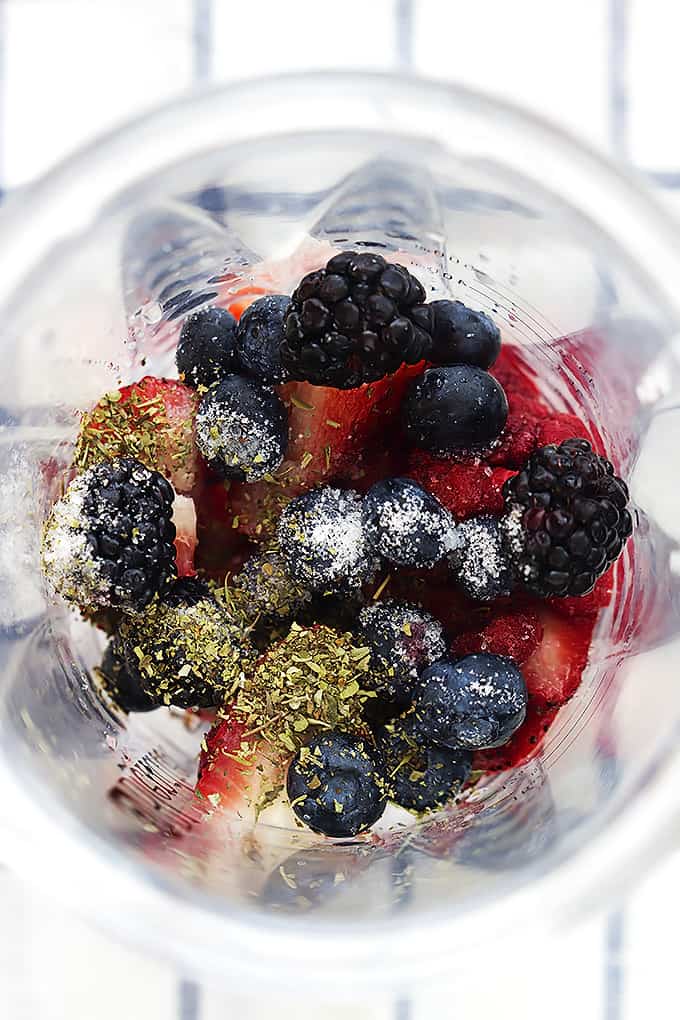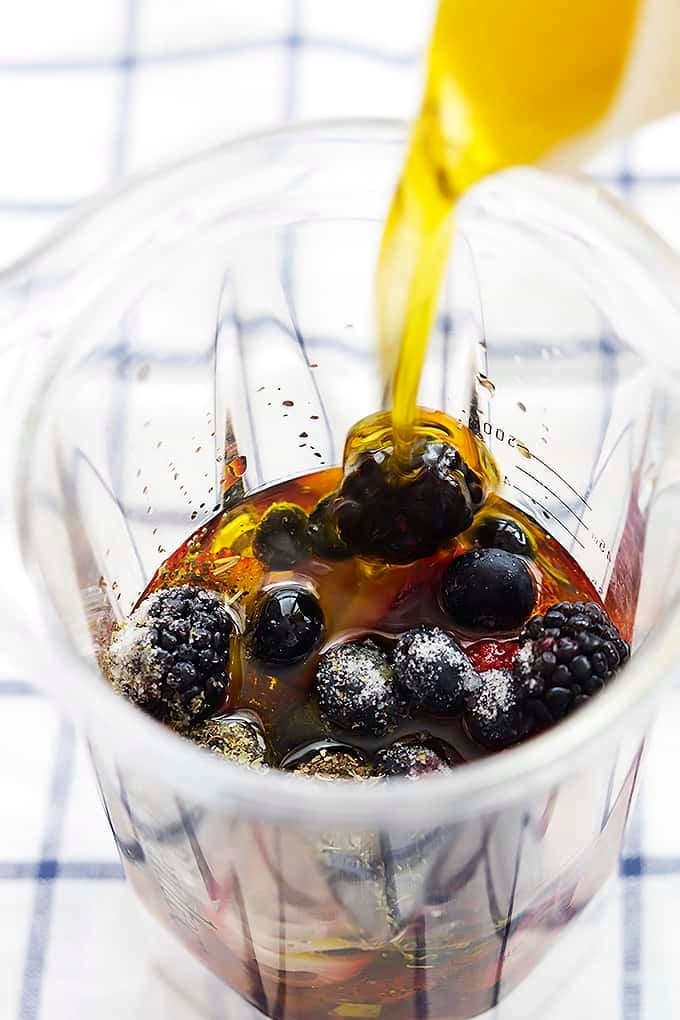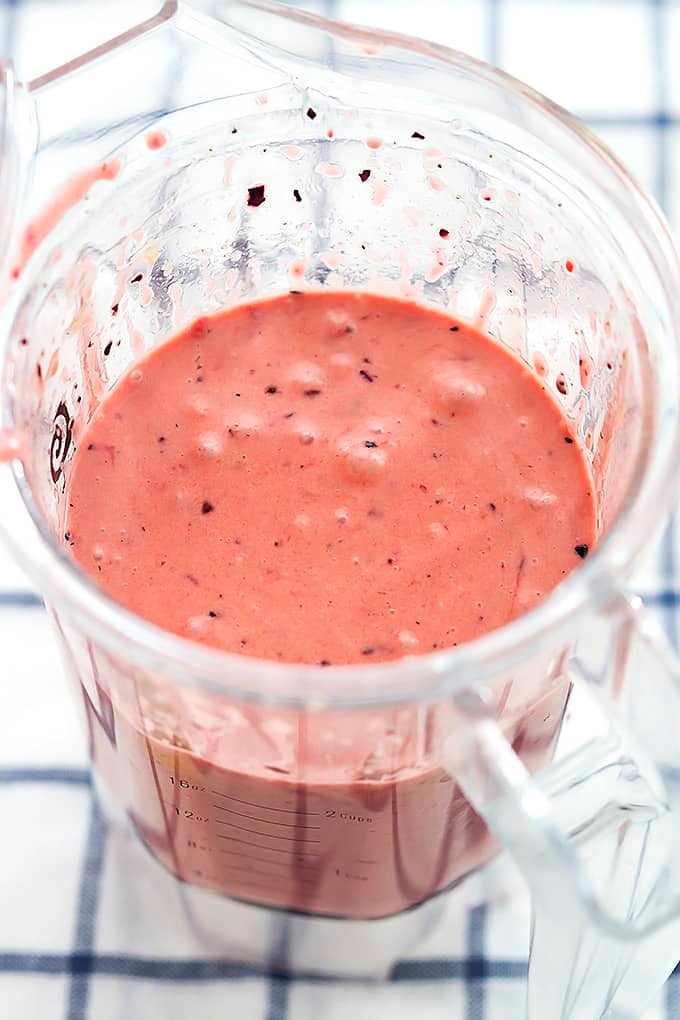 Look at that berry vinaigrette! Beautiful isn't it?? Speaking of things that I am not… I am not normally a pink person. My sister – she lives for pink. She has a pink Christmas tree for heaven's sake. I've never been a big fan, even when I was a little girl. (The fact that I was a tomboy does not help my case…)
But super-pink salad dressings? I'm a BIG fan. Creamy, tangy, fruity, and pink.
This salad might as well wear a sign that says "EAT ME, I TASTE LIKE SPRING!"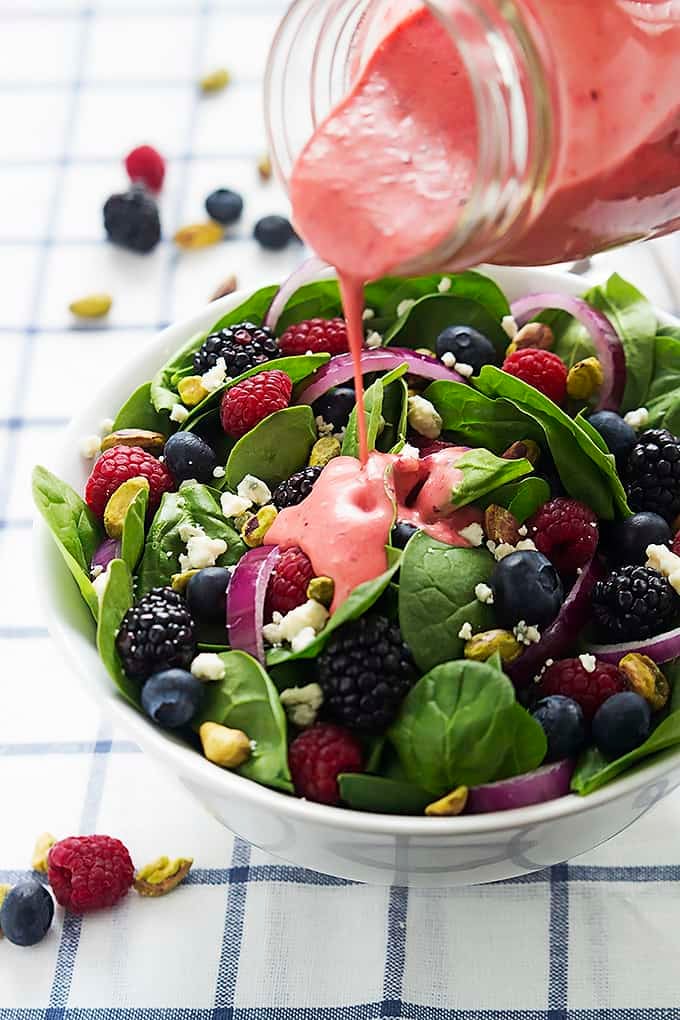 Occasionally I engage in what I call "wishful cooking" which generally involves cooking or preparing food that is not quite in season yet. This salad might just be such a case.
I can't help myself, those berries at the grocery store have been begging me to take them home for weeks. I kept saying, no it's not berry season yet, we are still in winter. But really, in the end, I was only fooling myself because I bought three boxes of berries and high-tailed it home to stuff my face with bluish-purplish-redish goodness.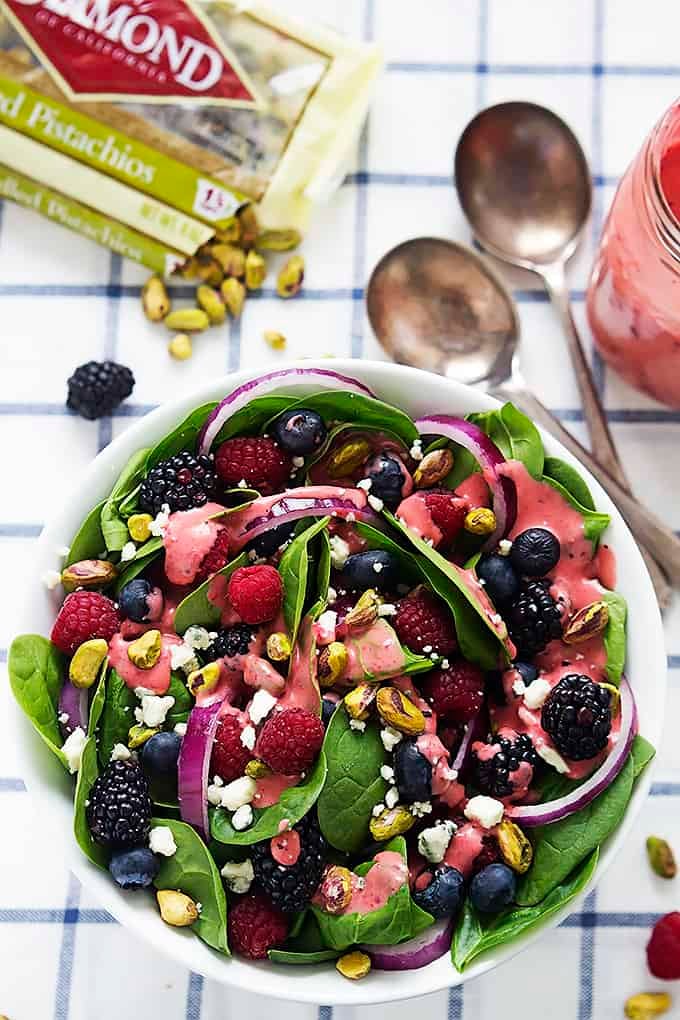 And the best part? You can customize this salad to your personal taste. I used a combination of raspberries, blueberries, and blackberries on the salad but if you have a thing for strawberries and a bunch sitting in your fridge wanted to be put to good use – put them on this salad. If you wanted, you could do all raspberries, or all blackberries, or strawberries and blueberries – whatever suits your fancy. (p.s. "fancy" just auto-corrected to "face". whatever suits your face… that works too.")
And the dressing is customizable as well. I used all the berries I could find, mostly strawberries though, which probably added to the extreme pinkish nature of this dressing. But next time I think I'm going heavier on the blackberries. So who knows, it could turn out purple next time.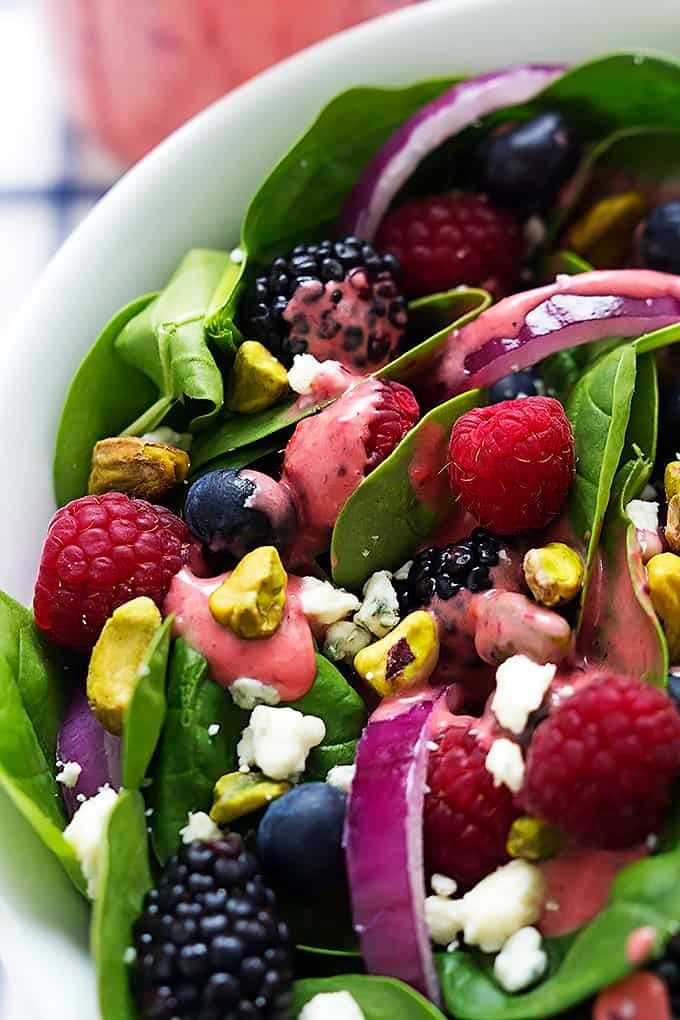 Berry Pistachio Spinach Salad with Berry Vinaigrette
Crisp spinach tossed with red onions, fresh berries, crunchy pistachios, and blue cheese crumbles - all topped with a quick and tasty mixed berry vinaigrette!
Ingredients
6-8

cups

baby spinach leaves

1 - 1 ½

cups

berries of choice

-

(I used ⅓ cup each blueberries, raspberries, and blackberries - strawberries are great too)

¼

red onion

-

thinly sliced into rings

⅓

cup

blue cheese crumbles

-

(OR feta cheese crumbles)

⅓

cup

pistachios

-

shelled
Dressing
¾

cup

fresh or frozen berries of choice

-

(I used a combination of blueberries, raspberries, blackberries, and strawberries)

⅔

cup

extra virgin olive oil

-

(or vegetable oil)

¼

cup

apple cider vinegar

1

teaspoon

Italian seasoning

½

teaspoon

salt

¼

teaspoon

black pepper

1-2

tablespoons

honey

¼

cup

cold water
Instructions
To make the dressing, pulse all ingredients in a blender or food processor until smooth. Cover and chill until ready to serve.

When ready to serve the salad, in a large bowl toss together spinach, berries, red onions, cheese crumbles, and pistachios. Serve with prepared dressing.
Notes
Add grilled chicken to turn this into a hearty main-dish salad for two!
Store extra dressing in the fridge up to three days. 
Nutrition
Calories:
252
kcal
,
Carbohydrates:
11
g
,
Protein:
3
g
,
Fat:
22
g
,
Saturated Fat:
4
g
,
Cholesterol:
4
mg
,
Sodium:
243
mg
,
Potassium:
273
mg
,
Fiber:
4
g
,
Sugar:
6
g
,
Vitamin A:
2198
IU
,
Vitamin C:
17
mg
,
Calcium:
74
mg
,
Iron:
1
mg