Kneader's Cranberry Sunflower Salad recipe copycat! With turkey or chicken, sunflower seeds, raspberry poppyseed dressing, and mozzarella cheese! 
Hey hey! It's baaaaack! Salad Monday has returned in all of it's glory and I couldn't be more happy about that. Also? I'm back. Last week I had my Oral Defense for my undergrad thesis, nailed it, it's done. Official graduation day was Friday and now I am a free woman. Free to cook and bug you with tasty recipes til you go crazy. But maybe let's stop just short of the crazy part.
I don't think it's really even sunk in yet, the fact that I'm done with school. (At least until a master's degree some years from now…) Right now it kind of feels like the break in between semesters. That two week limbo where you get to breathe for a second but still can't totally let yourself relax because you have to gear up for another three plus months of papers and assignments and projects and discussions. That's kind of where my mind is at and I think it will take a few weeks, maybe even a month, before I really feel like it's actually over. I'm done.
Hallelujah!
So to celebrate my return from school work overload and a thesis of crazy-large proportions, I've brought back your favorite Salad Monday. Up this week: a Kneader's restaurant copycat. I don't get to eat at Kneader's nearly enough but every time I do, I always fall in love with whatever I order. I'm a soup-salad-sandwich shop kind of gal so Kneader's is right up my alley.
This copycat is the perfect way to shake up your salad routine. I've done the classic spinach + nut + berry combo a million times and honestly, it never gets old. But sometimes you just need a little something new on the table. The tart cranberries and salty sunflower seeds are my favorite part! And the dressing!
You can make homemade raspberry poppyseed dressing if you've got the time but I usually keep both raspberry vinaigrette and creamy poppyseed dressing on hand anyway so mixing them together makes a quick and super yummy dressing for this salad.
If you're a Kneader's fan, or just a salad fan, you're going to fall in love with this salad!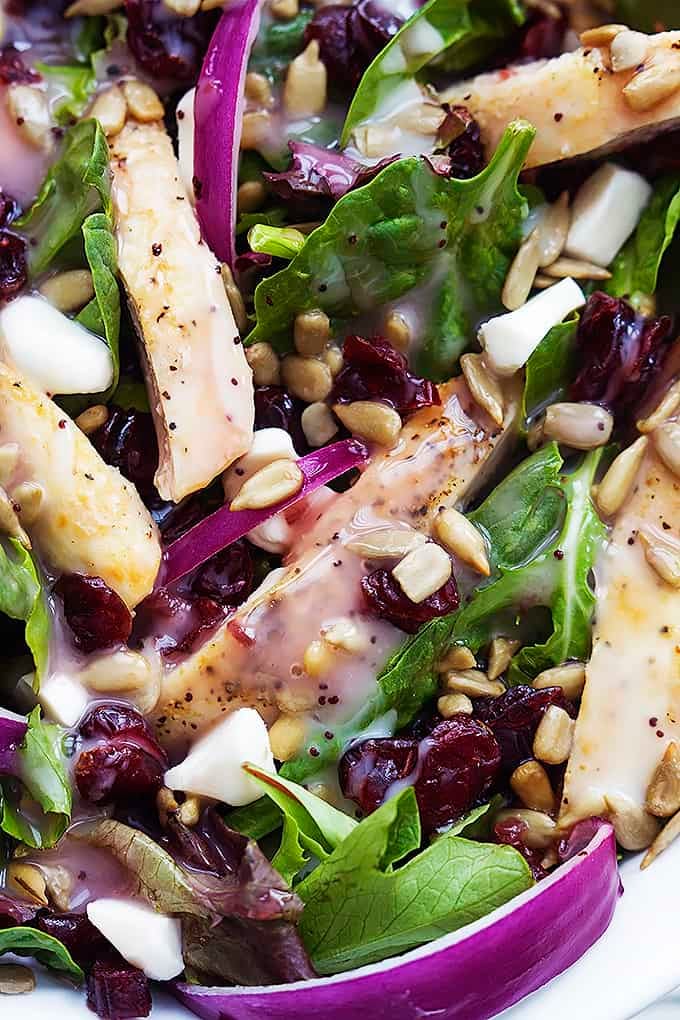 Kneader's Cranberry Sunflower Salad
Kneader's cranberry sunflower salad recipe copycat! With turkey or chicken, sunflower seeds, raspberry poppyseed dressing, and mozzarella cheese!
Ingredients
8

cups

mixed spring greens

2

cups

diced or sliced cooked chicken

-

or turkey breast, diced or sliced

½

red onion

-

thinly sliced

½

cup

mozzarella cheese or mozzarella balls

-

diced

⅓

cup

dried cranberries

⅓

cup

sunflower seeds

-

(shelled)

½

cup

creamy poppyseed dressing

½

cup

raspberry vinaigrette
Instructions
Whisk together poppyseed dressing and raspberry vinaigrette. Store chilled until ready to use.

In a large bowl toss together all remaining salad ingredients. Serve with chilled prepared dressing.
Nutrition
Calories:
301
kcal
,
Carbohydrates:
23
g
,
Protein:
25
g
,
Fat:
13
g
,
Saturated Fat:
3
g
,
Cholesterol:
61
mg
,
Sodium:
415
mg
,
Potassium:
471
mg
,
Fiber:
3
g
,
Sugar:
17
g
,
Vitamin A:
825
IU
,
Vitamin C:
5
mg
,
Calcium:
157
mg
,
Iron:
2
mg