Crunchy, chopped Asian Cranberry Almond Salad with tangy dried cranberries, sliced almonds, cilantro, and the best 2-minute homemade sesame dressing!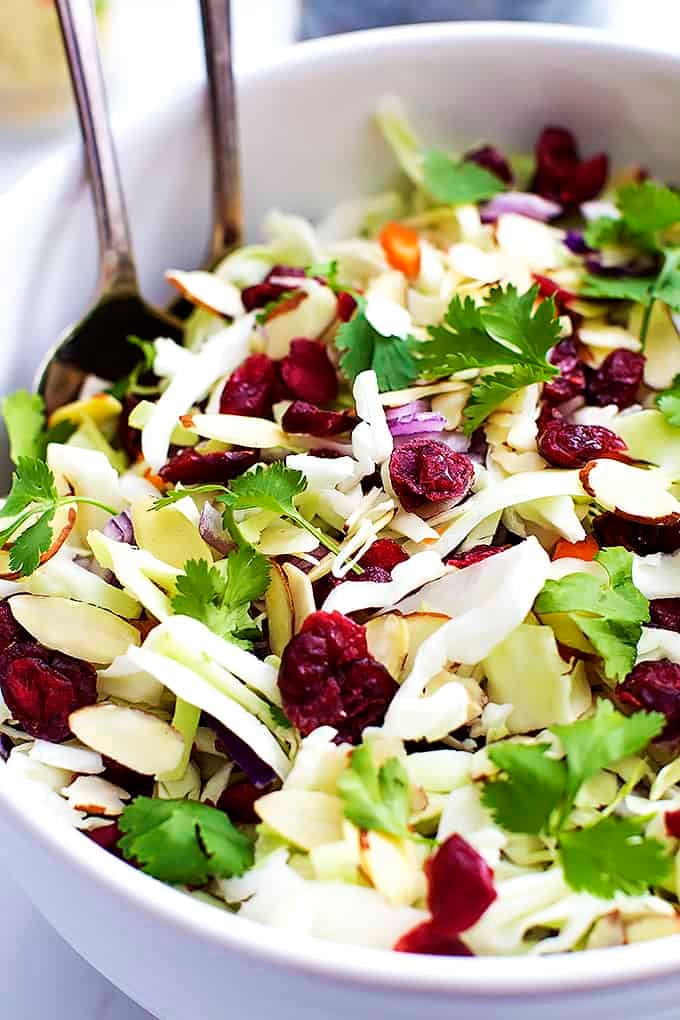 We're having salad Monday on a Thursday is that okay?? I could have/should have/would have shared this with you on Monday but time got away from me…. and now it's Thursday so…..
LIFE. right?
Annnnyway, this salad. Woah. So good. Since we've been back from the cruise I've been craving fresh, bright, summery foods. I tend to feel that way whenever I've been eating out for many days in a row, I just want to get my hands on some fresh fruit or veggies and go wild. So for the past week and a half I've been devouring twice the amount of salad I usually do and folks…. that's a lot of salad.
This Asian cranberry almond salad is my favorite this week. Those tart cranberries are like little pieces of gold you just want to dig for the whole time you're eating this salad so just take it from me and make sure you do not go light on those – put a whole bunch in there. and yes, you can definitely use your favorite store-bought Asian salad dressing BUT if you have 2 minutes ( and you do, you really do) then whip up this amazing sesame dressing I've included for you – you will loooooove it!
Asian Cranberry Almond Salad + Sesame Dressing
Crunchy Asian chopped salad with tangy dried cranberries, sliced almonds, cilantro, and the best 2-minute homemade sesame dressing!
Ingredients
1

bag

tricolor cole slaw

(without dressing)

1/2

red onion,

sliced or chopped

1/2

cup

dried cranberries

1/3

cup

Diamond of California Sliced Almonds

1/4

cup

packed cilantro leaves,

roughly chopped
Dressing
1/4

cup

balsamic vinegar

2

tablespoons

soy sauce

(I used low sodium)

2

teaspoons

minced garlic

2

tablespoons

sugar

2 1/2

teaspoons

sesame oil

1

tablespoon

sesame seeds
Instructions
Add cole slaw, onions, cranberries, almonds, and cilantro to a large bowl.

Prepare the dressing by combining all dressing ingredients in a jar (or similar container), cover and shake well. Toss salad with dressing and serve immediately OR if preparing ahead, cover salad with plastic wrap and store dressing and salad in fridge, then toss immediately before serving.
Recipe adapted from Reluctant Entertainer.
A big thanks to Diamond of California Nuts for sponsored this awesome salad recipe!