Easy, healthy Chopped Asian Salad, loaded with veggies and tossed in the most amazing three ingredient teriyaki dressing! Add chicken, shrimp, or steak for a heartier protein-packed salad!
This is the perfect side dish for any Asian entree, like Chicken and Broccoli Stir Fry, Sticky Chinese Lemon Chicken, Slow Cooker Broccoli Beef, and Best Ever Baked Teriyaki Chicken.
Sometimes you just need a little healthy greens in your life. When I make salads though, not just anything will do. That's not to say they have to be fancy or take lots of time. But I do prefer my salads to be more than greens and a few limp veggie slices or mushy tomatoes thrown on top like sometimes you'll get at a restaurant (or maybe you grew up with). I like my salads to have a little excitement in terms of ingredients and a lot of taste.
That's where this Asian Chopped Salad comes in. There's a lot of fun in it — first of all, no boring iceberg to be found here. I prefer a heartier lettuce like romaine or a mixture of spring greens. A shaved kale/Brussels sprouts mixture would work too. Then, I like to shave my carrots for more flavor per bite and without having to chew big rounds of them. For me, that just detracts from the dish at hand. Sugar snap peas or snow peas add a little sweetness to the salad and go well with the Asian dressing. Then, I add thinly sliced cucumber for an easy crunch and to add a bit more green to my salad. Finally, I consider the craisins and sunflower seeds to be the tasty bling on top of this veggie masterpiece. Craisins add a nice, sweet tang, the sunflower seeds give the dish a little salty crunch, and the cilantro enhances all the flavors.
For the dressing, I decided to keep it simple; there's nothing worse than an overpowering dressing that takes up the entire salad. Dressings are meant to be simple. Teriyaki sauce, oil, and rice vinegar are all this little gem needs. And, the best part is, you can double or even triple this dressing and keep it in your fridge for a couple of weeks. There's no need to buy store-bought dressings at all because making your own is easier than you think and they are healthier and easier on the wallet too. (For a homemade dressing, try my Creamy Balsamic Dressing.)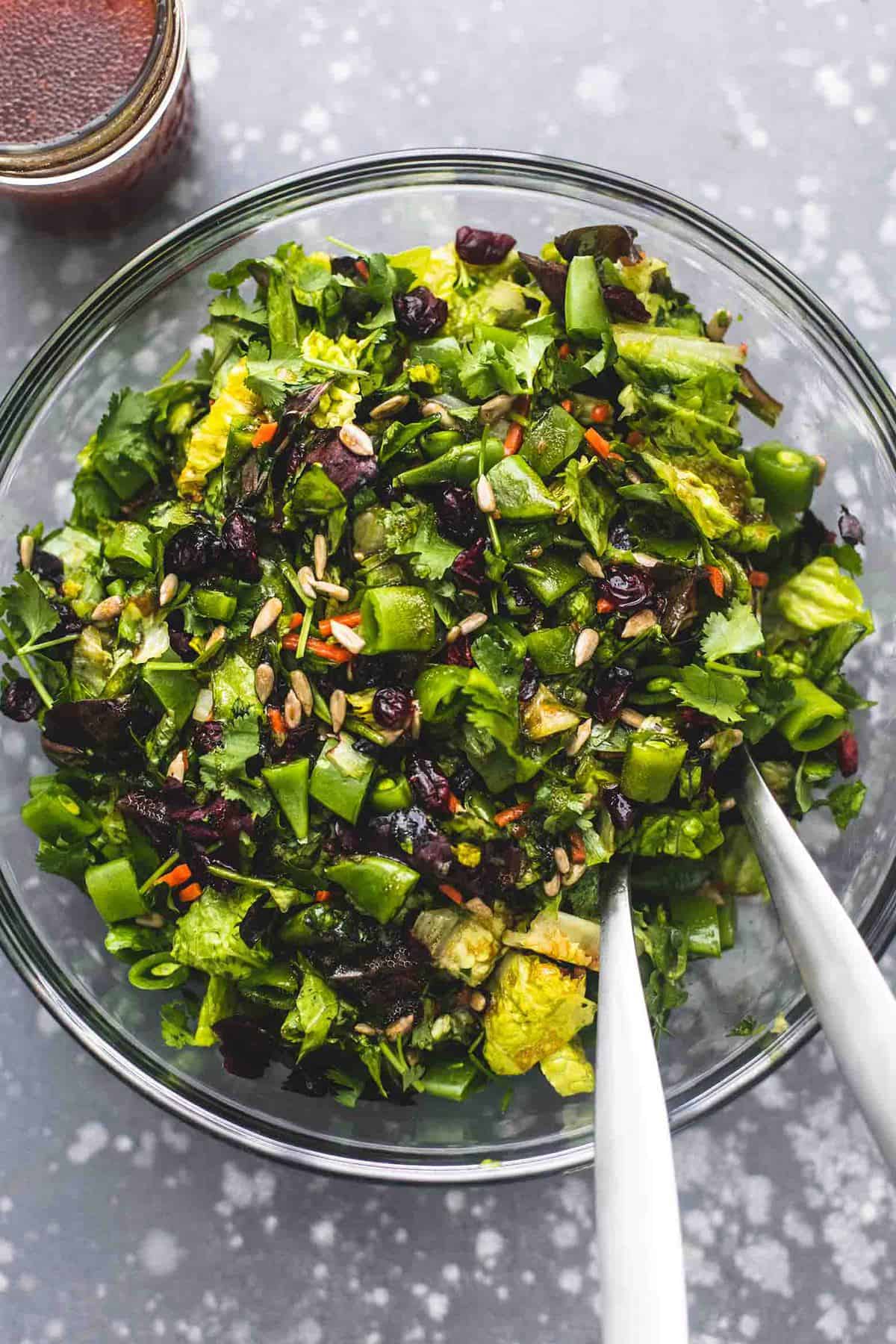 Customizations and Expert Tips
Salads are so easy to make your own. You can skip or add just about any ingredients you like! In keeping with the Asian theme though, here's what I would recommend:
Add in mushrooms, sliced green onions, or diced red onions.

Add pickled or fermented veggies such as pickled red onions, carrots, cauliflower, or beets or add in a few tablespoons of kimchi.

Swap out sunflower seeds for pine nuts, chopped peanuts, or sesame seeds.

Toss in spicy wasabi peas for a little heat.

Sprinkle crunchy wonton strips or Chinese noodles right on top.

Add some spice to your dressing with a touch of red pepper flakes or a tablespoon of Sriracha or chili oil.

Add roasted garlic to the mix.

Omit the cilantro if you hate it. I know it can be a very polarizing herb.

Add fresh ginger to the dressing for a little more zing.

Swap out the romaine for other greens of your choice. Just about anything works here. Just make sure you chop it up so you can get little bites of lettuce instead of big hunks.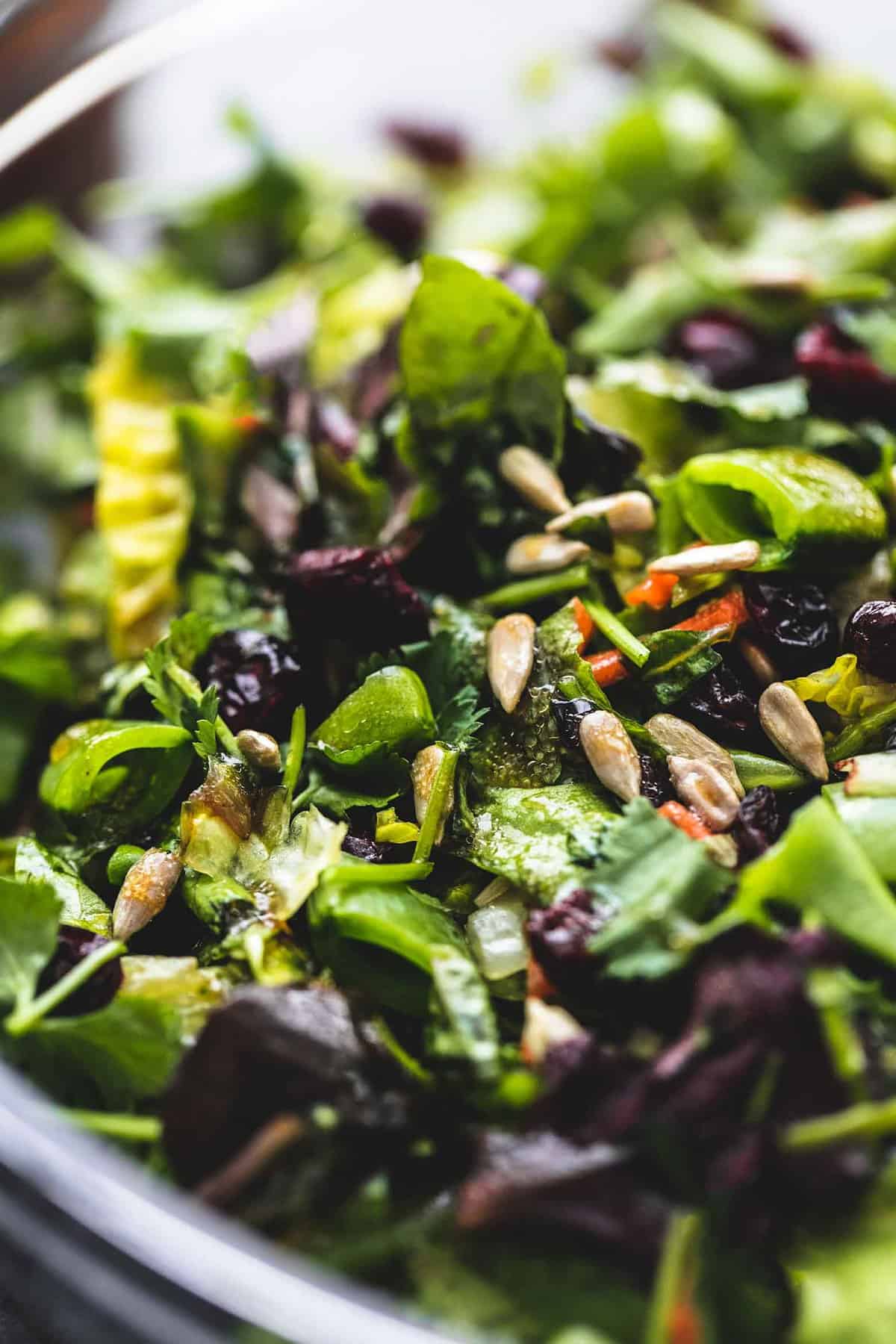 What to Bring to an Asian Potlucl
I think a variety of dishes is always great to have at a potluck. After all, isn't that exactly what a potluck is? However, if you are invited to an Asian potluck, you might be inclined to bring an Asian dish with you. If you're not sure what would be good to bring that would taste good and be enjoyed by potentially a lot of people, try making:
What Kinds of Protein Can I Add to this Asian Chopped Salad?
If you're looking to add a little more to this salad in terms of a protein source, this goes great with grilled chicken or steak. It also pairs well with fish such as salmon, tuna, or red snapper or a shellfish like shrimp. You can also add very firm (pressed) tofu to the salad (though I'd recommend searing or cooking it a bit beforehand to give it some hold in your dish).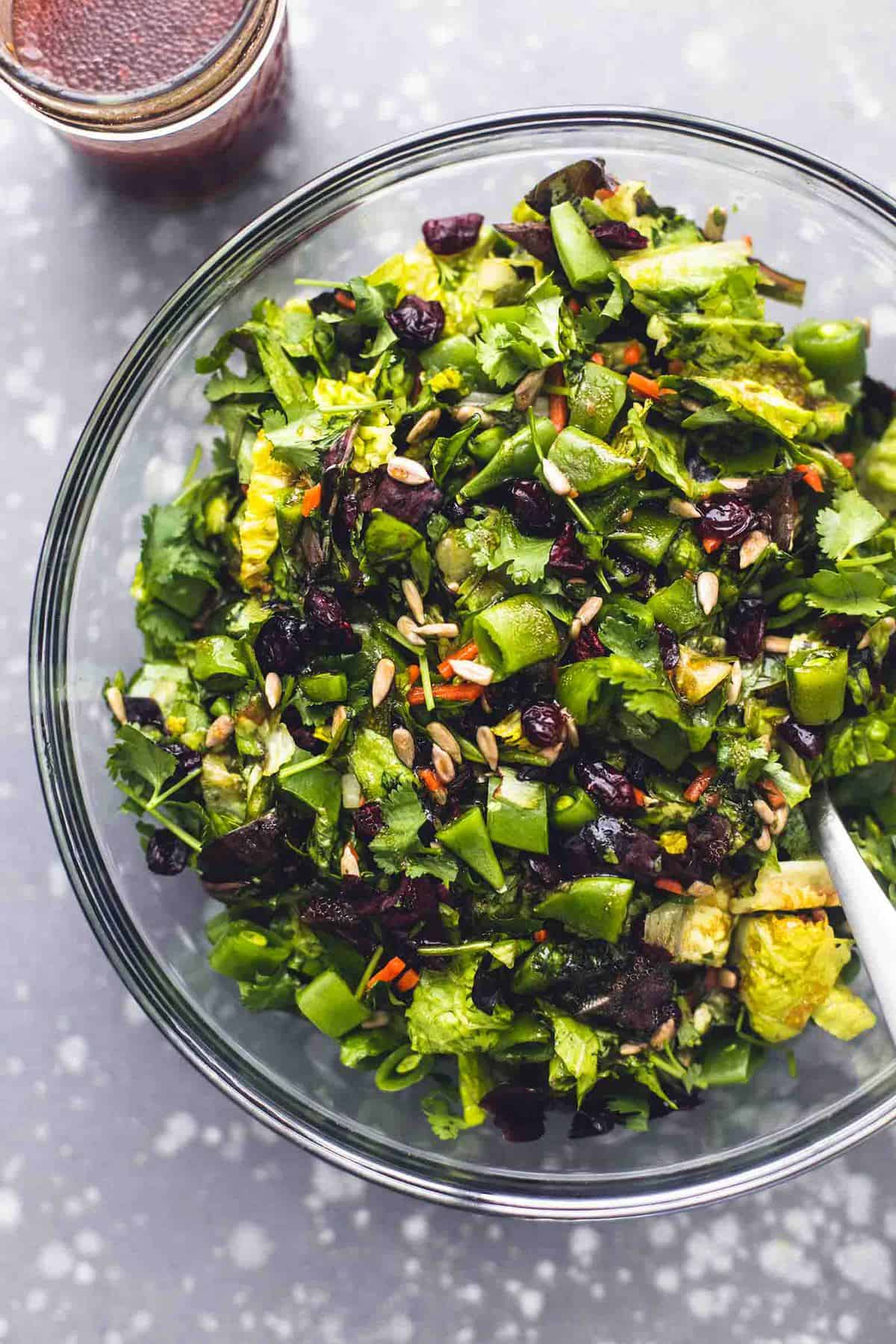 Asian Chopped Salad
Easy, healthy Asian chopped salad, loaded with veggies and tossed in the most amazing three ingredient teriyaki dressing! Add chicken, shrimp, or steak for a heartier protein-packed salad!
Ingredients
6

cups

chopped romaine

-

or mixed greens

⅓

cup

shredded carrots

-

chopped

1

cup

sugar snap peas

-

or snow peas, chopped

1

cucumber

-

peeled and chopped

1

tablespoon

sunflower seeds

⅓

cup

dried cranberries

⅓

cup

chopped cilantro
teriyaki dressing
⅓

cup

teriyaki sauce

⅓

cup

oil

3

tablespoons

rice vinegar
Instructions
Combine dressing ingredients in a jar, shake to combine.

Combine lettuce, veggies, sunflower seeds, and cranberries in a large bowl. Add dressing and toss to combine. Serve immediately. *If making ahead, cover and chill salad and reserve dressing until just before serving.
Notes
This salad is so versatile! Add or replace any ingredient with anything you want or have on hand – some of my favorites are red bell peppers, green onions, avocado, pine nuts, shaved or slivered almonds, shredded chicken, shrimp, or steak. 
For a large crowd, double the recipe! 
Nutrition
Calories:
180
kcal
,
Carbohydrates:
13
g
,
Protein:
3
g
,
Fat:
14
g
,
Saturated Fat:
1
g
,
Trans Fat:
1
g
,
Sodium:
624
mg
,
Potassium:
289
mg
,
Fiber:
3
g
,
Sugar:
9
g
,
Vitamin A:
5496
IU
,
Vitamin C:
14
mg
,
Calcium:
38
mg
,
Iron:
1
mg
If you liked this recipe, you'll love my Roasted Garlic Parmesan Brussels Sprouts, Cranberry Pecan Wild Rice Salad, Spicy Baked Sweet Potato Wedges, and Apple Cherry Pecan Salad.