Salt & Vinegar Sweet Potato Chips – Crispy salt and vinegar sweet potato chips with only 3 ingredients and no deep fryer!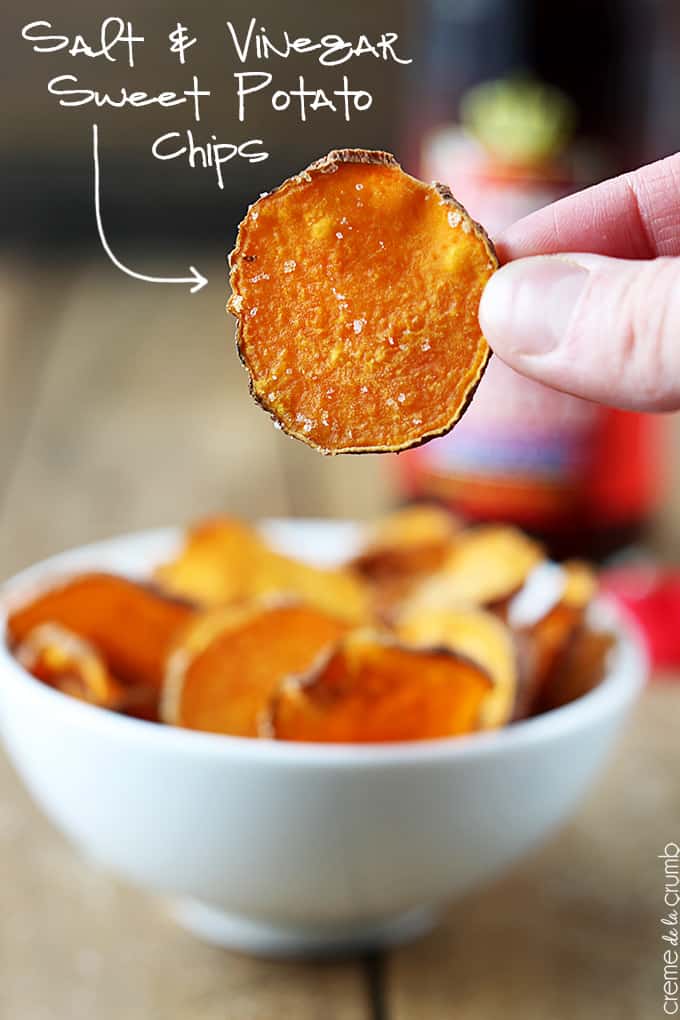 Remember yesterday when we talked about butterscotch being one of those love or hate flavors? Well I'm pretty sure salt and vinegar chips are one of those too.My husband can't stand them. I'm obsessed with them. He also hates country music and I'm obsessed with that too but let's not open up that can of worms.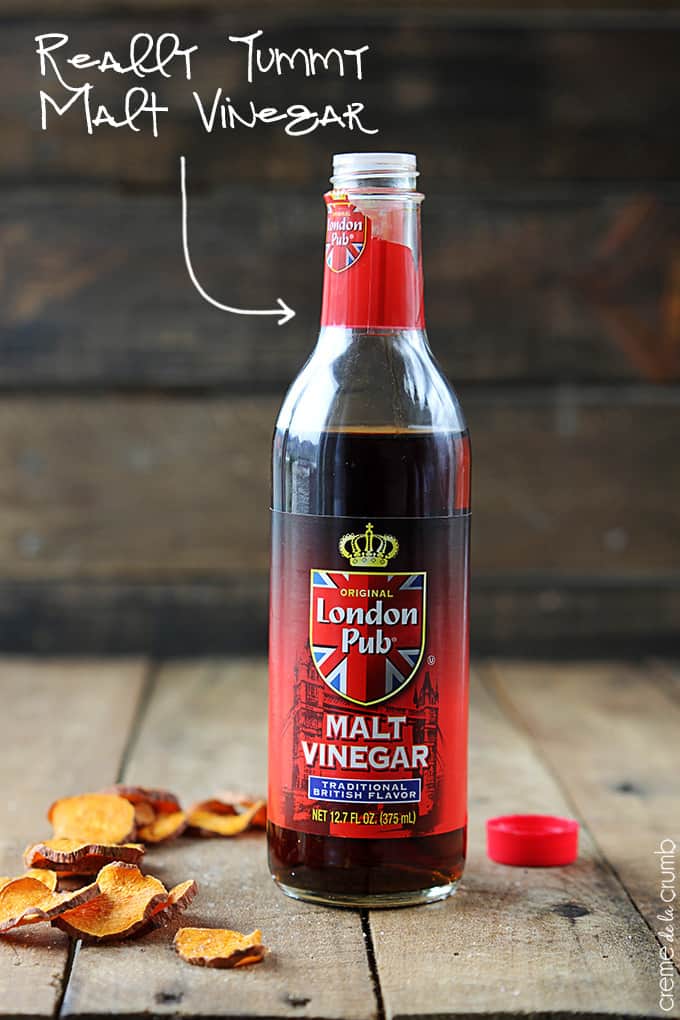 You will not believe how easy these chips are. They are how-have-I-not-been-making-these-my-whole-life easy. Promise. And all you need are three simple ingredients.
1) sweet potatoes. Obviously.
2) malt vinegar. I have not tried these yet with regular distilled white vinegar. I love the more mild flavor of the malt vinegar because it doesn't completely mask the sweetness of the potatoes. Cause that would kind of ruin the whole point ya know?
3) sea salt. Fine grained, coarse, doesn't matter. Just get your hands on some sea salt.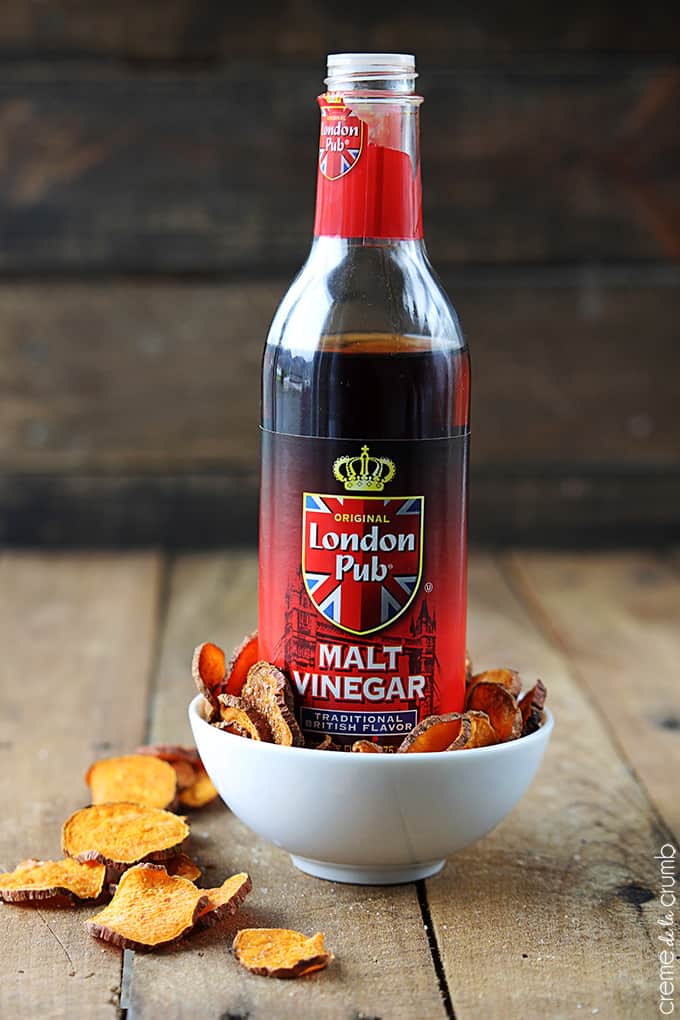 Remember how I said these were crazy-easy?? They are. Not only do they only require three ingredients but you don't even need to bust out your deep fryer! You can make these crispy little babies in the oven! So you, your clothes, and your kitchen don't have to smell like oil for a week. That's always a good thing right?
I wish I could say these are my new favorite go-to snack, but I can't. I can't say that because I sort of ate every last one of them within about four seconds of them coming out of the oven and then I had none left to "go-to" if you know what I mean. So I'll just say that these are super super can't-keep-my-hands-off-them good. And if I had made about seventy times the amount I did, they would be my new go to snack.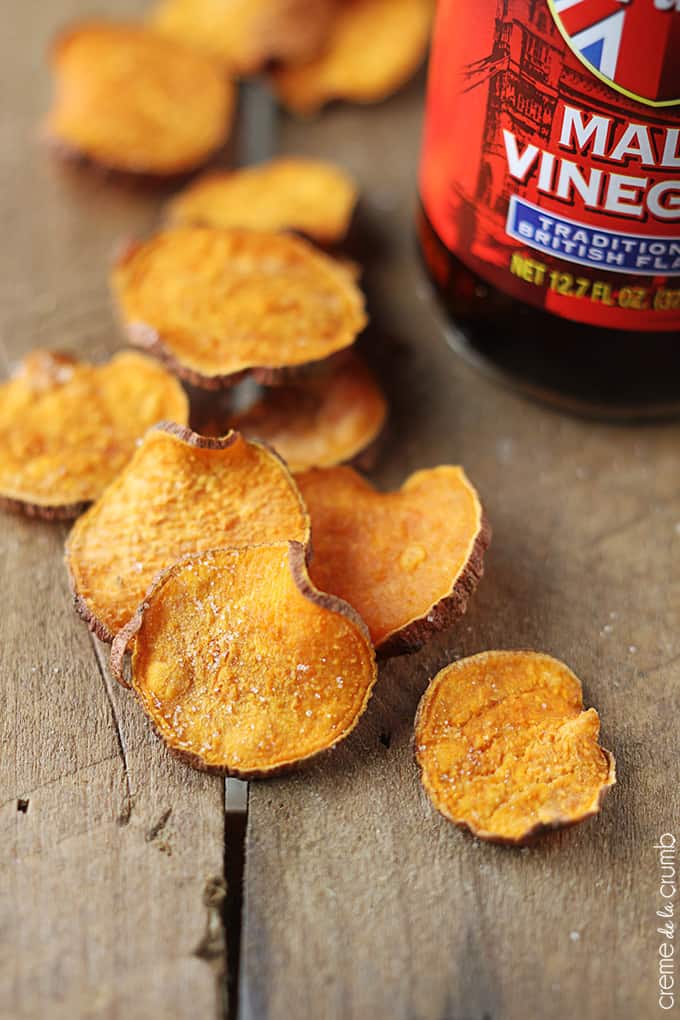 What people are saying about these Salt & Vinegar Sweet Potato Chips
"I had great success with your recipe first time! Thank you so much. The vinegar flavor is very subtle. The thinner and smaller chips charred a little bit, my fault. Next time I'll put them on a separate sheet, and take them out a little earlier than the others. The ones that were in the oven for the right amount of time were a fabulous treat." – Kathleen
"I made these last night. Mine didn't come out very crispy, so I think I need to slice them a bit thinner next time. I'm not a fan of the salt and vinegar chips that you get at the store, but these were really tasty! I baked them on a parchment lined pan to avoid the oil (on a strict diet), and will definitely be making them again. Thanks for sharing!" – Kay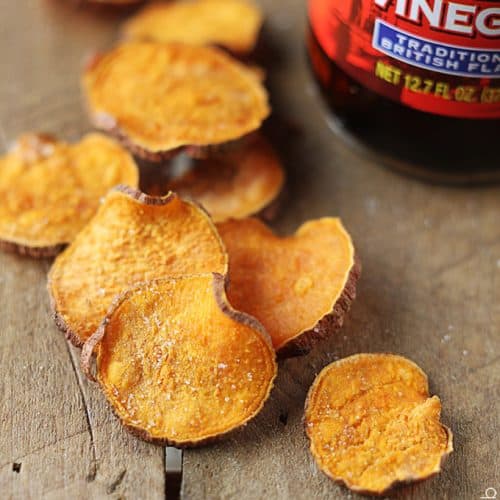 Salt & Vinegar Sweet Potato Chips
Crispy salt and vinegar sweet potato chips with only 3 ingredients and no deep fryer!
Ingredients
2-3

sweet potatoes

1/3

cup

malt vinegar

3

teaspoons

coarse sea salt

(or 2 teaspoons fine grain sea salt)
Instructions
Preheat oven to 375. Scrub sweet potatoes and pat dry. Line a large baking sheet with nonstick foil and spray generously with cooking spray.

Thinly slice sweet potatoes into round discs. You can use a mandolin slicer if you have one, I did not, so I used a really sharp knife and that worked great. Place all of the potato discs in a large plastic zip lock bag. Add malt vinegar, seal, and shake to coat the potatoes. Allow to rest at room temperature 10-15 minutes.

Drain the bag and place all of the potato discs in a single layer on prepared baking sheet. Sprinkle with half of the sea salt and spray generously with cooking spray. Bake 15-20 minutes. Use a thin spatula to flip the potato discs over. Sprinkle with remaining sea salt. Bake another 15-20 minutes until chips are crispy. Remove and allow to cool completely. Store in airtight container at room temperature.