Sugar Cookie Cupcakes – Your favorite sugar cookie flavor…. in a cupcake!! Super easy to make and ready to eat in just 35 minutes!!!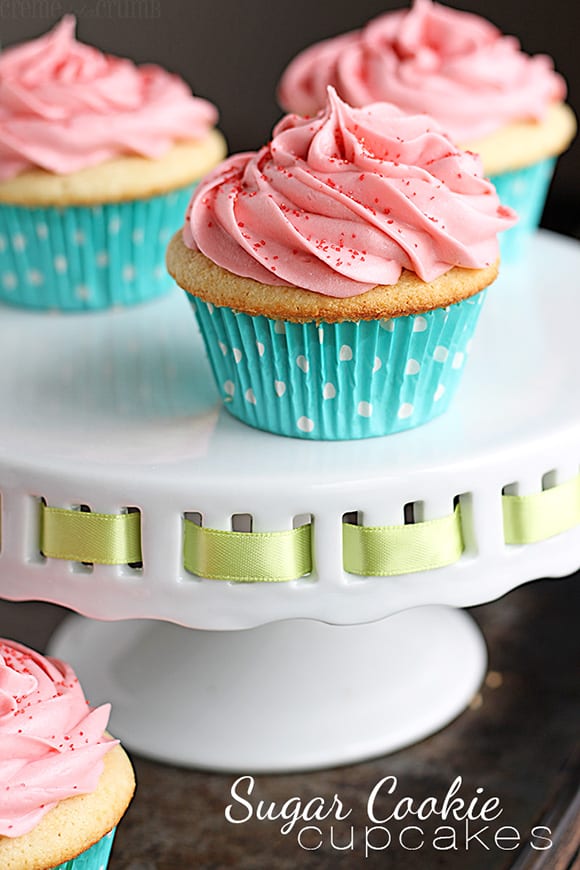 I really love sugar cookies. Especially the thick cakey ones with mile high frosting. And sprinkles.
There is a place nearby called Cutlers where they serve soup and sandwiches and the like, and seriously the best cookies. They make two kinds of sugar cookies: original, and almond. They are both so insanely delicious and rich that I really can't decide which I like better. Is it okay to have a tie?
I'm only tell you all of this because I was thinking of those cookies while I made these cupcakes. So they're kind of like… the inspiration behind the project.
Now I have to admit something that could be embarrassing. While I love those gourmet, made-fresh-daily with love from someone's grandmother's old recipe card cookies from Cutlers, I also have a place in my heart for the boxed, commercialized day-old Lofthouse cookies you see in the bakery section of the grocery store. I'm not comparing the two, you just can't do that because they are two completely different cookies and require two completely different cookie moods. I'm just saying, they're both good in their own way.
I'm normally not a real big fan of pink anything at all ever, but I felt that in order to make these cupcakes as classic sugar-cookie like as possible, they really needed that obnoxious pink frosting. And sprinkles. Because who eats sugar cookies without sprinkles?
But notice the blue wrappers? I was trying to even things out. Pink frost and pink wrappers would have been too much for me. Unless they were for a baby shower in which case I would make a totally appropriate exception.
These moist and fluffy cupcakes are the perfect way to shake things up at your next party, get-together, or any other occasion you may have in the near or distant future! Instead of the traditional cookies, bring these cupcakes!! They'll be a huge hit, just make sure to double the recipe if you're planning for more than 12!!
Sugar Cookie Cupcakes
Author:
Prep time:
Cook time:
Total time:
Your favorite sugar cookie flavor… in a cupcake!!
Ingredients
1/2 cup butter, softened
1 cup sugar
2 large eggs
3 teaspoons vanilla
1 1/2 cups flour
1 1/2 teaspoons baking powder
1/8 teaspoon salt
3/4 cup fat free half n' half
For the Frosting
2 tablespoons cream cheese
5 1/2 cups powdered sugar
8 tablespoons butter, softened
1 teaspoon vanilla
4-5 tablespoons half n' half
Optional: red food coloring and red sprinkles
Instructions
Preheat oven to 350 and line a muffin tin with cupcake liners.
In a large bowl cream together butter and sugar until fluffy (about 2 minutes). Mix in vanilla and eggs. In another bowl add flour, baking powder, and salt, and whisk to combine. Add dry ingredients to wet ingredients and mix. Add half n' half and mix until completely incorporated. Spoon batter into prepared tin, filling each liner about 2/3 full. Bake 18-20 minutes or until barely starting to brown around the edges. Allow to cool completely.
In a large bowl cream together cream cheese, butter, and sugar. Mix in vanilla and add milk 1 tablespoon at a time until a spreadable consistency is reached. Stir in red food coloring, one drop at a time until desired shade is achieved. Spread or pipe frosting onto cupcakes. Add sprinkles if desired. Store in airtight container.
Notes
Recipe slightly adapted from [url href="http://www.flourmewithlove.com/2011/11/sugar-cookie-cupcakes.html" target="_blank"]Flour Me With Love[/url]