Juicy 3 Ingredient Slow Cooker Cranberry Chicken cooked to tender perfection in a sweet and tangy cranberry sauce!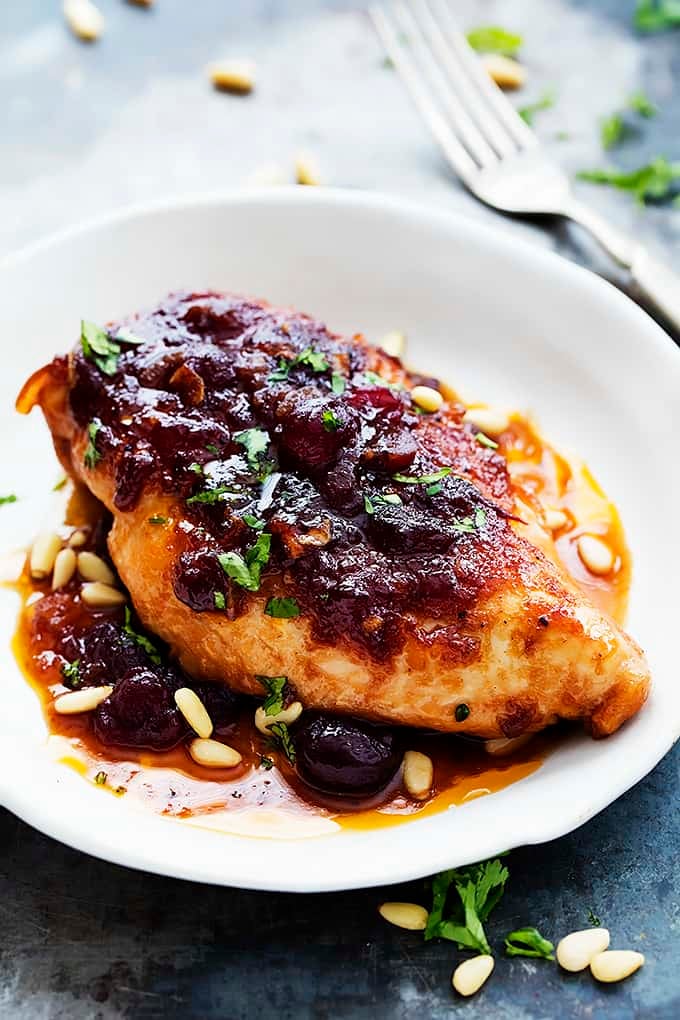 Let's talk about typos. Because they might happen here. Scratch that, they will happen here. I know that because I've already had them happen and now that I am writing at the bright and shiny (read: not bright and shiny) hour of 3:09 am, they're bound to happen even more often than usual. But that is my life right now. I side the darker side of 3 or 4 am every single morning. Cause that's feeding time for the two little babes who my life revolves around. And if you haven't seen their crazy-adorable little faces yet, you should take a gander at my Instagram page for a plethora of baby toes and squishy faces.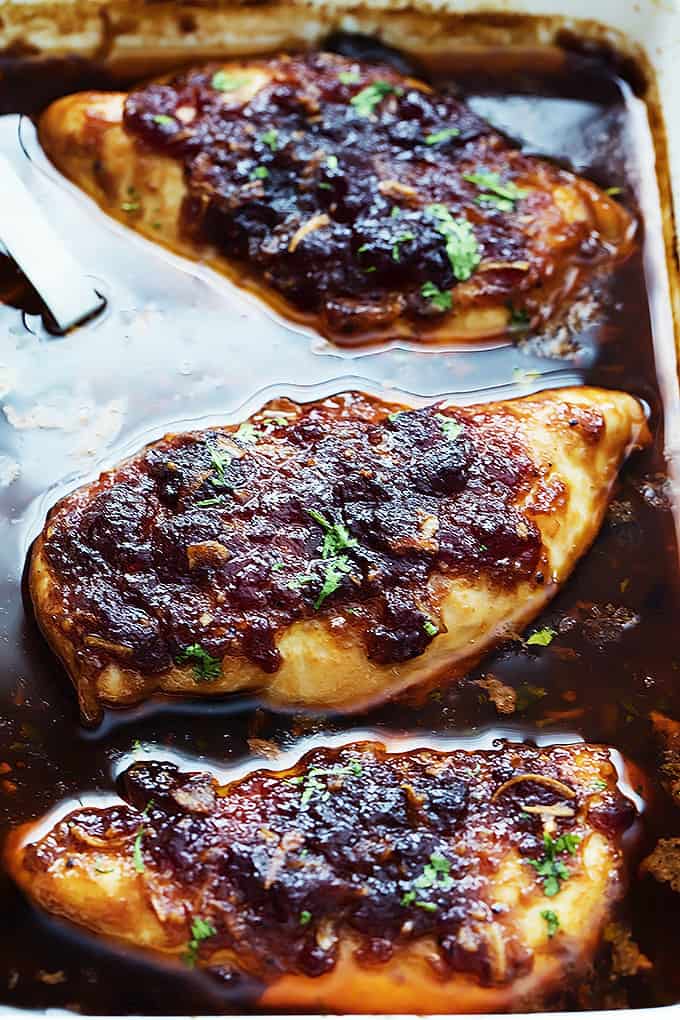 And just a side note, as I woke up the babes for this little 3am feeding frenzy I thought – thank goodness this doesn't last forever. Not for my sake actually – I really don't mind the frequent nighttime feedings and snuggling baby noses throughout the night. I'm okay with that. But could you imagine all of your life having to eat every three hours? One the one hand awesome. Because…. more food right? You get it.
But on the other hand, who has time to cook 8 times a day you know?! I think frozen entrees would be your new best friend or, if you're like me, cereal all. day. long.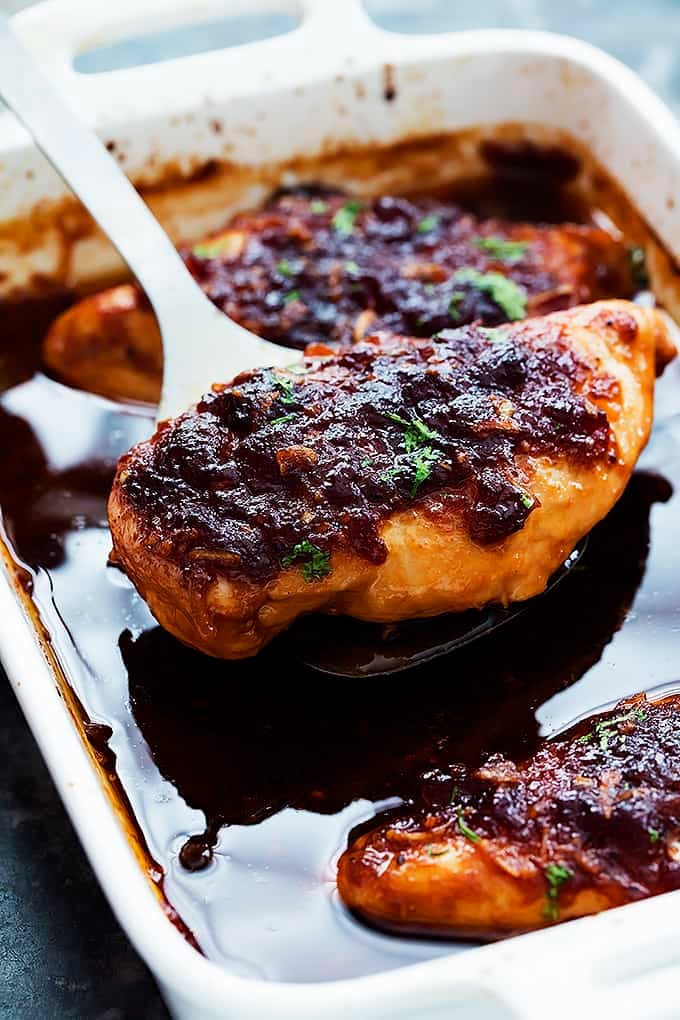 But that leads perfectly into what I want to talk about next. 3 ingredient dinners. Three ingredients is a beautiful thing and it's exactly what you need for this juicy cranberry chicken.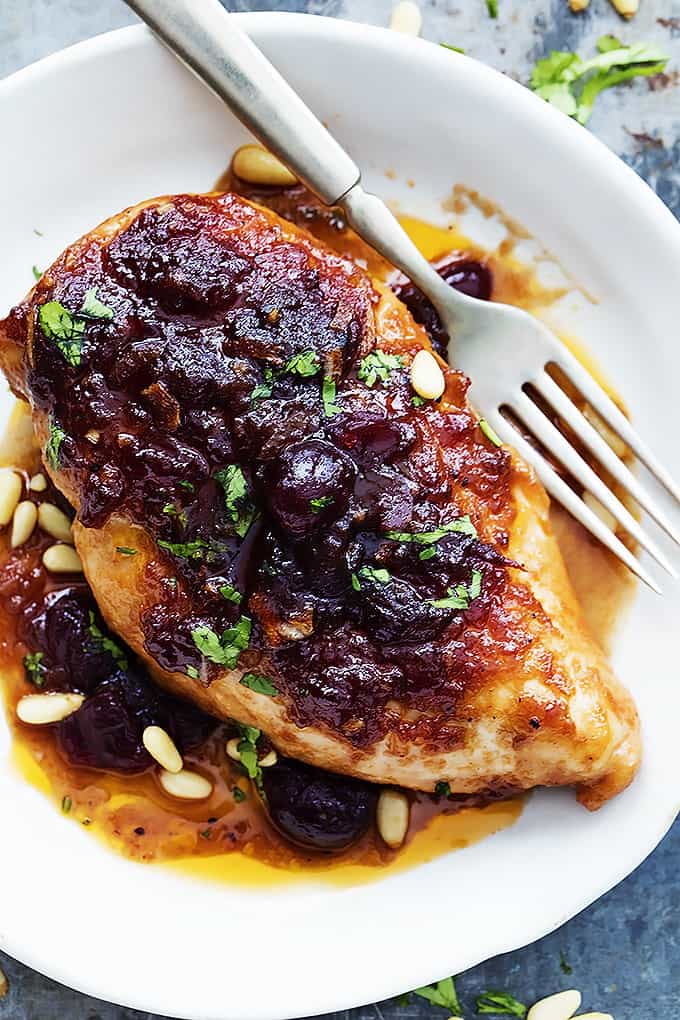 If you're feeling adventurous you can even make your own cranberry sauce or French dressing (<—my favorite easy version is included in the notes of the recipe!) but if not, canned cranberry sauce and bottled French dressing are perfect. We all have those days. For some of us it's pretty much every day and that's okay.
Because, LIFE.
What people are saying about this 3 Ingredient Slow Cooker Cranberry Chicken
"This was my "go to" dish for every party, dinner guest, or no idea what to make for dinner because it's so incredibly easy and I almost always have the ingredients on hand! Everyone at every party asks for the recipe and it's kinda funny to see their jaw drop when I say it's just salad dressing, whole berry cranberry sauce and Lipton Onion soup mix! When I make it for a party I cut the chicken into bite size pieces." – Heidi
"I loved it. My son keeps asking when I am going to make it again and I just made it a few days ago. I loved the homemade French dressing recipe. It was easy and good." – Marie
"This was a very strange set of ingredients but my goodness was this tasty. Room-mate and I whipped this up in the crockpot for Christmas dinner. Was entirely skeptical based on the list of items in it, but man. This is one of the best crockpot chickens I've ever made." – Holly
3 Ingredient Slow Cooker Cranberry Chicken
Juicy chicken slow cooked to tender perfection in a sweet and tangy cranberry sauce - just 3 ingredients!
Ingredients
4

boneless skinless chicken breasts

1

cup

French dressing

-

(see note for my easy homemade version!)

1

15-ounce can

whole cranberry cranberry sauce

-

OR 1 cup homemade cranberry sauce
Instructions
Lightly grease a slow cooker. Place chicken breasts in the bottom in a single layer.

Whisk together French dressing and cranberry sauce. Pour over chicken. Turn chicken to coat all sides of the chicken.

Cover and cook on high for 3-4 hours or on low for 6 hours until chicken is cooked through. Garnish with toasted pine nuts and chopped parsley if desired and serve.
Notes
For homemade French dressing, combine 1 cup oil (I use vegetable oil, canola or olive would work as well), 1/4 cup brown sugar, 1/4 cup vinegar, 1/2 cup ketchup, 1 teaspoon minced garlic, and 2 teaspoons onion powder in a jar. Cover, shake until well combined. Taste the dressing and add salt and pepper to taste. Store chilled until ready to use.
**I adapted this recipe from one I found in my mother's recipe files - hers called for 1 package of Lipton Onion Soup in addition to the French dressing and the Cranberry sauce. I have tried this and it is extra delicious so if you have a packet of the onion soup on hand I highly recommend adding that 4th ingredient!
Nutrition
Calories:
415
kcal
,
Carbohydrates:
10
g
,
Protein:
24
g
,
Fat:
31
g
,
Saturated Fat:
4
g
,
Trans Fat:
1
g
,
Cholesterol:
72
mg
,
Sodium:
654
mg
,
Potassium:
460
mg
,
Fiber:
1
g
,
Sugar:
10
g
,
Vitamin A:
324
IU
,
Vitamin C:
4
mg
,
Calcium:
21
mg
,
Iron:
1
mg