Sheet Pan Cranberry Chicken and Stuffing is a one-dish, delicious alternative to roasted turkey and stuffing. This meal contains all the holiday flavors you love — juicy, tender, perfectly baked poultry topped with a tangy cranberry sauce and buttery, savory stuffing — made in a fraction of the time.
If you love all things Thanksgiving, then you'll also want to make my dishes for Cheesy Mashed Potatoes, Parker House Dinner Rolls, and Sauteed Brussels Sprouts.
This post is sponsored by Reynolds Wrap. All opinions are my own.

Well friends, here we are in those mid-holiday weeks. While at first, the time between Thanksgiving and Christmas may seem like an eternity, it goes quicker than you can say "Black Friday doorbusters." There's trees to trim, shopping to do, cookies to make, meals to plan, guest beds to ready…you know the drill.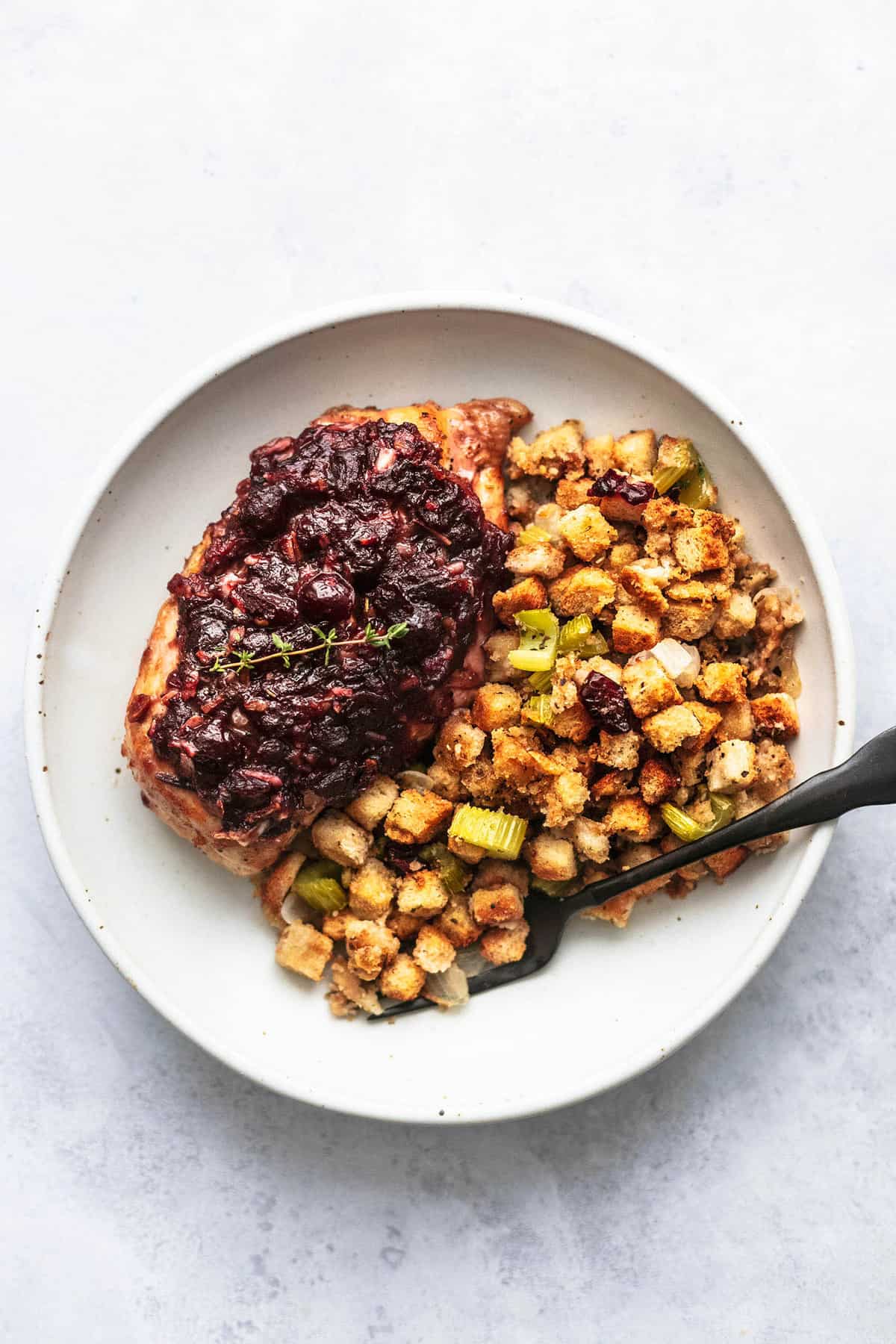 And a funny thing happens to me every year around this time. Somewhere in between the days following Thanksgiving wherein I've eaten leftovers for about three days in a row and I've grown tired of eating it and the weeks leading up to Christmas, I suddenly can't wait any longer to eat holiday foods. I find myself missing the turkey and stuffing and mashed potatoes and all the sides and goodies that come with it.
But there's no way I'm going to cook an entire dinner like that but one time a year. So, what's a girl to do? Ignore her desires? Wait a whole other year to satisfy her need for all things Thanksgiving? Heck no. I meet my cravings somewhere in the middle with an easy, sheet pan dish that combines cranberry-topped chicken breasts with a side of crispy, moist, savory stuffing. It satisfies my taste buds and is about one million times faster to make than the traditional turkey, cranberries, and stuffing.
HOW DO YOU MAKE CRANBERRY CHICKEN AND STUFFING?
First of all, don't be put off by the three-parter directions I'm about to throw at you. I think that breaking it down into smaller steps makes this dish all that more easy to follow.
The first thing you'll want to do is preheat the oven and make your foil tray from Reynolds Wrap Heavy Duty Foil because I think it's the best foil to easily capture all the juices and sauce from the chicken and leave you without any messy cleanup. Place this tray on one half of your sheet pan, and set aside.
Season the chicken and drizzle a large skillet with olive oil. Brown the chicken over medium-high heat on both sides (about 2-3 minutes per side). Remove it from the skillet and arrange them on the foil side of your sheet pan. Mix up the cranberry sauce mixture (canned cranberries, broth, and onion soup mix), and spoon it right on top of the chicken breasts.
The second step is to place your stuffing, celery, and onions on the other side of the sheet pan opposite the chicken. (If you haven't already mixed these together, use your hands to combine the three ingredients together in the pan.) In a bowl, mix together broth, butter, salt, and pepper. Pour the butter mixture over the stuffing and toss it all together again.
The third, and final, step is to bake the dish. Pop the whole sheet pan into the oven for 20-25 minutes until the chicken is cooked all the way through and the stuffing is browned and crisp around the top. Top with the dried cranberries if you like and serve.
TIPS FOR MAKING SHEET PAN CRANBERRY CHICKEN AND STUFFING
To make this easy dish even easier (and quite possibly tastier), allow me to give you just a few additional tips:
To me, the key to this sheet pan chicken dish is the fact that (except for the quick browning part) you make it on a single pan. (Anything for less dishes, amiright?) BUT in order to keep your chicken and stuffing separate for perfect cooking and maximum flavor, you'll need to get a tiny bit creative with some heavy-duty foil, and not just any foil.





I always use

Reynolds Wrap Heavy Duty Foil

because it is made to meet high food safety and quality standards. It's also nice and thick and non-stick, which means none of the cranberry sauce, chicken juice, or buttery stuffing is going to leak through causing a sticky, baked-on mess for you to deal with later.

Get those chicken breasts pounded to an even thickness. This ensures even cooking so that you're not left with one overdone breast and one that's still pink in the middle.

You can use any butter you like for the stuffing, but I tend to go with unsalted, so that I can season with salt as I see fit and I don't have to guess how salty the stuffing will be after factoring in the salt that's already in the butter.

Use a chunkier cranberry sauce if you like the texture and taste of whole cranberries in your sauce.
If you, like me, can't wait for the next holiday to roll around to get your fill of all things sweet, savory, and tart, then I think you'll agree that this Sheet Pan Cranberry Chicken and Stuffing is the way to go. And remember, the key to perfecting the dish the first time around is to start with quality products like Reynolds Wrap Heavy Duty Foil to make baking and cleanup a cinch.
Sheet Pan Cranberry Chicken and Stuffing
Ingredients
4

boneless skinless chicken breasts, pounded to even 3/4 inch thickness

salt and pepper to taste

1

teaspoon

Italian herb blend seasoning

1

15-ounce can cranberry sauce

1/2

cup

chicken broth or water

1

envelope onion soup mix
for the stuffing
10

ounces

cube stuffing (or about 4 cups sourdough bread cut into small cubes and left out overnight)

1/4

cup

butter, melted

1 1/2

cups

chicken or vegetable broth

3

celery stalks, chopped

1/2

white onion, diced

2

teaspoons

Italian herb blend seasoning

1/2

teaspoon

salt

1/4

teaspoon

pepper

1/3

cup

dried cranberries
Instructions
Preheat oven to 375 degrees. Use Reynolds Wrap Heavy Duty Foil to cover one half of a large sheet pan. Fold up the edges to make a tray.
Prepare the chicken
Season chicken with salt, pepper, and Italian seasoning. Drizzle a large pan with oil, brown the chicken on both sides, and set aside.

Arrange chicken breasts in the foil tray. Stir together cranberry sauce, 1/2 cup broth (or water) and the onion soup mix. Spoon over the chicken breasts.
Prepare the stuffing
Arrange stuffing, celery, and onions on the unused half of the sheet pan. In a medium bowl stir together broth, butter, salt, and pepper. Pour over the stuffing and use spoons or your hands to toss well.
Bake it
Bake for 20-25 minutes until chicken is cooked through and stuffing is browned and crisp on the top. Top with dried cranberries and serve.