These Parker House Dinner Rolls with Almond Raspberry Butter are easy to make and are the perfect homemade dinner rolls for the holidays or any time you want a delicious, sweet, kid-friendly, indulgent freshly baked treat. 
It's baking season! You know what that means: Give me all the homemade Cinnamon Swirl Monkey Breads, the Apple Pie Cinnamon Rolls, and the Cheddar Jalapeno Pretzel Bites.
This post is sponsored by Fleischmann's® Yeast. All opinions are my own.
The holidays are swiftly approaching. I'm so excited and nervous and stressed but mostly excited. One of my most favorite parts of the holidays is figuring out what we're going to eat! I know, that probably comes as a gigantic shock to you…kidding. But really, I never tire of deciding on menus for big meals like Thanksgiving and Christmas dinner but also all the other little ones around the holidays, like the breakfasts the morning of those special events, or what to serve any guests staying at your house on any given morning.
That's not to say that these Parker House Dinner Rolls with Almond Raspberry Butter are only for breakfast. We eat them any time of day really. But when I first make them I think of them for breakfast. Why? Well, since I make these rolls with Fleischmann's RapidRise Yeast, I know I can fresh bake them any morning quickly and easily. Seriously, by the time I'd run to the bakery for fresh rolls or to the bagel store for a baker's dozen, these can already be out of the oven and ready to be slathered with that nutty, tangy, slightly sweet Almond Raspberry Butter.
Even if you don't consider yourself a baker, I encourage you to give these a try. Don't wait for the holidays, give them a dry run asap. (You won't regret having to eat these delicious rolls more than once.) The key to baking these easy dinner rolls in a hurry truly is Fleischmann's RapidRise Yeast. I let my kids help me knead the bread dough and still can get these done before they start reaching for a pre-breakfast snack.
WHY ARE THEY CALLED PARKER HOUSE ROLLS?
The name Parker House isn't just something I made up to make these rolls sound fancy. They are actually a type of roll that is known for being folded in half to a roughly oval shape, though they can be any shape. (I tend to make mine rectangular.) Made with milk, sugar, flour, water, butter, egg, salt, flour, and Fleischmann's RapidRise Yeast, the result is a buttery, slightly sweet roll with a crispy shell and a soft texture. They truly do melt in your mouth.
These rolls date back to the 1870s, when a pastry chef at the Parker House Hotel in Boston was suddenly angered mid-baking, which resulted in him putting half-finished rolls into the oven. When he took them out of the oven, they were dented and folded and appeared to be all wrong. However, when he and guests took a bite, they were delighted at the roll's taste and texture and a new recipe was created and passed down for generations to devour and enjoy.
Don't you love stories like that? Truly a happy ending in the culinary world.

CAN YOU FREEZE PARKER HOUSE ROLL DOUGH?
Yes, you can make these ahead of time and freeze them. What you want to do is go ahead and shape the kneaded but yet unrisen dough into your roll shapes. Put them in a pan in a single layer and freeze. Once they are all frozen through, you can take out the individual rolls and put them in an airtight container and pop back into the freezer.
The day you're ready to serve them, take the amount you need out of the freezer, put them into the pan you want to bake them in. Let them thaw and rise for about 4-5 hours then bake as directed.
HOW DO YOU WARM ROLLS IN THE OVEN?
To reheat your Parker House rolls for that warm, oven-baked freshness one or two days after you've made them (if they last that long), the key is to reheat them in the oven in a baking dish, packed as closely together as you can get them. If you put them on a sheet to reheat, they will get crispy on all sides. Packing them together will keep the sides soft.
Brush the rolls again with butter if you like before putting your tightly packed rolls into an oven preheated to 350 degrees on a rack right in the middle. Bake until just warmed through, about 7 minutes.
So go ahead and put these Parker House Dinner Rolls with Almond Raspberry Butter at the top of your "to-serve" list for the holidays several times. I promise your family and guests will be thrilled to eat these and you'll be thrilled with how quickly you can make bread from scratch when you use Fleischmann's RapidRise Yeast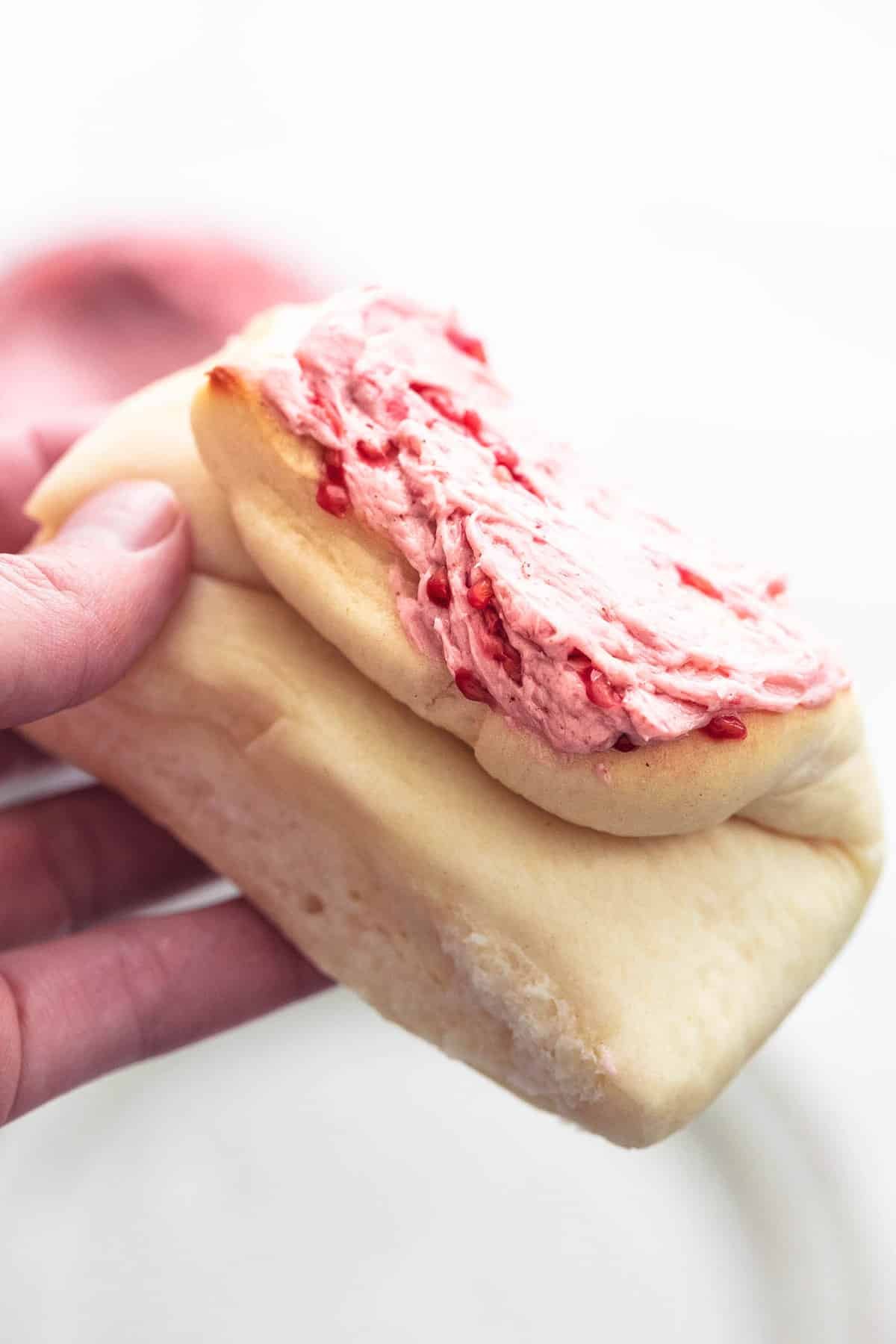 Parker House Dinner Rolls with Almond Raspberry Butter
These Parker House Dinner Rolls with Almond Raspberry Butter are easy to make and are the perfect homemade dinner rolls for the holidays or any time you want a delicious, sweet, kid-friendly, indulgent freshly baked treat. 
Ingredients
For the Rolls
4 ¾-5 ¼

cups

all purpose flour

⅓

cup

sugar

2

envelopes Fleischmann's® RapidRise Yeast

1 ½

teaspoons

salt

¾

cup

milk

¾

cup

water

¼

cup

butter

1

egg

¼

cup

butter

-

melted
For the Almond Raspberry Butter
½

cup

butter

-

softened

1

tablespoon

almond butter

⅓

cup

fresh or frozen raspberries

2

tablespoons

powdered sugar

2

teaspoons

honey

-

optional

¼

teaspoon

lemon juice
Instructions
To make the rolls
Combine 2 cups flour, sugar, undissolved yeast and salt in a large mixer bowl. Heat milk, water, and 1/4 cup butter until very warm (120o to 130oF). Stir into flour mixture. Beat 2 minutes at medium speed of electric mixer, scraping bowl occasionally. Add egg and 1/2 cup flour; beat 2 minutes at high speed. Stir in enough remaining flour to make a soft dough. Knead on lightly floured surface until smooth and elastic, about 8 to 10 minutes. Cover; let rest 10 minutes. (Or, if desired, place dough in a greased bowl, cover with plastic wrap, and allow to rise in refrigerator for 12 to 24 hours.) 

Divide dough in half; roll each half to a 12-inch square, about 1/4-inch thick. Cut each into 6 (12 x 2-inch) strips. Cut each strip into 3 (4 x 2-inch) rectangles. Brush each rectangle with melted butter. Crease rectangles slightly off center with dull edge of knife and fold at crease. Arrange in rows, slightly overlapping, on greased baking sheets, with shorter side of each roll facing down. Allow 1/4-inch of space between each row. Cover; let rise in warm, draft-free place until doubled in size, about 30 minutes.

Bake in preheated 400oF oven for 13 to 15 minutes or until done. Remove from sheets; cool on wire rack. Brush with 1/4 cup melted butter.
To make the almond raspberry butter
Cream together butter and almond butter until smooth. Stir in raspberries, powdered sugar, honey, and lemon juice. Serve with baked rolls. Cover tightly and store chilled.
Nutrition
Calories:
116
kcal
,
Carbohydrates:
16
g
,
Protein:
2
g
,
Fat:
5
g
,
Saturated Fat:
1
g
,
Trans Fat:
1
g
,
Cholesterol:
5
mg
,
Sodium:
148
mg
,
Potassium:
37
mg
,
Fiber:
1
g
,
Sugar:
3
g
,
Vitamin A:
187
IU
,
Vitamin C:
1
mg
,
Calcium:
14
mg
,
Iron:
1
mg