Skillet Chicken and Stuffing is a perfect weeknight meal! Filling, delicious, buttery stuffing complements the moist, Italian-seasoned chicken breasts and the optional gravy — move over Thanksgiving dinner, there's a new skillet dinner in town.
Want more chicken skillet meals like this? Of course you do! Try my Chicken and Mushroom Gnocchi Skillet, my Chicken Fajitas Skillet, or my Skillet Chicken in Creamy Sun Dried Tomato Sauce. 
You guys, I love my cast iron pan. It's one of my most favorite pieces of kitchen cookware. It's sturdy, it's easy to clean, and it cooks every meal perfectly evenly like a dream. I honestly think of recipes that I can make in the skillet because it just makes me happy. (Now, don't worry if you don't have a cast iron skillet. You can make this dish in any old skillet or Dutch oven or larger pan that you have.) 
Secondly, I love one-pan meals. It's hard to mess them up and easy to clean them up. Chicken is easy to cook in a pinch and fairly well loved by everyone. And, with Thanksgiving coming up, I'm already dreaming of stuffing and gravy. I can't help it. 
So, essentially this dish is the culmination of all my favorite things, in one kick-butt skillet recipe. 
What is Stuffing Made of?
Stuffing is typically a combination of dried bread crumbs or cubes, onions, salt, pepper, celery, spices, and herbs. There is also broth added to the stuffing — usually chicken broth — plus butter of course. Because you gotta have the butter in the stuffing or it just doesn't taste right. 
What is the Difference Between Stuffing and Dressing?
Honestly, I use these two terms interchangeably. But, technically stuffing is supposed to be stuffed into something (a chicken, a turkey) and dressing is the same basic recipe as stuffing but it's made outside of the poultry or food — i.e. not stuffed. 
What to Serve with Chicken and Stuffing
I love this one-pan meal, but sometimes I like to have a vegetable or another little side dish with it. 
Why is Cast Iron Good for Cooking?
Cast iron has been around forever for cooking. There are some cast iron skillets that have been passed on for generations. The best thing about cast iron is the "dirtier" they are the better they get. Cast iron conducts heat like a dream, and you can cook with it on the stove or put it in the oven…or both! 
Also, when you cook with cast iron, you'll actually get iron into your diet as well. Iron is an essential nutrient for every cell in your body, as it helps transport oxygen in your blood.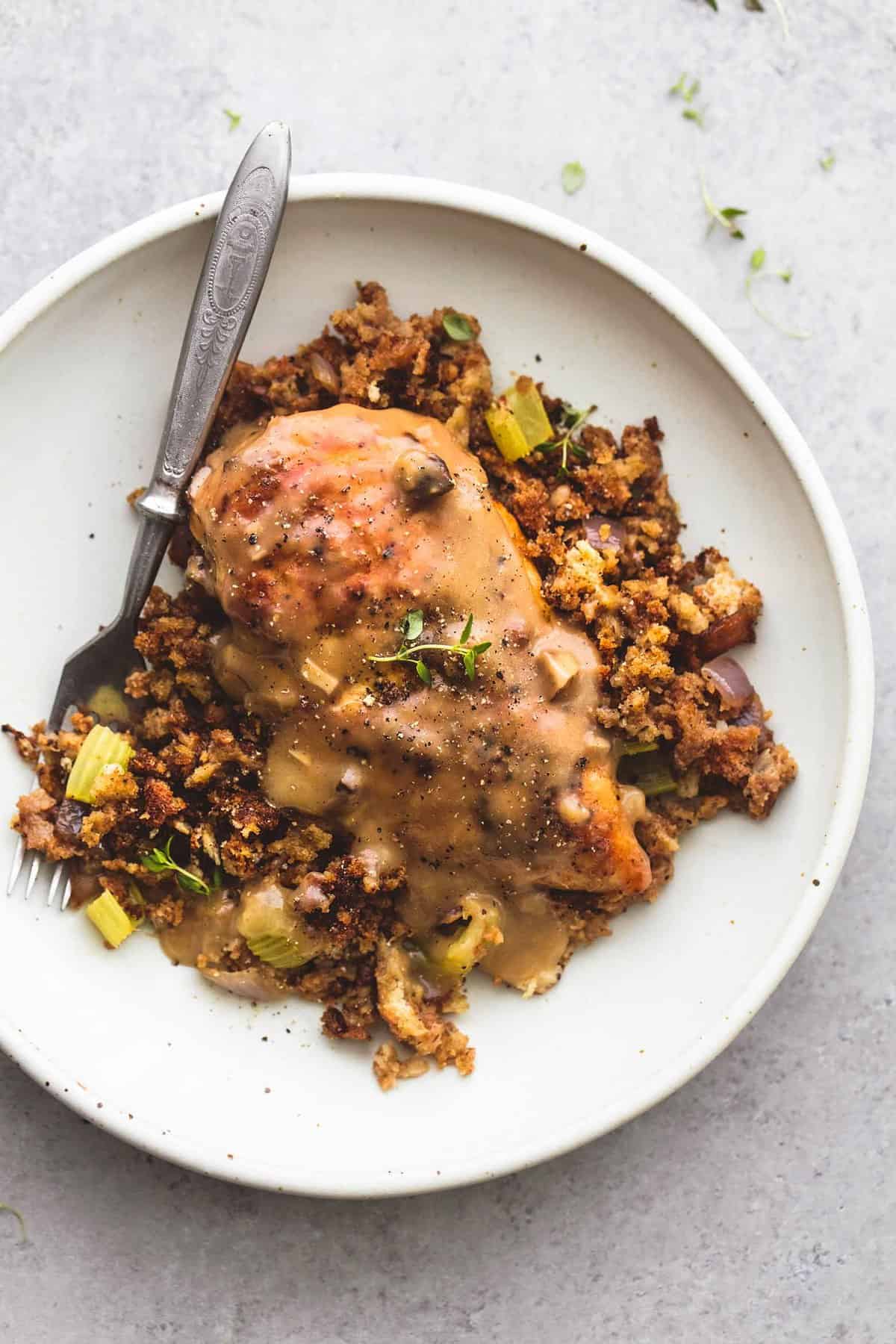 Expert Tips and Tricks
If you'd like to mix up this dish a bit, try these ideas: 
Add dried craisins or raisins to the stuffing for a little tart/sweet bite and chewy texture. 

Use fresh herbs if you have them or prefer them. Basil, thyme, rosemary, and oregano all work well with this skillet chicken dish. 

You can find different varieties of stuffing mix at your grocery store — vary the kind you buy for a different taste every time you make this dish. 

Add a few chopped pecans or walnuts to your dressing for a nuttier, earthier taste. 

Add sauteed mushrooms into the stuffing mix before you bake. 

Did someone say bacon? Yeah, you know what to do. (Pssst…cook the bacon and crumble it into the stuffing mixture or sprinkle on top when the skillet dish is done baking.)

Caramelize the onions in butter before adding to the stuffing for an extra-oniony flavor. 

For a hint of sweetness to your stuffing, consider adding shredded carrots, or either a butternut squash or a sweet potato cut into tiny dices (so they cook through) into the stuffing. 

Sprinkle some pumpkin or sunflower seeds over the top of the mixture before baking for a tiny bit of crunch. 

Add shredded parmesan either to the top of the mixture after cooking or into the stuffing before baking.  
More Easy Skillet Meals
Did you make this Skillet Chicken and Stuffing recipe? Yay! Please rate the recipe below! 
Skillet Chicken and Stuffing
Skillet Chicken and Stuffing is a perfect weeknight meal! Filling, delicious, buttery stuffing complements the moist, Italian-seasoned chicken breasts and the optional gravy — move over Thanksgiving dinner, there's a new skillet dinner in town.
Ingredients
chicken
4

boneless skinless chicken breasts

-

chicken thighs

1

teaspoon

Italian seasoning

1

teaspoon

garlic powder

½

teaspoon

paprika

salt and pepper

-

to taste

1

tablespoon

oil
stuffing
3

tablespoons

butter

1

stalk celery

-

chopped

½

onion

-

diced

1

teaspoon

minced garlic

2

cups

chicken broth

3

cups

stuffing mix
gravy (optional)
4

tablespoons

butter

¼

cup

flour

2

cups

chicken broth

1

teaspoon

or cube chicken bouillon

1

teaspoon

onion powder

salt and pepper

-

to taste
Instructions
Preheat oven to 400 degrees.

Season chicken with Italian seasoning, garlic powder, paprika, and salt and pepper to taste.

Drizzle a large skillet over medium heat (at least 2-inches deep) with oil, add chicken and brown on both sides for 2-3 minutes. Transfer to a plate and cover to keep warm.

Add butter to the skillet. Add celery and onions and saute 1 minute, then add garlic and saute another minute until fragrant.

Stir in stuffing mix, then stir in chicken broth.

Return chicken to the pan, cover, and transfer to preheated oven. Bake for 15-20 minutes until chicken is cooked through.

Fluff stuffing with a fork. Garnish with fresh thyme or parsley.
For the Gravy
While the chicken and stuffing are baking, prepare the gravy. Melt butter in a large sauce pan over medium heat. Stir in flour.

Gradually whisk in broth until completely incorporated. Stir in bouillon cube, onion powder, salt, and pepper.

Taste, and add more salt and pepper if needed. Serve over chicken and stuffing.
Notes
Sometimes I like to add dried cranberries to the stuffing - delicious! 
Nutrition
Calories:
914
kcal
,
Carbohydrates:
146
g
,
Protein:
47
g
,
Fat:
14
g
,
Saturated Fat:
3
g
,
Trans Fat:
1
g
,
Cholesterol:
77
mg
,
Sodium:
3514
mg
,
Potassium:
1134
mg
,
Fiber:
7
g
,
Sugar:
17
g
,
Vitamin A:
118
IU
,
Vitamin C:
20
mg
,
Calcium:
239
mg
,
Iron:
8
mg