Easy oven roasted beets with goat cheese crumbles are a delicious, quick and simple, yet elegant, side dish or appetizer.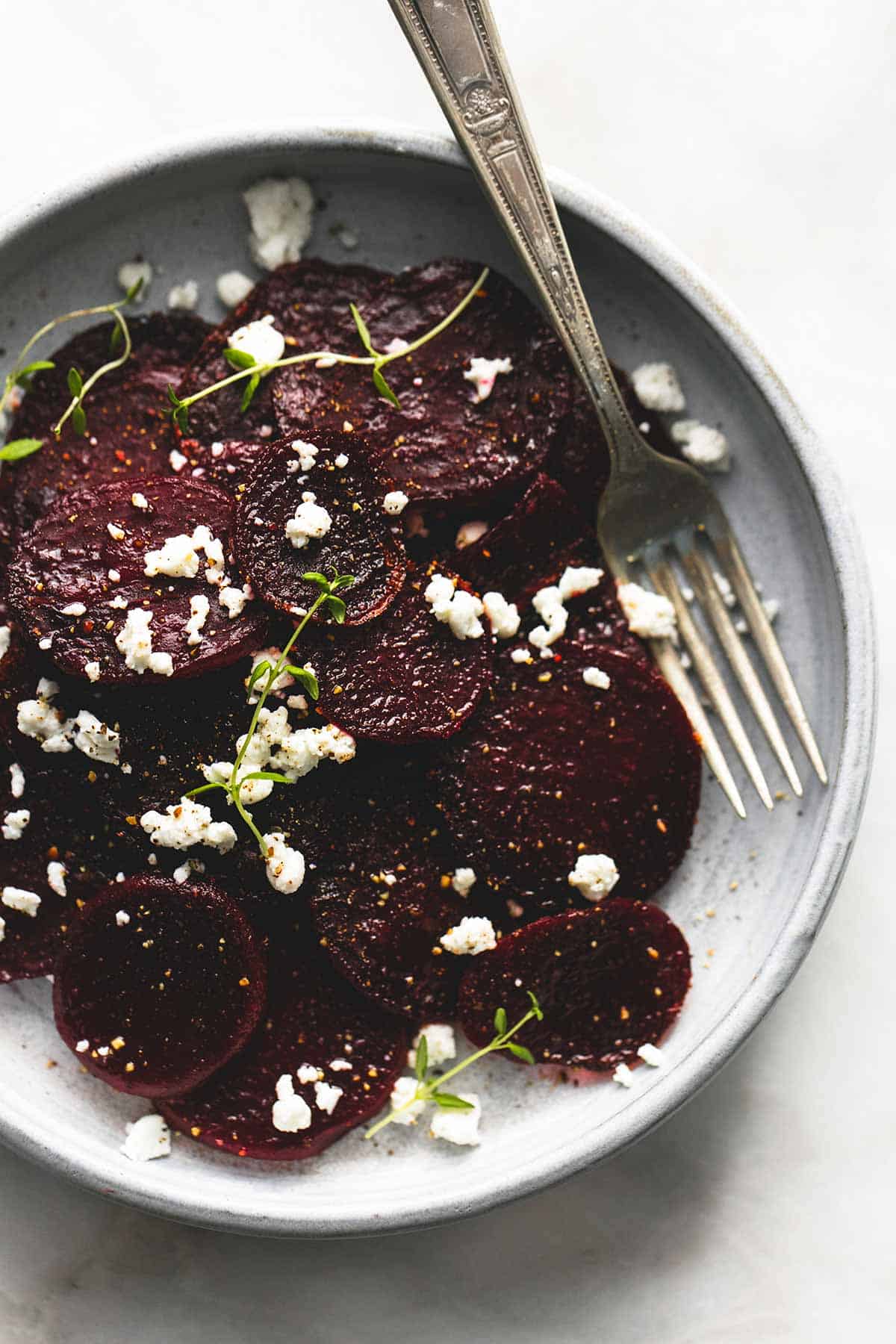 This has been a long time coming, this roasted beet and goat cheese side dish slash appetizer thing. It was inspired by my trip to Nashville last November with Morton Salt. Last Monday, the video from my meal at Morton Salt's Next Door Chef: Nashville event went live. I had a phenomenal meal prepared by a local Nashville resident, Travis Nunn, who was coached by an acclaimed local chef, Karl Worley, to learn how to prepare a remarkable meal using different types of salt. Travis's home was transformed into a fully decorated pop-up restaurant, "Indie's Kitchen," and we were served an amazing meal.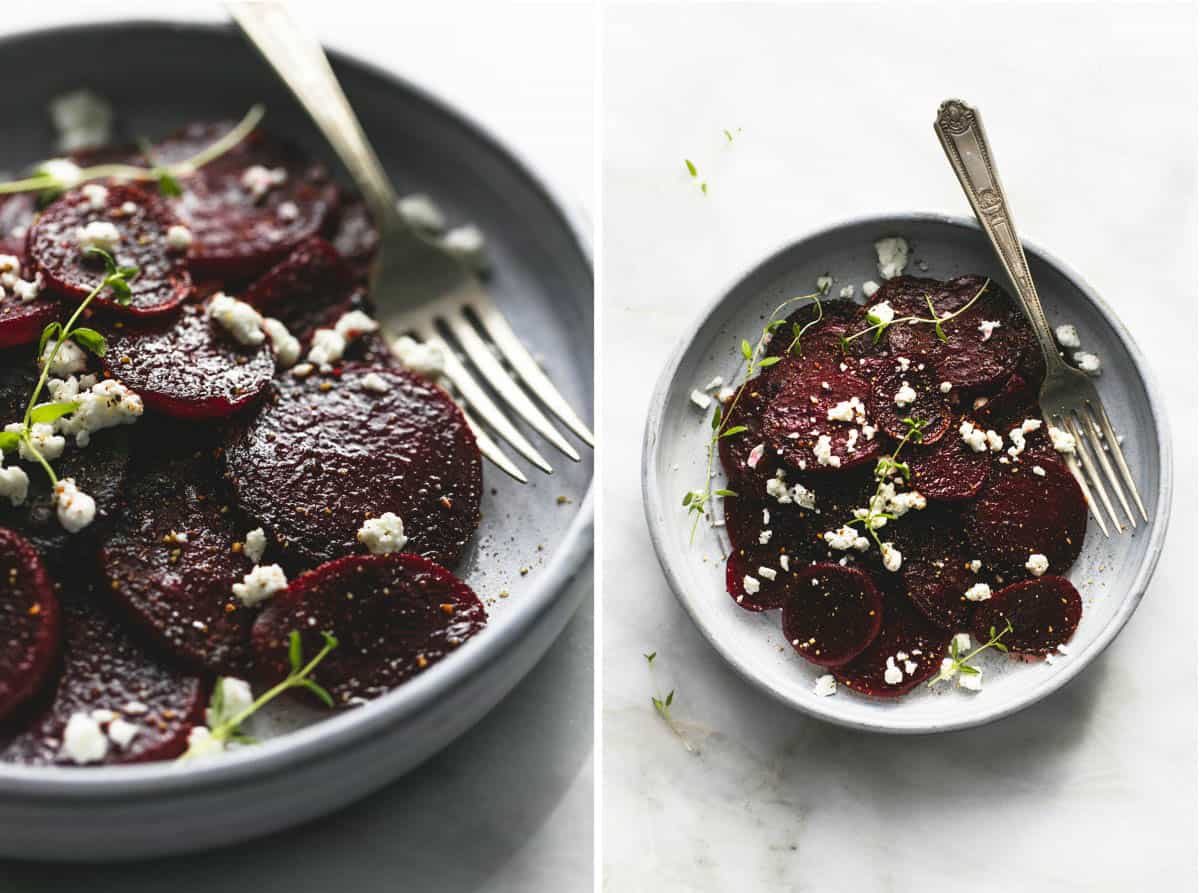 This was Morton Salt's second Next Door Chef event and was tied around Spring-time cooking, perfect for this time of year! Morton Salt has shared that they will be releasing video and recipes from their third Next Door Chef, in New Orleans, this summer. Stay tuned to the website for some amazing summer grilling and cooking inspired recipes.  Also, if you haven't seen it yet, check out their site for the first Next Door Chef event that was held in Chicago for another great transformation and some delicious recipes.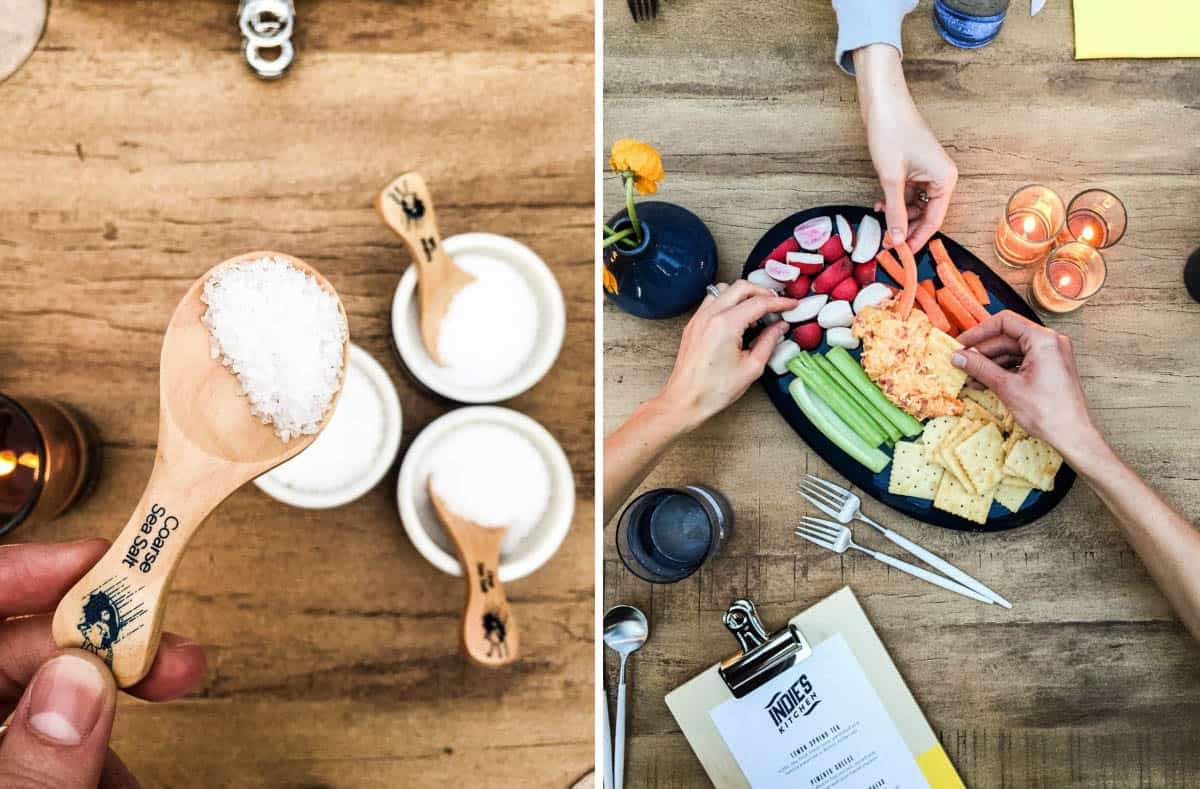 At the Nashville event, I learned more about the benefits of using Morton Kosher and Sea Salt, versus the standard table salt when cooking. Turns out a lot of us are using table salt for almost all cooking purposes, which is a huge miss in the kitchen. One thing I learned was how to use different kinds of salt. Morton varieties have particular qualities that really make them stand out for different purposes. Here's a little cheat-sheet for the different types of salt and their uses:
Morton Kosher Salt adds a gourmet touch to the dish. It's the preferred salt of chefs because it's easy to control which creates perfectly seasoned food.
Morton Coarse Sea Salt adds an artistic "pop" that you and your dinner guests can see and taste. The large crystals also provide contrasting texture.
Morton Fine Sea Salt is great for blending in all cooking. The fine salt crystals dissolve quickly, making them perfect for marinades, soups, sauces and dressings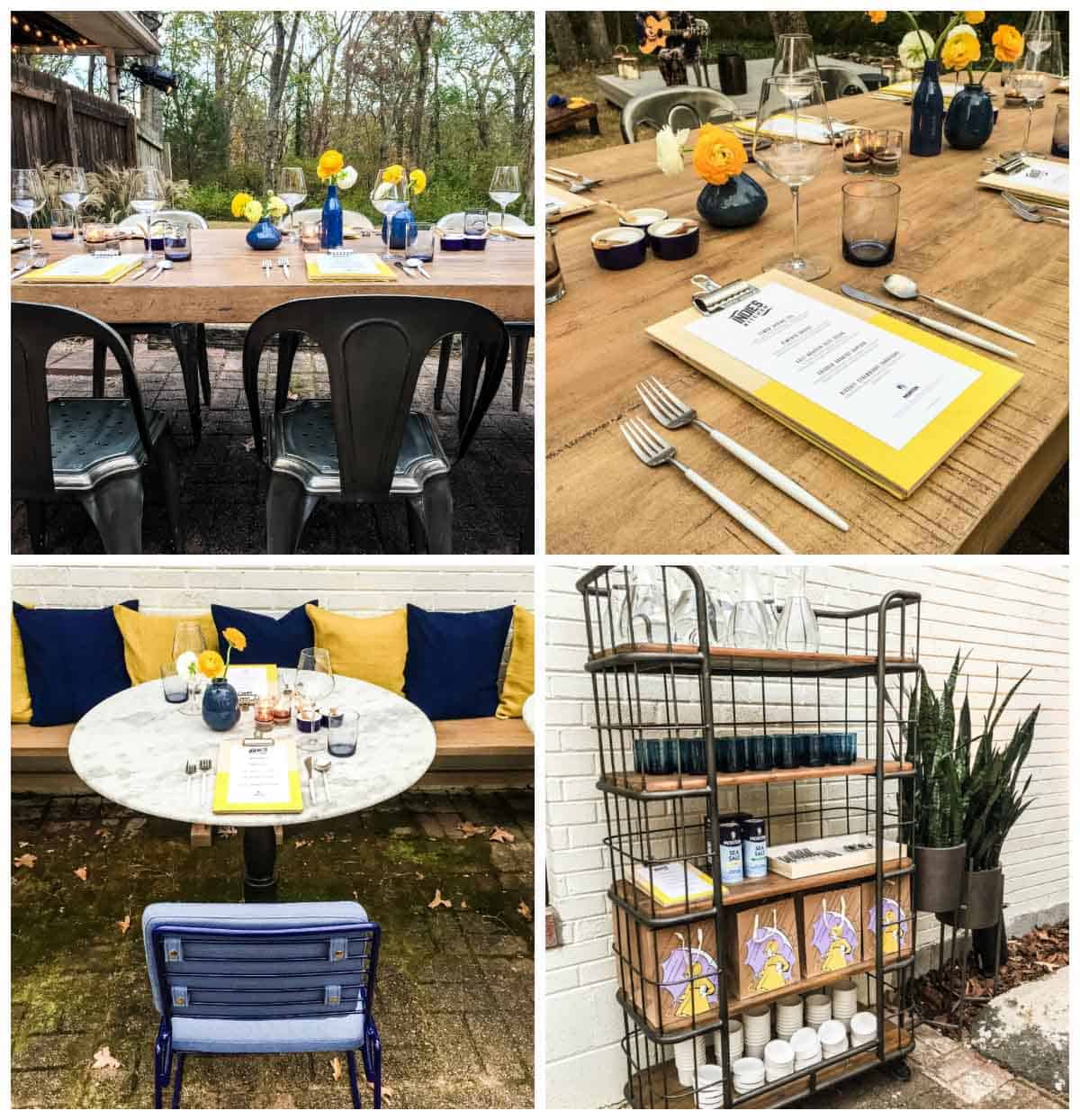 We tried a number of inspiring dishes at the event, where we could taste how the salt transformed each dish. One of my very favorites was the salt roasted beet salad, which is what inspired this roasted beet and goat cheese dish I'm sharing with you today. This simple (5 ingredient!) side or appetizer will blow you away with its incredible flavor. It is easy and quick for everyday dinners, but feels fancy enough to impress company. Truly versatile. Even if you're not a beet fan (yet!), you will absolutely love this dish.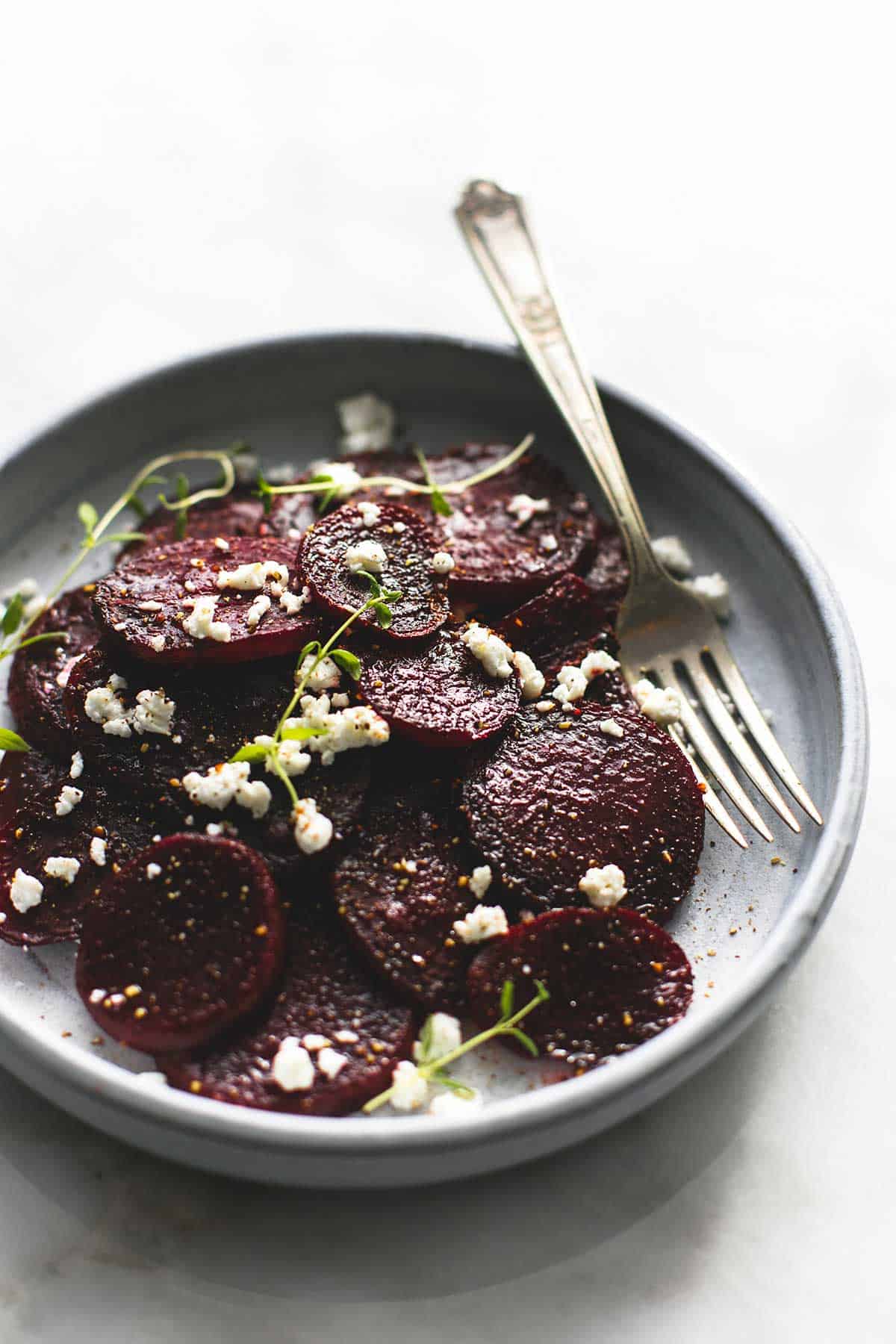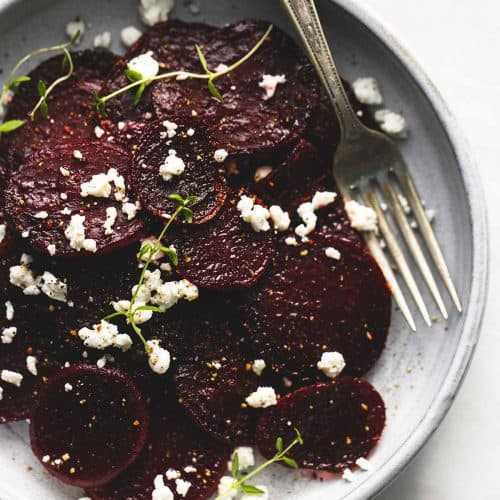 Roasted Beets with Goat Cheese
Easy and healthy oven roasted beets with goat cheese crumbles are a delicious quick and simple, yet elegant side dish or appetizer.
Ingredients
1

can

sliced pickled beets

2

tablespoons

oil

coarse sea salt

-

to taste

cracked black pepper

-

to taste

¼

cup

crumbled goat cheese

optional: fresh thyme for garnish
Instructions
Preheat oven to 425 degrees. Drain and rinse your beets. Pat dry with a paper towel. Toss beets and oil in a bowl to coat well. Arrange beets on a baking pan in a single layer.

Sprinkle beets generously with salt and cracked black pepper, to taste. Bake for 15 minutes.

Top beets with crumbled goat cheese and serve immediately. Garnish with fresh thyme if desired.
Notes
Trust me on the goat cheese - it makes this side dish!! 
Nutrition
Calories:
122
kcal
,
Carbohydrates:
5
g
,
Protein:
3
g
,
Fat:
10
g
,
Saturated Fat:
3
g
,
Trans Fat:
1
g
,
Cholesterol:
7
mg
,
Sodium:
195
mg
,
Potassium:
112
mg
,
Fiber:
1
g
,
Sugar:
4
g
,
Vitamin A:
164
IU
,
Vitamin C:
3
mg
,
Calcium:
31
mg
,
Iron:
2
mg
This post has been sponsored by Morton Salt. You can go to MortonSalt.com/NextDoorChef to see more from our meal and learn how you can host your own Next Door Chef with the same recipes we had at our event. If you do host your own "Next Door Chef" party or have a recipe idea for using Morton Kosher or Sea Salt, post your photos using #NextDoorChef.