Quick-and-easy 15-minute sautéed garlic butter mushrooms are bursting with flavor from fresh herbs and make the perfect side dish or appetizer for any dinner recipe.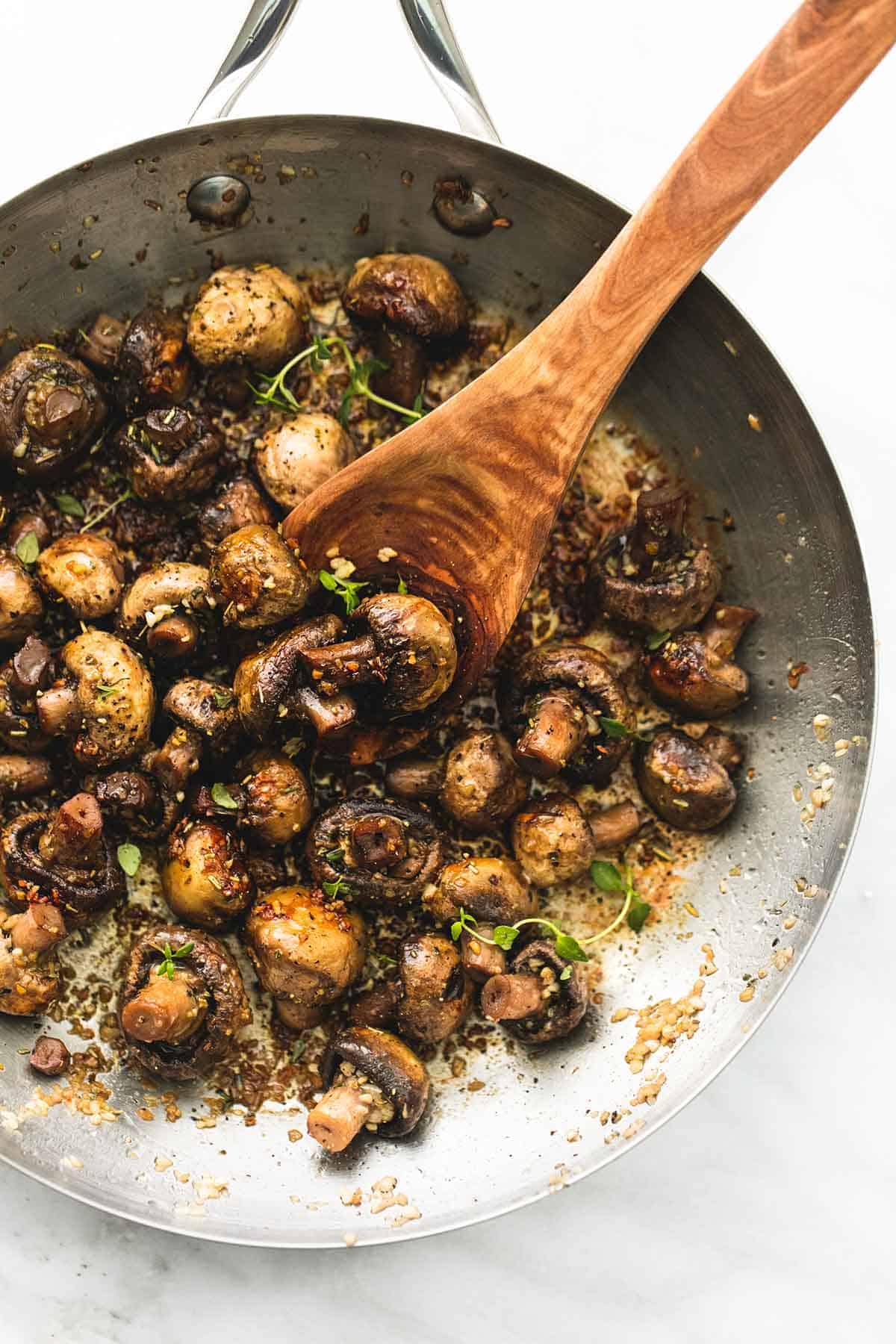 Need more sides to accompany your delicious dinners. Look no further than Roasted Brussels Sprouts with Parmesan and Balsamic, Loaded Baked Potato Foil Packs, and Roasted Lemon Garlic Broccoli & Cauliflower.
Three words for you: Garlic. Butter. Mushrooms. I can show you how to fix the easiest, tastiest mushrooms to go with any favorite meal in just 15 minutes. It's easy to double or even triple this recipe for a crowd and they are so incredibly delicious, even mushroom-haters go crazy for these sautéed garlic butter mushrooms!
Why This Recipe Works
No more boring mushrooms – I've made these mushrooms before (many, many times in fact), but I wanted to put a twist on this old favorite and this year I've been a little bit obsessed with adding fresh thyme and other herbs to my recipes. It doesn't seem like much, but the addition of these herbs takes these mushrooms to the next level.
Browned butter sauce – That toasty garlic and browned butter sauce is very rich and incredibly flavorful, then when you add the fresh herbs…they are a match made in heaven! The mushrooms will come out perfectly browned every time and they become so tender as they soak up that buttery garlic flavor.
Whole mushrooms– I like to use whole button mushrooms because they are the right size (bite size), cook easily, and really soak up all the garlic butter sauce and herbs. But you can really use any mushroom you love.
Fast – These sauteed mushrooms are so fast and easy to make, you'll want to serve them as a side or an app again and again!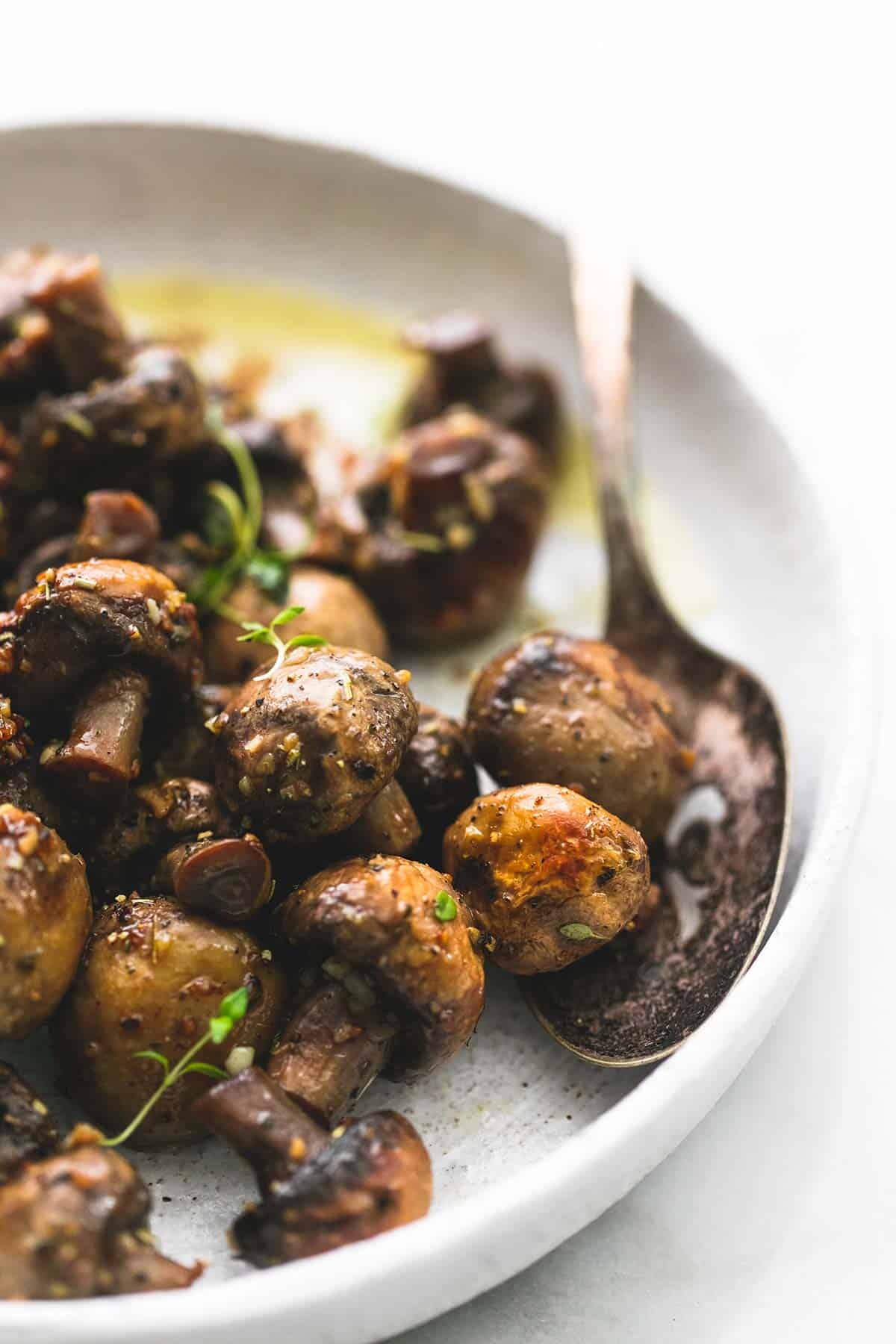 Here's How You Make It
First, add the butter and garlic butter to a large pan (I like to use nonstick or cast iron). Melt the butter over medium heat.
Next, add the mushrooms and herbs and stir. Let the mushrooms cook over medium heat for about 5-7 minutes, stirring occasionally. The garlic should smell fragrant, and the mushrooms will be browned and tender.
Season with salt and pepper to taste and top the sauteed mushrooms with additional herbs if desired. Serve immediately.
How to Clean and Prepare Mushrooms
I don't do a whole lot to my who mushrooms before cooking with them. Here are my go-to steps for cleaning and preparing mushrooms before making these delicious sauteed mushrooms:
To clean them, I simply rub the dirt off the mushrooms with a mushroom brush or, if you're less fancy like me, I rub the dirt off with my hands or a damp paper towel or dish cloth.
Next, I rim off the very bottom of the stems and any parts of the mushroom that are starting to look bad.
That's it! No need to soak them. In fact, submerging them in water causes the mushrooms to start to break down and also any extra water they absorb can make them mushy and watery as they cook.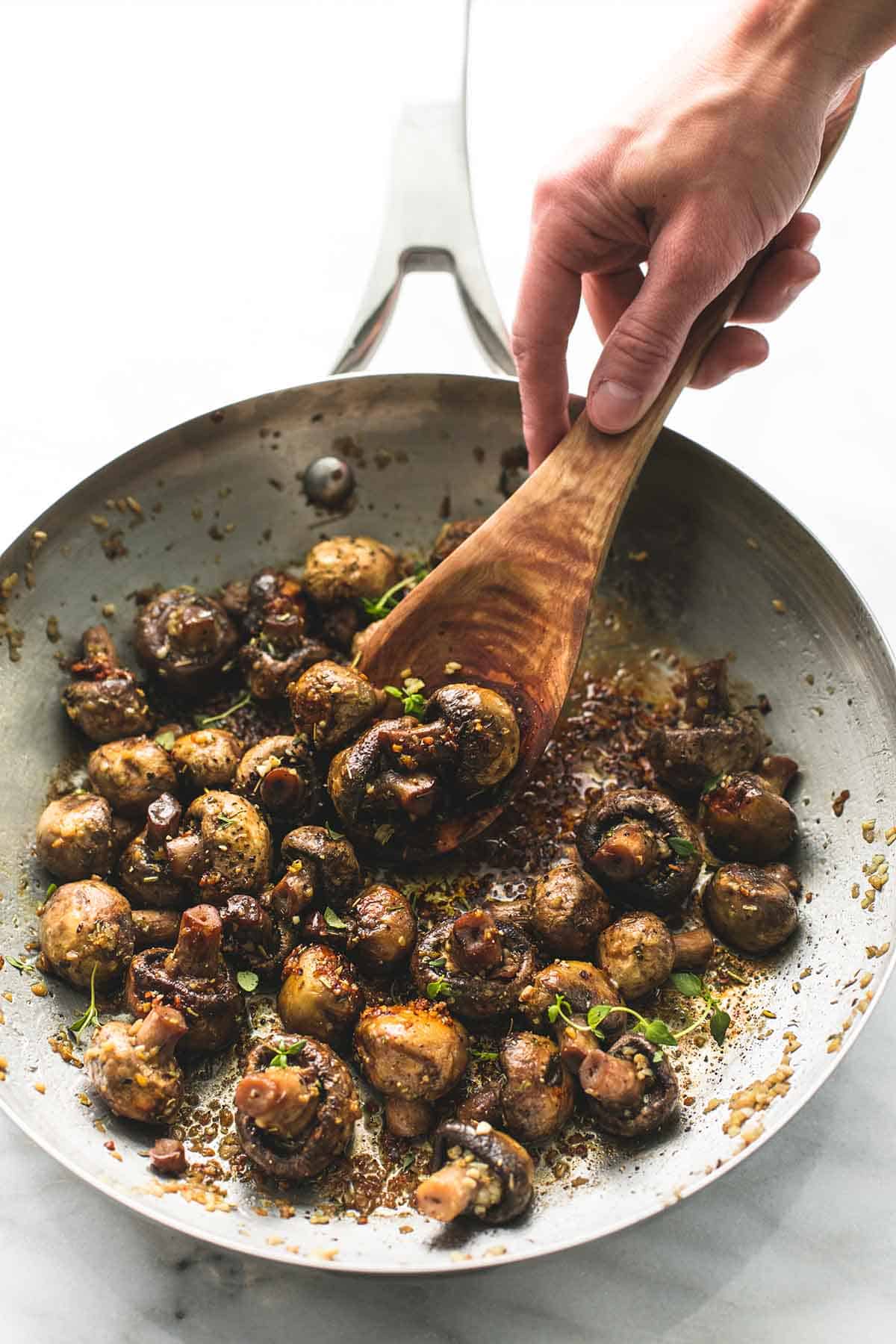 How Do You Know If Cooked Mushrooms Are Bad?
If you aren't sure if your mushrooms have gone bad in the fridge, there are several telltale signs to look for. Mostly, you'll notice that they look slimy on the surface. They could also have changed to a darker color or have mold present. If you see any of these signs, it's time to pitch the mushrooms.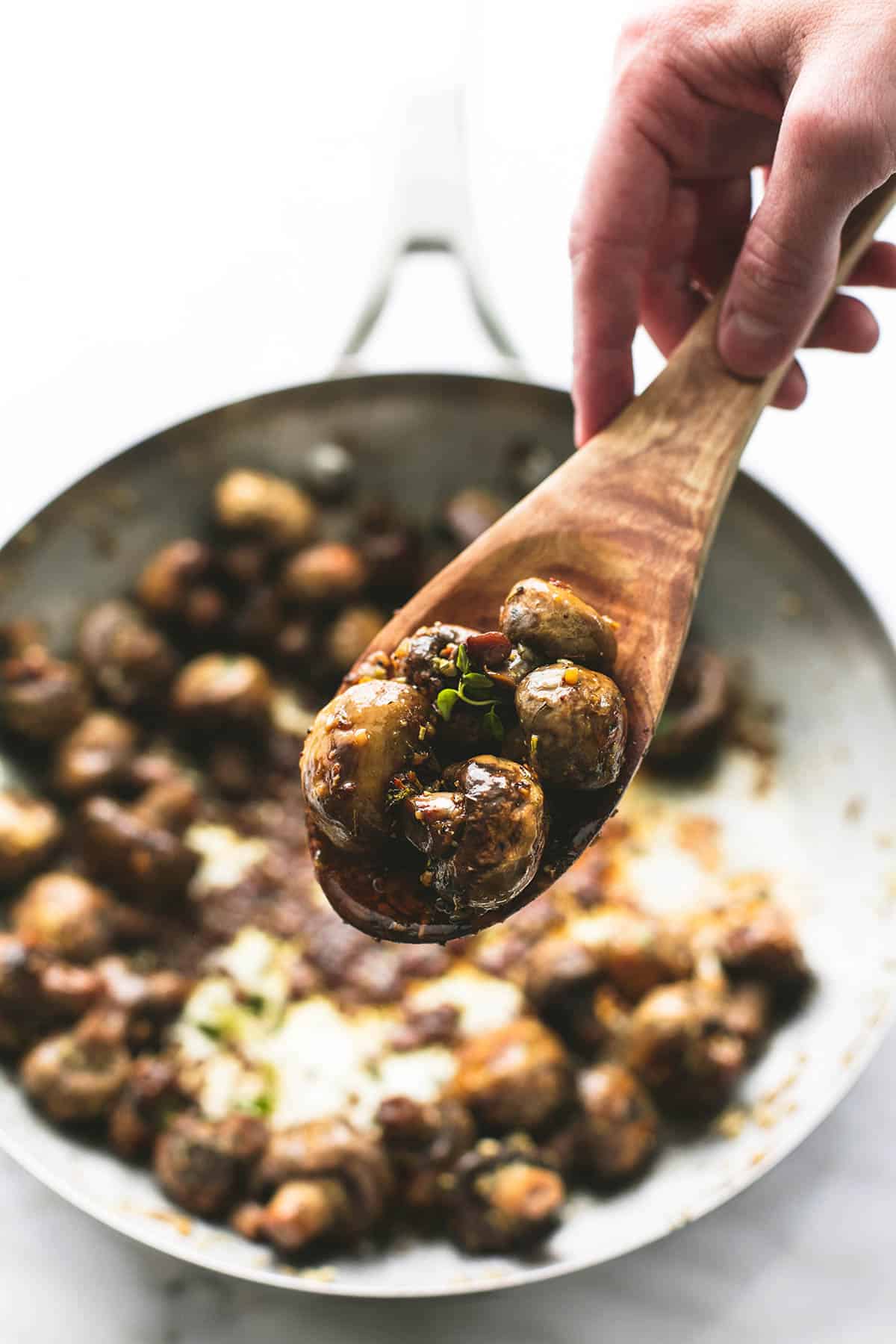 How Do You Reheat Sauteed Mushrooms?
If you've kept some leftover garlic mushrooms in the fridge (how you have any leftover is a question for another time), then you can certainly reheat them for eating the next day or a couple days later.
What I do is take out however many of the mushrooms I want to eat and put them right back in a non-stick skillet. (You can use a microwave to reheat, but the texture can become mushy if cooked on too high a power.) I turn the heat on to medium and gently toss them around until they are heated through. Add a little bit of oil to the skillet if they seem too dry.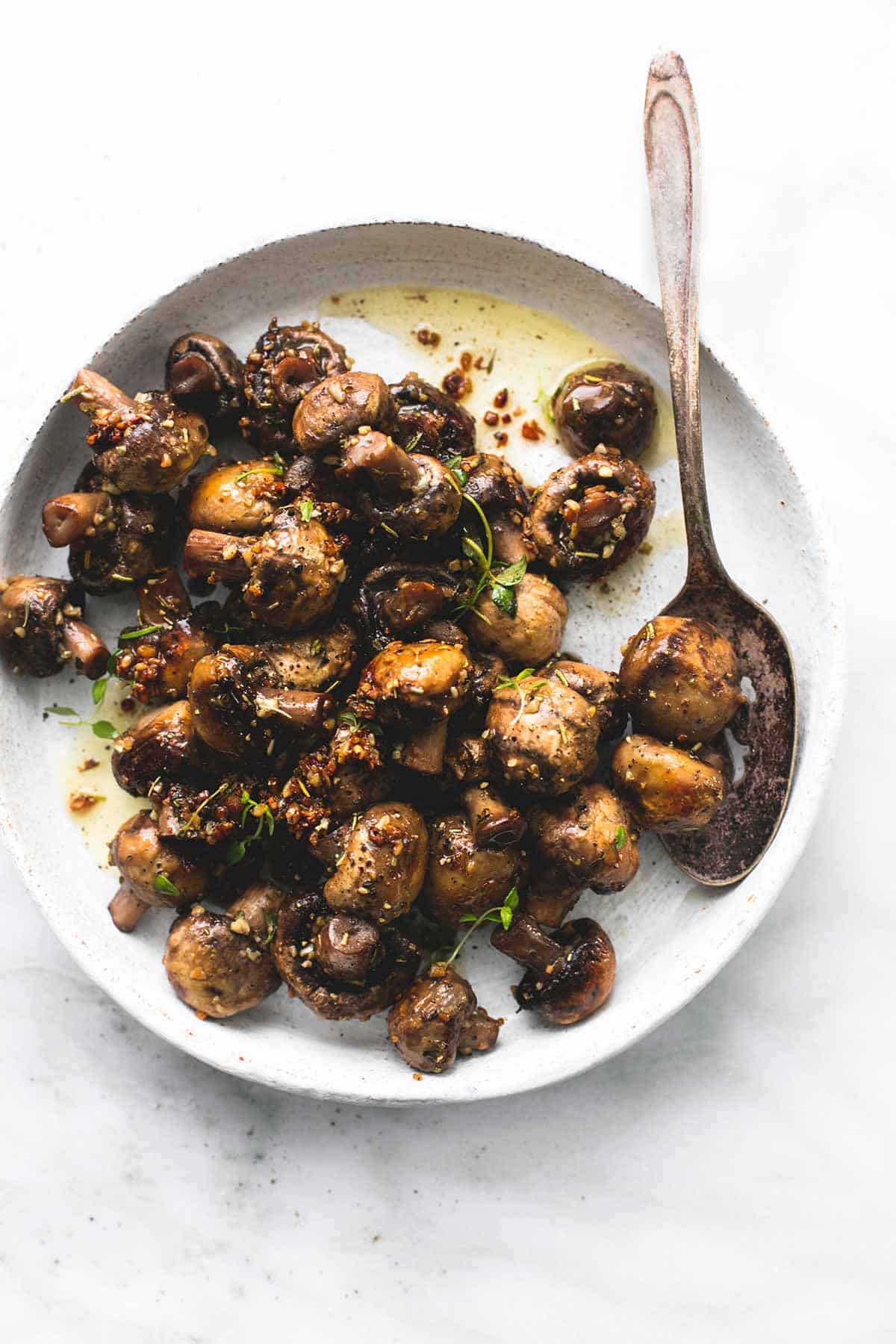 Expert Tips
With just the butter in the recipe, the mushrooms shouldn't stick to a non-stick pan. However, if you are using another kind of pan, you might want to also spray it with cooking spray too just to make sure.
If you use salted butter, then you may not need to add any more salt to these garlic mushrooms. Taste them first before adding any more salt or pepper at the end.
These garlic mushrooms can last about a week in the fridge. Store them in an airtight container or sealed plastic bag for best results.
No fresh herbs? No problem. When I'm out of fresh herbs I substitute Italian seasoning or Herbs de Provence. They both will make these sauteed mushrooms taste amazing!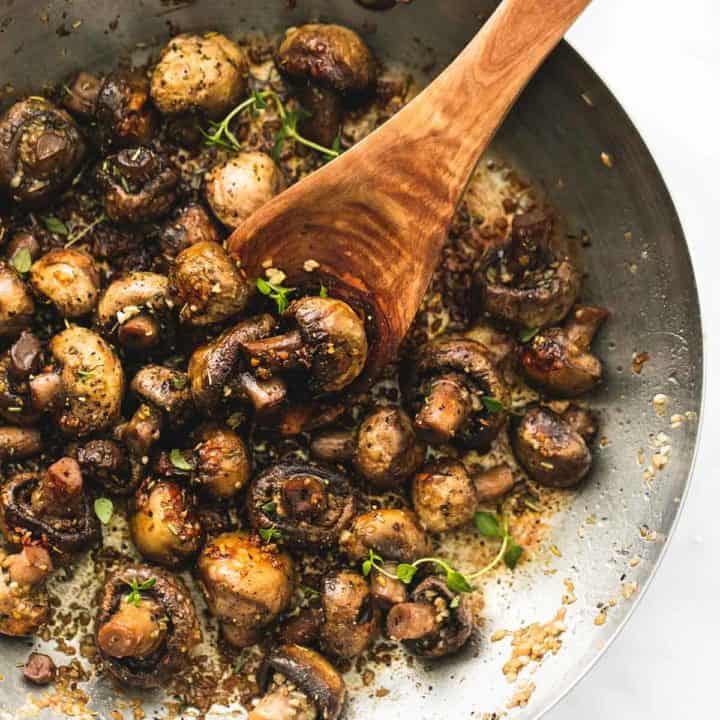 Sauteed Garlic Butter Mushrooms
Quick-and-easy 15-minute sautéed garlic butter mushrooms are bursting with flavor from fresh herbs and make the perfect side dish or appetizer for any dinner recipe. 
Ingredients
1

pound

fresh mushrooms

4

tablespoons

butter

2

teaspoons

minced garlic

1

teaspoon

garlic powder

salt and pepper to taste

1

tablespoon

chopped fresh Thyme

-

(in a pinch you can substitute 1 teaspoon dried Italian blend seasoning)
Instructions
Add butter and garlic to a large pan. Melt butter over medium heat.

Stir in mushrooms and herbs (or Italian seasoning). Saute over medium heat 5-7 minutes until garlic is fragrant and mushrooms are browned and very tender.

Season with salt and pepper to taste (if you used salted butter you may not need any extra salt, just give it a taste and see) and top with additional herbs if desired. Serve immediately.
Notes
My favorite swap for fresh herbs or Italian seasoning is Herbs de Provence – trust me it is amazing! 
Nutrition
Calories:
39
kcal
,
Carbohydrates:
5
g
,
Protein:
4
g
,
Fat:
1
g
,
Saturated Fat:
1
g
,
Cholesterol:
2
mg
,
Sodium:
22
mg
,
Potassium:
396
mg
,
Fiber:
1
g
,
Sugar:
3
g
,
Vitamin A:
25
IU
,
Vitamin C:
3
mg
,
Calcium:
24
mg
,
Iron:
1
mg