Tender skillet roasted 15-minute garlic butter mushrooms have the most amazing flavor and are the perfect appetizer or side dish for any favorite meal.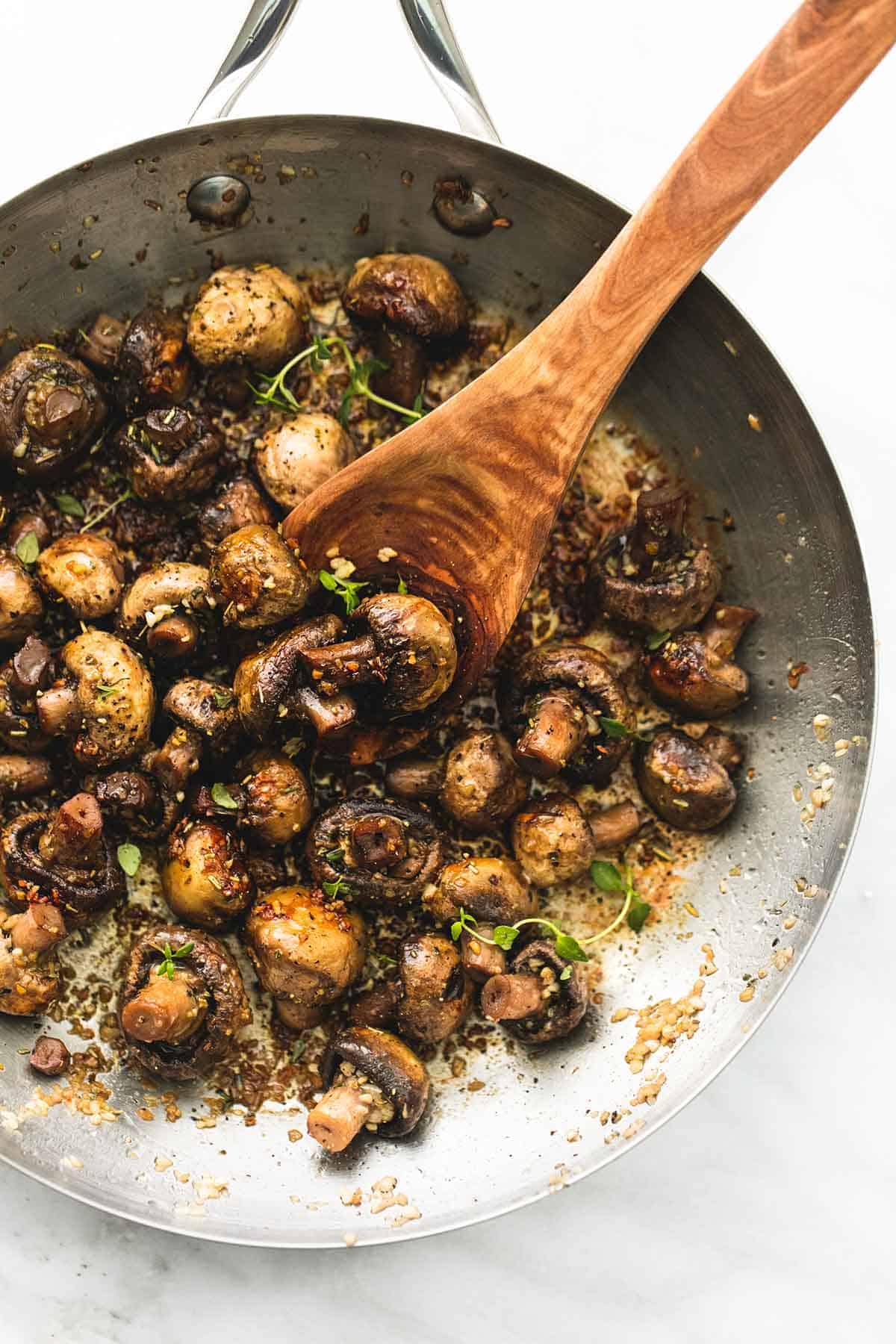 Remember that one time when I made the most insanely delicious buttery herb and garlic roasted mushrooms in a skillet and then died and went to heaven?
Oh hey that's today.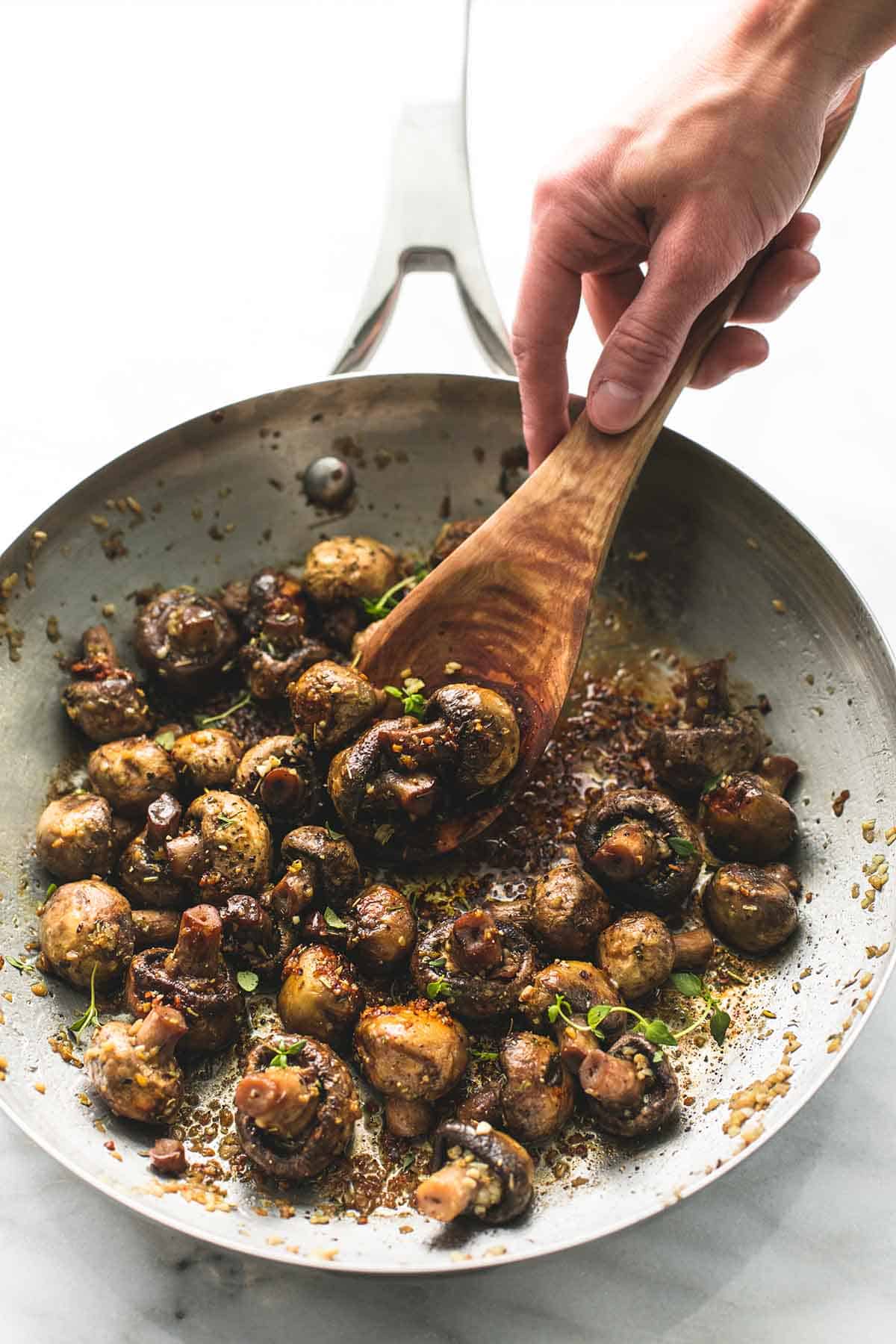 Actually I made them two days ago, but I'm still dreaming about them today. This was one time that I was actually okay with making something I knew my husband would not go for – he loathes mushrooms – because I seriously couldn't stop popping these beauties in my mouth. I don't think there would've been enough to share if he would have wanted any. I mean you could easily serve 3-4 people a side dish or appetizer of these garlic butter mushrooms but if you're like me and swoon at the combination of garlic and butter…. don't plan on sharing. Just don't.
Or do, but make sure to double the recipe at the very least because the aroma alone will send you into a food-coma.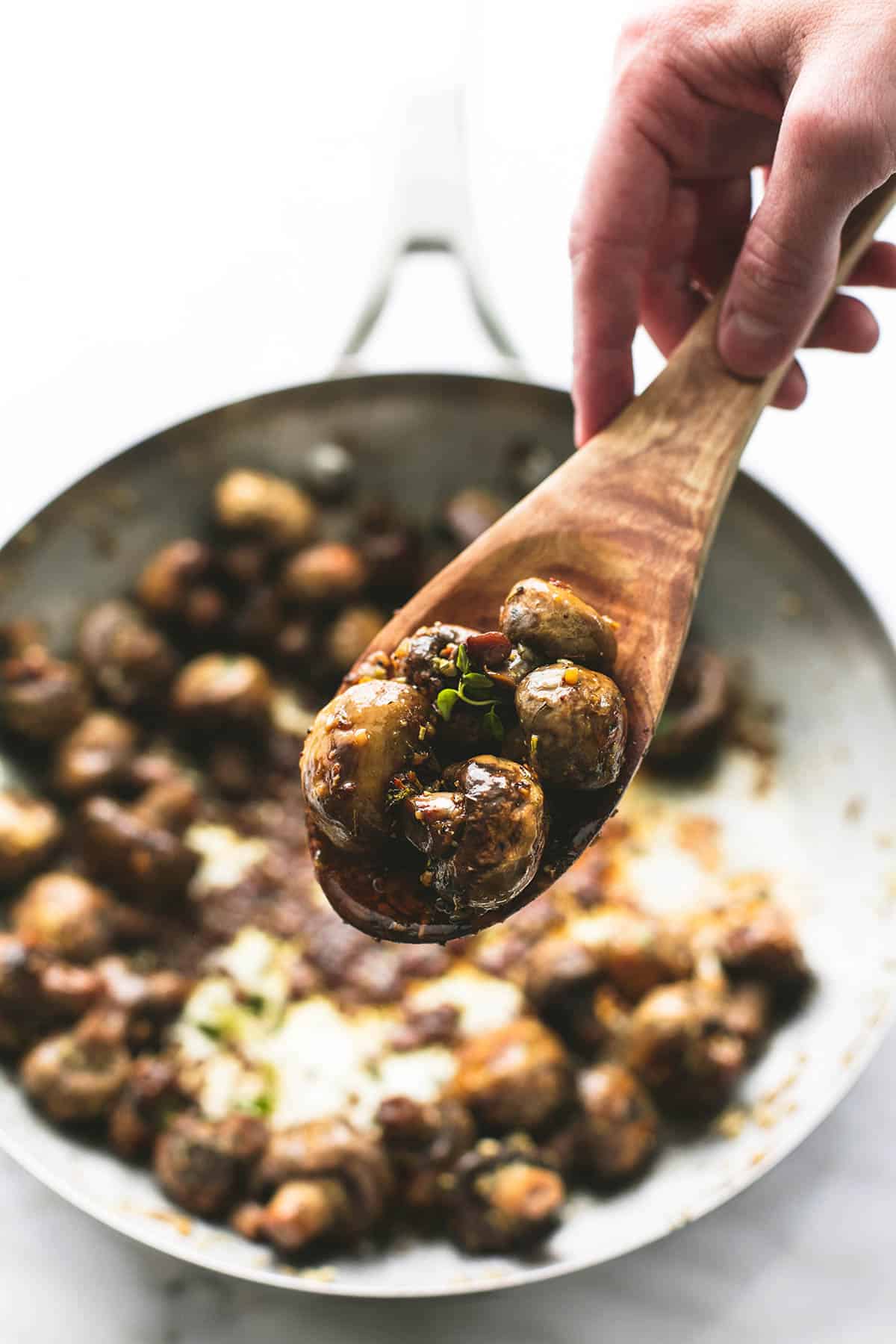 Let's talk herbs for just a second though. You'll notice in the recipe that I said you can use fresh or dried herbs here. Either one will work. If you're gonna use fresh (definitely my first choice) then any combination of parsley, thyme, rosemary, or just about any other favorite herb would do fine here. I used those three but go with your gut and whatever makes your tongue happy.
If you don't have fresh herbs on hand but have some dried herbs then you're good to go. Just use half as much if you're using dried. And the really easy shortcut would be to use a teaspoon of Italian seasoning. Easy peasy and packs a lot of yummy flavors.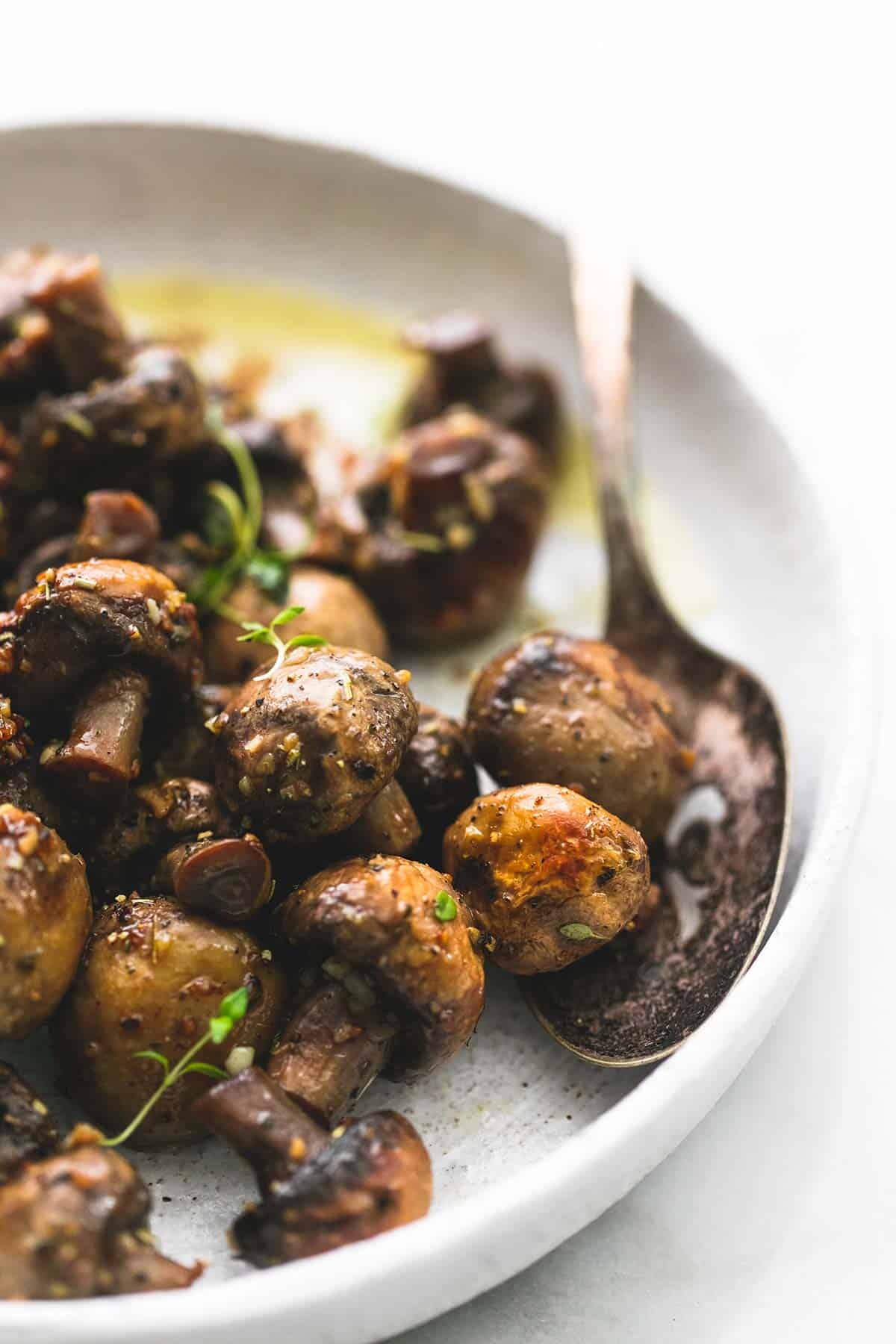 Ohhhhh and it comes together in 15 minutes, you noticed that right? I'm so excited about it that I put it in the title just so you would know that this is the fastest and most tasty mushroom side dish you'll ever find. If it was socially acceptable I'd probably just make the garlic butter sauce and lick the pan clean.
But you can hardly call that a side dish you know? And side dishes I've been known to slack on because I focus on making the main entree and then realize 15 minutes before we are eating that we have nothing to go with our baked balsamic chicken. But that's okay, because 15 minutes is all you need to have garlic butter mushrooms with that balsamic chicken.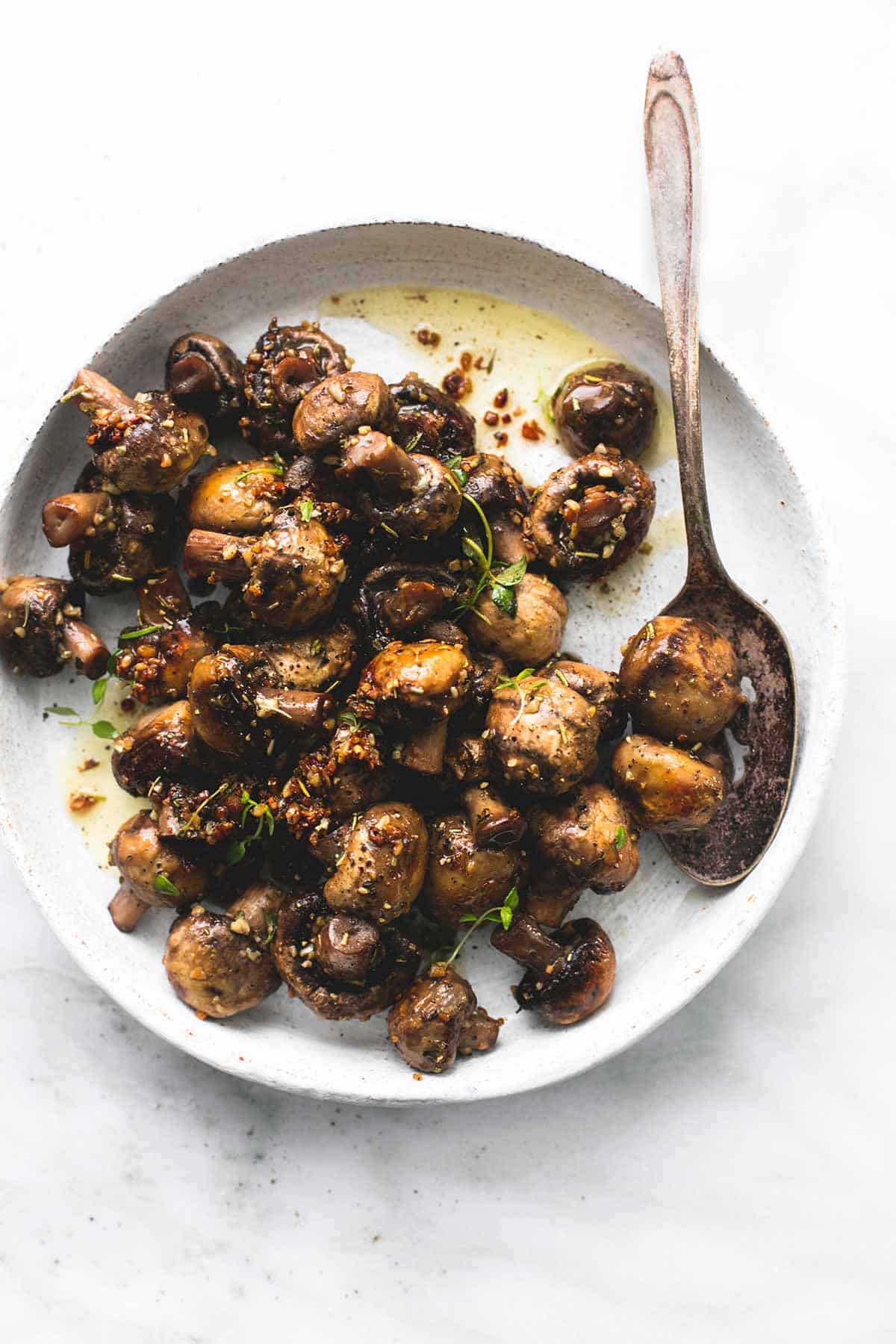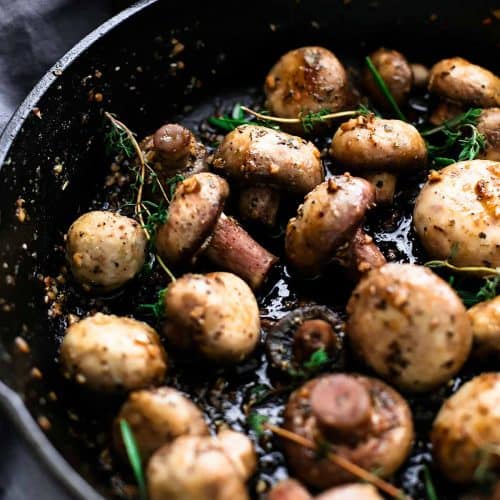 15-Minute Garlic Butter Mushrooms
Tender skillet roasted 15-minute garlic butter mushrooms are the perfect appetizer or side dish for any favorite meal.
Ingredients
1

pound

whole white mushrooms

3

tablespoons

butter

2

teaspoons

minced garlic

¼

teaspoon

salt

-

(or to taste)

¼

teaspoon

black pepper

-

(or to taste)

2

teaspoons

chopped fresh herbs like rosemary, parsley and thyme OR 1 teaspoon dried herbs

-

(you could use dried Italian seasoning for this)
Instructions
Melt butter in a medium-large skillet. Add garlic and stir.

Add mushrooms and stir over medium heat for 10-12 minutes until tender.

Sprinkle with the herbs (if using dried make sure you stir a bit to get them mixed into the buttery sauce) and serve hot.
Notes
Alternately, mushrooms can be sliced before cooking, then served over chicken or steak. 
Nutrition
Calories:
34
kcal
,
Carbohydrates:
5
g
,
Protein:
4
g
,
Fat:
1
g
,
Saturated Fat:
1
g
,
Cholesterol:
1
mg
,
Sodium:
163
mg
,
Potassium:
384
mg
,
Fiber:
1
g
,
Sugar:
3
g
,
Vitamin A:
19
IU
,
Vitamin C:
3
mg
,
Calcium:
20
mg
,
Iron:
1
mg