Instant Pot Chicken Breast and Gravy hit all the right notes: fast, easy, moist, juicy chicken smothered in smoky, salty, herby gravy. Perfect over rice or noodles when you need some comfort food, and fast!
Looking for more Instant Pot recipes? Look no further than three of my favorites: Instant Pot Pot Roast and Potatoes, Instant Pot Parmesan Chicken and Rice with Mushrooms, and Instant Pot Honey Teriyaki Chicken with Mushrooms.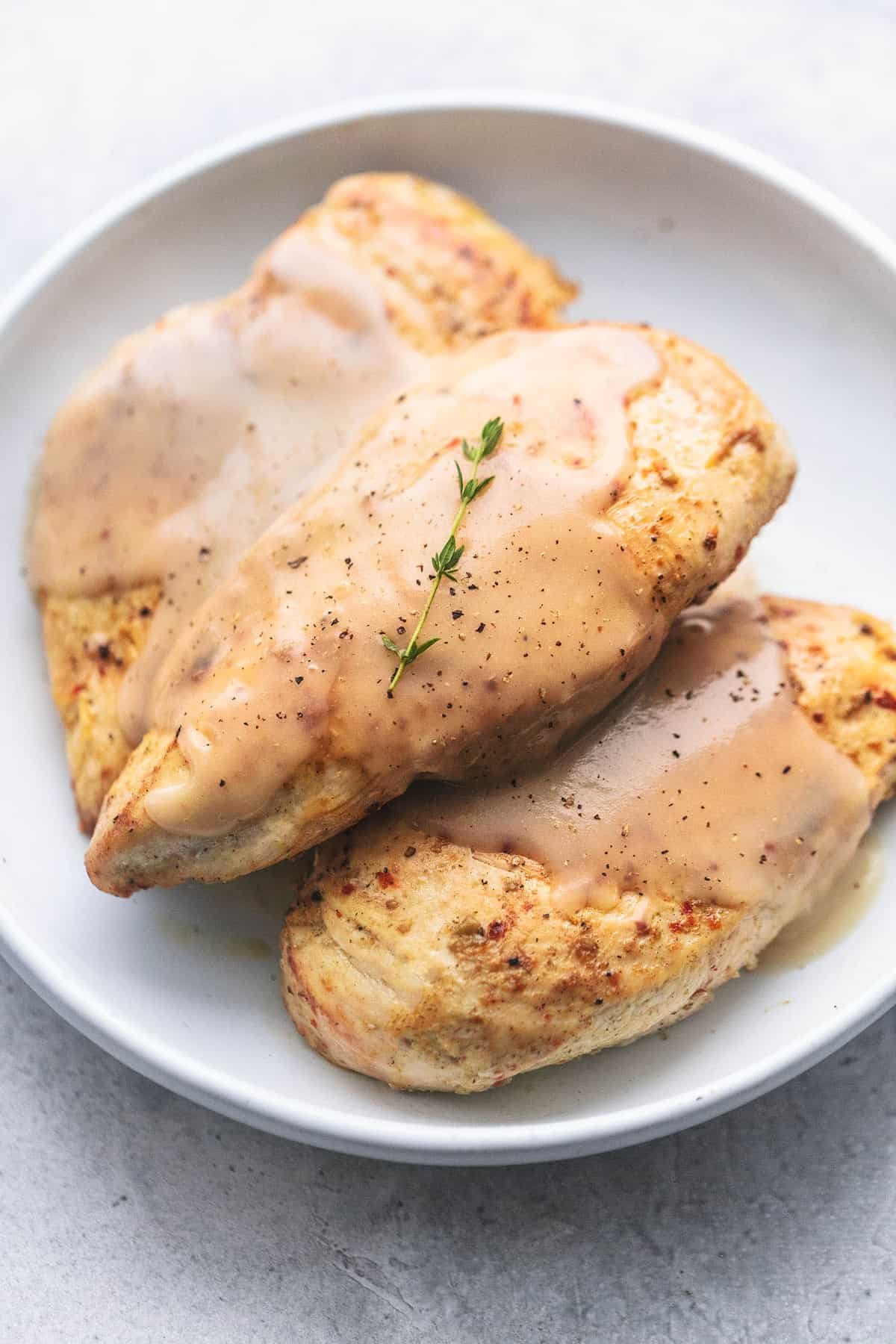 When I first got my Instant Pot, I had no idea I would use it as much as I do and that I would have fun testing all the
Instant Pot recipes
I've tested over the years. I really thought, "Oh, here's another kitchen appliance fad that I will use once and never touch again." AKA the bread makers, the salad shooters, and the George Foreman grills of the world.
But this one, this miraculous kitchen gadget seems it's here to stay! I mean, who doesn't love food cooked as quickly as it is in an Instant Pot? Plus, you can go from frozen to plated in less than an hour. Ah-mazing!
This chicken is one of those recipes that just came together in a pinch. I needed to cook some chicken breasts and, well, you know, while I was at it decided I might as well go ahead and make gravy too (I mean, the juices are just right there begging to be eaten). A little of this, a pinch of that, and about 15-20 minutes later: Dinner is served!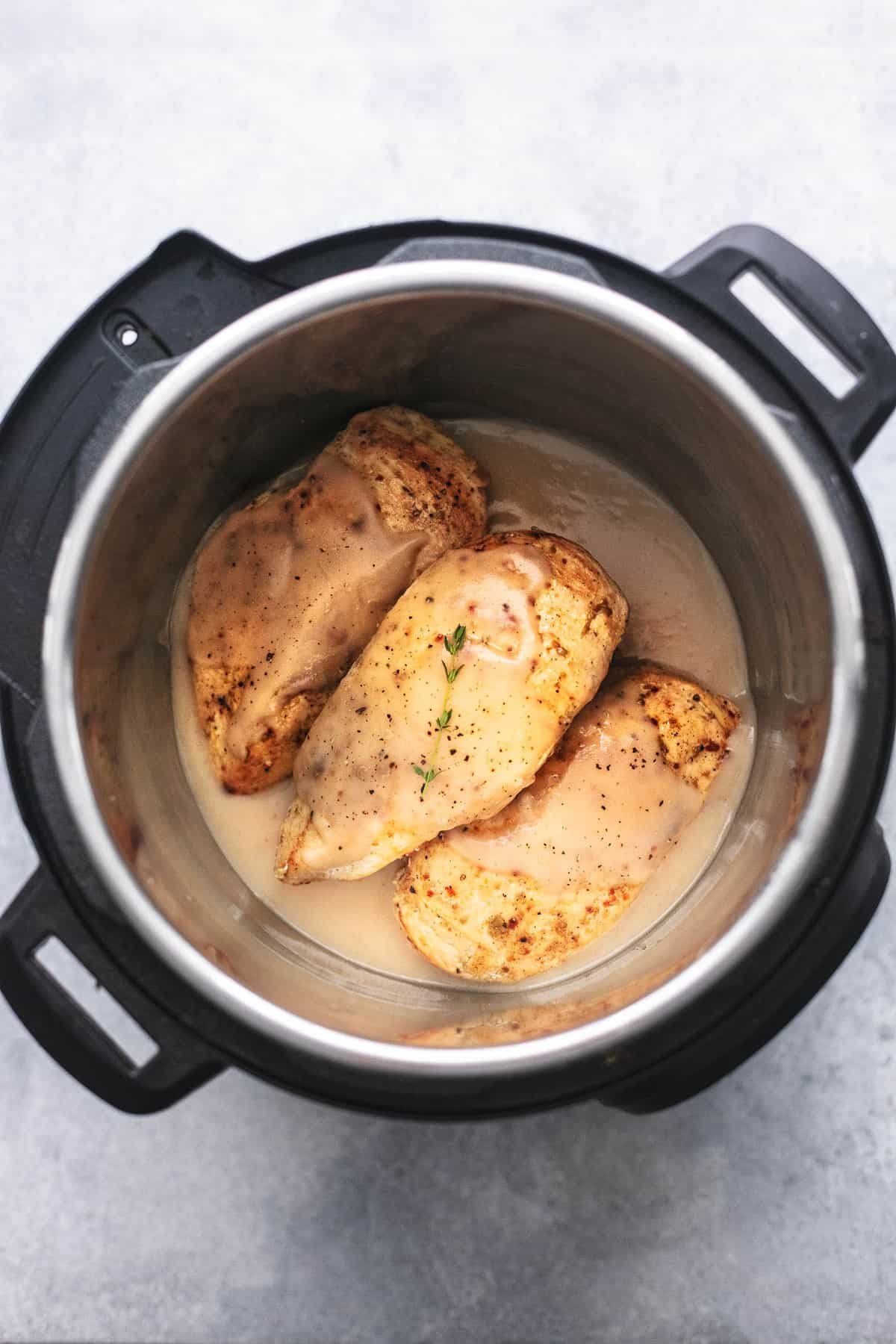 HOW DO YOU MAKE INSTANT POT CHICKEN BREAST AND GRAVY?
Are you ready for the easiest Instant Pot Chicken and Gravy recipe ever? Get all your ingredients out and your pressure cooker and get to it.
The first thing you do is hit the "Saute" function of the pot. Drizzle chicken with a tablespoon of olive oil and give it a good rub all over. Then, add salt, pepper, garlic powder, paprika, and Italian seasoning to the chicken, making sure to coat it all over as well.
Next, drizzle another tablespoon of olive oil to the inside pan liner of your Instant Pot and use a spatula to spread the oil along the bottom so it's coated evenly. Add the chicken and brown for 1-2 minutes on each side. Take the chicken back out and pour in 1 cup of the broth. Then, return the chicken to the bottom of the pot.
Lock down the lid of your Instant pot and turn the valve to sealed. Change the setting from "Saute" to "Pressure Cook" or "Manual" and set the timer for 8 minutes. (Should you find yourself with larger than normal chicken breasts, make that 10 minutes).

When the timer is up, you want to quick release the vent until the steam is all done coming out. Then you can take the lid off and remove the chicken as well. Cover the chicken with aluminum foil or a lid to keep it warm.

Change the setting once again to "Soup." Add the other 2 cups of chicken broth into the pot. Whisk together the cold water and cornstarch in another bowl until it's combined, then put that mixture into the chicken broth once it has come to a boil to make your gravy. Stir the whole thing together and turn the pressure cooker off.

Add salt and pepper to the gravy to suit your tastes. The gravy will thicken as it cools. If you want a more chicken-y flavor to your gravy, add in a chicken bouillon cube.
HOW DO YOU MAKE HEALTHY CHICKEN AND GRAVY?
This dish isn't unhealthy. In fact, we used no unhealthy methods for cooking. Other than a little bit of olive oil, you really can't go wrong with this dish if you're looking for a healthy chicken dish. However, if you want to slim it down even further, you can use cooking spray to coat the bottom of the Instant Pot before putting in the chicken breasts to cook. You can add less salt, and use low-salt or low-fat chicken broth. Another option is to use low-sodium bouillon cubes, if you're going that route.
WHAT SIDES GO WITH INSTANT POT CHICKEN?
I feel like you know what I'm going to say here as my first pick, but I'm going to say it anyway:

Mashed Potatoes

! Nothing complements gravy like potatoes. In the slow cooker, with garlic, with herbs, with butter, make the potatoes, make no apologies.

For a veggie side, try something roasted, like

green beans

,

Brussels sprouts

,

carrots

, or

broccoli and cauliflower

. You can roast these veggies while you wait for your chicken to cook. Skip the potatoes if you are looking for a low-carb meal. Gravy over veggies? Can't say I haven't tried it!

Side salads are always a fan favorite in my house. No muss, no fuss, put one together with whatever ingredients and greens you have in your crisper. Make this

Simple Tossed Green Salad

if you aren't sure how to put one together.

Another favorite way of mine to eat this easy chicken recipe is to add the chicken and gravy right over some cooked wide egg noodles or white or brown rice.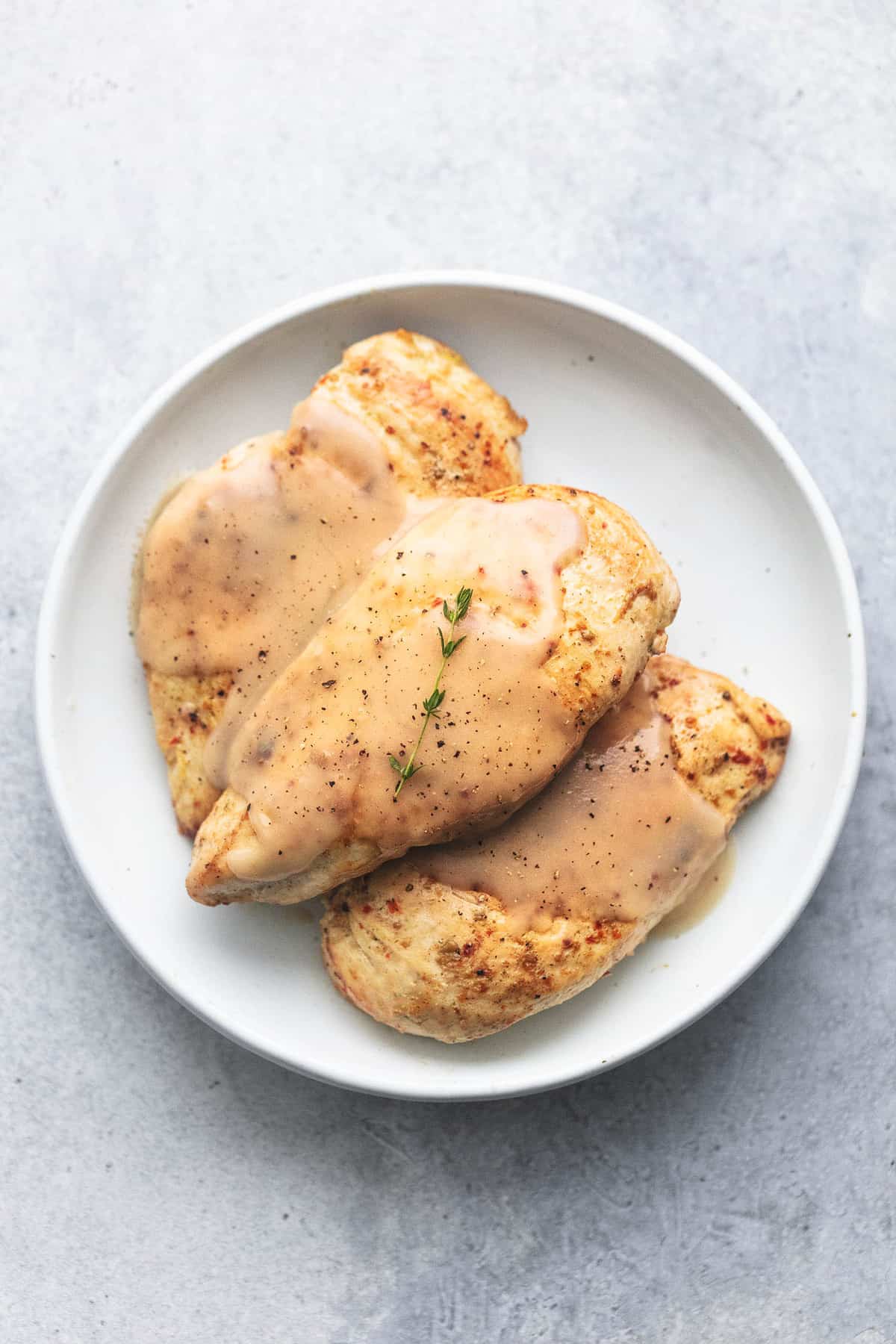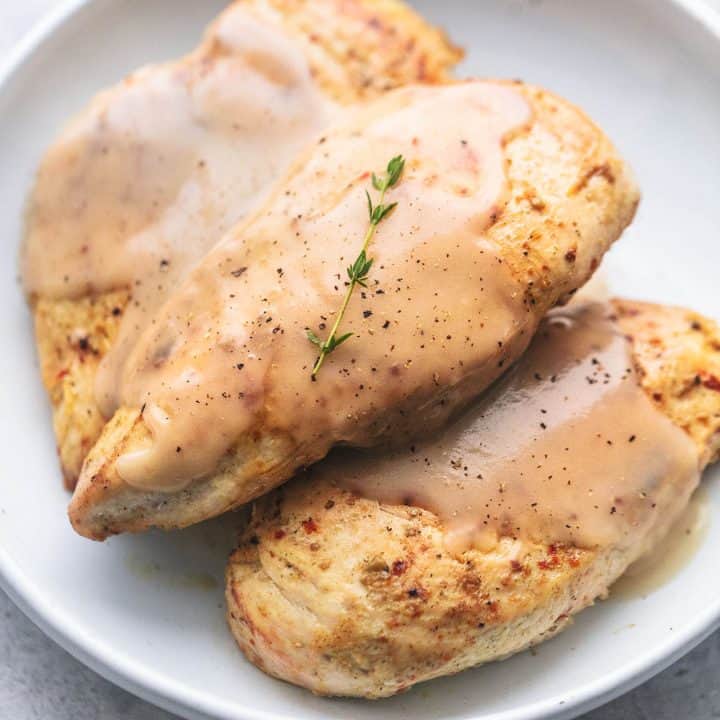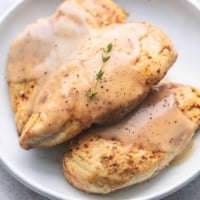 Instant Pot Chicken Breast and Gravy
Instant Pot Chicken and Gravy is an easy and healthy pressure cooker recipe with fantastic flavor and really simple to make!
Ingredients
4

medium, boneless skinless chicken breasts

2

tablespoons

olive oil

1

teaspoon

garlic powder

1

teaspoon

salt

-

more to taste

¼

teaspoon

pepper

-

more to taste

¼

teaspoon

paprika

-

or smoked paprika

1

teaspoon

Italian herb seasoning blend

3

cups

chicken broth

-

divided

4

tablespoons

cold water

2

tablespoons

corn starch
Instructions
Set your pressure cooker to the SAUTE setting. Drizzle chicken with 1 tablespoon olive oil and rub all over to coat. Season all over with salt, pepper, garlic powder, paprika, and Italian seasoning.

Drizzle remaining 1 tablespoon of olive oil into the pan, use a rubber spatula to spread the oil around to coat the bottom of the pot. Immediatley add chicken and cook for 1-2 minutes on each side to brown the chicken. Remove chicken, pour in 1 cup broth, return chicken to pot.

Place lid on the pot and slide into the locked position. Turn the venting valve to the SEALED position. Set your pressure cooker to PRESSURE COOK or MANUAL and set time to 8 minutes (for large chicken breasts do 10 minutes).

Once cook time is up, do a QUICK RELEASE by turning the vent valve to the VENT position. Once float valve drops, remove lid and transfer chicken to a plate and cover to keep warm.

Set pressure cooker to SOUP. Add remaining 2 cups chicken broth to the pot. In a small bowl whisk together cold water and corn starch til dissolved. When the chicken broth comes to a boil, stir in the corn starch slurry. Turn pressure cooker OFF.

Season gravy generously with salt and pepper to taste. As it cools the gravy will thicken slightly. Serve over chicken.
Notes
For richer gravy, you can add 1 chicken bouillon cube to the boiling broth. 
Nutrition
Calories:
346
kcal
,
Carbohydrates:
5
g
,
Protein:
49
g
,
Fat:
13
g
,
Saturated Fat:
2
g
,
Trans Fat:
1
g
,
Cholesterol:
145
mg
,
Sodium:
908
mg
,
Potassium:
986
mg
,
Fiber:
1
g
,
Sugar:
1
g
,
Vitamin A:
71
IU
,
Vitamin C:
15
mg
,
Calcium:
23
mg
,
Iron:
1
mg