These Caramel Cashew Shortbread Bars are made with the BEST buttery shortbread crust topped with a layer of chewy caramel, crunchy cashews and sea salt!
Caramel caramel caramel heavennnnnn. plus cashews. and sea salt. and shortbread.
YUM.
When I was a kid I hated all nuts except for cashews because hello, cashews are delicious. Over the years I've come to appreciate many other nut varieties – particularly pecans, pine nuts, walnuts (except for that time I ate so many my mouth broke out in sores and then didn't eat walnuts for 5 years) and pistachios.
If I'm just going to eat a handful of nuts though, I always reach for the cashews. In fact, last week we visited my in-laws and I spent at least 17 minutes sifting through a can of mixed nuts to fish out all of the cashews.
Yes, I'm that person, and yes I am also the trail mix m&m thief.
Okay really quick sidebar…
IT'S SNOWING. Like right this second hoards of frozen fluffy white stuff is falling from the sky outside my office window and I'm freaking out just a little bit because this has been the warmest winter I've ever seen in Utah and my dream came true when the one big snow storm we got this year came on Christmas day and then melted a week later.
Phew. Back to cashews and normal stuff…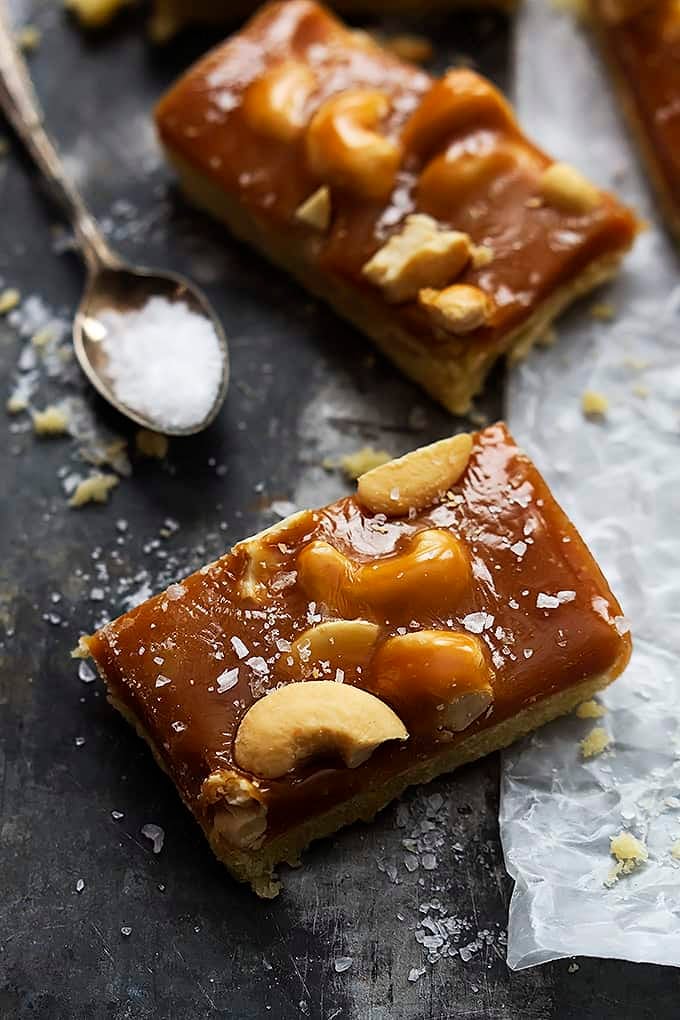 Oh oh oh, I got so carried away with blabbing on about my cashew thievery that I almost forgot to tell you that these bars feature my all-time favorite, BEST-EVER ultra buttery shortbread crust! Seriously. Usually when I eat something with a shortbread crust it tends to be dry and flavorless and it's really just a vehicle for getting the top layer into my mouth. Not today. I could skip any toppings and eat this shortbread crust with a fork it is so. darn. good.
And I don't think I even need to mention the chewy gooey caramel and sea salt here right? Because you already know that salted caramel is innately wonderful.
Caramel Cashew Shortbread Bars
Buttery shortbread crust topped with chewy caramel, crunchy cashews and sea salt!
Ingredients
¾

cup

butter

⅓

cup

powdered sugar

1 ½

cup

flour

¼

teaspoon

baking powder

½

teaspoon

salt
Caramel Layer
2

cups

caramels

-

(see note)

3

tablespoons

heavy cream

-

or other milk

½

teaspoon

vanilla

1

cup

cashew halves

coarse sea salt
Instructions
Preheat oven to 350. Line a 9x9 inch baking pan with foil or parchment and grease well. In a medium bowl blend together butter and powdered sugar until fluffy.

In a small bowl whisk together flour, baking powder, and salt. Add flour mixture to butter bowl and mix until smooth.

Press mixture in the bottom of your prepared baking pan. Bake for 15-20 minutes until very lightly golden (not overdone!).

When you crust is done baking, set it out to cool. In a microwave-safe bowl heat caramels and heavy cream for 2 minutes on half-power. Stir and return to microwave for another 20 seconds at a time, stirring after each, until smooth.

When caramel is completely melted and smooth, stir in vanilla and caramels. Immediately pour mixture over shortbread crust. Sprinkle with coarse sea salt (if desired - highly recommended!) and allow to cool completely before cutting into bars and serving. Store in airtight container.
Notes
For the caramel: You can use the popular caramel squares - unwrapped - or Kraft makes "bits" now that come in a bag near the chocolate chips in most grocery stores and one bag works great for this recipe. 
If you use salted cashews, you might want to go light on the added sea salt.
Nutrition
Calories:
303
kcal
,
Carbohydrates:
50
g
,
Protein:
6
g
,
Fat:
10
g
,
Saturated Fat:
3
g
,
Cholesterol:
10
mg
,
Sodium:
221
mg
,
Potassium:
195
mg
,
Fiber:
1
g
,
Sugar:
31
g
,
Vitamin A:
96
IU
,
Vitamin C:
1
mg
,
Calcium:
85
mg
,
Iron:
2
mg