This chilled layer cake is the perfect treat for summertime with raspberry buttercream filling and almond meringue! Yum!
So this looks like a winter-y cake but I promise it is not. Think of it like a snow cone. It looks like snow, feels like snow, but you don't eat it a snow cone in December. You eat snow cones in the summertime, when it's hot outside and your shoulders are sunburned. This cake looks like winter but it's a summertime cake. Because it's chilled.
Plus, have you ever bought raspberries during the off season? Holy guacamole those little beauties are pricey. To buy enough to make a cake like this during the wintertime you'd need deep pockets. And I don't have deep pockets. I have normal, shop the sales, clip a coupon, no way am I spending 20 bucks on raspberries in the winter – pockets. So while I've had the idea for this cake for months, I've waited not-so-patiently until the price of raspberries reached a reasonable state.
At first I thought I was going to do raspberry buttercream for the entire cake, filling and topping. But then…. maybe not. Maybe an almond buttercream on top. Maybe no frosting on top. Wait wait I've got it. Meringue. But not just any meringue. Almond meringue.
Genius.
And I couldn't decide between  a buttercream filling or a jam filling so, naturally, I just did both. I'm terrible at making choices. That's why I always order the appetizer sampler when we go out to restaurants. It's the best item on the menu for people like me. Non-decision makers. It's not because I'm picky, it's because I like too many things. So when I can't decide (aka always) I go for the option that gives me the most bang for my buck.
Um, yes please, I'll take one of everything.
So let's just really quickly go over the components of this cake. Two layers  of white cake loaded with fresh raspberries. Stuff some raspberry buttercream and raspberry jam in the middle, then cover the whole thing in an almond-flavored meringue frosting. Mmmmmm. Almond. But wait! Top it with more raspberries and slivered almonds.
Bingo. That's the ticket.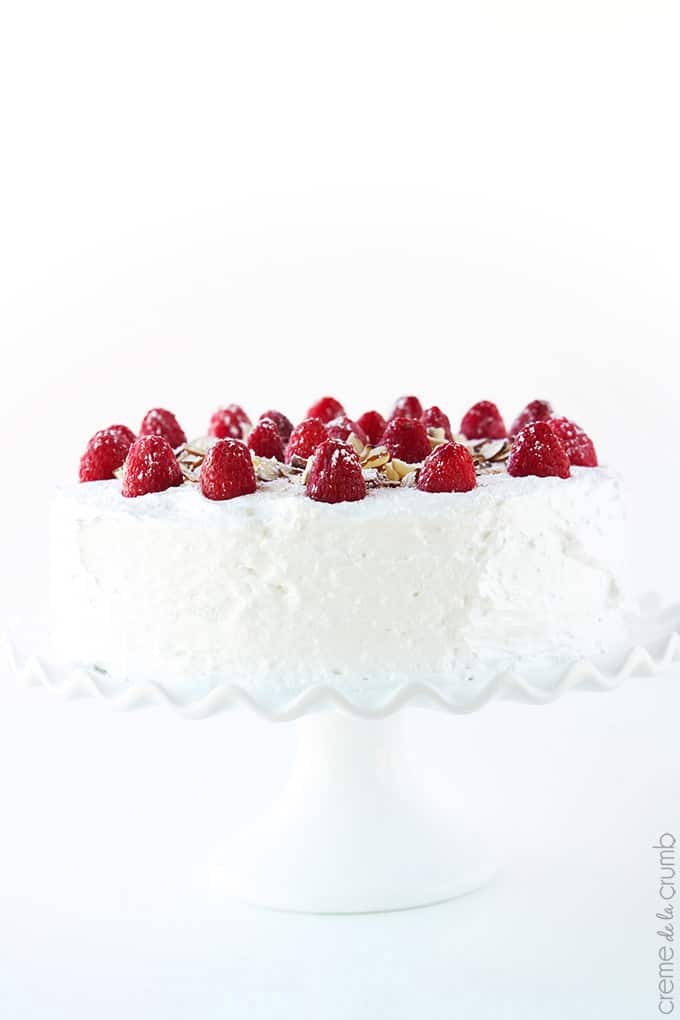 My family loved this cake. In fact I think I saw my husband shed a tear when he found out there was none left over the next day. And like I said, this cake is chilled. Ahhhhhh chilled cake is so good! That's why this cake is perfect for the warmer months. And it's e-z. Promise. Nothing tricky here, just an awesome cake you can whip up the next time raspberries are on sale at the market. Grab a couple boxes, snag a few almonds, and make this sweet summertime treat – you're gonna love it!
Chilled Raspberry Almond Cake
This chilled layer cake is the perfect treat for summertime with raspberry buttercream filling and almond meringue! Yum!
Ingredients
2

tablespoons

all purpose flour

2

cups

cake flour

1

teaspoon

salt

1

cup

sugar

1

cup

heavy cream

2

tablespoons

half and half

-

or whole milk, (I used fat free half and half)

2

teaspoons

baking powder

4

egg whites

-

at room temperature

1

teaspoon

vanilla extract

½

teaspoon

almond extract

1 ½

cups

fresh raspberries
Buttercream Filling
1

cup

butter

-

at room temperature

4

cups

powdered sugar

8

tablespoons

raspberry jam at room temperature

-

divided

1-2

tablespoons

heavy cream
Meringue Frosting
1 ¼

cups

sugar

4

tablespoons

water

1 ½

tablespoons

light corn syrup

5

egg whites

-

at room temperature

1

tablespoon

almond extract

⅓

cup

shaved/sliced almonds

1

cup

raspberries
Instructions
Preheat oven to 325. Spray two 9 inch round cake pans with cook spray. Dust both pans with the 2 tablespoons of all purpose flour. Line the bottom of the pans with parchment paper/wax paper (you can buy pre-cut round pieces to line pans OR I just trace my pans onto regular parchment paper and cut it out with scissors)

In a medium bowl combine cake flour, and salt and whisk to combine. In a larger bowl combine sugar, heavy cream, half and half (or milk) and mix well. Whisk in baking powder, egg whites, vanilla, almond extract until smooth. Add dry ingredients to wet ingredients and mix until just combined. Gently fold in raspberries.

Divide batter evenly into prepared pans. Bake 25-30 minutes until cake springs back with gently pressed with a finger. Allow to cool completely.
Filling
When cake is cooled, prepare the filling. Mix butter 4-5 minutes on high speed (if you have a stand mixer, use that so your arms doesn't get tired with a hand mixer!) Reduce speed to low and add powdered sugar one cup at a time until incorporated and mixture is smooth.

Add 4 tablespoons of raspberry jam and mix until smooth. Add heavy cream 1 tablespoon at a time until spreadable. Spread filling over one cake. Spread remaining 4 tablespoons of jam on top. Place second cake on top of the jam.

Meringue
Add egg whites to a stand mixer and mix on high speed with a whisk attachment until stiff peaks form (about 8-10 minutes). Bring sugar, water, and corn syrup to a boil over medium high heat in a medium sauce pan, whisking throughout. Continue to whisk and cook until mixture is foamy.

While the mixer is on low speed, slowly pour the sugar mixture into the fluffy egg whites. Add almond extract and continue to mix until mixture is shiny-looking and smooth and cooled. Spread frosting onto cake, coating top and all sides. Top with raspberries and almonds. Cover and chill at least 1 hour before serving.

Notes
Store covered in the fridge up to three days. 
Nutrition
Calories:
559
kcal
,
Carbohydrates:
111
g
,
Protein:
7
g
,
Fat:
11
g
,
Saturated Fat:
5
g
,
Trans Fat:
1
g
,
Cholesterol:
31
mg
,
Sodium:
340
mg
,
Potassium:
178
mg
,
Fiber:
3
g
,
Sugar:
88
g
,
Vitamin A:
356
IU
,
Vitamin C:
8
mg
,
Calcium:
102
mg
,
Iron:
1
mg