Super moist Zucchini Sheet Cake with rich cream cheese frosting! 
Oh my word THIS CAKE.
I've always loved loved loved my mothers fudgy fudge Texas sheet cake, it really is the absolute best one I've ever tasted – and I've tasted a lot of chocolate sheet cakes, everyone and their dog seems to have a recipe for it. P.S. don't worry, I plan to bring that recipe to you very soon my friends, very soon.
But anywho. I love her Texas sheet cake. And for the longest time I had no idea a sheet cake came in any other flavor. Apparently it does. Lemon, white, carrot, etcetera etcetera etcetera…..
But ZUCCHINI you guys, that's where it's at. Zucchini sheet cake is my new favorite thing, particularly when it is slathered in rich cream cheese frosting.
So. darn. good.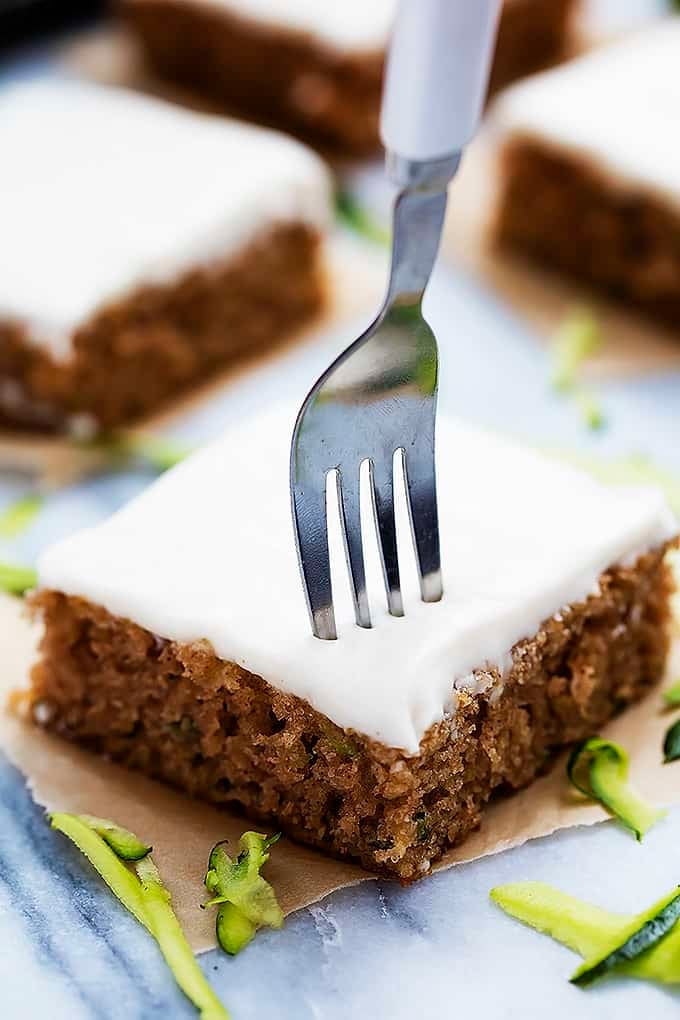 If you're already on board the zucchini-in-baked-goods bandwagon, then I don't need to tell you that the zucchini does nothing but good things for this cake. It makes it super duper moist and no, it does not taste like a veggie. It tastes like cake. But better.
I made this cake at my mother's house while my kitchen was out of commission and brought it home to photograph it for your viewing pleasure. Later that night I couldn't find a fork – aka the story of my life for the past month – so I quite literally ate it with my bare fingers. I know, a heathen in action. But it was so SO good! I couldn't resist.
You would have done the same, trust me.
Zucchini Sheet Cake
Super moist zucchini sheet cake with rich cream cheese frosting!
Ingredients
2

cups

flour

1

teaspoon

baking soda

1

teaspoon

cinnamon

1

teaspoon

salt

2

cups

shredded zucchini

(about 2 medium zucchinis)

1

cup

brown sugar

3/4

cup

sugar

4

eggs

2

teaspoons

vanilla

1

cup

plain greek yogurt

(I used fat free - may sub sour cream in a pinch)
Frosting
5

tablespoons

butter,

melted

4

cups

powdered sugar

2

ounces

cream cheese,

softened

1

teaspoon

vanilla extract

6-8

tablespoons

milk
Instructions
Preheat oven to 350 and grease a 12x17 (or similar) jelly roll pan.

In a medium bowl whisk together flour, baking soda, cinnamon, and salt.

In a large bowl cream together zucchini, sugars, eggs, vanilla, and greek yogurt.

Add dry ingredients to wet ingredients and mix until combined. Spread batter in prepared pan.

Bake for 20-25 minutes until cake springs back when gently pressed with a finger. Allow to cool.

For the frosting, cream together butter, powdered sugar, cream cheese, vanilla, and milk until smooth. Spread over cooled cake.
Recipe adapted from 5 Boys Baker.