Super soft Frosted Zucchini Oatmeal Cookies with rich cream cheese frosting piled on top! These are so easy to make and TO DIE FOR delicious!! 
Okay this day could be over and I'd be alright with that.
Yes, it's only 10:45 in the morning.
It's gonna be a long one.
First of all, it's extremely cloudy here so that means no cooking and picture taking today – BOO! After three miserable recipe fails yesterday I was so hoping to redeem myself today. Looks like tomorrow will have to be redemption day.
But I'm so impatient I want to redeem myself nowwwwwwwww.
My mother's voice inside my head, "Patience is a virtue Tiffany".
My snotty teenager response, "One that I do not possess!"
Oh dear. My kids….. they're going to give me heck, I just know it.
Secondly, when I got up this morning we had no running water. Faucet? Nope. Shower? Nada. And for a person who is pretty adamant about brushing her teeth FIRST THING in the morning followed immediately by a shower, no running water in the morning is a nightmare. Turns out the city was working on our waterline and didn't bother to let us know…. lovely. It's a good thing I don't commute to work or I would have been extremely late.
Once our water came back on I thought everything was back on track for the day (minus the no-cooking-no-photographing cloudy weather crisis) but then two of our toilets pretty much exploded all over the place for what seems to be no good reason. Don't worry, it was the clean water from the tank – could've been a lot worse if you know what I mean.
Sorry – TMI! Just being candid here. I can do that right? No judgements? This is a safe space.
Tomorrow will be better. You know why? I'm probably going to make myself another batch of these zucchini cookies because you guys, the chewiness…. the softness…. the sweetness…. the FROSTING. It's so good. Every last bit of it. And they're easy. Even that magnificent cream cheese frosting is easy. And they have zucchini in them so they're pretty much a vegetable and I can guiltlessly eat 11 of them. Right?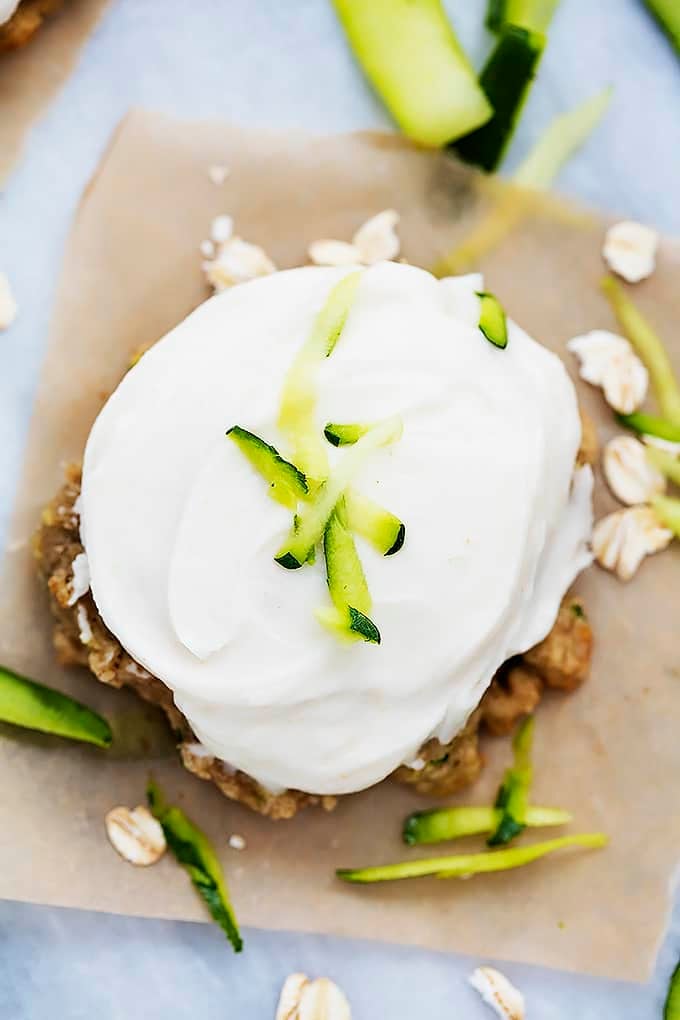 Frosted Zucchini Oatmeal Cookies
Super soft zucchini oatmeal cookies with rich cream cheese frosting piled on top! These are so easy to make and to die for delicious!!
Ingredients
1 ½

cups

flour

1

teaspoon

cinnamon

½

teaspoon

baking soda

½

teaspoon

salt

1

cup

old fashioned oats

½

cup

butter

-

softened

½

cup

sugar

⅓

cup

brown sugar

1

egg

1 ½

teaspoons

vanilla

1 ½

cups

shredded zucchini

-

(about 2 small-medium zucchinis)
Frosting
3

tablespoons

butter

2

ounces

cream cheese

-

softened

3

cups

powdered sugar

1

teaspoon

vanilla

4-8

tablespoons

milk
Instructions
Preheat oven to 350. In a medium bowl whisk together flour, cinnamon, baking soda, oats, and salt.

In a large bowl cream butter and sugars until light and fluffy. Add egg, vanilla, and zucchini and mix well. Add dry ingredients to wet ingredients and mix until incorporated.

Drop spoonfuls of cookie dough onto a lightly greased cookie sheet at least 2 inches apart. Bake for 12-14 minutes until golden brown. Allow to cool 10 minutes on the baking sheet before transferring to a cooling rack or sheet of parchment or wax paper to finish cooling completely.

When cookies are cooled prepare frosting. Melt butter in a small sauce pan over medium heat. After melted, continue to stir over medium heat until butter turns amber-brown. Add butter, cream cheese, powdered sugar, vanilla, and milk to a large bowl and mix until smooth. Spread onto cooled cookies. Store in airtight container at room temperature.
Notes
Store in airtight container at room temperature up to five days. 
Nutrition
Calories:
147
kcal
,
Carbohydrates:
31
g
,
Protein:
2
g
,
Fat:
2
g
,
Saturated Fat:
1
g
,
Trans Fat:
1
g
,
Cholesterol:
10
mg
,
Sodium:
92
mg
,
Potassium:
65
mg
,
Fiber:
1
g
,
Sugar:
23
g
,
Vitamin A:
73
IU
,
Vitamin C:
1
mg
,
Calcium:
22
mg
,
Iron:
1
mg