Soft and chewy cookies full of cinnamon-spice flavor glazed with vanilla frosting to make these perfect Iced Oatmeal Cookies.
I have been craving oatmeal cookies up the wazzoo lately. I'll admit, I'm definitely a cravings-prone person. I'd say every day I probably crave between one and seventeen different things, not all edible things. For example from time to time I crave a good Disney movie marathon in my comfiest sweats. Other times I crave oatmeal cookies in various forms. Today it's oatmeal cookies with vanilla icing.
I can't. get. enough.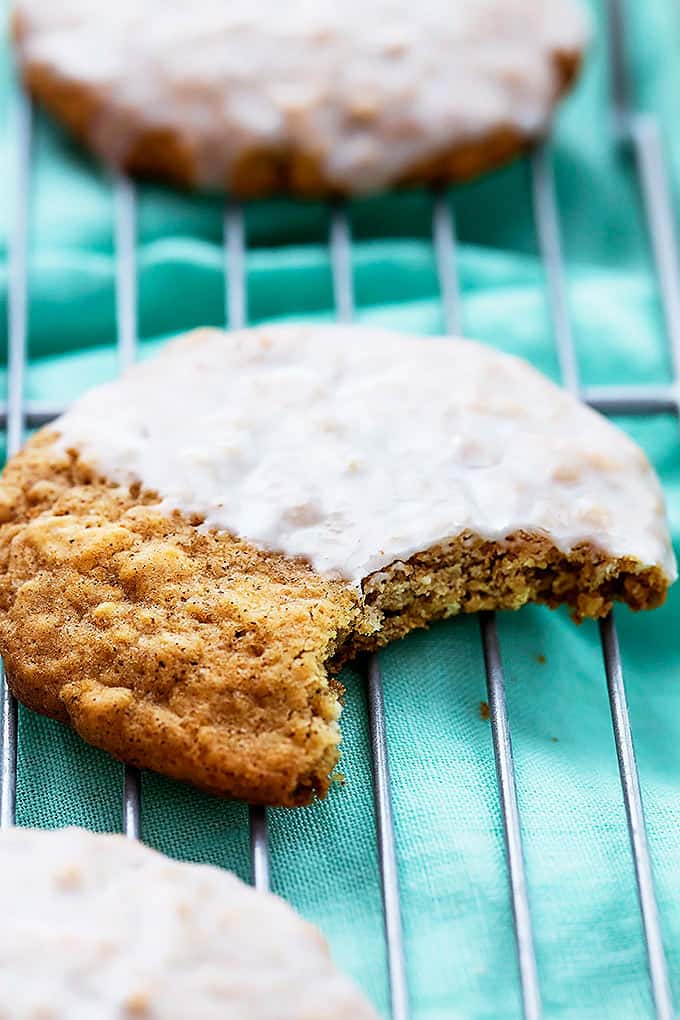 I love the texture of these particular oatmeal cookies. Very chewy. And while they are good by themselves, they're irresistible when you dip them in that vanilla icing. After you dip them, I know you'll want to sink your teeth in right away, but if you can hold on for a few minutes to let that icing set up I think they taste much much better. Just wait long enough for that icing to turn an opaque white and then you're golden.
What people are saying about these Iced Oatmeal Cookies
"Made these today. Oh my goodness…Amazing! Thanks for the recipe!" – Jessica
"These are really delicious! I actually love them without the icing too!" – Michaela
If you like these Iced Oatmeal Cookies, you'll also enjoy my White Chocolate Lime Cookies!
Iced Oatmeal Cookies
Soft and chewy oatmeal cookies with vanilla icing.
Ingredients
2

cups

old fashioned rolled oats

2

cups

all purpose flour

1

tablespoon

baking powder

1/2

teaspoon

salt

2

teaspoons

ground cinnamon

1/2

teaspoon

ground nutmeg

1

cup

(2 sticks) butter,

softened

1

cup

light brown sugar

1/2

cup

sugar

2

large

eggs

1

teaspoon

vanilla extract
Icing
2

cups

powdered sugar

3

tablespoons

milk

1/2

teaspoon

vanilla extract
Instructions
Preheat oven to 350 degrees and lightly grease a baking sheet.

In a medium bowl whisk together oats, flour, baking powder, baking soda, salt, cinnamon, and nutmeg.

In a large bowl cream together butter and sugars until light and fluffy (2-3 minutes.) Add eggs and vanilla and mix well.

Add dry ingredients to wet ingredients and stir until incorporated. Drop heaping tablespoons of cookie dough onto baking sheet 2-3 inches apart. Bake for 10-12 minutes until golden. Allow to cool for 5 minutes on the baking sheet, then transfer to a cooling rack.

After all of the cookies are made, whisk together the ingredients for the icing. Dip cookies in the icing and allow to cool 10-20 minutes until icing is set. Store in airtight container at room temperature for up to five days.
Recipe adapted from here.