Fluffy and super moist chocolate muffins stuffed with chocolate chips and sweet fresh raspberries!
Raspberry and chocolate, chocolate and raspberry… it's all happening right now right here. In the form of fluffy, moist, gorgeous muffins.
My favorite part about these muffins is actually the chocolate chips though. But, then again, I could say that about any muffin. Or any dessert. Ever. Where are the chocolate chips??? That's what my husband says when I make a dessert without chocolate chips. Like pumpkin bread. Recently I made a batch of beautifully moist, totally scrumptious pumpkin bread but all he could say was, where are the chocolate chips?!? So I made another batch. With scads of chocolate chips. Annnnd I ate most of it myself. Not ashamed.
These muffins are one heck of a delightful way to put raspberries to good use. But, I'm gonna let me in on a little secret… these muffins are just as fantastic without the raspberries! So if you don't feel like running to the store to get a carton, or you run out half way through the batch, or it's off-season for berries and you don't particularly love the idea of taking out a second mortgage on your home just to pay for a few berries – you can make these without the raspberries and you will still absolutely fall in love with moist chocolate chip chocolate muffins! Wonderful, I know. So um, go make a batch. Now! You have no excuses.
Oh wait, you have a job and are unavoidable detained for the next 8 hours and can't drop everything to make raspberry chocolate muffins this very instant? Weird…..   I suppose any time in the next 72 hours will do.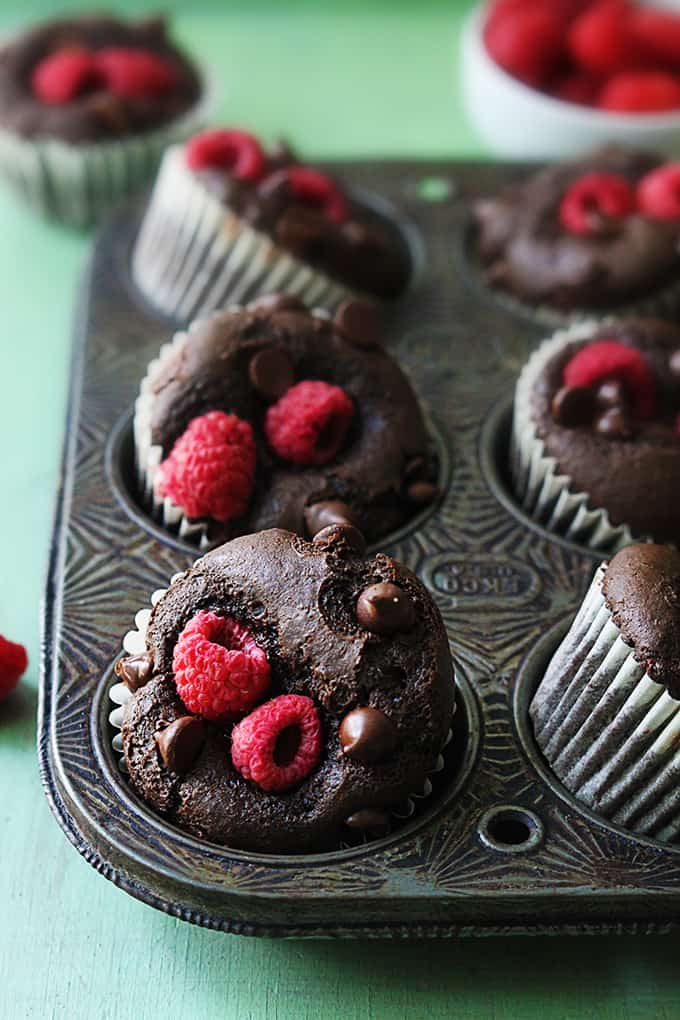 What people are saying about these Raspberry Chocolate Muffins
"Awesome recipe. 
 Super moist and delicious! By the way, you forgot to put adding the vanilla in the method. It's in the ingredients list but I can't seem to find it in the directions." – Priya
"Hello! I tried this today and i absolutely love it! Its very soft and rise beautifully. The batter was a bit thick and i was a bit worried at first that i had done sth wrong. Thank you for sharing! 
" – Aini
"I made these this morning, so easy and very yummy. The raspberries give it a zing when you bite down on one. I'll make these again!" – Molly
"Best Muffins I've ever made! A big hit wit the family,and fellow rowers on rowing camp! definitely making more for shearing time. 
" – Caitlin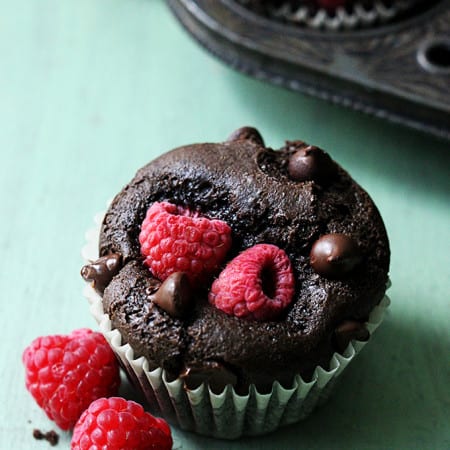 Raspberry Chocolate Muffins
Fluffy and super moist chocolate muffins stuffed with chocolate chips and sweet fresh raspberries!
Ingredients
2

cups

flour

1

cup

white sugar

¾

cup

semi sweet chocolate chips

½

cup

unsweetened cocoa powder

1

teaspoon

baking soda

1

teaspoon

vanilla

1

egg

1

cup

sour cream

-

OR plain greek yogurt

½

cup

milk

-

or half & half

½

cup

vegetable oil

¼

cup

milk chocolate

-

OR semi sweet chocolate chips

1

cup

fresh raspberries
Instructions
Preheat oven to 400 degrees and line muffin tins with liners OR grease well with cooking spray.

Combine flour, sugar, 3/4 cup chocolate chips, cocoa powder, and baking soda in a large bowl.

Whisk egg, yogurt, milk, and vegetable oil in another bowl until smooth.

Add dry ingredients to wet ingredients and mix until just combined. Pour into muffin tins. Divide raspberries and remaining 1/4 cup chocolate chips among the muffin tins (just sprinkle the chocolate chips on the tops of the batter and gently press the raspberries into the top - I used 2-3 raspberries per muffin)

Bake for 18-20 minutes or until an inserted toothpick comes out clean. Allow to cool for about 10 minutes before removing muffins from the tins. Serve immediately OR store in airtight container at up to 4 days at room temperature or 1 week chilled.
Notes
Store in airtight container at room temperature up to three days, or in fridge up to five days. 
Nutrition
Calories:
365
kcal
,
Carbohydrates:
45
g
,
Protein:
5
g
,
Fat:
20
g
,
Saturated Fat:
13
g
,
Trans Fat:
1
g
,
Cholesterol:
25
mg
,
Sodium:
119
mg
,
Potassium:
213
mg
,
Fiber:
4
g
,
Sugar:
24
g
,
Vitamin A:
165
IU
,
Vitamin C:
3
mg
,
Calcium:
53
mg
,
Iron:
2
mg
Recipe adapted from Allrecipes