Raspberry Crumb Muffins – Moist and fluffy raspberry muffins with a lemon streusel crumb topping! So easy and so delicious!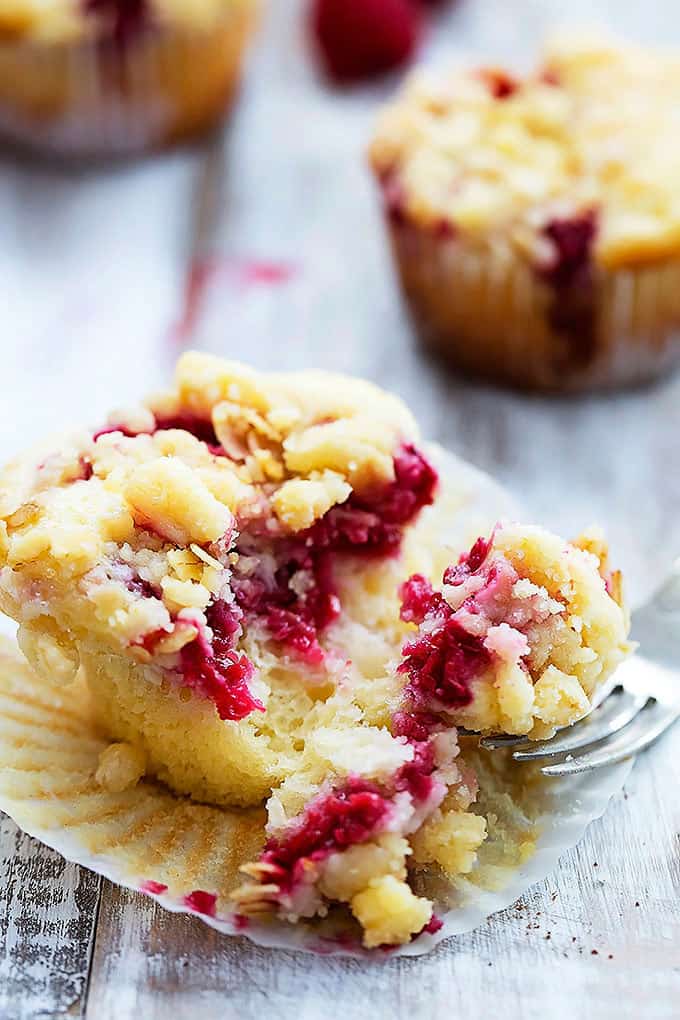 I always really enjoy baked goods but for some reason I'm craving them constantly lately. I want muffins and bread and cookies galore which is okay with me because lately my house is smelling nothing short of heavenly and I'm pretty much constantly basking in the aroma of freshly baking yumminess.
Good for my mood, not so much for my waistline. But hey, it's not swimsuit weather yet right? Plus these muffins have greek yogurt and raspberries in them sooooo healthy, right?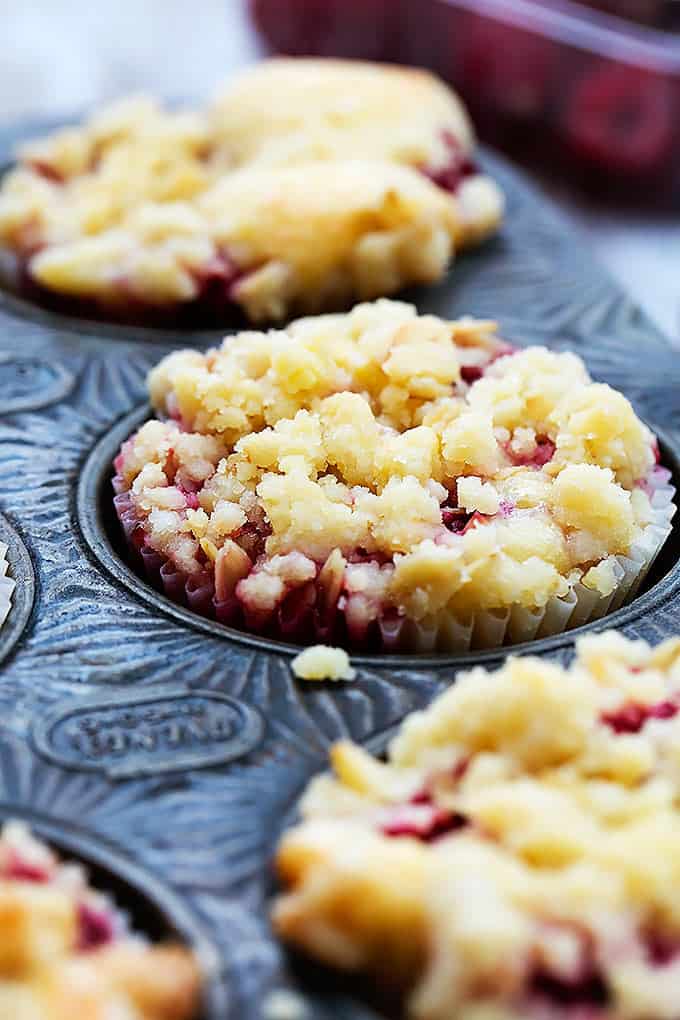 Speaking of swimsuit weather and things I'm in the mood for lately…. two words: summer. produce.
I am dying for fresh fruits and veggies these days. This happens every year around this time. I hit that wall. That I'm so over winter and want everything summer from flip flops to watermelon and tan lines nowww wall.  You know the feeling, right? Like I said, it's kind of an annual thing. So I should have expected it. But I didn't and last week I sent my husband out for fresh berries three times, bless his heart. Spare no expense honey, I need fresh berries in my life like PB needs J.
Something fierce.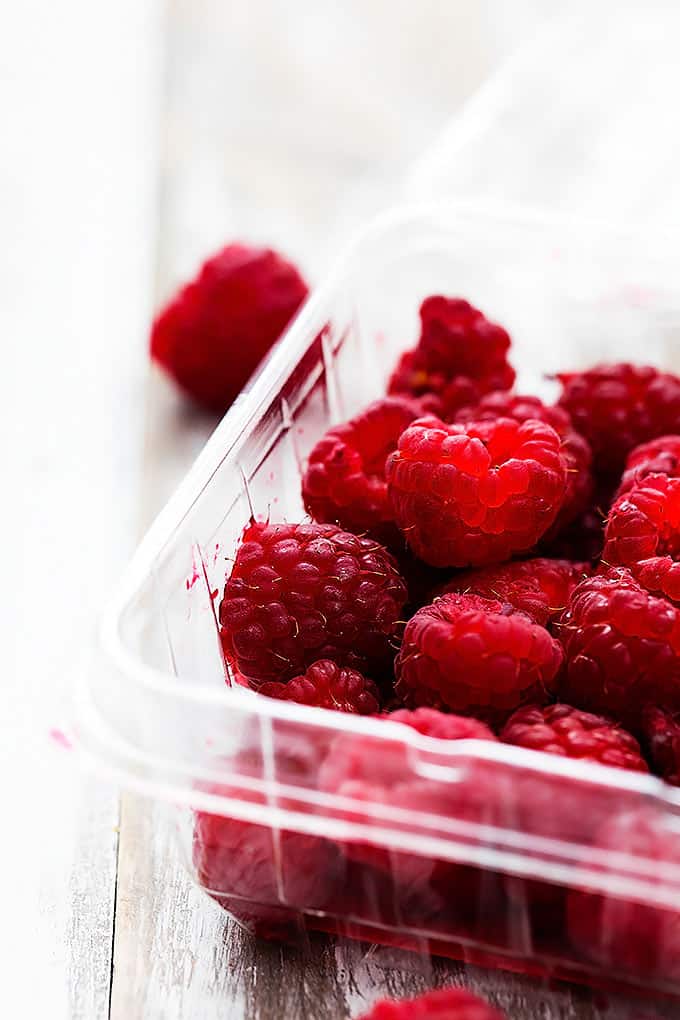 Enter: raspberry crumb muffins. These are three things. 1) incredibly delicious. 2) totally gorgeous. And 3) easy to make. I had them for breakfast several days in a row and think I need to whip up another batch because they are so so good. A fresh raspberry muffin is already a lovely thing but when you add a streusel-y crumb topping with a hint of lemon, magical things happen. Magical things.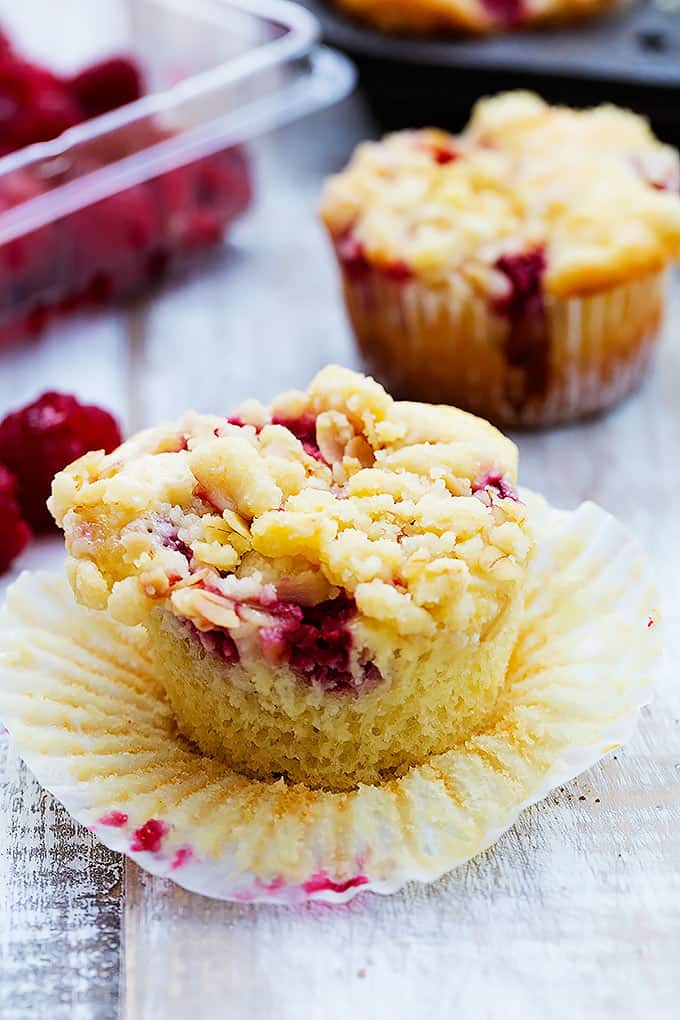 What people are saying about these Raspberry Crumb Muffins
"I made these this morning. My three year old says the are "sooo wummy!" Thanks for the great recipe. I will definitely be making them again." – Mariah
"This is a great recipe! I got my first real raspberry crop this year and this quickly became my family's favorite use for them. They freeze well also. (I suggest making a half recipe of the crumb topping, which is still plenty.)" – Barb
"I made these and they are/were yummy!" – Michael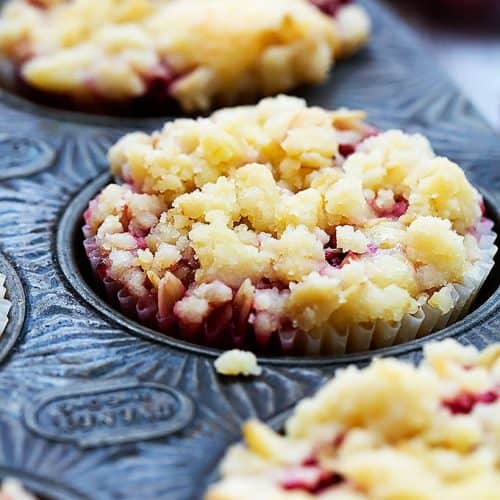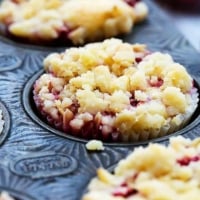 Raspberry Crumb Muffins
Moist and fluffy raspberry muffins with a lemon streusel crumb topping!
Ingredients
1 ¾

cups

flour

1

cup

sugar

2

teaspoons

baking powder

¼

teaspoon

baking soda

¼

teaspoon

salt

3

eggs

1

cup

plain greek yogurt

-

(may sub sour cream)

1 ¼

teaspoon

vanilla extract

2

cups

raspberries
Topping
1

cup

flour

⅔

cup

sugar

zest of 1 lemon

8

tablespoons

butter

-

melted
Instructions
Preheat oven to 350 degrees. Line muffin tins with paper liners.

Make the crumb topping by stirring together flour, sugar, and lemon zest. Add melted butter and stir to combine.

Whisk together flour, sugar, baking powder, baking soda, and salt. In a larger bowl mix eggs, greek yogurt, and vanilla. Add dry ingredients to wet ingredients and mix until incorporated (don't overmix).

Fill muffin liners 3/4 full with batter. Top with raspberries (about 4-5 raspberries each to cover the batter) and then distribute topping over the raspberries.

Bake for 20-25 minutes until an inserted toothpick comes out clean (a few loose crumbs or bits of raspberry are okay but no wet batter). Allow to cool in muffin tins for 5-10 minutes before transferring to a cooling rack to cool completely. Serve warm, at room temperature, or store in airtight container. (see note)
Notes
These can be individually wrapped and frozen as well. To serve after freezing, simply unwrap the muffin and heat it in the microwave for 30-45 seconds.
Nutrition
Calories:
128
kcal
,
Carbohydrates:
27
g
,
Protein:
3
g
,
Fat:
1
g
,
Saturated Fat:
1
g
,
Trans Fat:
1
g
,
Cholesterol:
21
mg
,
Sodium:
88
mg
,
Potassium:
57
mg
,
Fiber:
1
g
,
Sugar:
15
g
,
Vitamin A:
42
IU
,
Vitamin C:
3
mg
,
Calcium:
42
mg
,
Iron:
1
mg