Orange Muffins with Coconut Streusel – These sweet orange muffins are perfect for those rushed mornings when you're running out the door!
So it's a little late in the season I think but I'm really into oranges right now. I feel like oranges don't get enough attention. They're sweet and tangy and bright and smell soooo good when they're ripe off the tree.
I pretend like my love of oranges has been ingrained in me since birth because I was born in Orange County California. Yeah I know that means nothing as far as having a palate for oranges but I can think what I want. And I think that I was born to love oranges.
Have you ever been to Disney California Adventure Park in California? You know, the next-door neighbor to Disneyland (aka: the best place on earth ever). Well if you haven't then you are really really missing out on one of the coolest rides imaginable. Soarin' Over California. Those of you who've experienced the Soarin' magic know exactly where this is headed. The orange fields. If you're clueless right now, take a look at this. You won't really get it til you go on the ride though.
So plan yourself a trip and go.
You know what's a really killer combination? Orange and coconut. Not sure why but coconut has been weaseling it's way into a lot of my recipes lately. Check out these amazing Vanilla Coconut Muddy Buddies, Toasted Coconut & Cashew Granola, Coconut-Lime Greek Yogurt Poundcake.
Now let's add these muffins to the list. They my new fav. At least until tomorrow when I make something else delicious.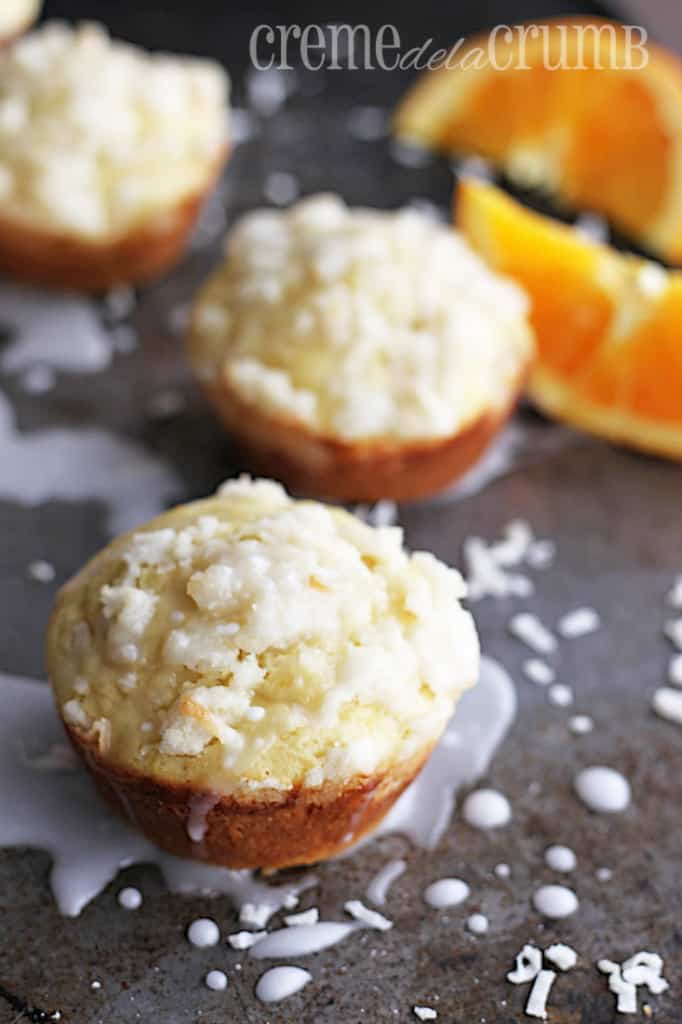 Orange Muffins with Coconut Streusel
These sweet orange muffins are perfect for those rushed mornings when you're running out the door. The best part? The coconut streusel of course! Make sure to go heavy on the streusel AND that glaze. You'll be so glad you did!

Ingredients
2

cups

flour

1/2

cup

sugar

1

teaspoon

baking powder

1/4

teaspoon

baking soda

1/2

teaspoon

salt

5

tablespoons

butter,

melted

1

egg

1 1/4

cup

buttermilk

1

teaspoon

vanilla

2

tablespoons

orange zest
Streusel
3

tablespoons

shredded coconut

2

tablespoons

butter,

melted

4

tablespoons

sugar

2

tablespoons

flour
Glaze
1

cup

powdered sugar

1

tablespoon

hot water

1

teaspoon

coconut extract
Instructions
Preheat oven to 350. To make the muffins, combine flour, sugar, baking soda, and salt. In a separate bowl mix together buttermilk, butter, eggs, and vanilla. Stir wet ingredients into dry ingredients until just combined. Stir in orange zest. Fill greased muffin tins 2/3 full.

Prepare the streusel. Combine shredded coconut, butter, sugar, and flour in a small bowl. Mix to combine. Spoon onto muffin batter.

Bake 15-20 minutes or until an inserted toothpick comes out mostly clean. Allow to cool.

Prepare the glaze. Mix together powdered sugar and hot water. (Add extra water 1 teaspoon at a time until desired consistency is reached). Stir in coconut extract. Drizzle over muffins. Store in airtight container.