Fresh raspberry sorbet in 30 minutes! A perfect frozen creamy treat for cooling down this summer!
My mother's birthday was a few weeks ago and all of the kids pitched in to help with dinner at my parents house. I was assigned: dessert. No problem-o here, I have a plethora of desserts to make and new ones to try! I had a few ideas brewing in the back of my mind (one of them involving a take on triple berry cobbler, shh!) but then my mom asked for something specific. Raspberry Sorbet. Oh…. sure mom! I mean it's her birthday, what're ya gonna do??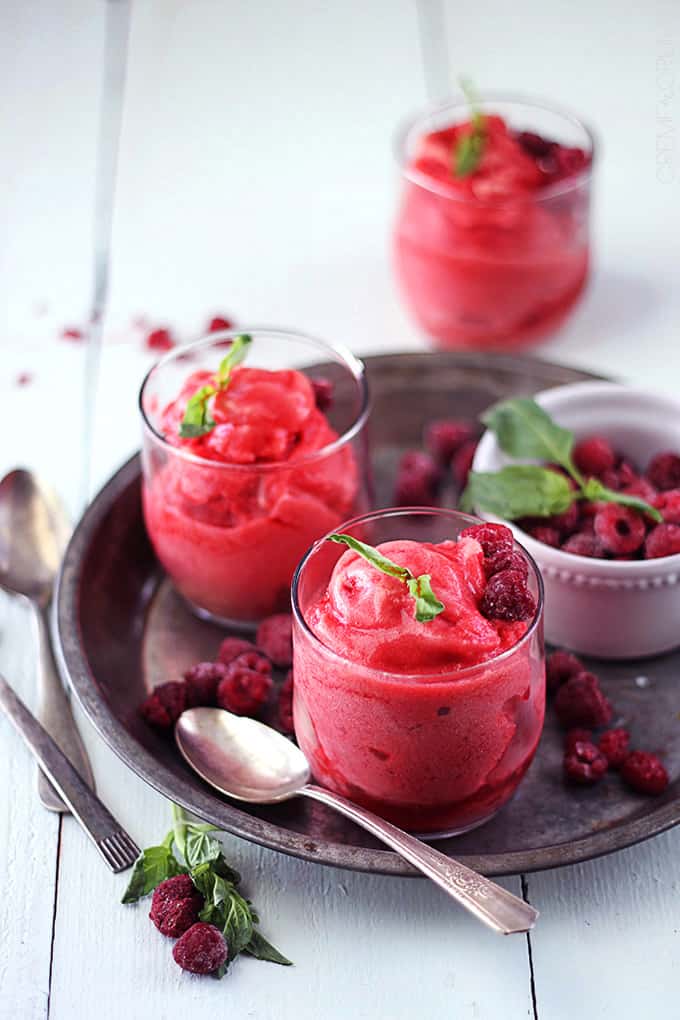 It's no secret i'm O.b.S.e.S.s.E.d with ice cream – really, I'd eat it every single day all day long. In my perfect world we would breath ice cream instead of air, it would be marvelous! Don't judge, it's genetic, I inherited this cream obsession from my mom's side. My mom's side is the Chase side, and the Chases LOVE their ice cream. Even though I prefer the "hard stuff", my mom really has a soft spot (oh my gosh I'm so funny…) for sorbet. Particularly raspberry sorbet. So when she asked for raspberry sorbet for her birthday, I was more than thrilled to oblige. Plus, now I get to share the recipe with YOU! Win for everyone right?? And there it is, you are looking at my mother's birthday dessert. Isn't it pretty??
P.S. don't be scared off if you don't have an ice cream machine – you can freeze the sorbet in a shallow container overnight for similar results!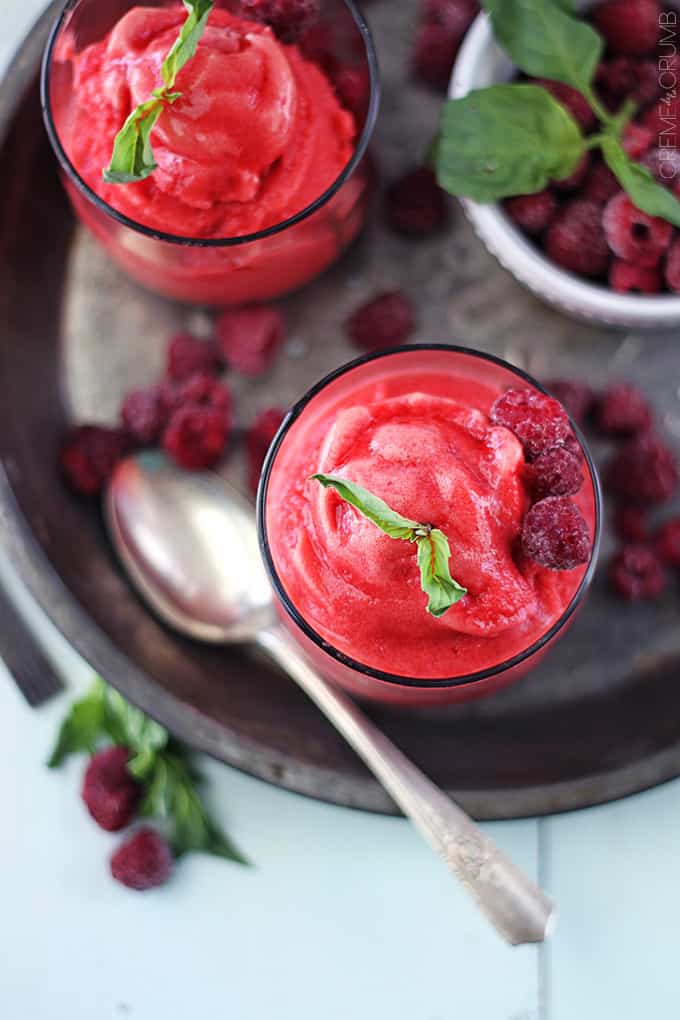 What people are saying about this Raspberry Sorbet
"This recipe is outstanding! I made a half recipe but accidentally put too much vanilla in, luckily I love vanilla and I highly suggest putting some extra in the sorbet for those who share my preference; it tastes great! I also strained the raspberries twice for a finer consistency, it took extra time but it was well worth it! The flavor is amazing." – Kallie
"I've made this sorbet twice this summer! Such a good recipe, don't change a thing! Thanks for sharing!" – Kate
"Absolutely love this recipe. I've been making it all summer. I adjust the sugar depending on the tartness of the berries. I don't have an ice cream machine, so just stir every few hours while its freezing works fine. Making blackberry sorbet today!" – Susanne
If you like this Raspberry Sorbet, you're going to LOVE my Strawberry Cobbler recipe!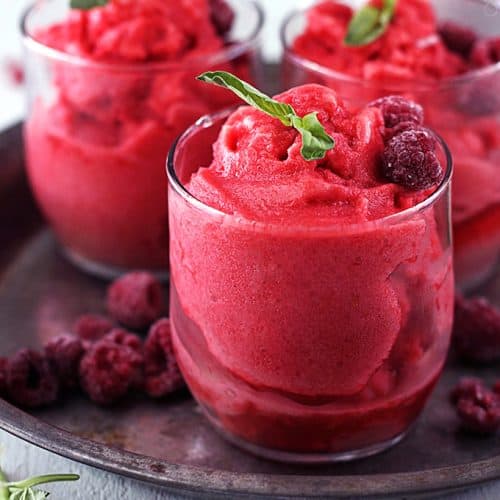 Raspberry Sorbet
Fresh raspberry sorbet in 30 minutes! A perfect frozen creamy treat for cooling down this summer!
Ingredients
~5

cups

fresh raspberries

1

cup

water

1 ½

cups

sugar

1

teaspoon

vanilla extract

1-2

tablespoons

fresh lime juice
Instructions
Add water and raspberries to a food processor. Pulse until mixture has a smooth consistency.

Place a fine mesh strainer over a large bowl. Add pureed raspberries to the strainer (1/4 at a time) and press with the back of a large spoon or a rubber spatula through the strainer to remove the seeds. Repeat with remaining raspberry puree. Discard anything left in the strainer.

Add sugar, vanilla, and lime juice to the raspberry juice in the bowl. Whisk until sugar is dissolved.

Freeze according to your ice cream maker's instructions. Serve immediately for a soft-serve dessert OR transfer to a shallow container and freeze an additional 1-2 hours for a more firm sorbet.
Notes
Store in airtight container in freezer up to 1 month. 
Nutrition
Calories:
186
kcal
,
Carbohydrates:
47
g
,
Protein:
1
g
,
Fat:
1
g
,
Saturated Fat:
1
g
,
Sodium:
3
mg
,
Potassium:
115
mg
,
Fiber:
5
g
,
Sugar:
41
g
,
Vitamin A:
25
IU
,
Vitamin C:
20
mg
,
Calcium:
20
mg
,
Iron:
1
mg
Recipe adapted from Saveur.