Refreshing sweet and tangy fresh berry lemonade popsicles for those summer heat waves! 
I'd just like to let you know that the first boating trip of the season was a major success. "Success" in this case is defined by 1) no life threatening injuries (I did cut my forearm while climbing over a fence to get to a bathroom but that hardly counts as life threatening) 2) no boat or transportation issues (a miracle in and of itself) and 3) I got in the water. That last part makes a lot of sense if you know what a baby I am when it comes to cold temperatures. I always get in, sometimes it just takes me a minute. Or 50.
Once I'm up on the wakeboard I hardly notice the cold. It's just the anticipation of entering the ice water part that kills me. Of course when someone threatens to shove you in, you suddenly get the courage to take the plunge. (The water kind. Not the marriage kind. Come on guys.)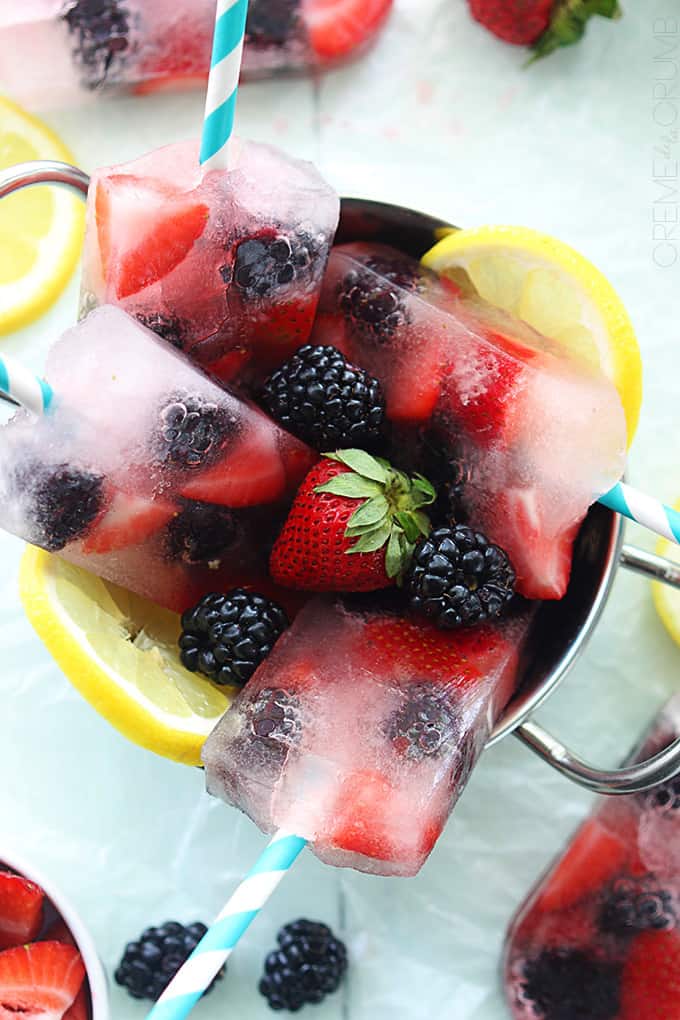 It's really a contradictory thing, my love for skiing and my dread of the cold. So I think the answer is simply to relocate. Lake Powell has 100+ air temperatures and somehow I really don't mind jumping into the water. So now the only thing standing between me and a daily ski run or two is convincing my husband to live on a houseboat with no air conditioning and the only running water is recycled from the lake. Think he'll go for it?
Yeah me neither.
Since that idea is off the table… let's just eat popsicles. Berry lemonade popsicles.. Four ingredients and five minutes will get these summer beauties into the freezer and on their way to cool refreshing goodness. Uh huh, make em.
Berry Lemonade Popsicles
Refreshing sweet and tangy fresh berry lemonade popsicles for those summer heat waves!
Ingredients
2

cups

juice

-

I love using peach or mango juice!

3

tablespoons

sugar

1

cup

fresh berries
Instructions
Whisk together water, lemon juice, and sugar. Taste and add more lemon juice or sugar to taste.

Gently stuff berries into popsicle molds. Fill the molds with the lemonade and put the handles or popsicle sticks into the molds. Freeze 4 hours or overnight.

To thaw, turn the popsicle molds sideways and run them under warm water 10-15 seconds - the popsicles should slide right out.
Notes
Make these popsicles creamy by substituting vanilla or berry yogurt for the juice!
Nutrition
Calories:
56
kcal
,
Carbohydrates:
14
g
,
Protein:
1
g
,
Fat:
1
g
,
Saturated Fat:
1
g
,
Sodium:
3
mg
,
Potassium:
73
mg
,
Fiber:
1
g
,
Sugar:
12
g
,
Vitamin A:
10
IU
,
Vitamin C:
1
mg
,
Calcium:
7
mg
,
Iron:
1
mg