This Strawberry Cobbler is SO easy to make with just a few basic pantry and fridge ingredients, strawberries, and of course ice cream for serving! The cobbler topping is so simple to make you'll impressive even yourself when you serve up this tasty dessert. 
Looking for more dessert recipes? Try this 3-ingredient Orange Yogurt Smoothie, Lemon Custard Yogurt Mini Pies, and Scotcheroo Bites.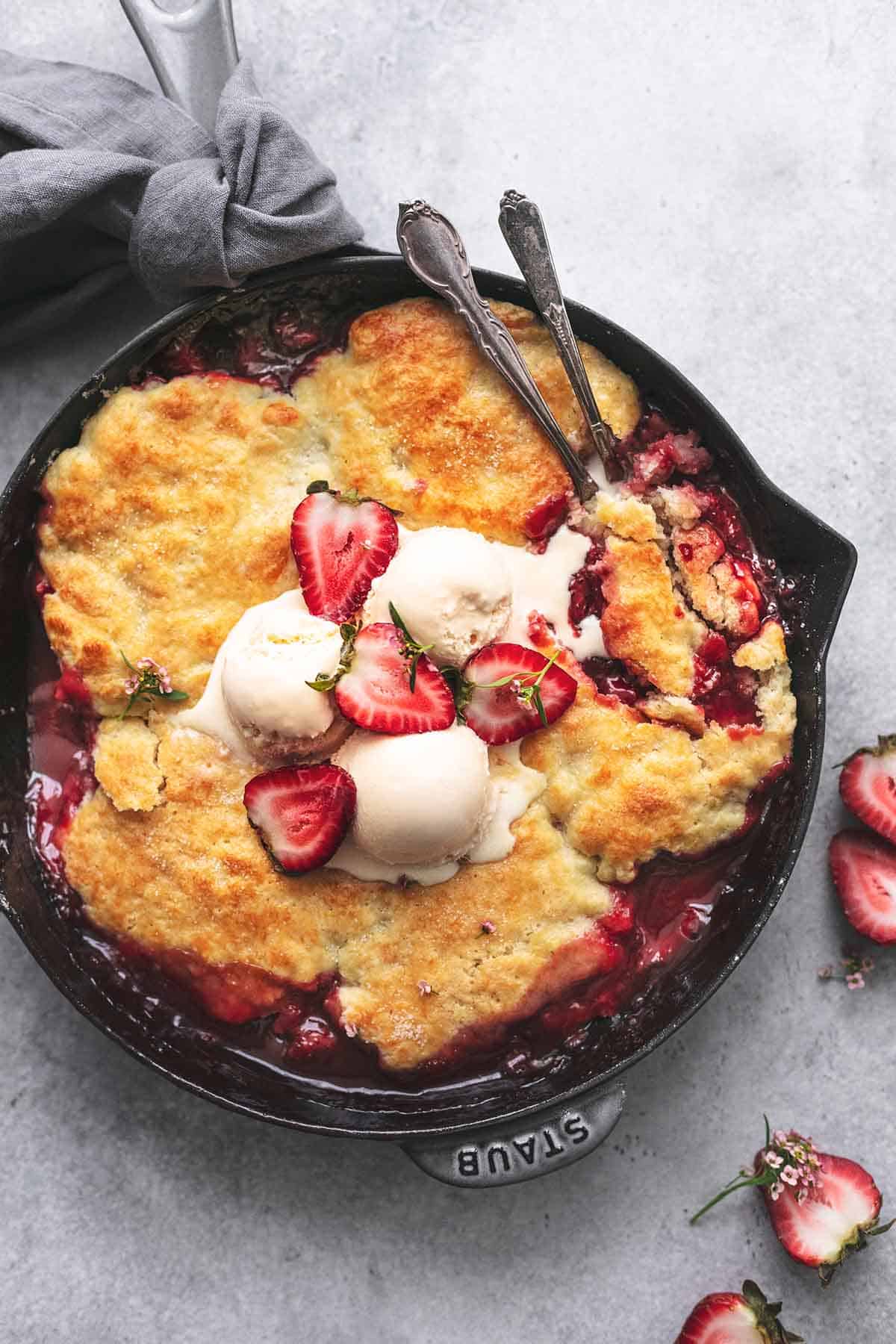 I have something very important to tell you. Are you ready to hear it? IT'S SUMMMMMMEEEERRRRRR!!!!!! Well, okay so not 100% officially, but the sun is out, the weather is warm, the flowers and plants are blooming and the pool is just about open so yeah, I'm going to go ahead and call it! 
In addition to grilling all the things, and serving yummy pasta salads and other outside-dining/picnic-y-type-foods, I also really really enjoy a nice, light, fruity, tasty dessert in the summer. Add some fruit and ice cream to that dessert and I'll pretty much skip right over dinner and onto that dessert. 
Like this cobbler recipe, for example. Let's just say I spent so much time "tasting" it as I was making it that by the time dinner rolled around I didn't really want anything. But, the good news is, by the time dessert rolled around, I again found myself hungry. Weird, right?
But in summer, all eating rules should go out the window anyway. I say make more time for sun and family and lazy days and of course, dessert!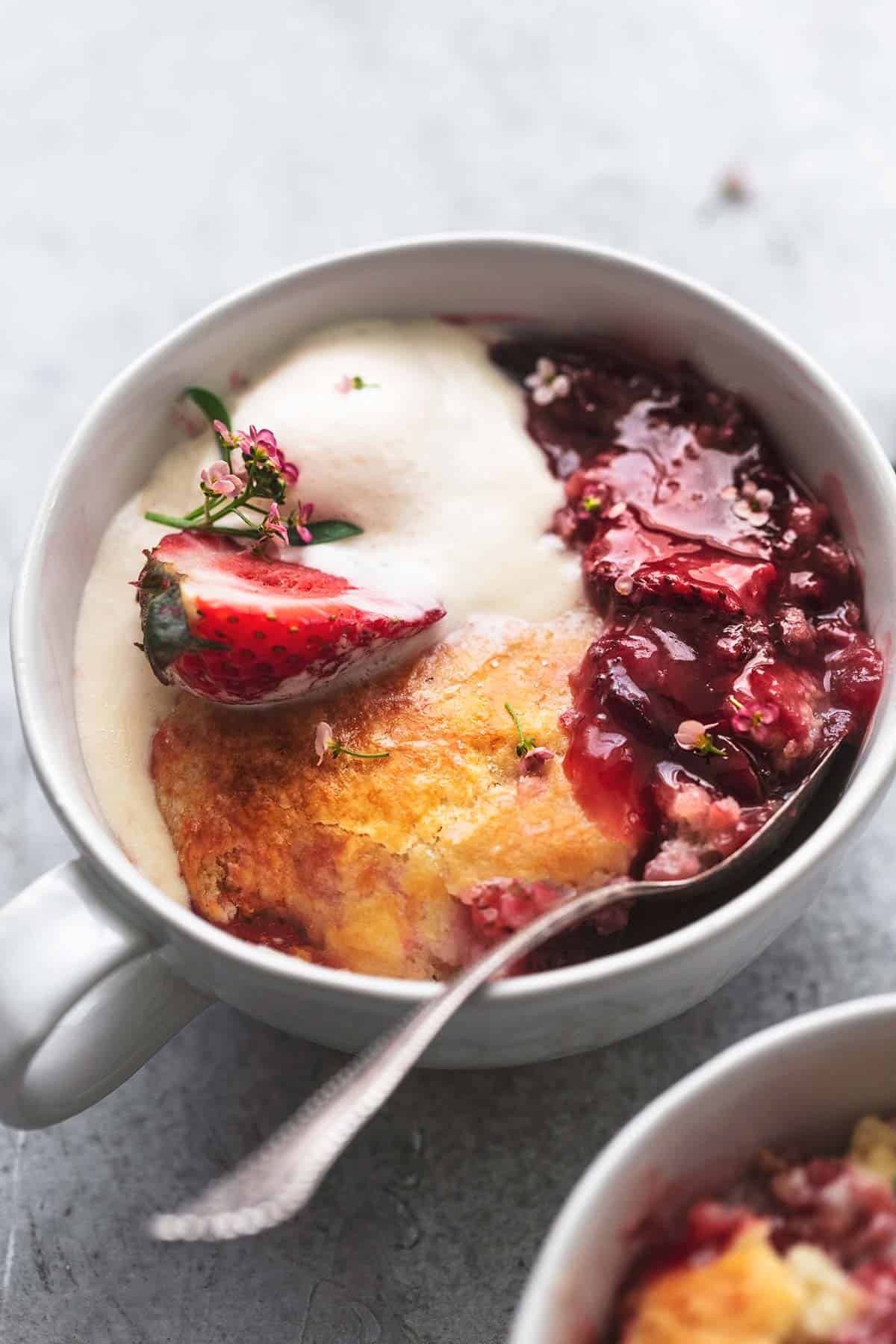 Here's How you Make it 
Although this dessert is layered more or less, don't worry too much about getting it perfect. This easy cobbler recipe is meant to be an imperfect, perfect treat.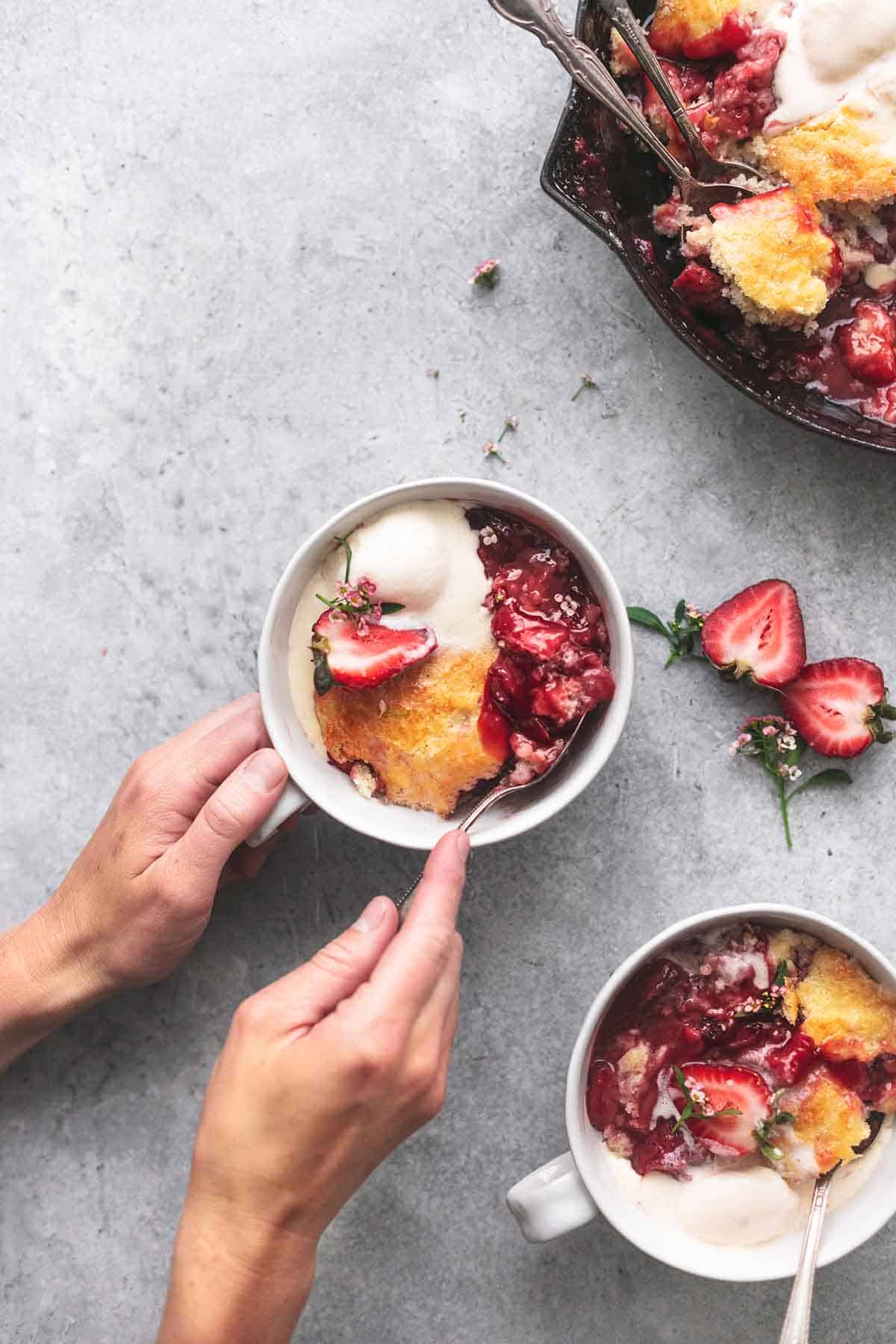 First, preheat the oven to 375 degrees, then butter a 10-inch cast-iron skillet or other baking dish.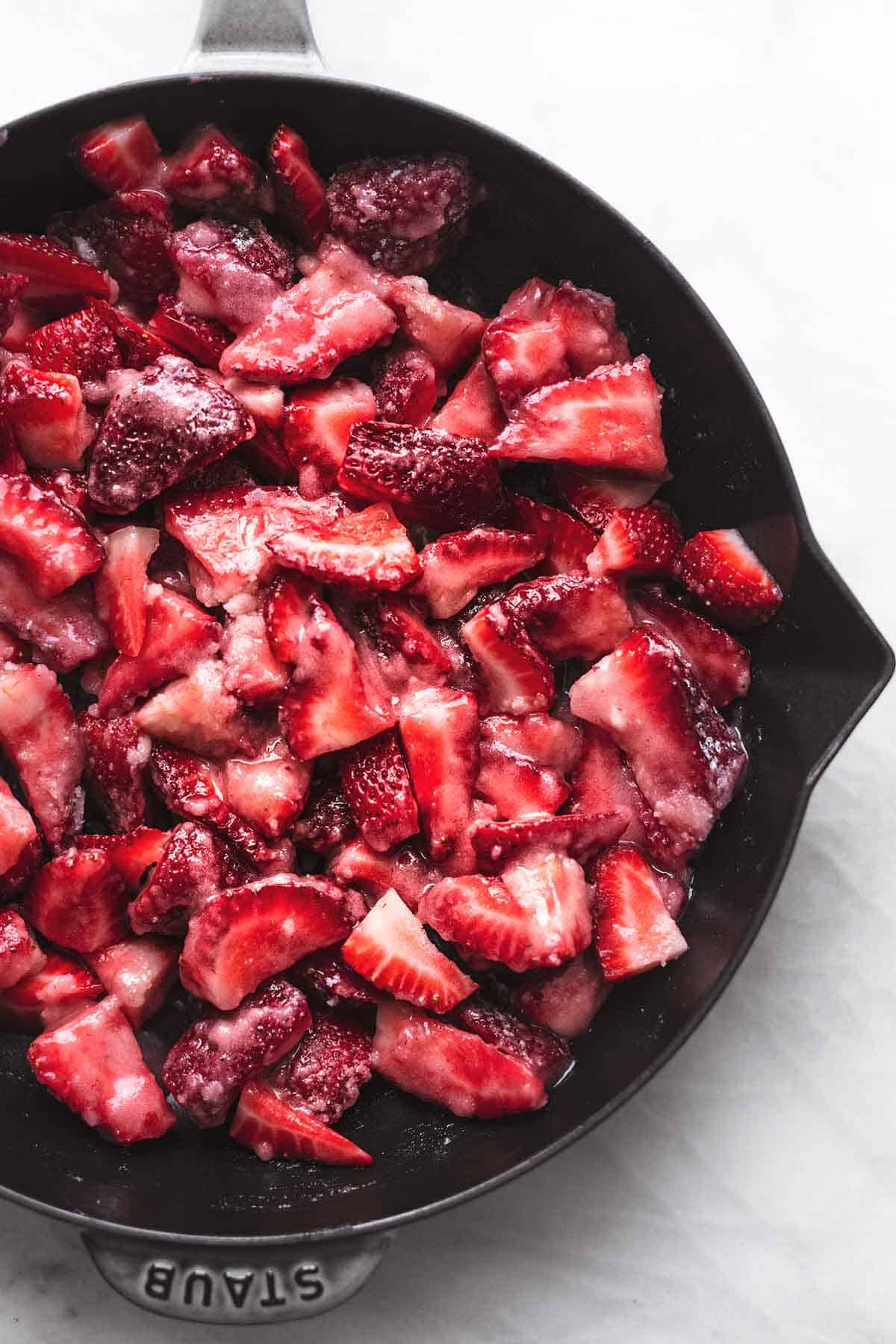 2. Next, prepare the filling by combining strawberries, sugar, lemon juice, salt, flour, and almond or vanilla extract in a large bowl. Stir it together and then pour into a skillet or prepared baking dish.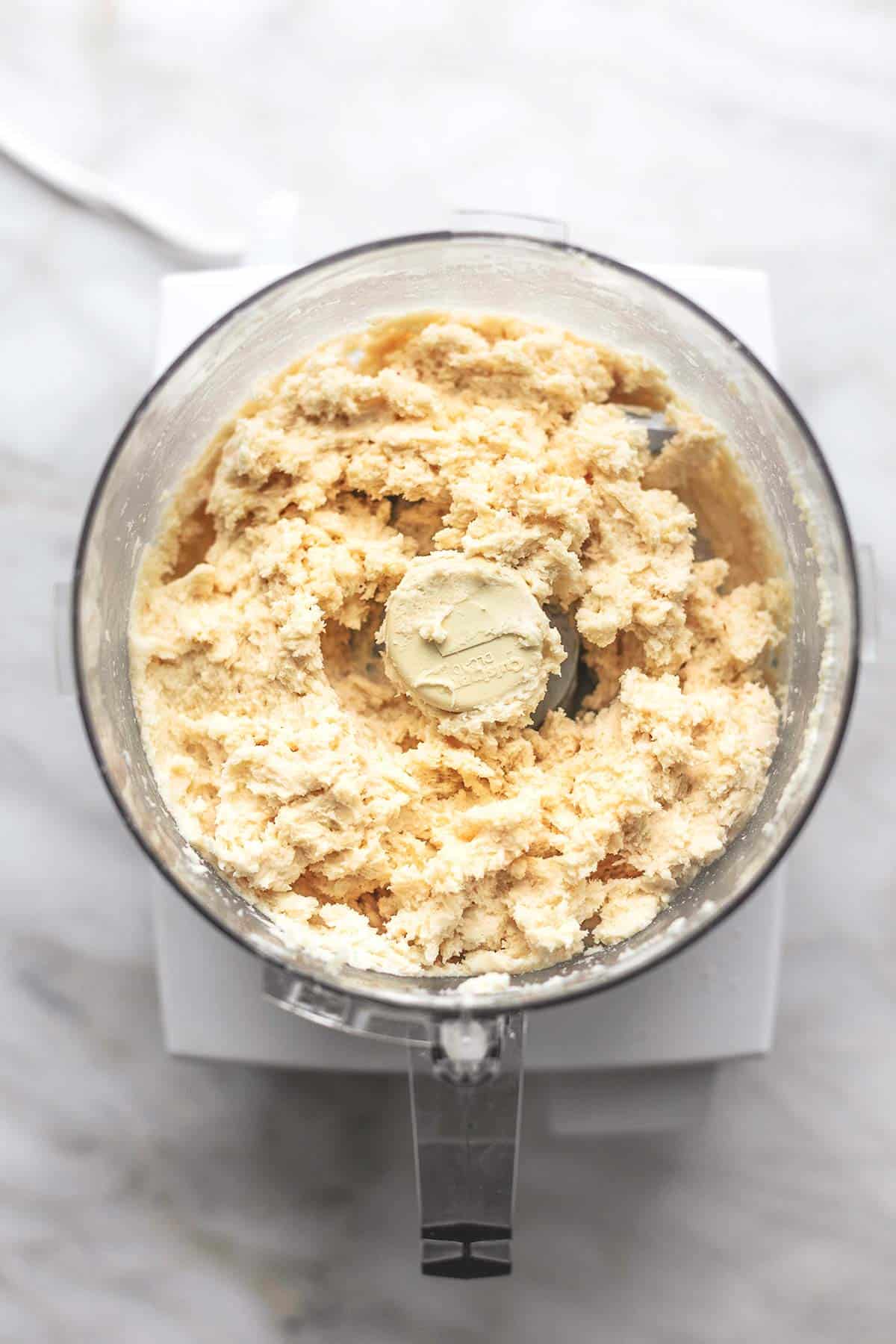 3. Get out another bowl to put together the ingredients for the Strawberry Cobbler topping. In that bowl, whisk together the rest of the flour, baking powder, and salt. Add this flour mixture to butter in a food processor and pulse until pulse until fine crumbs form. (Or you can cut the butter into the flour with two forks or a biscuit cutter.) Then, add the buttermilk or cream and pulse or stir until a soft dough begins to form.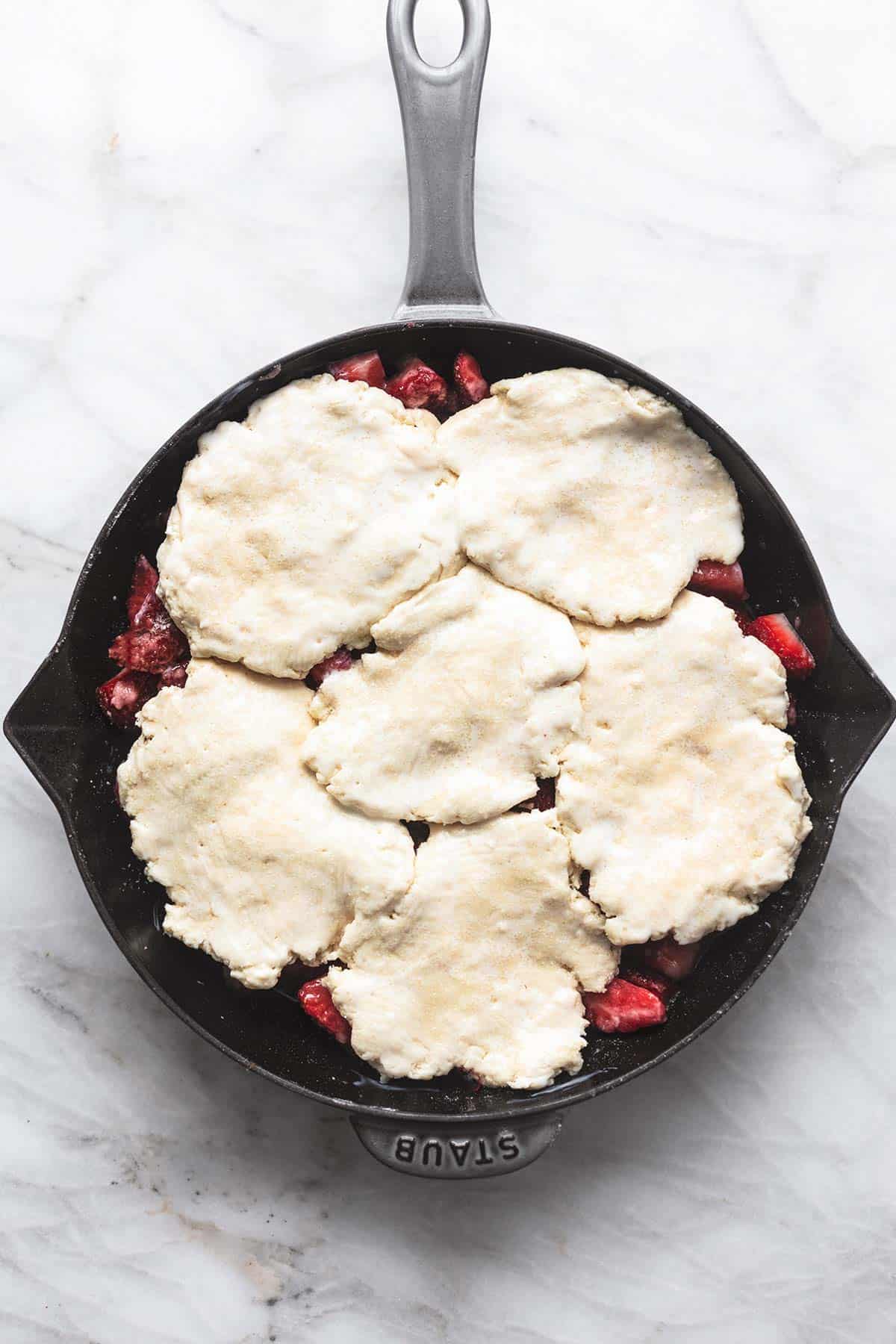 4. Now let's put the cobbler all together, shall we? Flour your hands lightly and  then pick up handfuls of dough. Roll them in your hands to about ¼ inch thickness and arrange them on top of the strawberry filling, trying to fill up the top, but they don't have to cover every spot. 
5. Brush the top with melted butter and sprinkle coarse sugar over the top. Pop the whole thing in the oven for 30-35 minutes or until the crust turns a nice, golden brown. 
6. I like to serve this Strawberry Cobbler recipe warm right out of the oven with a big scoop of vanilla ice cream right on top. That way it gets all nice and warm and starts to melt into the cobbler, making it an even ooeyer, gooeyer dessert!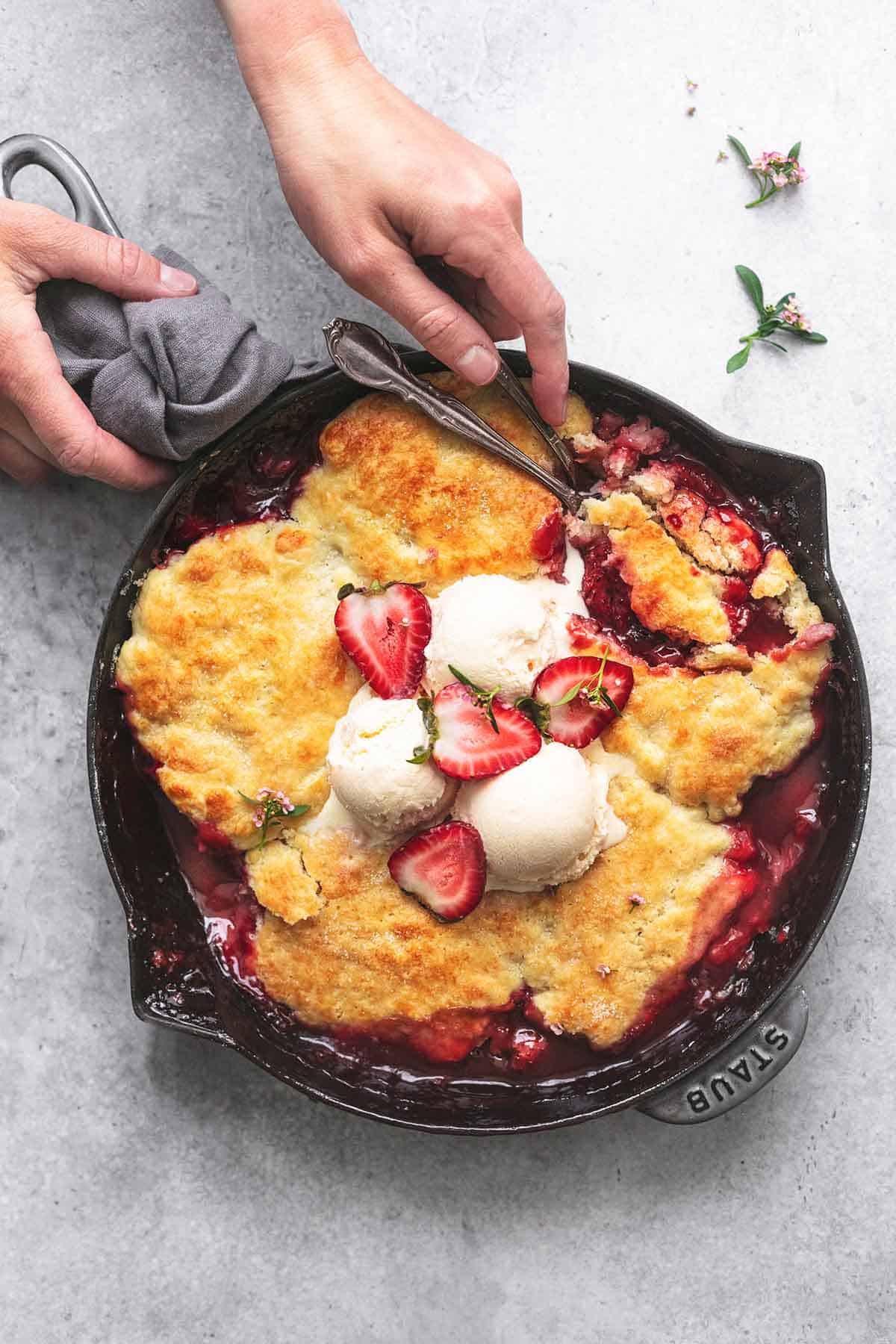 Expert Tips and Customizations
Add other berries with the strawberries. Substitute one cup (or more) of the strawberries with blueberries, blackberries, or raspberries. 

Add another fruit like peaches, pears, or apples in with the strawberries as well. 

Use a different kind of ice cream. Strawberry and peach are favorites here at my house, but my mom likes chocolate chip, and one of my nieces loves mango sorbet! There are no rules here. 

Sprinkle chopped pecans, almonds, or walnuts over the top of the ice cream for a nutty, crunchy topping. 

Add just a bit of fresh herbs to the top of the cobbler, like fresh basil, rosemary, thyme, or mint.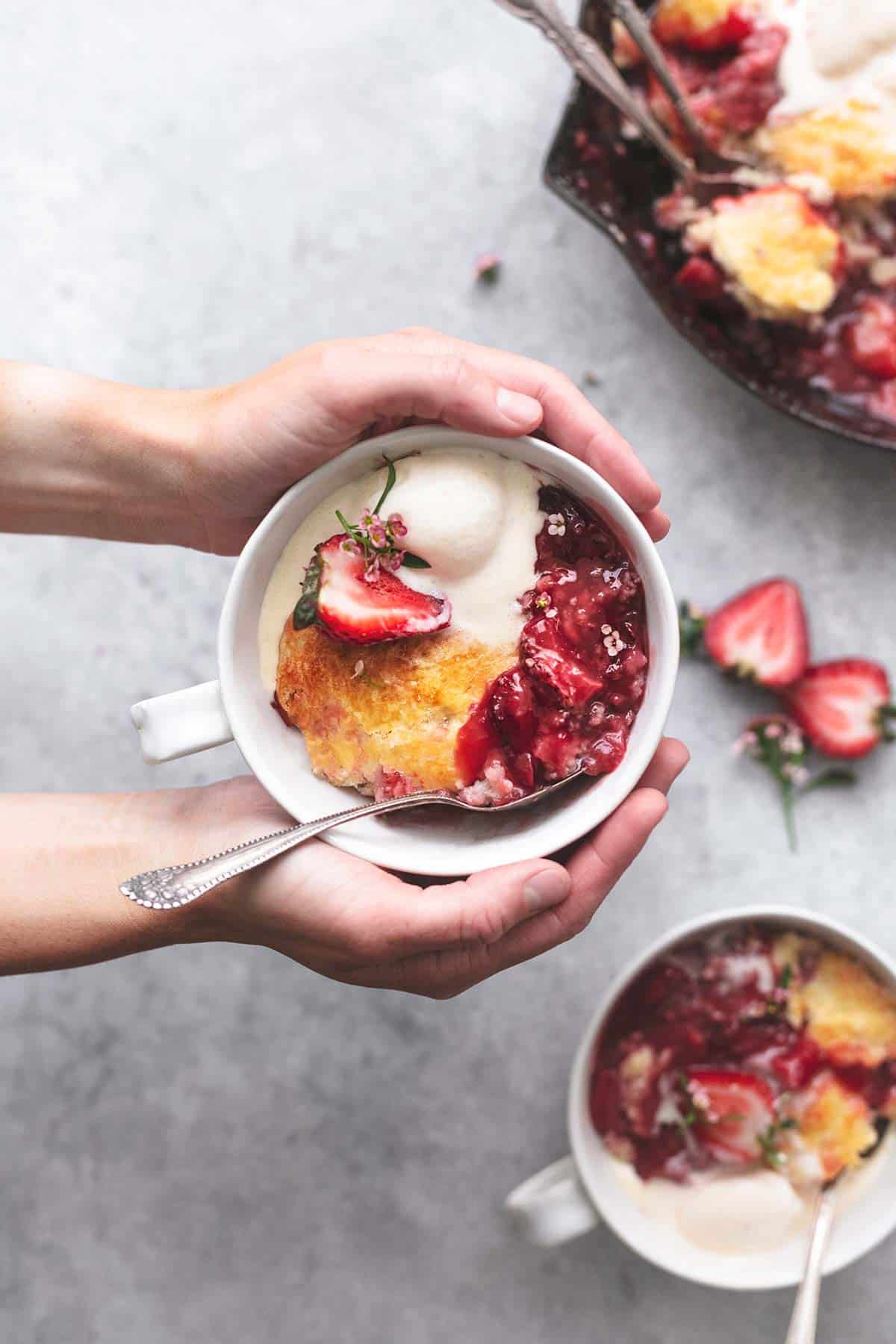 For more amazing dessert recipes, check out my popular posts for Cream Cheese Lemon Bars (the cream cheese really takes these bars over the top), Super Chewy Gooey Brownies (seriously the best you'll ever eat), and Chewy White Chocolate Cashew Cookies (sweet and salty and did I mention no chill time required?) 
Did you make this recipe? Please comment below and rate the recipe!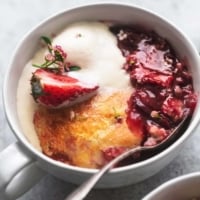 Strawberry Cobbler
Delicious Strawberry Cobbler just in time for using up all those ripe summer strawberries available right now! So easy to make with just a few pantry and fridge ingredients, strawberries, and of course ice cream for serving! 
Ingredients
for the strawberry filling
4

cups

sliced strawberries

⅔

cups

sugar

2

teaspoons

fresh-squeezed lemon juice

2

tablespoons

flour

½

teaspoon

almond extract

-

or vanilla extract

pinch of salt
for the cobbler topping
1 ½

cups

flour

1

tablespoon

baking powder

½

teaspoon

salt

10

tablespoons

cold butter

-

diced

½

cup

buttermilk

-

or heavy cream

2

tablespoons

melted butter

-

or buttermilk

¼

cup

coarse sugar

-

or regular granulated sugar

vanilla ice cream for serving
Instructions
Preheat oven to 375 degrees. Butter a 10-inch cast-iron skillet or baking dish.
prepare the filling
In a large bowl combine strawberries, sugar, lemon juice, flour, almond (or vanilla) extract, and salt. Stir together. Transfer to prepared baking dish or skillet.
prepare the cobbler topping
Whisk together flour, baking powder, and salt.

Combine flour mixture and butter and pulse in a food processor (or cut using forks or a pastry cutter) until fine crumbs form.

Add buttermilk (or cream) and pulse (or stir) until a soft dough forms.
put it together
Using floured hands, gently pat handfuls of dough to 1/4 inch thickness and arrange on top of the strawberry filling.

Brush with melted butter and sprinkle coarse sugar on top.

Bake in preheated oven for 30-35 minutes until crust is golden brown. Serve warm with vanilla ice cream.
Notes
Brushing the dough with a little buttermilk or melted butter before it goes into the oven helps to achieve that nice golden crust. You can also sprinkle some sugar on top for a tiny crunch (and it looks so pretty), if I have coarse sugar on hand I prefer to use that but regular granulated/white sugar works too. 
Serve with a generous scoop of vanilla ice cream. If I have strawberry sauce or strawberry jam, I like to add a little drizzle on top of the ice cream to really take it to the next level. Whipped cream is also a great topping for this cobbler! 
The strawberries can easily be substituted or supplemented with other berries like blackberries, blueberries, or raspberries. Or if you're really feeling extra, do a combination of all! 
Nutrition
Calories:
342
kcal
,
Carbohydrates:
43
g
,
Protein:
4
g
,
Fat:
18
g
,
Saturated Fat:
4
g
,
Cholesterol:
2
mg
,
Sodium:
520
mg
,
Potassium:
163
mg
,
Fiber:
2
g
,
Sugar:
21
g
,
Vitamin A:
785
IU
,
Vitamin C:
43
mg
,
Calcium:
126
mg
,
Iron:
2
mg