Can't decide between peach cobbler and peach crisp? This Blueberry Peach Cobbler Crisp is the perfect combination to satisfy your peach craving this season. 
Did I tell you about my freak accident?
Lately we've been hearing in the news that a lot of accidents have been caused lately by debris in the road.
Well now I'm a witness. Thankfully my incident wasn't too awful and didn't cause any injuries or serious damage. But it was freaky.
Last week I was driving on the freeway, next to the car pool lane. There I was, belting loudly (and slightly off key I'm sure) the lyrics of Wagon Wheel right alongside Darius Rucker, when this freak thing happened.
There was a big black object in the road ahead but I only caught a glimpse of it before the car in front of me ran right over it.
It wasn't until it flipped up in the air and was flying toward my windshield that I realized what it was.
A popped tire.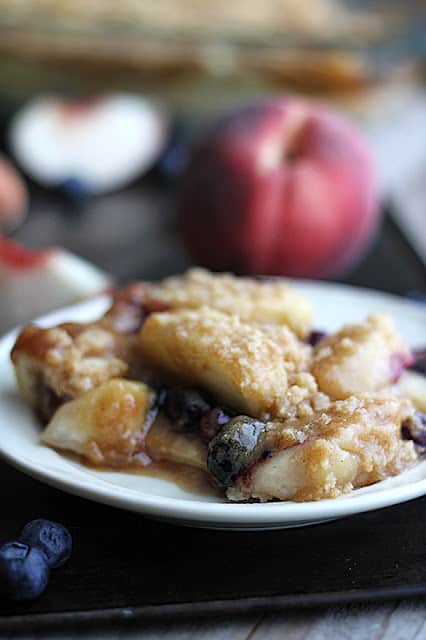 Thinking that I didn't want it to come through the window at me, I swerved enough for it to miss the windshield. Instead, it hit my driver's side view mirror. The mirror bent into the car and shattered my driver's door window.
I'd heard of safety glass and how they say it breaks up into little pieces but woah. Glass was everywhere! 
I'm still astounded that I have my eyesight because I never blinked. I remember seeing the entire thing happen and I swear, I never closed my eyes. Yet I had little glass splinters all up and down my arms and in my face.
No blood. It just stung a little. And it took me about a million years to get all of those splinters out.
It was a little bit crazy. But I'm okay and the window has been replaced and we're just waiting on the new mirror to come.
Oh, did I mention that it happened to the car we just bought the week before? The new/old twinner car? Yeah, funny how that works. But hey, it could have been so much worse. So I'm not complaining.
But enough of that, lets talk about this cobbler-crisp. Because obviously it needs some explaining.
See, the Husband had been out of town all week and was leaving again this week, so I thought I'd ask him what I should make for dessert to take to our Sunday family get together. He said a cobbler. Or a crisp.
Well which one? Either.
Great. That really helps my innate indecisiveness. Thank you.
I went back and forth for a day about it but in the end I did what I usually do. I decided on both. But rather than make a cobbler and a crisp, I took the best of each and mashed them into one incredible, genius, amazingly delicious cobbler-crisp.
The best part of a cobbler is the crust right? And the best part of a crisp is the topping.
Bingo. As soon as I put it together in my head, I knew it was going to be dessert magic.
And it was. Oh it was totally magic.
The blueberries and peaches were a fantastic combination, I'm so glad I did both. Plus I fall in love with blueberries over and over every time I see that gorgeous deep purple. Ahhhhh, so pretty.
I'm kicking myself for forgetting to grab the ice cream for these pictures because that's how it really should be eaten and it was soooo darn good with a big scoop of cold vanilla ice cream right on top. And then drizzled with this vanilla maple cream sauce. Mmmmm…. can't get enough.
You can serve the sauce warm or cold, your choice. I tasted it both ways and loved it. But the cobbler-crisp should really be hot unless you have a thing for cold cobblers. And the ice cream, well, it probably needs to be cold. Unless you want ice cream soup.
Which is totally up to you.
I really don't care as long as you just make this and come back and tell me that your life has been changed forever. Because really, a cobbler-crisp? Come on people. That is life changing.
Blueberry Peach Cobbler Crisp with Vanilla Maple Cream Sauce
Can't decide between peach cobbler and peach crisp? This Blueberry Peach Cobbler Crisp is the perfect combination to satisfy your peach craving this season.
Ingredients
Crust
2

cups

flour

¼

cup

sugar

¼

teaspoon

salt

6

tablespoons

butter

-

chilled

6

tablespoons

milk
Filling
6

peaches

-

yellow or white

2

tablespoons

maple syrup

3

tablespoons

flour

¼

cup

sugar

¼

cup

brown sugar

½

teaspoon

cinnamon

1

teaspoon

vanilla

1 ½

cups

blueberries
Topping
1

cup

flour

½

cup

brown sugar

½

cup

sugar

½

teaspoon

cinnamon

¼

teaspoon

salt

6

tablespoons

butter

-

chilled
Sauce
1 ½

cups

half and half

-

OR heavy cream

⅓

cup

maple syrup

3

tablespoons

corn syrup

1

teaspoon

vanilla

3

tablespoons

sweetened condensed milk
Instructions
Crust
Preheat oven to 375 degrees. In a large bowl, combine flour, sugar, and salt. Add butter and cut with a pastry knife or fork until mixture resembles coarse meal. Add milk and mix until incorporated. Place dough between 2 pieces of plastic wrap and use a rolling pin to roll into an 11x15 inch rectangle. Press dough into the bottom of a 9x13 baking dish and set aside.
Filling
Peel and slice peaches into wedges. Add peach, maple syrup, sugars, cinnamon, and vanilla to a large bowl and stir to combine well. Mix in flour. Gently stir in blueberries. Spread filling evenly on top of crust.
Topping
In a large bowl, combine flour and sugars and mix well. Stir in cinnamon and salt. Add chilled butter and use a pastry cutter or fork to mash until fine crumbs form. Sprinkle topping over filling. Cover with foil and bake about 40 minutes or until crust begins to brown slightly. Remove and allow to cool slightly before serving.
Sauce
Combine all ingredients in a saucepan and bring to a boil over medium heat; whisking continuously . Reduce heat and allow to simmer about 15 minutes. Drizzle sauce over cobbler-crisp while still hot (can also be chilled if preferred.) Serve cobbler with vanilla ice cream if desired.
Notes
Flavor tip: add a sprinkle of sea salt flakes on top just before serving. 
Nutrition
Calories:
397
kcal
,
Carbohydrates:
83
g
,
Protein:
6
g
,
Fat:
5
g
,
Saturated Fat:
3
g
,
Cholesterol:
15
mg
,
Sodium:
144
mg
,
Potassium:
328
mg
,
Fiber:
3
g
,
Sugar:
54
g
,
Vitamin A:
412
IU
,
Vitamin C:
7
mg
,
Calcium:
110
mg
,
Iron:
2
mg