Ooey gooey fudge sauce with moist and chewy chocolate brownie top this Chocolate Cobbler! Serve with ice cream for the ultimate treat!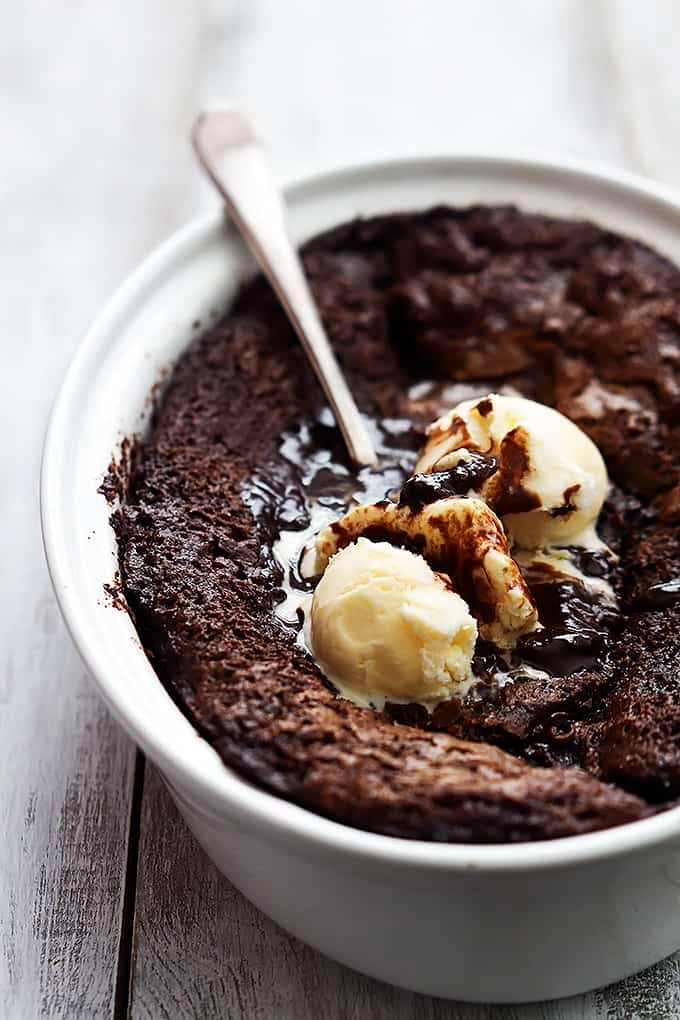 Today I'm suffering a bad case of cruise nostalgia.
You might remember that instead of giving each other presents to open this year, we went on a cruise right before Christmas. It. was. awesome. That was my second cruise – the hubbs has been on many more – and both of the cruises we've taken together have been on the same cruise line. Each night in the dining room they have different dinner and dessert options but there are a couple of things that are so popular they are available every day. One of those is my husband's favorite dessert on the planet: a little something called "warm chocolate melting cake".
Warm chocolate melting cake is a lot like "lava cake" but my husband swears it's not the same thing. That being said… the idea is basically the same. In warm chocolate melting cake, the top half if moist chocolate cake/brownie stuff and the bottom half is ooey gooey fudgy chocolate sauce. Basically a chocolate-lover's personal paradise.
We ordered warm chocolate melting cake every single night on the cruise with two, not one, scoops of ice cream. It's FREAKING AMAZING.
And yeah, you guessed it… this chocolate cobbler tastes like warm chocolate melting cake. If you are a chocolate lover and you fancy the whole warm-cold combo that you get with certain desserts like cobblers, you need to make this cobbler. pronto.
like…. yesterday.
What people are saying about this Chocolate Cobbler
"I'm not gonna lie, when I made this the other week, I spent all day thinking about it, waiting to get home so I could have another delicious piece! It's dangerous how easy this is, and how many of the ingredients I keep on hand!" – Kelly 
Chocolate Cobbler
Ooey gooey fudge sauce with moist and chewy chocolate brownie on top! Top it with ice cream for the ultimate treat!
Ingredients
3/4

cup

sugar

1

cup

flour

1/3

cup

cocoa powder

2

teaspoon

baking powder

1/2

teaspoon

salt

1/2

cup

milk

6

tablespoons

butter,

melted
Top Layer
3/4

cup

sugar

1/4

cup

brown sugar

1/4

cup

cocoa powder

1/4

teaspoon

salt

1 1/4

cups

boiling water

1

teaspoon

vanilla extract

(or 1/2 teaspoon vanilla + 1/2 teaspoon almond extract)

optional: ice cream
Instructions
Preheat oven to 350 degrees and grease a 2-quart casserole or baking dish.

First prepare the base. In a medium bowl combine sugar, flour, cocoa powder, baking powder, and salt - whisk well. In another bowl (or liquid measuring cup) whisk milk and melted butter. Add wet ingredients and mix until combined. (A few small lumps are okay) Spread mixture in the bottom of prepared dish.

Next prepare the top layer. In a small bowl whisk together sugar, brown sugar, cocoa powder, and salt. Sprinkle mixture on top of your base in the baking dish. Stir vanilla into hot water. Slowly pour water over the sugar mixture.

Bake for 30-45 minutes until the middle is mostly set. (Just give it a little shake - if it still moves a lot in the middle, it's not quite ready) Serve warm with ice cream.
Recipe slightly adapted from South Your Mouth.