This simple 7UP apple cobbler is made with refrigerated crescent dough and a cinnamon sugar and 7UP caramel sauce that is completely scrumptious.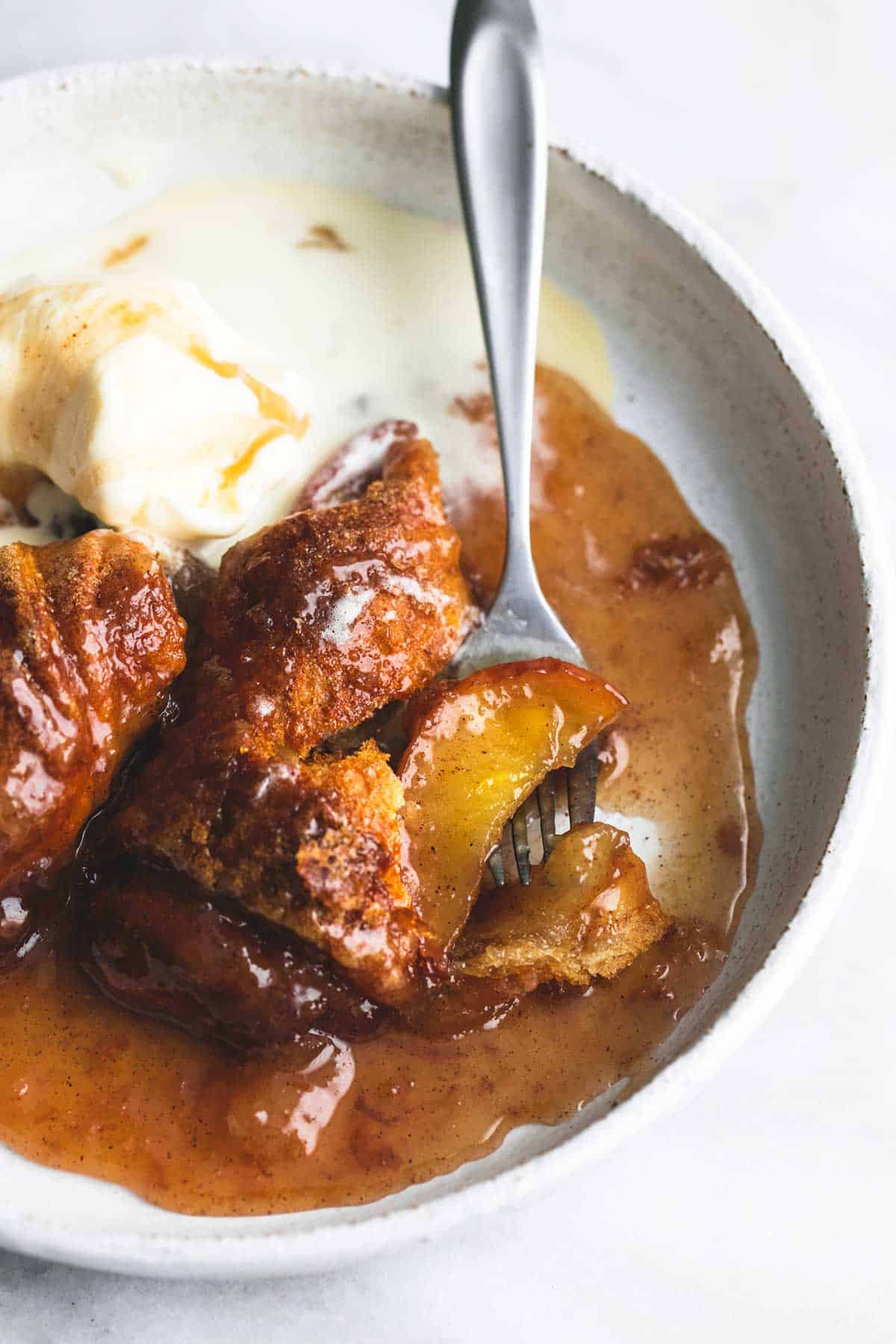 Let me just get this out there before anyone has a hissy fit – this is not a traditional apple cobbler. Okay good, now that that's out of the way, let's talk about how this non-traditional cobbler is just as delicious as your grandmother's famous cobbler, maybe even better (did she just say that?? YES) and easier too. Also we should discuss why 7UP is involved and why it's not weird. Or maybe it is weird, but only in the yummiest way possible.
The inspiration behind this quirky dessert is my mother's peach cobbler. She makes it with crescent dough and 7UP and serves it with ice cream. It is SO good.
So I gave her a call this week and she gave me the gist of the recipe over the phone, which I then used as the groundwork for this life changing 7UP apple cobbler.
So where does the 7UP come into play? In that decadent sugary caramel sauce goodness. All you do is whisk together sugar, cinnamon, vanilla, and 7UP soda and pour it over your apple rollups.
I promise it does not make the crescent dough soggy. It just makes it one thousand times more delicious. After 15-20 minutes in the over, that weird soda concoction turns into a rich caramel-y sauce. Kind of magical right??
Personally I like this version way better than a traditional cobbler. In my experience cobblers often have a dry, tasteless crust and that is not the case at all with this cobbler. It is flaky, soft, flavorful, and segmented into little individual pillows of apple-cinnamon-filled cobbler happiness.
Not one bite will be leftover when you serve this easy and decadent dessert!
7UP Apple Cobbler
Author:
Prep time:
Cook time:
Total time:
Ingredients
2 medium apples, cored and sliced
1/3 cup brown sugar
4 tablespoons butter
2 teaspoons cinnamon, divided
1 package refrigerated crescent dough (8-pack)
1 1/2 cups sugar
1/2 cup 7UP soda
1 teaspoon vanilla extract
vanilla ice cream for serving
Instructions
Preheat oven to 400 degrees and grease a medium size baking dish/casserole dish.
Combine apple slices, butter, 1 teaspoon cinnamon, and brown sugar in a large pan or skillet. Saute over medium heat for 5-7 minutes until sauce is bubbly and apples are fork-tender.
Arrange crescents on a clean flat surface. Spoon about 2 slices of apples and sauce onto the wide end of the crescent triangle. Tightly roll up crescent starting with the wide end and finishing at the opposite, pointed end. Place in prepared baking dish.
In a medium bowl stir together sugar, vanilla, remaining 1 teaspoon cinnamon, and 7UP soda. Pour mixture over crescent roll ups.
Bake, uncovered, for 15-20 minutes until browned and sauce is bubbly and dark. Spoon some of the sauce from the bottom of the dish over the top of the crescents. Serve warm with vanilla ice cream.
Notes
This recipe can easily be doubled, just use a 9×13 inch pan.
If you like this 7UP Apple Cobbler, you'll love…