A fruity chilled Strawberry Poppyseed Cake made from a box with cream cheese whipped topping, and strawberry sauce!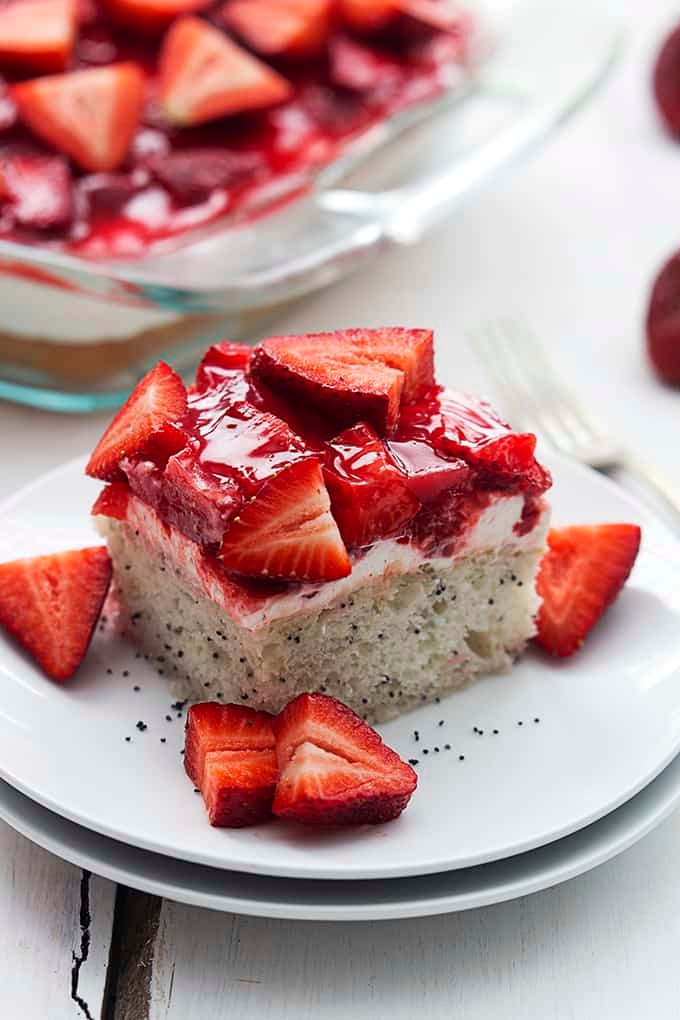 How was your Easter?? Filled with hammy-potato-y-deviled eggy things I hope. We spent half of the day with my family and half with my in laws so a lot of food was eaten and I may or may not be suffering from a food hangover today.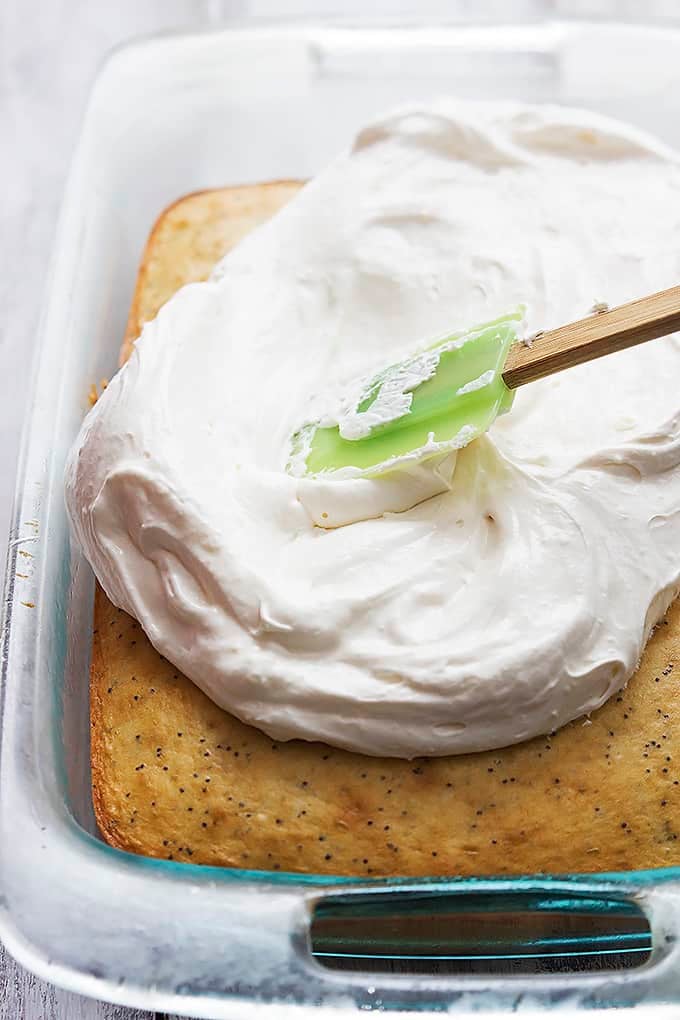 But not so badly that I can resist talking about delicious strawberry poppyseed cakes.
A couple of weeks ago we had Sunday dinner over at my folks' house. My mother made this strawberry poppyseed cake for dessert and everybody loved it. At least I assume they did – I didn't exactly see their reactions because my face was buried in my own ginormous plate of the stuff and I was more than a little preoccupied with downing it as quickly as I could.
No but really. They did. And I did. Because it is SO yummy.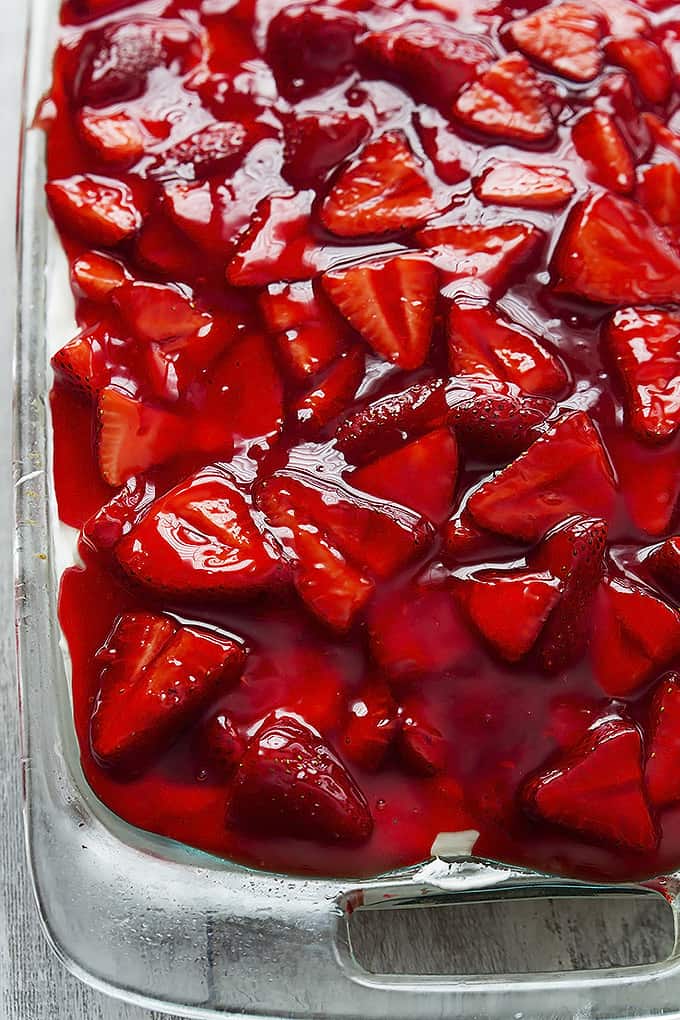 So yummy that I knew the instant I took the first bite that you would love this dessert as much as I do. I planned on making it for the blog right away. Last week I made it but spaced the poppy seeds (I know, embarrassing) and it was delicious but I just couldn't share the recipe with you without the poppy seeds. They're important!
So the cake you're seeing in these pictures is round 3 of this cake within 2 weeks. I'm not sorry about that – it's SO delicious and crazy crazy EASY. I already have the entire recipe memorized. Make it! You're gonna love it.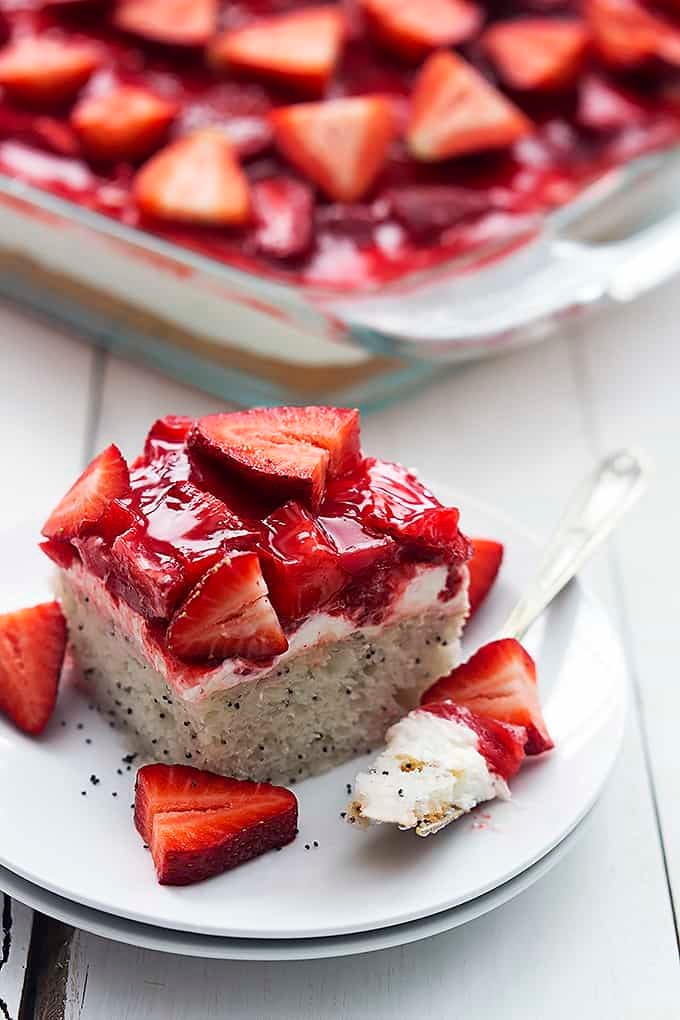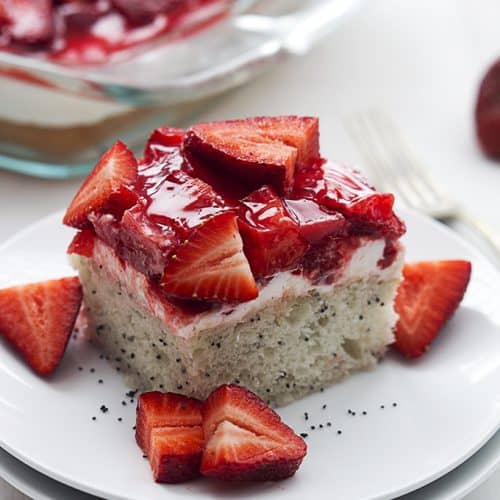 Strawberry Poppyseed Cake
A fruity chilled dessert with poppyseed cake, cream cheese whipped topping, and strawberry sauce!
Ingredients
1

box

white cake mix

2

tablespoons

poppy seeds

8

ounces

cream cheese

-

softened

8

ounces

cool whip topping

2

cups

powdered sugar

1

box

strawberry danish dessert

-

(found near the jello and pudding items)

1 ¾

cups

cold water

2

pounds

strawberries

-

hulled and sliced
Instructions
Follow instructions on the cake mix box to prepare the cake in a 9x13 inch pan. Discard 1/2 cup of the prepared batter (you could use this to make 3-4 small cupcakes) and stir poppy seeds into the remaining batter. Bake according to box directions (take it out a few minutes early because there is slightly less batter). Allow cake to cool.

Whisk together cold water and strawberry danish mix. In a medium sauce pan bring mixture to a boil. Boil, whisking constantly, for one minute. Remove from heat and stir strawberries into the mixture. Allow to cool.

While danish mixture and cake are cooling, prepare the whipped cream layer. In a larger bowl mix cream cheese, whipped topping, and powdered sugar together until smooth and fluffy.

Spread whipped topping over cake. Spread strawberry mixture over whipped cream layer. Chill at least 1-2 hours before serving.
Notes
*Recipe prep/cooking time does not include chilling time.
Nutrition
Calories:
217
kcal
,
Carbohydrates:
31
g
,
Protein:
2
g
,
Fat:
10
g
,
Saturated Fat:
6
g
,
Cholesterol:
21
mg
,
Sodium:
76
mg
,
Potassium:
172
mg
,
Fiber:
2
g
,
Sugar:
28
g
,
Vitamin A:
277
IU
,
Vitamin C:
44
mg
,
Calcium:
66
mg
,
Iron:
1
mg