Buttery shortbread crust layered with thick, chewy, rich caramel and topped with sea salt for irresistible flavor!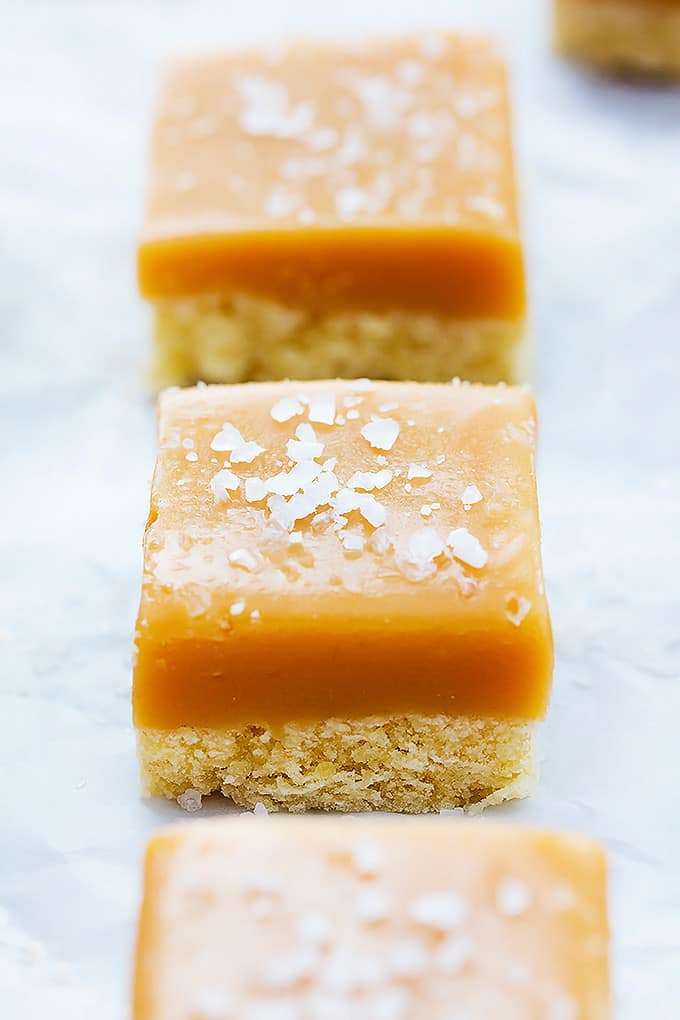 I may or may not be writing this as I sit on the couch watching a Winnie the Pooh Christmas cartoon. I think I saw it once or twice before when I was probably seven years old because it's all coming back to me. But it's keeping my 8 week old babies entertained and let's be honest, I'm not entirely hating it. It's okay to be a little childish around the holidays. Right?
Christmas cartoons on Netflix are where it's at this week as I'm doing everything I can to make this home away from home a little more Christmas-y.  We won't be home for a few more days and I'm dying to deck out our Christmas tree and hang the stockings. Speaking of stockings it only took me about seventeen hours spread out over 6 days to pick out Christmas stockings. I wanted a matching set for all four of us – FOUR stockings this year! – and online shopping overwhelms me.
Also? Pinterest does not help. The search for gray stockings eventually gave way to settling for some off-white ones. Still though, I'm pretty excited to get home and open a package on our doorstep.
But before we left to come down to St George for two weeks, I made this salted caramel shortbread and oh my heavens to betsy. I planned to give most of it away because who needs a whole batch of salted caramel shortbread to themselves right?
Me. Apparently I need a whole batch of salted caramel shortbread to myself.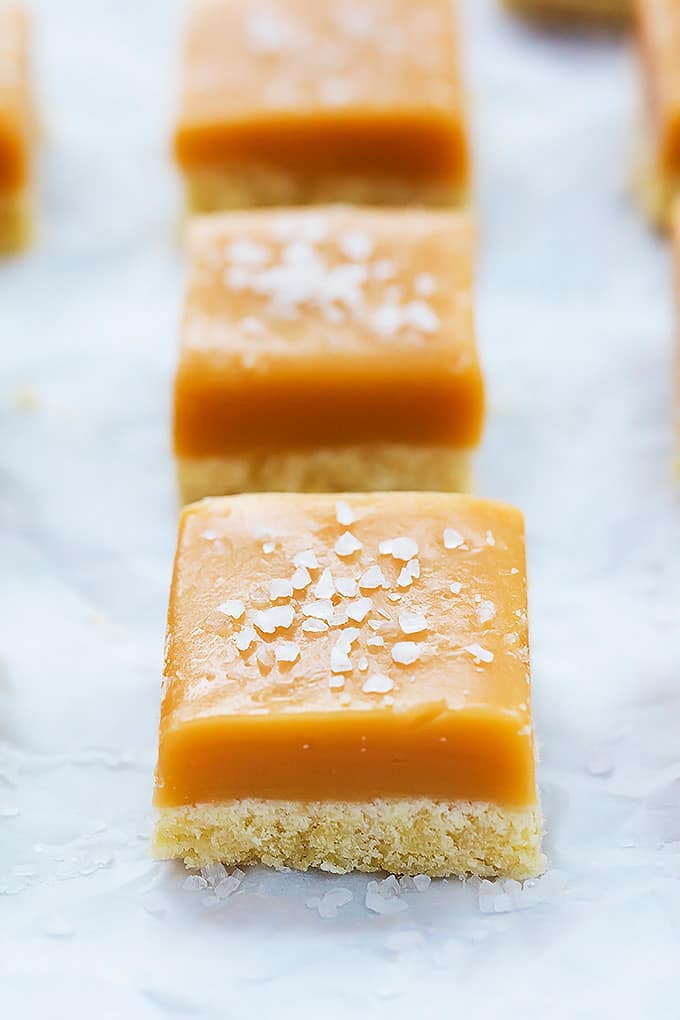 It started with Oh I'll just have one or two and quickly turned into oh my gosh half the batch is gone. I couldn't help myself. That rich, chewy caramel. That buttery shortbread. That sweet-n-salty flavor combo that I adore so much.
Merry Christmas to ME.
But I'll make another batch when we get home to give away. Make that two batches. One to give away, and one to devour guilt-free.
Salted Caramel Shortbread
Buttery shortbread crust layered with thick, chewy, rich caramel and topped with sea salt!
Ingredients
¼

cup

granulated sugar

½

cup

butter

1 ¼

cups

flour

1

tablespoon

milk
Caramel
¾

cup

butter

½

cup

granulated sugar

3

tablespoons

light corn syrup

1

14-ounce can

sweetened condensed milk

1

tablespoon

coarse sea salt
Instructions
Preheat oven to 350 and line an 8x8 inch pan with parchment paper or lightly greased nonstick foil.

First prepare the shortbread crust. In a medium bowl combine the sugar and butter and cream together until smooth. Add flour and mix. Stir in milk. Mixture will resemble crumbs. Press into the pre-lined pan and bake 20 minutes until golden. Remove and allow to cool.

While crust is cooling, prepare the caramel layer.

In a medium sauce pan melt 1 1/2 sticks of butter with 1/2 cup sugar. Add corn syrup and condensed milk. (Continue to stir throughout the entire process) Bring to a rapid boil over medium-high heat, and then decrease to medium heat (should still be bubbling) 6-8 minutes or until mixture achieves deep golden color, stirring constantly. (I recommend a whisk! - see note)

Pour caramel onto cooled shortbread, sprinkle immediately with coarse sea salt. Allow to sit at room temperature 1-2 hours or until caramel has cooled and set. I have had success with placing in the fridge to cool to speed up the process. Cut into squares and serve or store chilled in airtight container.
Notes
If your caramel starts to separate (the butter pools on top of the caramel in the pan), remove from heat and whisk whisk whisk like crazy til it comes back together. Then return to heat and continue to whisk until golden color is achieved.
Prep time does not include cooling time.
Nutrition
Calories:
192
kcal
,
Carbohydrates:
42
g
,
Protein:
3
g
,
Fat:
2
g
,
Saturated Fat:
1
g
,
Cholesterol:
4
mg
,
Sodium:
918
mg
,
Potassium:
75
mg
,
Fiber:
1
g
,
Sugar:
27
g
,
Vitamin A:
65
IU
,
Vitamin C:
1
mg
,
Calcium:
50
mg
,
Iron:
1
mg