Easy 4-ingredient salted chocolate cups filled with ooey gooey caramel!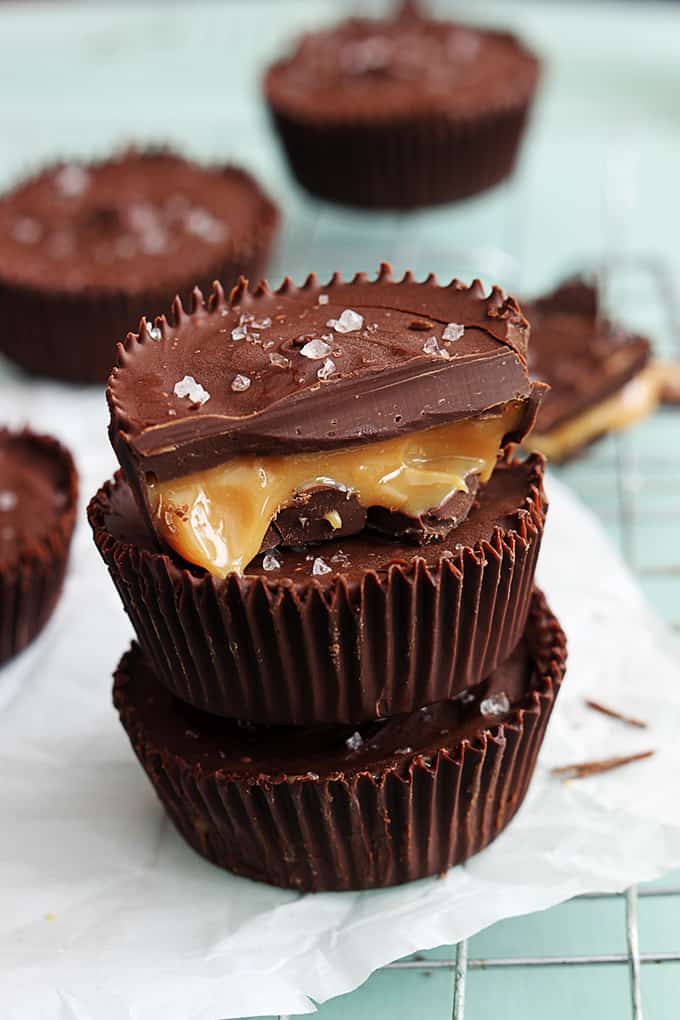 This is one of those times I'm praising heaven for good internet service. Not because I am currently basking in it, because I'm actually not. I'm sitting in the front lobby of a little motel-hotel (it's somewhere in the middle) in Williamsburg Virginia barely managing to connect to cyberspace, because although this motel-hotel supposedly has free wi-fi, it's quite lacking in the actually guest rooms. In fact, all of the cell service here seems to have vanished into thin air as far as the rooms are concerned. No bars. Can you believe that? I thought that only happened when we went camping. But here I am sitting on a 70's green couch punching out a recipe for salted caramel chocolate cups and thinking about how wonderful it is that back home I can usually do this from my bed.
Modern Technology, I'm a fan of you.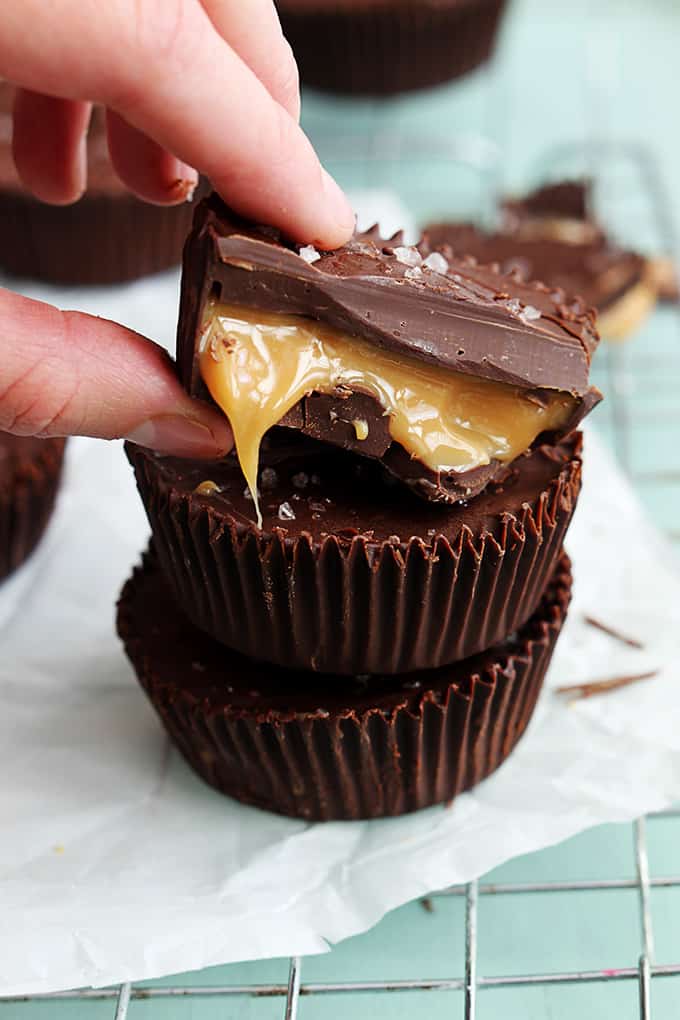 Another modern convenience I'm currently crushing on is my ***microwave*** <— those little asterisks are actually bits of fairy dust, my microwave has magical powers. Like the ability to turn leftovers into a first-class meal at the end of an incredibly long week. I cook. A-lot. But sometimes leftovers are the best thing in the whole world when I'm famished and haven't an ounce of motivation to make so much as a turkey sandwich.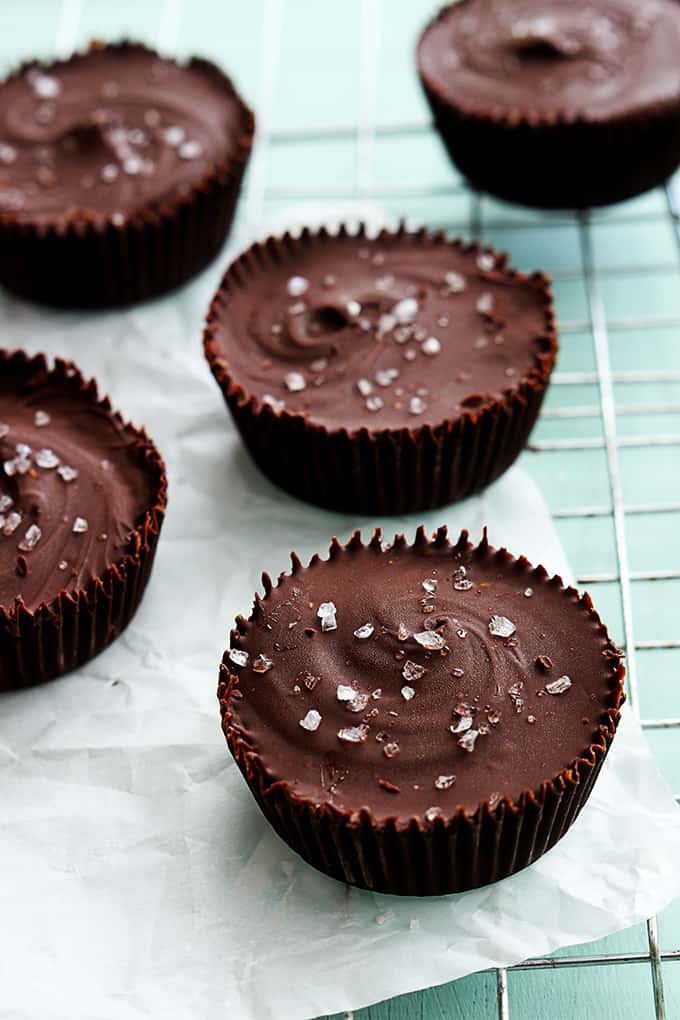 The other thing making me admire that old black and chrome box on my counter? These salted caramel cups. How are they related you ask? These ultra-rich little treats are made with two things, 1) your microwave, and 2) your freezer. And really the freezer is just a means to speeding up the cooling process which technically would happen without the freezer if you were patient enough (which I'm obviously not) so really all of the credit should go to your microwave on this one. And the fact that these caramel cups only call for 4 little ingredients is just mind boggling to me. 4 Ingredients? Seriously?? Stop it, you're pulling my leg!
No really. Just 4. It's ***magic.*** <— yep, more fairy dust.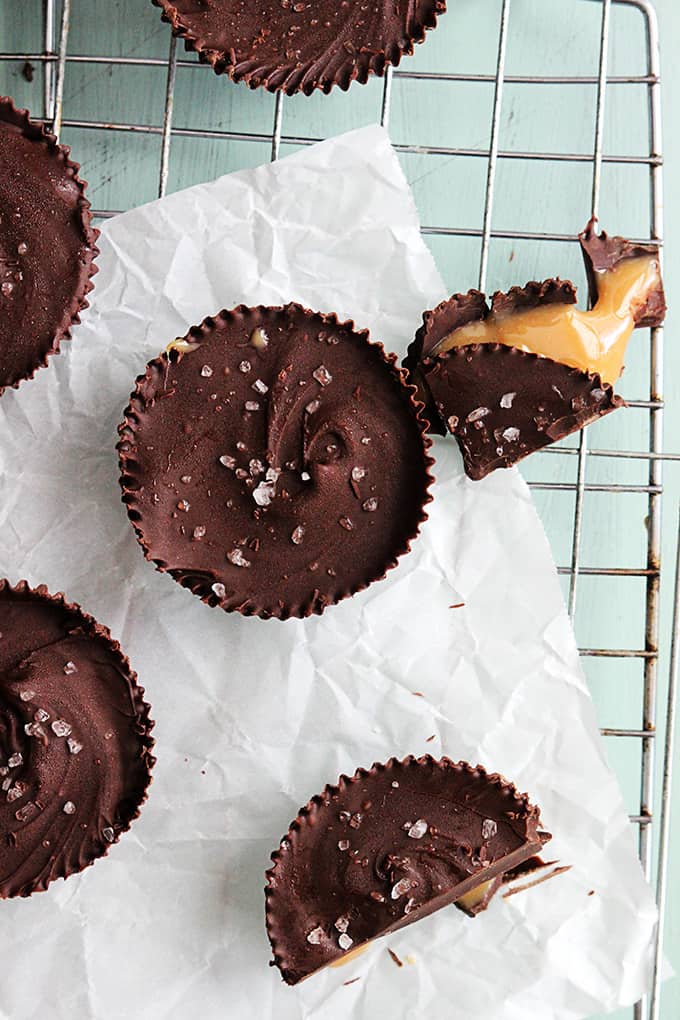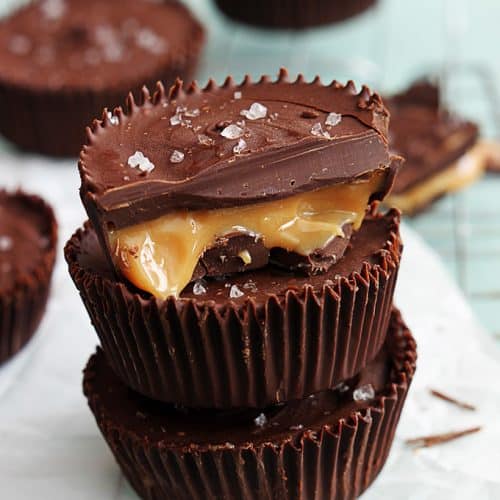 Salted Caramel Cups (4 Ingredients)
Easy 4-ingredient salted chocolate cups filled with ooey gooey caramel!
Ingredients
4

cups

semi sweet chocolate chips

2

cups

caramels

-

unwrapped

3

tablespoons

milk or heavy cream

coarse sea salt
Instructions
Place cupcake wrappers in muffin tins. (You could use mini cupcake wrappers and muffin tins and make twice as many caramel cups)

Place chocolate chips in a microwave safe bowl. Microwave on half-power for 2 minutes. Take out and stir. Continue to cook on half-power for 20 seconds at a time, stirring between each, until chocolate is smooth.

Drop about 2 tablespoons of melted chocolate into each cupcake liner. Do not use all of the chocolate, leave about 1/4 of it in the bowl. Use a pasty brush to "paint" the melted chocolate onto he bottom of the cupcake wrapper, and around the sides (only go about 2/3 of the way up the wrappers, not all the way to the top) Place muffin tin in the freezer.

In another microwave safe bowl combine caramels and milk/heavy cream. Microwave on high for 2 minutes, then stir. Continue to cook on high for 20 seconds at a time, stirring between each until smooth.

Remove muffin tin from freezer. Pour caramel into chocolate cups til about 2/3 full. Return to the freezer for about 5 minutes.

Remove muffin tin from freezer again. Use pastry brush to "paint" melted chocolate over the top of the caramel being sure to cover all of the caramel. Sprinkle with coarse sea salt. Return to the freezer for about 30 minutes.

Remove muffin tin from freezer. Carefully peel away the cupcake wrappers from the chocolate cups. Store chilled (in the fridge) or at room temperature in an airtight container.
Notes
*if you don't have coarse sea salt on hand, you can substitute a scant 1/2 teaspoon table salt and stir it into the caramel before filling the chocolate cups
Nutrition
Calories:
375
kcal
,
Carbohydrates:
47
g
,
Protein:
4
g
,
Fat:
20
g
,
Saturated Fat:
11
g
,
Trans Fat:
1
g
,
Cholesterol:
5
mg
,
Sodium:
78
mg
,
Potassium:
323
mg
,
Fiber:
4
g
,
Sugar:
36
g
,
Vitamin A:
40
IU
,
Vitamin C:
1
mg
,
Calcium:
72
mg
,
Iron:
3
mg
Recipe adapted from Yammie's Noshery.