The BEST EVER chocolate chip cookies just got a makeover – super soft and chewy and stuffed with salted caramel, the flavor and texture is absolute perfection!
I almost called these, the ultimate most incredibly soft and chewy stuffed with salted caramel and wonderfully perfect cookies on the planet. But I ran out of room and it was sort of mouthful. Which is kind of an issue because my mouth was also stuffed with cookie so there just wasn't any spare room for a title like that. Salted caramel chocolate chip cookies is gonna have to do.
Look at that gooey caramel right in the center there. Do you see that? Are you drooling yet?
There are a couple of easy peasy tricks to making these dreamboats. First off, you need instant vanilla pudding. It will make the cookies soft in the center but still lightly crispy on the outside – the perfect texture. Plus a little extra vanilla never hurt in the flavor department.
I love me some vanilla.
Another key step is the chilling time. I know, it's hard to wait, but it is SO worth it. It's like Christmas – well worth the wait. Just plan ahead and give yourself an hour to throw the dough in the fridge – just one hour! You can totally wait an hour.
I have faith in you.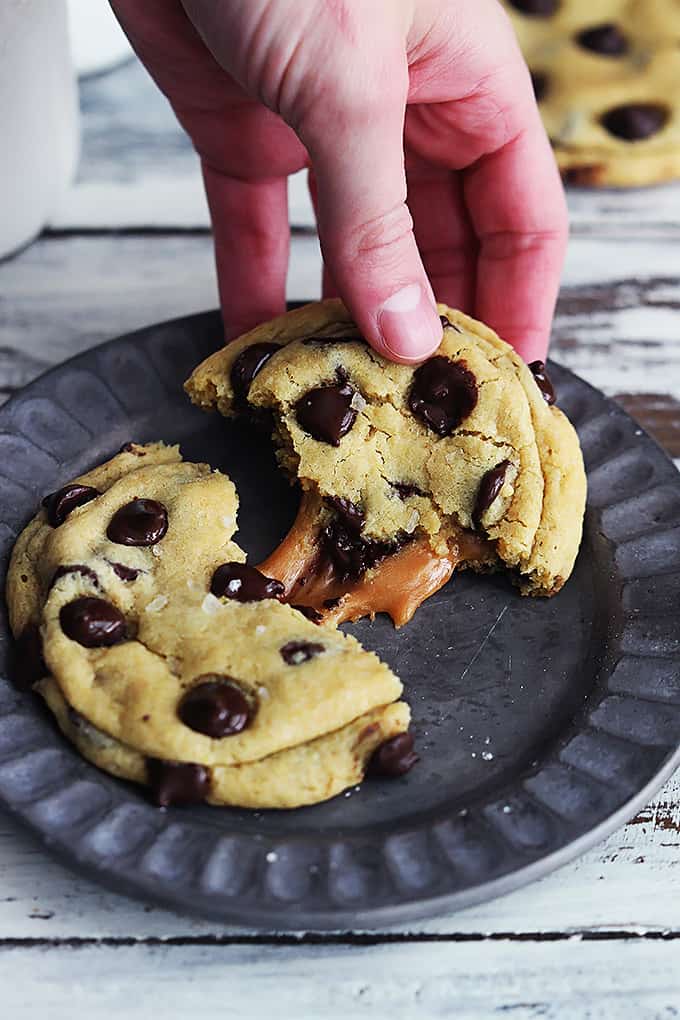 And lastly, you've gotta make these cookies BIG. Each cookie requires about 6-7 tablespoons of dough. This is another part of that texture thing we were talking about. Yes, you can technically use a smaller amount of dough and make smaller cookies, but they won't be and dense and chewy in the middle – they'll be crispier. Not necessarily a bad thing, but these cookies are intended to be big and super soft in the middle.
And the last thing, my own little tip for enjoying these at their very best… After letting them cool completely to room temperature you warm them back up. I know, that seems completely contradictory to warm them up after letting them cool. But here's how it works. The middle of the cookies needs to cool completely in order to get the correct chewy texture, but then when you warm them up the caramel gets all ooey gooey. Just trust me on this one – you'll totally get it after the first bite!
What people are saying about these Salted Caramel Chocolate Chip Cookies
"Mine turned out great! Also only used 1 1/2 cup of chocolate chips and topped them off on top of the cookie before putting in the oven. I probably used less than 1/4 cup though. I also used caramel bits instead of the caramel cubes. They smell delish. Haven't tried them yet, mine are on the cooling rack right now.
" – Teresa
"My guests absolutely loved these and I'm sure I will make them again. Even my usually nit-picky husband couldn't find anything wrong with them! Thanks for a great recipe!" – Jenna
"I think that I may have died and gone to heaven! Salted caramel combined with a soft chocolate chip cookie… you are AMAZING! I have to make this asap." – Crystal
"These are actually amazing! Thank you so much for sharing. I've made hear for Mother's Day. I am in the UK and substitutes instant vanilla pudding mix with Angel Delight, although I am told creme caramel mix would be better (I couldn't find it). I think they have worked well – that ear just on the cooling rack and smell and look wonderful! They look like they have the right texture anyway. First class!" – Alice
Salted Caramel Chocolate Chip Cookies
The BEST EVER chocolate chip cookies just got a makeover – super soft and chewy and stuffed with caramel, the flavor and texture is absolute perfection!
Ingredients
¾

cup

butter

-

softened (12 tablespoons)

¾

cup

brown sugar

¼

cup

sugar

1

teaspoon

vanilla

1

egg

2

cups

flour

1

small box

instant vanilla pudding mix – dry

-

not prepared, (one 3.4 ounce box, it must be INSTANT – not cook and serve, etc)

1

teaspoon

baking soda

½

teaspoon

salt

2

cups

semi sweet chocolate chips

24

soft caramels

-

(such as Kraft square caramels, unwrapped)

optional: coarse sea salt
Instructions
Start by beating butter and sugars together for 1-2 minutes until very fluffy. Add vanilla and egg and mix well. In a separate bowl whisk together flour, pudding mix, baking soda, and salt. Add dry ingredients to wet ingredients and mix until incorporated and dough comes together. Stir in chocolate chips. Cover and chill for at least 1 hour.

Preheat oven to 350 and very lightly grease baking sheets. (I lightly mist mine with cooking spray, then wipe it off with a paper towel, too much grease will yield very flat cookies!) Roll about 3-4 tablespoons of the chocolate chip cookie dough into a ball , then repeat with 3-4 more tablespoons of dough. Press a caramel square into the center of one dough ball. Gently smash the two dough balls together and roll into one single ball. Repeat with remaining dough and place dough balls at least 3-4 inches apart on the baking sheet. Poke additional chocolate chips into the top of each cookie if desired (this is just for looks).

Bake cookies for 10-13 minutes until set but still slightly undercooked. Remove from oven and (optional) sprinkle immediately with coarse sea salt (highly recommended!). Allow to cool at least 10 minutes on baking sheet, then transfer to a cooling rack and allow to completely cool to room temperature. Store in airtight container.
Notes
*Prep and bake time does not include 1 hour of chilling time – it's so worth it!
Nutrition
Calories:
330
kcal
,
Carbohydrates:
55
g
,
Protein:
4
g
,
Fat:
11
g
,
Saturated Fat:
6
g
,
Trans Fat:
1
g
,
Cholesterol:
14
mg
,
Sodium:
237
mg
,
Potassium:
211
mg
,
Fiber:
2
g
,
Sugar:
37
g
,
Vitamin A:
51
IU
,
Vitamin C:
1
mg
,
Calcium:
60
mg
,
Iron:
2
mg