Soft and fluffy snickerdoodle cookies stuffed with ooey gooey caramel.
Can I bother you with one more cookie recipe before Christmas? I'm sure you've got a slew of them up your sleeve waiting to be baked and shared with loved ones near and far but please, make a little room for one you will not want to miss. It involves cinnamon. And caramel. N'ough said.
Don't let that caramely center fool you, these are not difficult. I know you're thinking how do I get that goodness in there?? but it's laughably easy.
1- roll your dough into a ball
2- break the ball into two halves
3- push a caramel into one half
4- roll the two halves back into one ball
5- roll in cinnamon-sugar and bake.
Besides all of that caramel in the center – which, by the way, makes me swoon – I love the texture of these cookies. Very chewy but still soft. And they get that signature snickerdoodle crinkle on top, just like a good snickerdoodles should.
Happy Thursday everyone, please treat yourself to a caramel stuffed snickerdoodle.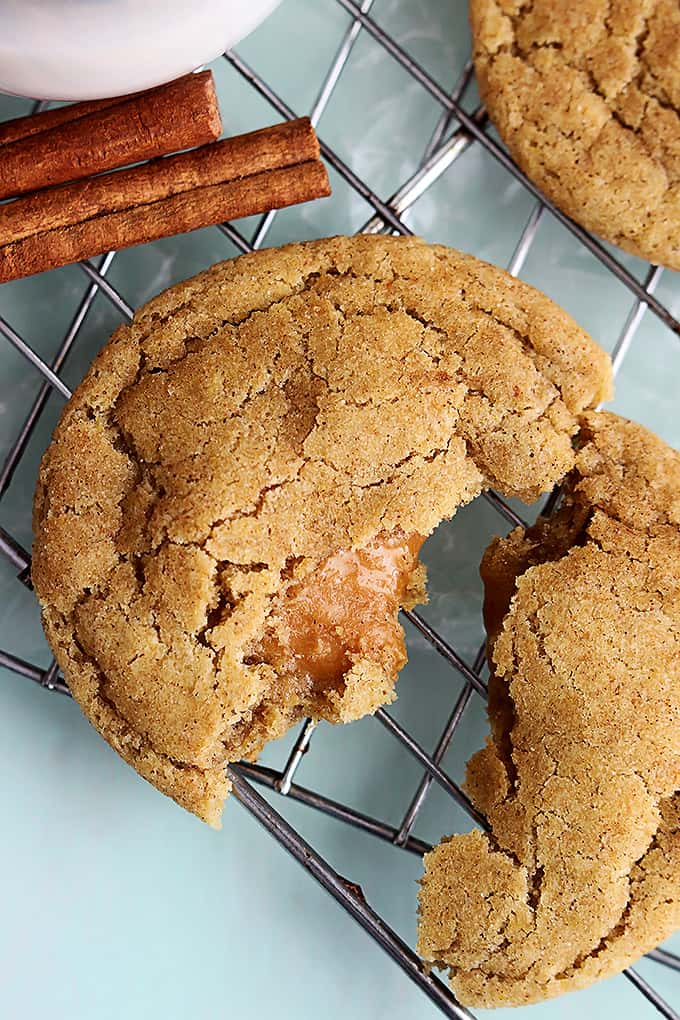 Caramel Stuffed Snickerdoodles
Soft and fluffy snickerdoodle cookies stuffed with ooey gooey caramel.
Ingredients
3/4

cup

butter,

softened (12 tablespoons)

1

cup

sugar

1

egg

1 1/2

teaspoons

vanilla

2

cups

flour

1

small (3.4 ounce) box

instant vanilla pudding mix

(dry, not prepared) - must be instant

1

teaspoon

baking powder

2

teaspoons

cinnamon

1/4

teaspoon

salt

16-20

soft caramels,

unwrapped (such as Kraft)

1/4

cup

sugar

1

teaspoon

cinnamon
Instructions
Cream together butter and sugar until fluffy. Add egg and vanilla and mix well.

In another bowl, whisk together flour, pudding mix, baking powder, 2 teaspoons cinnamon, and salt. Add dry ingredients to wet ingredients and mix until dough comes together. Cover and chill at least 1 hour.

In a small bowl whisk together the 1/4 cup sugar and 1 teaspoon cinnamon. Roll about 4 tablespoons of dough into a ball. Break the ball in half, place a caramel into the center of one half, then press the two halves back together to cover the caramel and roll into a ball again. Roll ball in the cinnamon-sugar mixture, then place on a lightly greased baking sheet. Repeat with remaining dough and caramels.

Bake at 350 degrees for 10-12 minutes. Allow to cool for 10 minutes on the baking sheet before transferring to a cooling rack. Store in airtight container. Serve at room temperature or heat the cookies in the microwave for 5-8 seconds before serving to make the caramel extra gooey.