This creamy, cheesy Parmesan Spinach Orzo is the answer anytime you need a good side dish! Creamy, flavorful, and ready in less than 20 minutes, this easy orzo dish comes together in a hurry to compliment any favorite meal!
Looking for all the orzo recipes? Check out my popular posts for Lemon Chicken Orzo Soup, Best Italian Orzo Salad, and One Pot Enchilada Orzo.
Guess what time it is? If you guessed pasta time, then you and I will be friends for life. If you said cheesy pasta time…well, we must be soul mates! Let's just all agree there is nothing better than a delightfully cheesy pasta dish with all the garlic plus spinach all in a lovely cream sauce with a hint of lemon and topped with some cracked black pepper for good measure.
Whether you need an easy main dish or a side, this cheesy parmesan spinach orzo is a dream dish you'll definitely want to make tonight!
Why This Recipe Works
Orzo — While you could use any small, dainty pasta you like in this preparation, orzo works the best because it is small and chewy and soaks up all the flavors of this dish so fast. I think you'll agree, once you make this with orzo no other pasta will do.
Parmesan — The nutty goodness of parmesan cheese really shines in this dish. It's easy to melt and coats the orzo perfectly. Bonus points for adding more cheese to the top right before serving!
Easy clean up — While you do have to make the orzo ahead of time, the rest comes together all in one pot. So you could, technically, make the orzo in the same pot, drain, set it aside, and then use the pot to mix up the roux, the cheese, and put the orzo back in. Any way you slice it, this cheesy orzo dish doesn't require a lot of tools and cleans up easily.
Great for a crowd — I always keep a box (or two) of orzo in the pantry just in case of unexpected company for dinner. A whole box can feed up to 8-10 people as a side dish! Add grilled chicken, salmon, or shrimp to the top if you need an easy main dish to feed the hungry masses.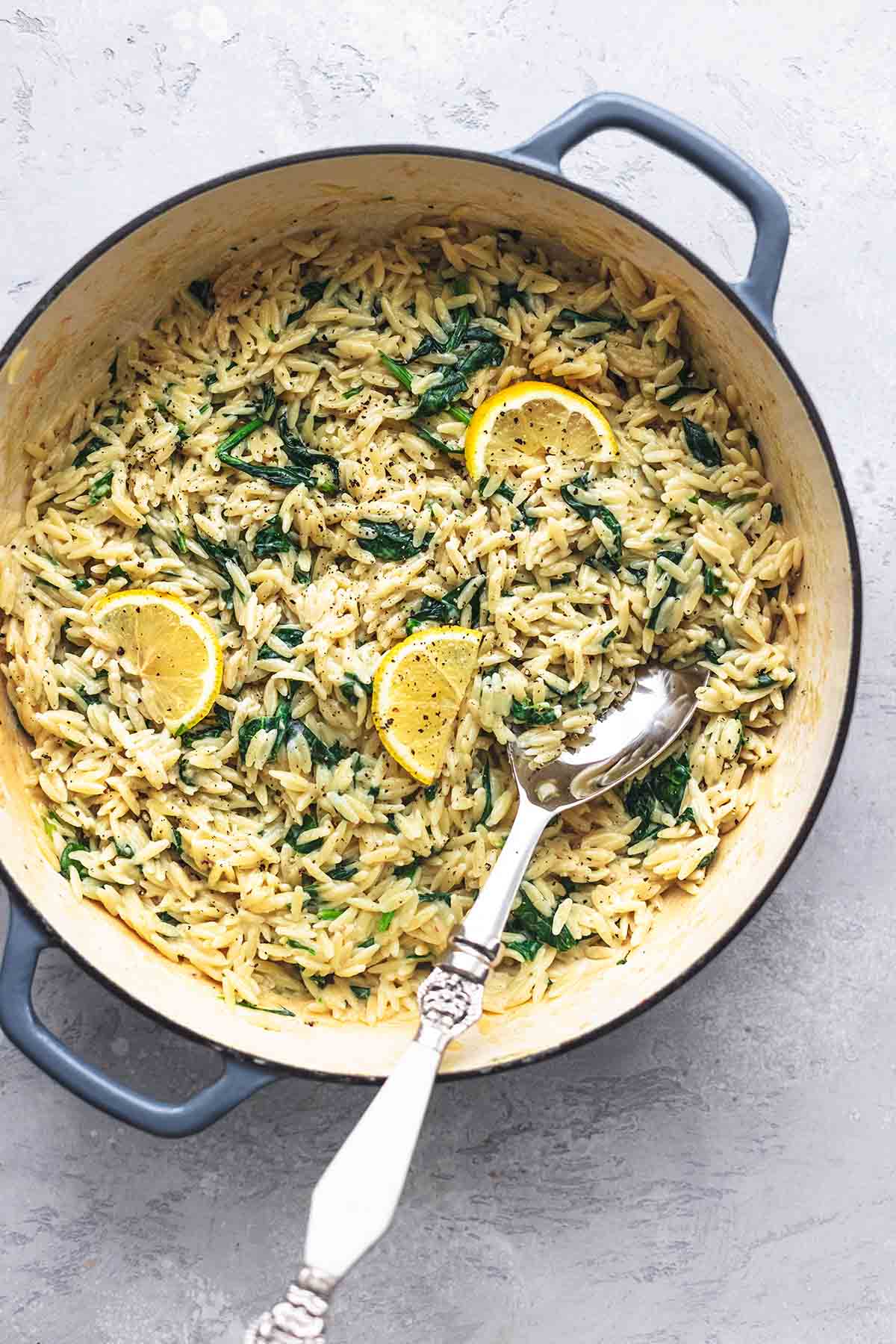 Here's How You Make It
First, prepare the orzo according to the directions on the package. When it's done, drain it and set it aside.
In a medium-size pot over medium heat, add the olive oil. Then add the garlic, salt, and pepper and saute it all together for 1 minute until that lovely garlic smell starts to fill your house.
Now add the flour to the pan and stir for a minute, then add ¼ cup of the milk and whisk the milk and the flour together until there are no more lumps. When this occurs, add the rest of the milk and whisk some more. Bring the roux to a simmer and let it cook for about 8 minutes or until the sauce starts to thicken.
Stir in the chopped spinach to the sauce, and let it wilt. Then take the sauce off the heat and add the parmesan and stir to let it melt into the sauce. Now add the orzo and stir everything together to get it all combined and that orzo all nice and cheesy.
Serve with more cheese on top, or maybe some lemon zest, or fresh black pepper.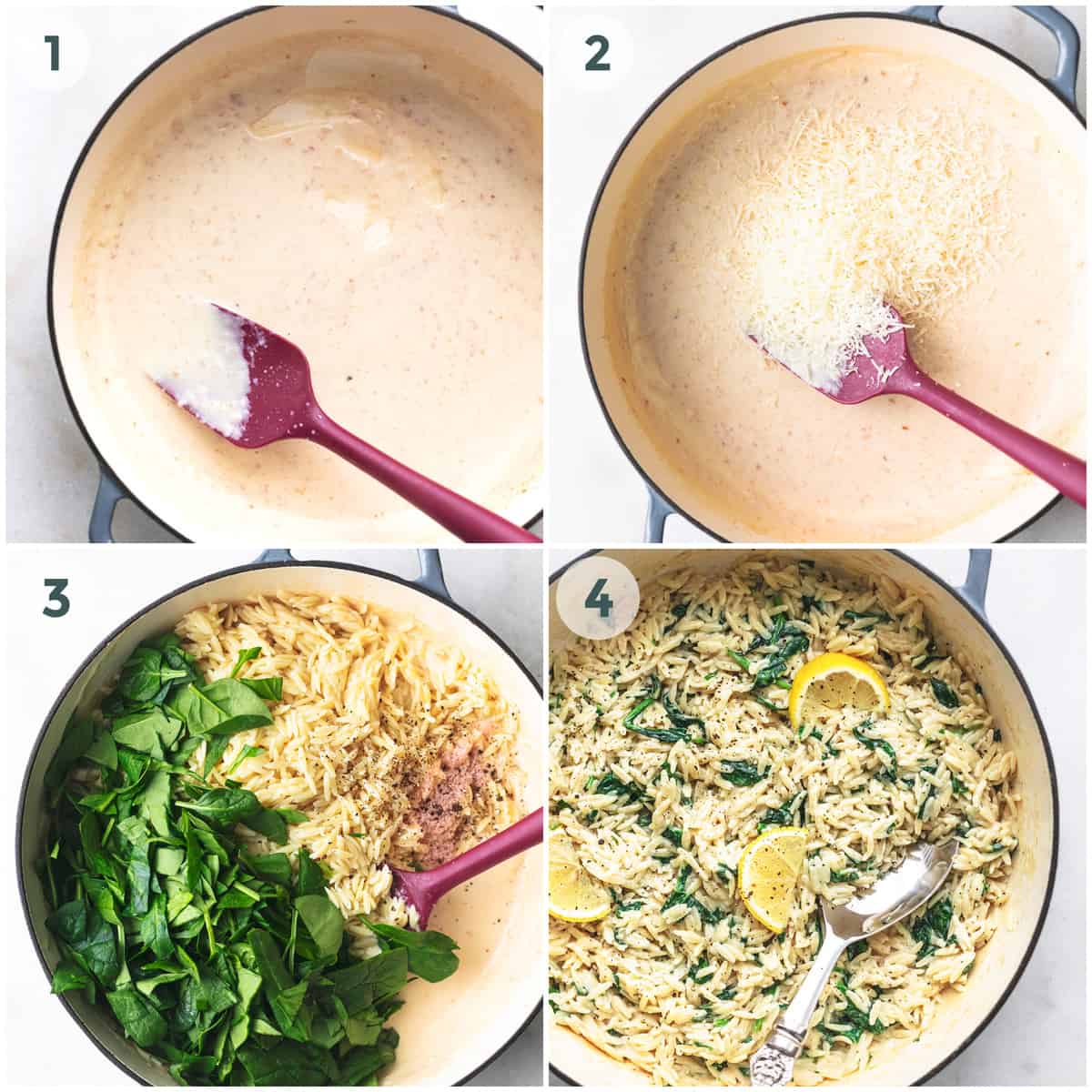 Are Orzo and Rice the Same?
Although orzo and rice look the same they are not the same thing. Orzo is actually a tiny pasta shape and needs to be cooked like pasta (boiled in water and drained), while rice is a grain that soaks up all the water it cooks in.
Ideas for Customizing This Recipe
This dish is great with some protein with it too. As I mentioned, grilled fish, chicken, or shrimp is delicious placed right over the top after serving. Or, mix in a can of rinsed, drained white beans instead for a vegetarian option.

If you don't have fresh spinach, you can use frozen (make sure you thaw and squeeze out as much excess water as you can before adding to the dish) or add kale instead of spinach.

Other cheeses that work include romano and gruyere with (or instead of) parmesan.

Other veggies that taste delicious in this orzo include peas, asparagus, bell peppers, and broccoli.
Expert Tips
I suggest topping this orzo dish with optional fresh lemon zest, grated parmesan cheese, and/or cracked black pepper for topping but you can skip this step or pick and choose which toppings you like.

Fresh herbs like basil and thyme are also great ways to top this dish.

The general directions for cooking orzo are to use ½ a cup of water for each cup of orzo, plus salt to taste. So you boil the water first, then add the orzo, and stir till the pasta is cooked all the way through. I like it al dente, make sure to drain it before it cooks too much, you don't want to have mushy orzo.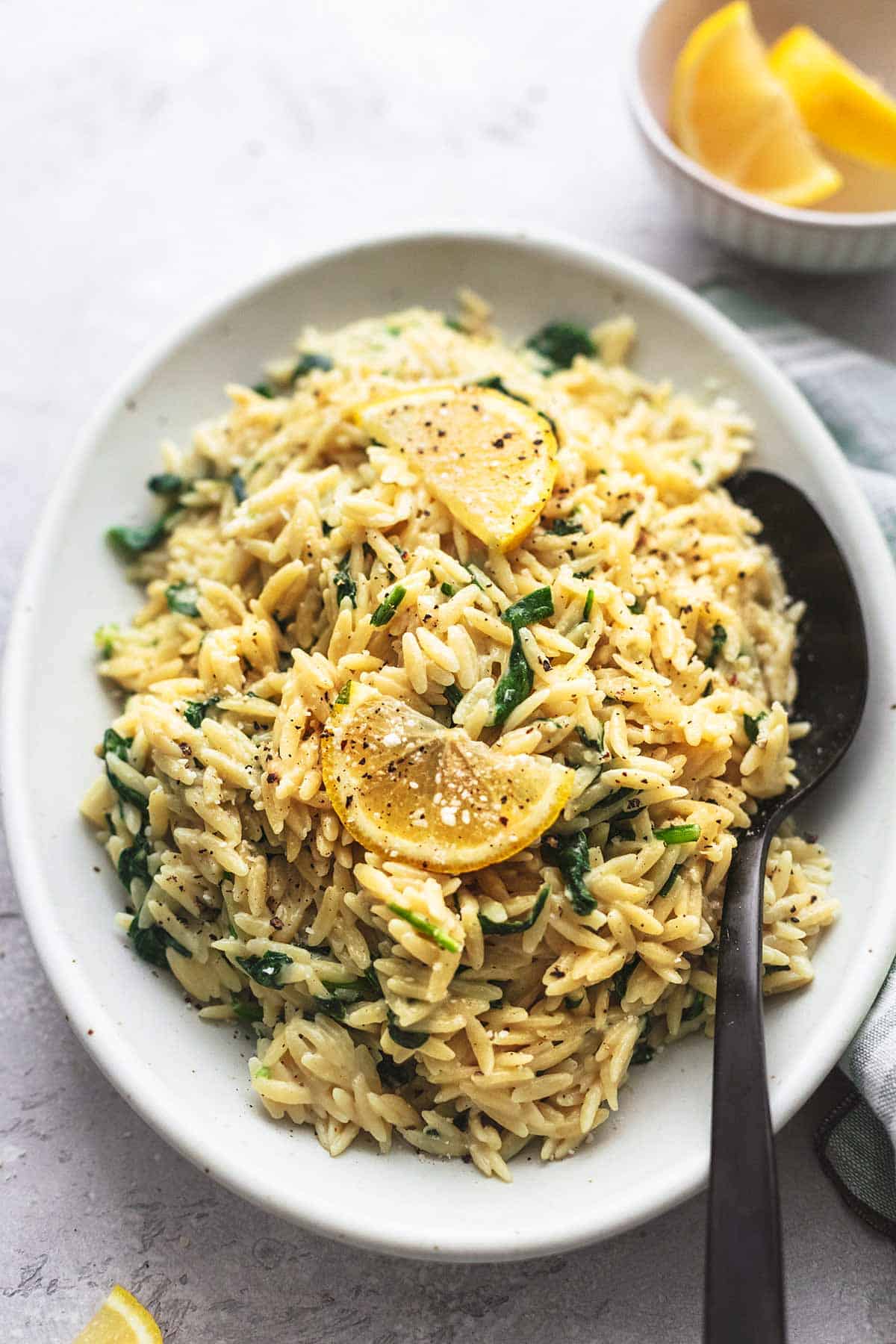 More Easy Side Dish Recipes
Did you try this Creamy Parmesan Spinach Orzo recipe? YAY! Please rate the recipe below!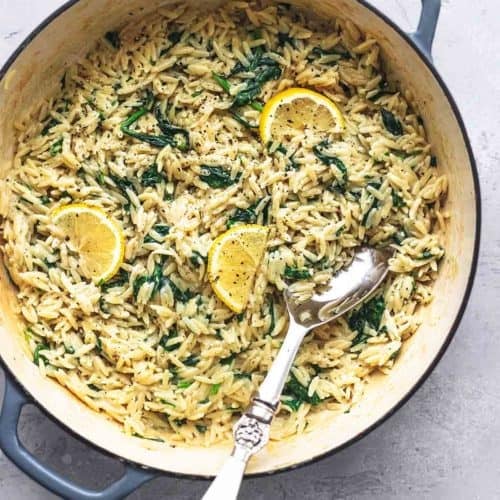 Creamy Parmesan Spinach Orzo
Creamy Parmesan Spinach Orzo
Ingredients
1 ½

cups

orzo pasta

2

tablespoons

olive oil

2 ½

teaspoons

minced garlic

salt and pepper to taste

2

teaspoons

flour

1

cup

milk

-

(I used fat free half & half)

⅔

cups

fresh spinach

-

roughly chopped

½

cup

shredded parmesan cheese

-

plus extra for topping

optional: fresh lemon zest, grated parmesan cheese, and cracked black pepper for topping
Instructions
Cook orzo according to package directions. Drain and set aside.

Heat olive oil in a medium-sized pot over medium heat. Add garlic, salt and pepper and saute for 1 minute until garlic is fragrant

Add flour to form and stir for one minute. Add about 1/4 cup of the milk to the pot and whisk to work out any lumps. When lumps are gone, add the remaining milk and whisk to combine. Bring to a simmer and cook for about 8 minutes or until sauce is thickened.

Add chopped spinach to sauce. Cook an additional 2 minutes or so until spinach is soft and dark. Remove sauce from heat and stir in parmesan cheese. When cheese has melted, add orzo and stir to combine. Serve with extra parmesan cheese and serve immediately. Enjoy!
Notes
Flavor tip: add in a few teaspoons of fresh-squeezed lemon juice to take this to the next level! 
Nutrition
Calories:
246
kcal
,
Carbohydrates:
31
g
,
Protein:
10
g
,
Fat:
9
g
,
Saturated Fat:
3
g
,
Cholesterol:
11
mg
,
Sodium:
150
mg
,
Potassium:
172
mg
,
Fiber:
1
g
,
Sugar:
3
g
,
Vitamin A:
451
IU
,
Vitamin C:
1
mg
,
Calcium:
152
mg
,
Iron:
1
mg